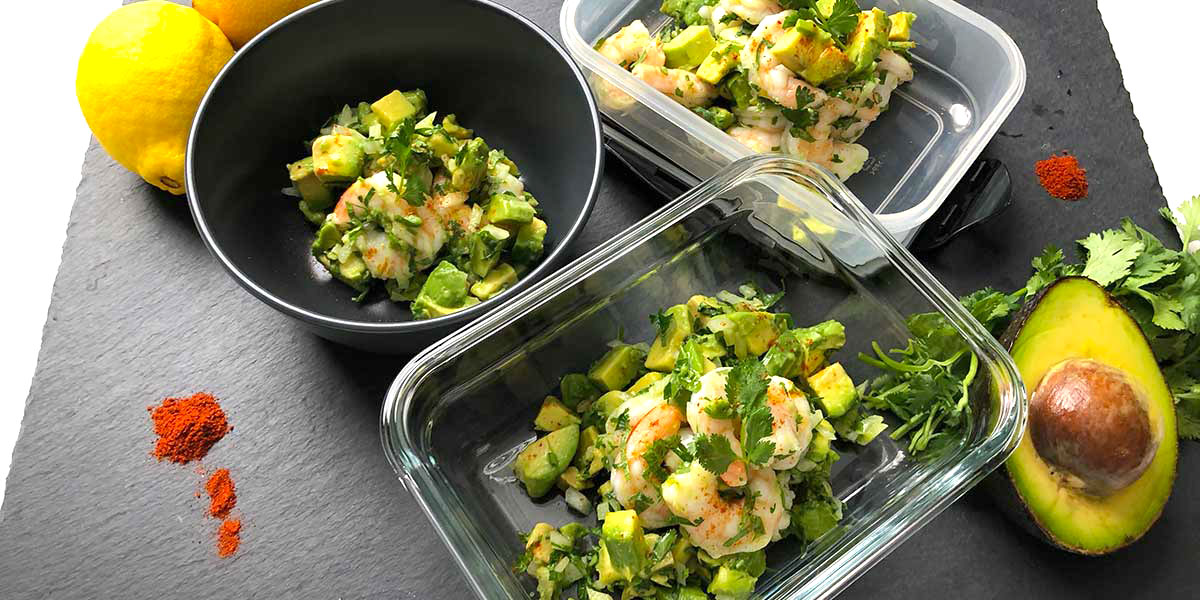 Ever crave a fresh tangy salad for a quick, light lunch? I know I do, especially in the hotter months of the year. For some reason, the cool combination of lime citrus and seafood reminds me of a fun summer day in LA, or a fresh ceviche in Lima, Peru. This super simple meal prep recipe is a perfect option in a hurry, while satisfying your ketogenic lifestyle needs.
Keeping it Simple
This recipe only requires a few ingredients. If you have shrimp already cooked or if you use our Trifecta A La Carte Shrimp, then you are in luck - this won't take much time at all.
The backbone of this recipe imitates a ceviche, but without the large amount of citrus liquid - I feel as a chef I must say that. You can add a serving of this recipe on a bed of fresh greens, serve it with a side of keto cloud breads, or on top of your favorite cold veggie mix. This lunch recipe is particularly good for a hot day (and if I may add, great with a cold alcoholic beverage).
Let's dig into it.
This recipe has 300 calories; 16g fat; 4g net carbs (12g carbs - 8g fiber), and a whooping 30g protein! Boom!
Ingredients:
16 oz shrimp, peeled, seasoned, cooked

2 avocado, seeded, peeled, diced

1/2 cup cilantro, chopped, fresh

1/4 cup parsley, flat leaf, chopped, fresh

1/3 cup shallots, fresh, minced

1 tablespoon avocado oil
1/4 cup lime juice
1 teaspoon garlic powder
1/8 teaspoon cayenne pepper
Kosher salt and pepper to taste
Salad greens (optional)
Kitchen Needs:
Knife and Cutting board
1 medium bowl
Measuring cups and tablespoons
Mixing spoons
Saute pan (optional)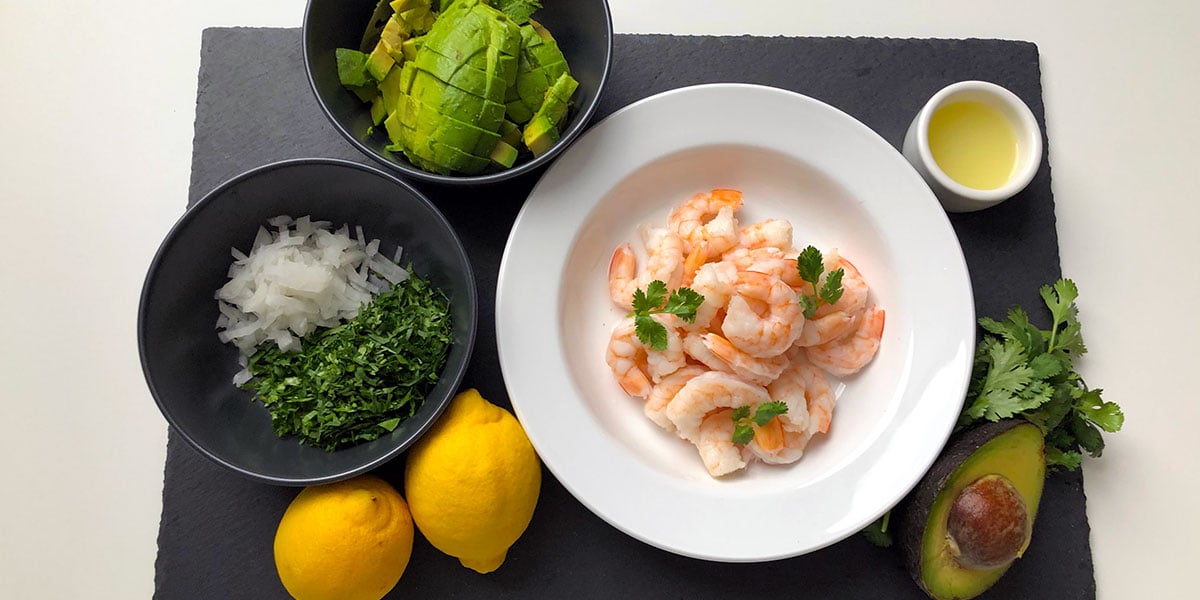 Step One: Prepare your Shrimp
If you are using Trifecta's A La Carte shrimp, simply remove shrimp from the container and transfer to a bowl. Set aside, covered until needed.
If you are cooking your shrimp from scratch, remove shrimp from the container and lay flat on a cutting board lined with paper towels. Dry the shrimp from any excess water, and season both sides with salt and pepper, to taste.
Heat up 1 tablespoon of avocado oil in a pan over medium heat. Once the oil is slightly smoking, add the shrimps and cook for 3-5 minutes per side, until the shrimp is completely cooked, pink, and no grey is seen. Once cooked, transfer to a plate or a baking dish lined with fresh paper towels. Lay all shrimp and cool in the fridge immediately.
Step Two: Prepare Remaining Ingredients
As the shrimp cools down, chop the fresh cilantro and parsley and transfer into a bowl. Mince the shallot and add the garlic powder and cayenne pepper into the same bowl. Dice the avocado, add it to the bowl, and add the lime juice. Mix all ingredients to coat evenly. If using Trifecta's A La Carte Shrimp, you'll want to combine all ingredients in the same bowl and add 1 tablespoon of avocado oil (which would be otherwise used to cook raw shrimp).
If you are cooking the shrimp from scratch, you can add it now to the bowl with the rest of the ingredients and mix to incorporate. Taste for seasoning and adjust as needed.
Step Three: Portion and Refrigerate
Divide the shrimp and avocado salad into four separate containers, each weighing about 5 ounces. Cover and refrigerate.
If you'd like to make more portions, simply multiply all ingredients x2 and then divide into 8 containers.
For exact macros, portion 4 ounces of shrimp, 1/2 avocado, 1/4 teaspoon avocado oil, 1/2 tablespoon lime juice. Sprinkle cilantro, parsley, and spices.
Storing and Serving
Store in the fridge for up to a week. Check on the quality of the portion before eating if you keep it in the fridge for longer, as seafood tends to decay faster than any other protein. If it smells off or funky, discard it.
Ready to take your keto meal prep up a notch? Learn how to cut carbs and burn more fat with this free meal prep toolkit for keto. Your new game plan for starting keto, complete with a keto macro meal planner and approved food lists.