Ever crave a fresh tangy salad for a quick, light lunch? I know I do, especially in the hotter months of the year. The cool combination of citrus and seafood in this keto shrimp salad recipe reminds me of a fun summer day in LA, or a fresh ceviche in Lima, Peru. You'll love this super simple meal prep recipe!
How To Make A Shrimp Salad
This keto shrimp avocado salad recipe is super simple to put together; it is a mix of shrimp, avocado, fresh herbs, citrus, and a few spices.
If you have shrimp already cooked or if you use our Trifecta A La Carte Shrimp, then you are in luck - this won't take much time at all.
The backbone of this recipe imitates a ceviche, but without a large amount of citrus liquid - a necessary distinguishing factor to note. Also noteworthy, aside from rounding the flavors of the dish, the lime juice acts as a preservative for the avocado. Citrus also curves the speed of oxidation and helps the avocado stay greener for longer.
This recipe has 300 calories; 16g fat; 4g net carbs (12g carbs - 8g fiber), and a whooping 30g protein! Boom!
Calculating Your Keto Carb Count
If you are unsure of what carb range you need to be in following a keto diet use this keto carb calculator:
How to Cook Shrimp for Salad?
If you have raw shrimp and want to cook it for this or any other recipe, or if you are simply meal prepping, here's a quick guide to cooking your shrimp properly.
1. Clean the Shrimp
To remove the shell: slit the shell all the way down the center of its back, and then using the tip of your knife, remove the digestive tract. Then pull the shell halves out sideways. Grasp the segment just above the tail with one hand, and then pull the rest away from one another; the shrimp should be fully cleaned
Skip this step and save time, buy purchasing shrimp that is already cleaned and without the shell
2. Cooking and Cooling the Shrimp
Shrimp doesn't take long to cook and is done cooking once the protein turns pink. Avoid overcooking it, as this may cause the shrimp to become extra rubbery and will develop an unpleasant texture.


There are various ways to cook shrimp:
Boiling in a flavorful broth

Sauteeing it in oil or butter, garlic, and fresh herbs
Roasting in the oven
Cool down your shrimp quickly by creating an ice bath made with water and ice. Transfer the cooked shrimp and allow it to cool for a few minutes. Conversely, transfer from the pan to a holding tray and into the freezer or fridge for fast and optimal cooling.
Let's dig into it.
How To Make this Keto Shrimp Avocado Salad
Prep Time: 10 min
Cook Time: 10 min
Servings: 4 servings
Ingredients:
16 oz Trifecta shrimp or peeled, seasoned & cooked shrimp

2 avocado, seeded, peeled, diced

1/2 cup cilantro, chopped, fresh

1/4 cup parsley, flat-leaf, chopped, fresh

1/3 cup shallots, fresh, minced

1 tablespoon avocado oil
1/4 cup lime juice
1 teaspoon garlic powder
1/8 teaspoon cayenne pepper
Kosher salt and pepper to taste
Salad greens (optional)
Kitchen Needs:
Knife and Cutting board
1 medium bowl
Measuring cups and tablespoons
Mixing spoons
Saute pan (optional)
Step One: Prepare your Shrimp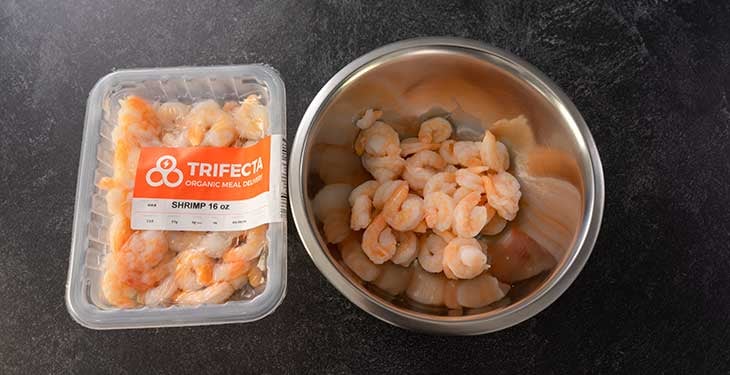 If you are using Trifecta's A La Carte shrimp, simply remove shrimp from the container and transfer to a bowl. Set aside, covered until needed.
If you are cooking the shrimp from scratch. Dry the shrimp first from any excess water, and then season both sides with salt and pepper, to taste.
Heat up 1 tablespoon of avocado oil in a pan over medium heat. Once the oil is slightly smoking, add the shrimps and cook for 3-5 minutes per side, until the shrimp is completely cooked, pink, and no grey is seen.
Once cooked, cool the shrimp down rapidly using an ice bath or placing it on a tray in the freezer.
Step Two: Prepare Remaining Ingredients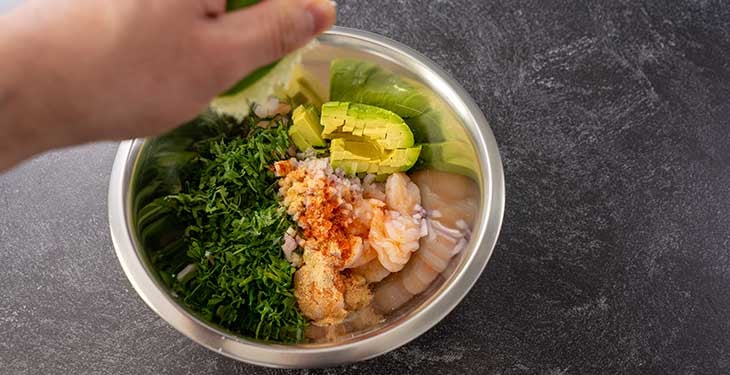 As the shrimp cools down, chop the fresh cilantro and parsley and transfer into a bowl. Mince the shallot and add the garlic powder and cayenne pepper into the same bowl.
Dice the avocado, add it to the bowl, and add the lime juice. Mix all ingredients to coat evenly.
If using Trifecta's A La Carte Shrimp, you'll want to combine all ingredients in the same bowl and add 1 tablespoon of avocado oil (which would be otherwise used to cook raw shrimp).
If you are cooking the shrimp from scratch, you can add it now to the bowl with the rest of the ingredients and mix to incorporate. Taste for seasoning and adjust as needed.
Step Three: Portion and Refrigerate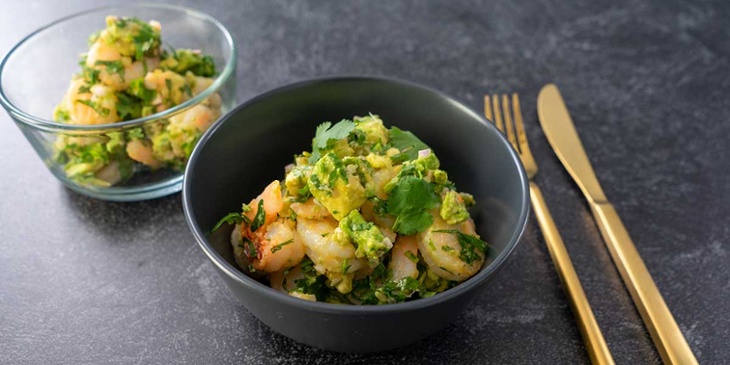 Divide the shrimp and avocado salad into four separate containers, each weighing about 5 ounces. Cover and refrigerate.
If you'd like to make more portions, simply multiply all ingredients x2 and then divide into 8 containers.
For exact macros, portion 4 ounces of shrimp, 1/2 avocado, 1/4 teaspoon avocado oil, 1/2 tablespoon lime juice. Sprinkle cilantro, parsley, and spices.
What to Serve with this Keto Shrimp Salad
The use of this recipe is quite vast. Aside from standing alone as a meal on and in itself, feel free to serve it with any of the following suggestions:
This lunch recipe is particularly good for a hot day (and if I may add, great with a cold alcoholic beverage).
Storing and Serving
Store in the fridge for up to 5 days. Check on the quality of the portion before eating if you keep it in the fridge for longer, as seafood tends to decay faster than any other protein. The avocados may not hold up for the entire 5 days either, depending on the ripeness of the fruit before being cut. If it smells off or funky, discard it.
---
Too Busy? We Got You!
Want to get more out of your weekly meal prep efforts? Stick to your calorie goals and budget with our A la Carte Ingredients. Pre-cooked and ready to heat, these ingredients are organic, sustainably sourced, and minimally seasoned to maximize your meal prep.