This high-protein pasta salad recipe topped with Trifecta Meal Prep shrimp is a simple and tasty dish sure to leave you feeling satisfied and fueled for your week. You'll love our healthier spin on the classic pasta salad prepared with a greek yogurt dressing and high-protein pasta.

About This Recipe
Classic pasta salads typically have some Italian or Mediterranean flair, and can easily be prepared by mixing together pasta, salumi, cheese, tomatoes, and cucumber, with a mayonnaise based dressing.
We choose to bump up the protein by utilizing Trifecta Meal Prep Shrimp and a high-protein pasta.
Adding pasta in your meal prep plan is a great way to get in your carbs and prepare quick meals that will always leave you feeling full. Some pasta dishes even taste better the second day after all the ingredients get to meld with each other.
How to Prepare High-Protein Pasta Salad Recipe
Prep Time: 8 min
Cook Time: 3 min
Servings: 4

Ingredients:
1 cup shredded kale
2 tablespoons lemon juice
1 tablespoon apple cider vinegar
1 tablespoon honey
1/4 cup yogurt, greek
1 cup cherry tomatoes, sliced
½ cup parsley chopped
1/4 cup shredded manchego cheese, parmesan, or feta (optional)
Pinch salt and pepper to taste
For the Shrimp
1 lb Trifecta

Shrimp

1 teaspoon oregano powder
1/2 teaspoon garlic powder
½ teaspoon mustard powder
¼ teaspoon black pepper
1 teaspoon lemon zest
2 tablespoons lemon juiced
1 tablespoon avocado oil
Salt and Pepper
Kitchen Tools:
Knife and cutting board
Microplane (zester)
Medium bowl and tongs
Meal prep containers
Step 1: Cook Pasta and Gather Ingredients
Cook your high-protein pasta according to package instructions and then gather all of the ingredients for the pasta salad.
When you are meal prepping pasta, make sure to completely cool your finished product before sealing and storing in the fridge to prevent foodborne bacteria.
For this recipe cook the pasta and then cool it quickly by submerging it into a bowl full of cold ice water (we call this using an "ice-bath" in restaurant lingo).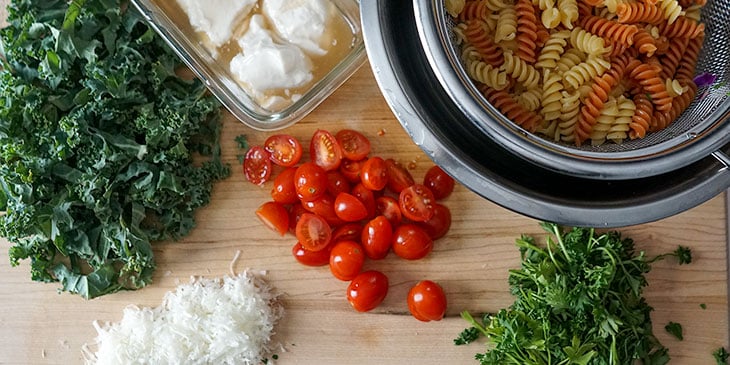 Combine cooked pasta and all of the ingredients in a bowl, massaging together to create pasta salad.
Feel free to add a variety of other ingredients such as:
Pitted olives
Artichoke hearts
Sliced cucumber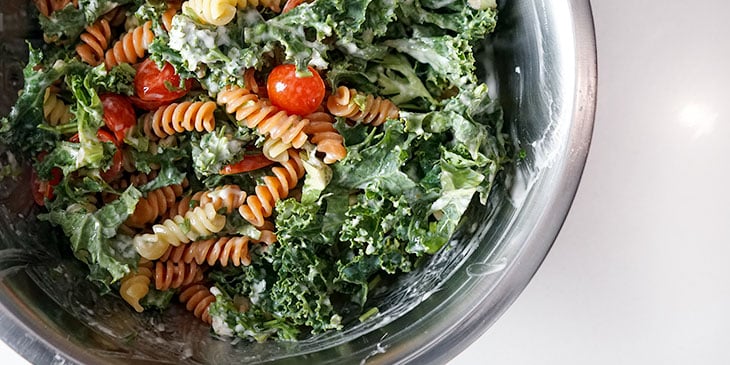 Step 2: Marinade and Prepare Shrimp
In a small bowl combine shrimp and all of the ingredients besides the avocado oil.

Trifecta Meal Prep shrimp comes pre-cooked! So you can choose to marinade it and toss it directly into the pasta salad, or serve it warm by sautéing it in a pan with the avocado oil.

Step 3: Mix and Enjoy!

Top your pasta salad with the shrimp, cheese, and any other toppings you'd like! Portion out this recipe into 4 meal prep containers each with 4 oz of shrimp.
Storing and Serving
If you are including this recipe into your weekly meal prep, you can prepare it ahead of time! Pasta salads tend to get even more flavorful after sitting in the fridge!
This recipe will keep for up to 4 days in the fridge, and can be enjoyed as it is without having to reheat!
---
Ready to take your meal prep up a notch? Learn how to count your macros to reach your goals and use our Trifecta Meal Prep ingredients to conquer your meal prep without spending hours in the kitchen! Take your wellness to the next level with Trifecta.