Dig into these crispy shrimp burgers seasoned with smoked paprika and chili powder. You'll love the versatility of this recipe prepared with Trifecta Meal Prep ingredients, enjoy these shrimp cakes burger style, on a salad, in a wrap, or as we prepared in a macro-balanced bowl.

About This Recipe
The key to a good seafood-style burger is blending half of your seafood into paste while rough chopping the rest, then mixing it with a few simple ingredients to create the perfect patty.
For this recipe we utilized Trifecta Meal Prep Shrimp, which comes ready to heat and eat. Our shrimp is sustainably sourced and boasts a slightly buttery flavor; this is the perfect vessel to infuse with various spices and herbs for a bomb shrimp cake.
Trifecta shrimp is a wonderful lean protein source, coming in at 27g per 4 ounces of cooked shrimp, and very little fat.
Incorporating shrimp into your meal prep will help you reach your protein macro goals without blowing up your calorie or fat macro goals for the day. It's also a nice way to add variety to your meal prep to avoid burnout.
How to Make Your Crispy Shrimp Burger Recipe
Prep Time: 8 min
Cook Time: 8 min
Servings: 4

Ingredients
1 pound Trifecta

Shrimp

or 1 lb Cooked Shrimp

3 garlic cloves
½ cup cilantro
1 lemon, zested and juiced
1 teaspoon salt
1 tablespoon paprika
2 teaspoon chili powder
1 tablespoon onion powder
½ cup panko breadcrumbs
1 1/2 tablespoons cornstarch or arrowroot starch
1 Egg
For Serving:
Kitchen Tools
Small bowl
Food processor
Skillet and spatula
Knife and cutting board
Saute pan and sheet tray
Step 1: Prepare the shrimp cakes
First gather all of your ingredients for the recipe, including your Trifecta Meal Prep Shrimp.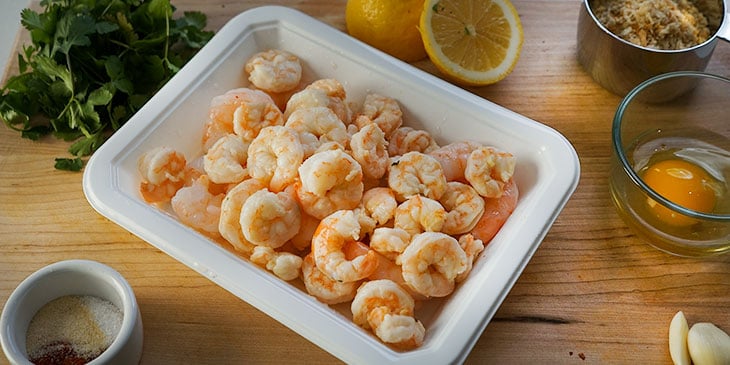 Using a food processor or blender, blend half of the shrimp, garlic, spices, lemon juice and zest. Mix until you get a semi-smooth paste.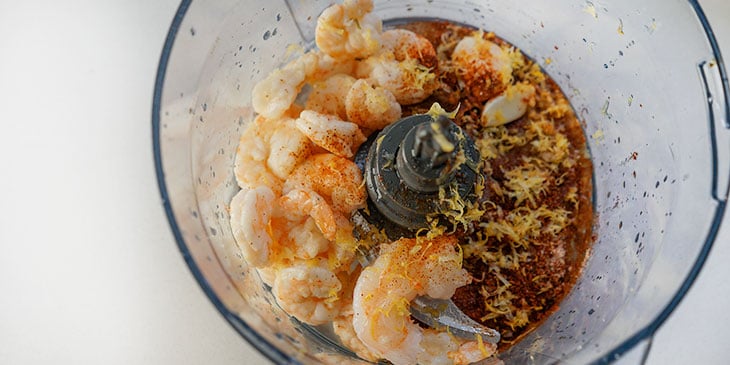 Roughly chop up the remaining shrimp and add the chopped shrimp to a large bowl with the other chopped ingredients. Take the shrimp mixture out of the blender/processor and mix together in the large bowl with the bread crumbs, fresh herbs, and starch until it forms a moldable mixture.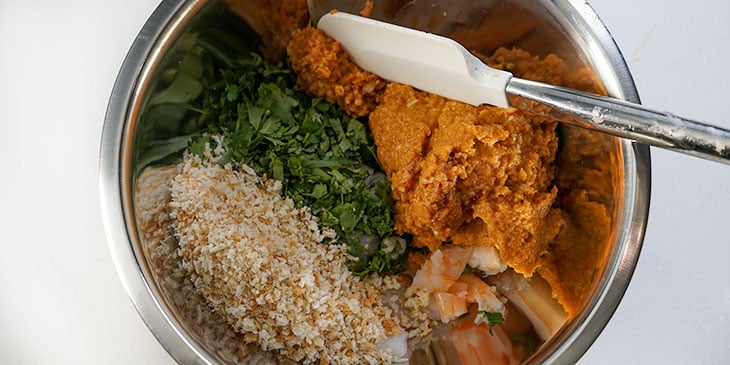 Portion out the shrimp burgers into 4 large burgers or 8 mini sliders, which ever you'd prefer. (the smaller sliders cook a lot faster!)
Step 2: Cook the Shrimp Burgers
In a skillet, heat the 1 tablespoon oil over medium heat and add the burgers.
Cook for 4 minutes per side or until thoroughly cooked and golden on each side.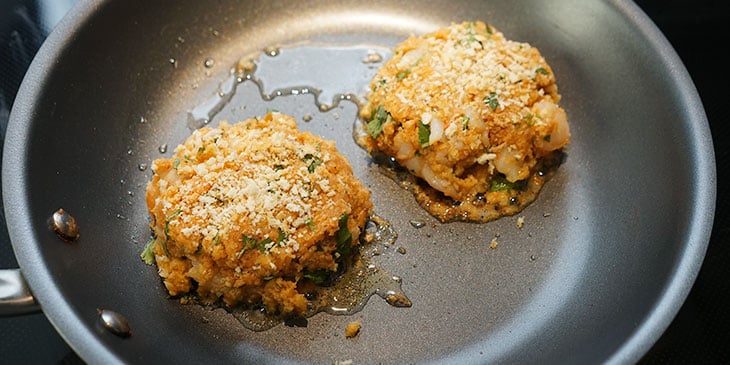 You can also cook the shrimp burgers in the:
Convection oven preheated to 420 degrees for 10 minutes
Air-Fryer at 400 degrees for 8 minutes
Step 3: Build Your Burger Or Salad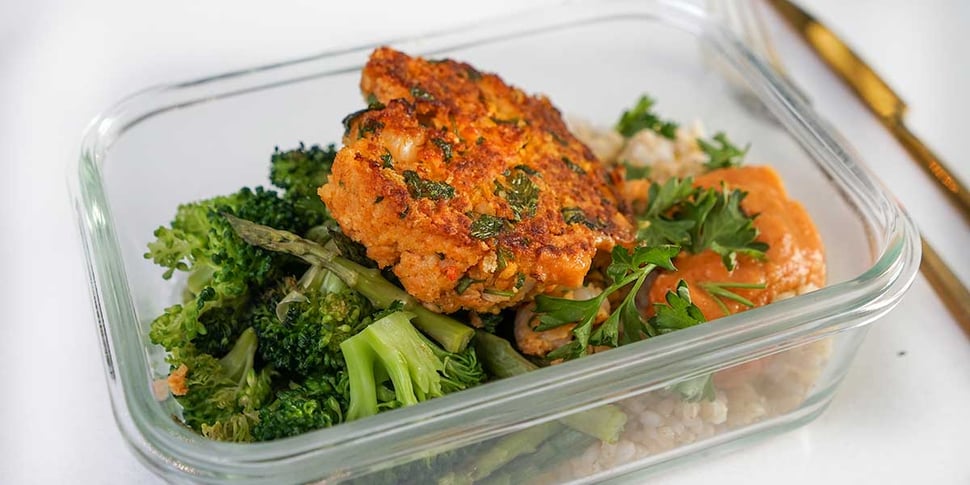 Serve these shrimp burgers as a part of a quick meal prep bowl like we did utilizing other Trifecta Meal Prep Ingredients
1/2 cup Brown Rice, 1/2 cup vegetables, 1 shrimp burger and 2 tablespoons your favorite dressing or sauce
Simply heat your brown rice and vegetables up on the side and dig in!
Each 4.5 oz shrimp burger is 250 calories with 6 grams of fat, 19 grams of carbohydrates, and 31 grams of protein.
These shrimp burgers are delicious on their own but here are are a few ideas for tasty and nutritious burger builds:
Whole-Grain bun, fresh avocado, sunflower sprouts, pickles
Pretzel Bun, whole-Grain mustard, sauerkraut, sliced pear or apple
Lettuce Wrap, sriracha aioli, fresh avocado, sliced cucumber and grape tomato
- Here are some other tasty bowl ideas:

1/4 cup Quinoa, 1/2 cup broccoli, 2 tablespoons green goddess dressing, 1/4 cup tomatoes
1/2 cup Black beans, 2 tablespoons salsa, 1/4 fresh avocado, 1/4 cup shredded red cabbage, 2 tablespoons fresh corn
Storing and Serving
If you are including this recipe into your weekly meal prep, cool and store your shrimp burgers separate from your burger build ingredients.
If you are preparing a salad feel free to make your and store your salad with the burgers, dressing on the side till you are ready to dig in.
This recipe will keep for up to 4 days in the fridge.
---
Too Busy? We Got You!
Want to get more out of your weekly meal prep efforts? Stick to your calorie goals and budget with our Meal Prep Ingredients. Pre-cooked and ready to heat, these ingredients are organic, sustainably sourced, and minimally seasoned to maximize your meal prep.