Holidays can be tricky to navigate while also dieting. While it may seem intriguing to just "take a day off" of your diet, it's important to remember why you started it in the first place. Taking days off and eating whatever you so desire can make all the hard work put in for nothing. Often times we really underestimate just how many calories we end up consuming when we go out, especially when we've been restricting our diet. The average three-course meal at a restaurant will have you eating well over 1,700 calories!! This will leave you frustrated. It may even lead you to blaming your friends or significant other for convincing you to "take a day off". The last thing you want to do while dieting is to ruin any relationships you have- especially with your significant other.
To keep the added stress off and to keep your diet on point, skip the waits at the crowded restaurants and have a fancy night in! We created some healthy three-course meal recipes that will keep your partner happy (depenedent upon how great of a cook you are) and will keep your diet on track.
First Course: Appetizers
Portobello Mushroom Bruschetta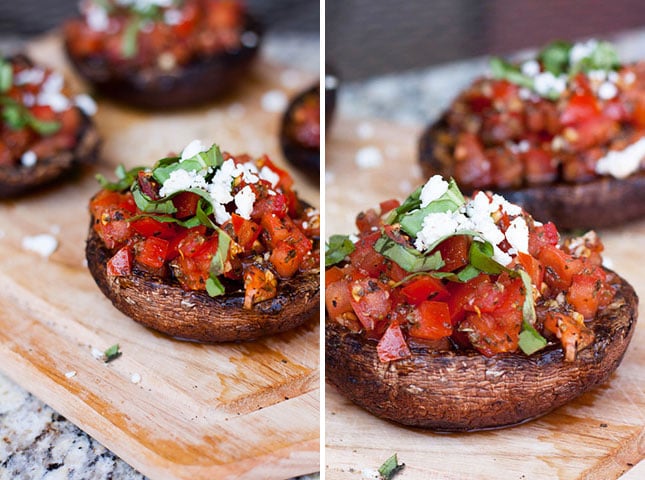 Serving size: 2 mushrooms (serves 2) Calories:259
Protein: 10g , Carbohydrates: 18.5g, Fat: 17.5g
Ingredients
4 large portobello mushrooms, stemmed
2 tablespoons extra-virgin olive oil
2 cloves garlic, minced
3 small to medium sized vine ripened tomatoes, diced
1/2 cup low fat mozzarella cheese
1/4 cup chopped fresh basil leaves
Drizzle olive oil on grill pan to prevent mushrooms from sticking. Grill for about 5 minutes, each side.

In a bowl mix together the extra-virgin olive oil and garlic. Add the tomatoes, cheese, and basil and toss until mixed. Season the tomato salad, to taste, with salt and pepper.
Add the tomato salad to the grilled mushrooms, drizzle the top with balasmic vinegar.

BBQ CHICKEN SWEET POTATO SKINS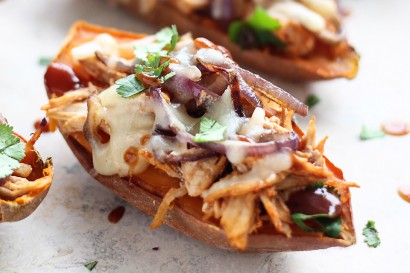 Serving Size: 2 Potato skins (Serves 2) Calories: 289
Protein: 21g, Carbohydrates: 35g, Fat: 7.5g
Ingredients
2 small sweet potatoes
4oz chicken
2 tablespoons of barbeque sauce
1/2 tablespoon of olive oil
1/2 red onion
1/3 cup shredded low fat mozzarella
Poach the chicken on the stove until cooked. Once cooked, shred the chicken and mix in the barbeque sauce.
Preheat the oven to 400 degrees. Using a fork, pierce the potatoes a few times for ventilation. Place potatoes on a baking sheet and cook for about 35-40 minutes or until a fork can easily be inserted into them.
In a skillet, heat pan over medium and add the olive oil. Once the pan is heated add in the red onion, cut or diced however you'd like. Cook the onions until slightly brown.
After the potatoes have cooled enough to handle, cut both potatoes in half (lengthwise). Using a spoon, scoop out the inside of the potato, leaving just a thin layer of potato with the skin still attatched. Fill the inside of the potato with the shredded chicken and sauteed onions. Top each potato with the shredded mozzarella cheese.
Place the potatoes back into the oven for about 3 minutes or until the cheese is melted.
Second Course: Entrees
Baked Chicken Parmesan with Zucchini Pasta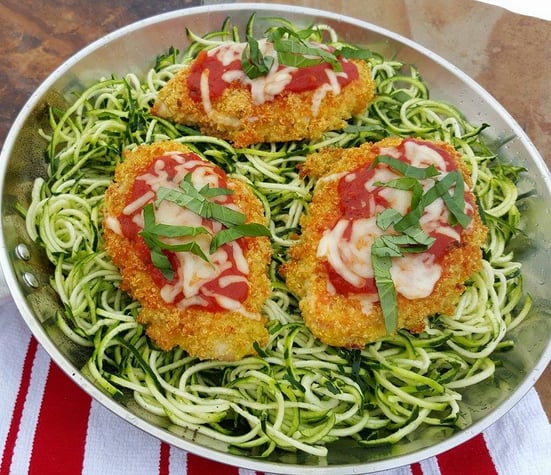 Calories: 330 per serving (serves 2)
Protein: 19g, Carbohydrates: 33g, Fat: 17g
Ingredients:
2 4oz chicken breast
1/4 teaspoon of salt
1/4 cup of whole wheat bread crumbs
2 tablespoons of grated parmesan cheese
1 teaspoon of melted unsalted butter
1/2 tablespoon of olive oil
1 1/2 cup of marinara sauce
5 tablespoons low fat mozzarella cheese
2 zucchinis peeled
1 tablespoon olive oil
1/4 cup of water
Preheat oven to 450 degrees. Spray a baking sheet with cooking spray. Season both sides of the chicken breast with salt.
In a small bowl mix the bread crumbs and parmesan. In another small bowl mix the butter and olive oil. Using a brush, brush the butter and olive oil mixture onto the chicken breasts. Then dip the chicken breast into the bread crumb mixture until fully seasoned. Put the chicken onto the baking sheet.
Bake for about 20 minutes or until golden on the bottom of the chicken. Turn the chicken over and then cook for an additional 5-6 minutes or until the center is cooked.
In a skillet, cook the marinara over medium. Then add in the chicken, place the mozzarella on top and cover skillet until the cheese melts.
Cut lengthwise slices from zucchini. Turn zucchini over and continue peeling until all the zucchini is in long strips. Then cut those pieces into thinner, spaghetti like pieces.
In a skillet, heat the olive oil over medium. Stir zucchini in the hot oil for 1 minute. Add water and cook for about 5-7 minutes or until softened. Once cooked, drain the liquids from the pan.
Place the zucchini noodles on a plate as the base. Top with the chicken parmesan.
Seared Filet Mignon with Roasted Asparagus and Tomatoes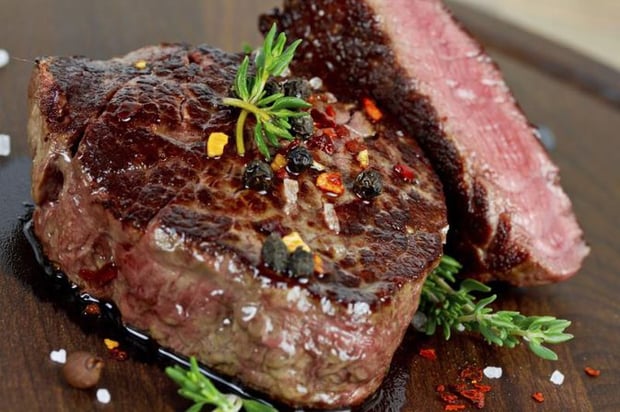 Calories: 399 per serving (serves two)
Protein: 44g, Carbohydrates: 14g, Fat: 21g
Ingredients
2 6oz filet mignon steaks (trim the fat)
olive oil cooking spray
kosher salt and cracked pepper
1/2 tablespoon of olive oil
1 cup of cherry tomatoes
1 bundle of asparagus
Directions:
Preheat the oven to 400°F. Spray the steak lightly all over with olive oil. Season both sides of the steaks with salt and pepper.
When the oven is ready, heat a skillet over high heat until the pan is very hot. When the skillet is hot, add the steaks and cook for 2 1/2 minutes. Turn over and cook for 2 to 2-1/2 minutes. Sear the steaks until its brown all over. Place the steaks in the oven for about 4 to 5 minutes, then check them with the meat thermometer inserted into the side of the steak. Remove when the steaks read 125° F for Medium Rare, or 130° F for medium.
In another skillet, heat on medium and add the olive oil in. Once the pan is heated add in the asparagus (tough bottoms cut off). Pan fry the asparagus until tender, add in the cherry tomatoes (cut in half) and lightly sautee them in the pan until lightly golden.
Final Course: Dessert
Protein Lava Cake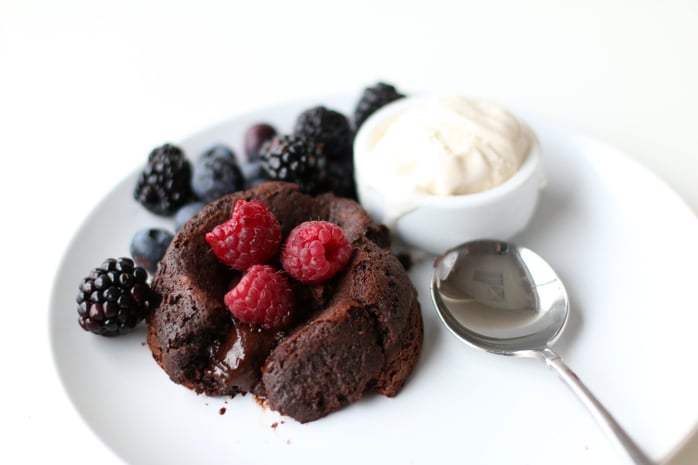 Calories: 357 (per cake) Recipe makes 2 cakes.
Protein: 23g, Carbohydrates: 19g, Fat: 21g
Ingredients:
1/2 cup of chocolate Whey protein powder
3 tablespoons of cocoa powder
2 tablespoons of coconut oil
1/4 cup of oats
1 whole egg
1/4 cup of almond milk
Using a blender, blend all the ingredients together until smooth. Heat the oven up to 356 degrees. Put batter into small round baking pans (oil pan if necessary). Bake for four minutes so that center is still gooey and lightly cooked. Carefully remove from oven, turn over outside of plan and onto a plate. Serve with any topings!
New York Style Protein Cheescake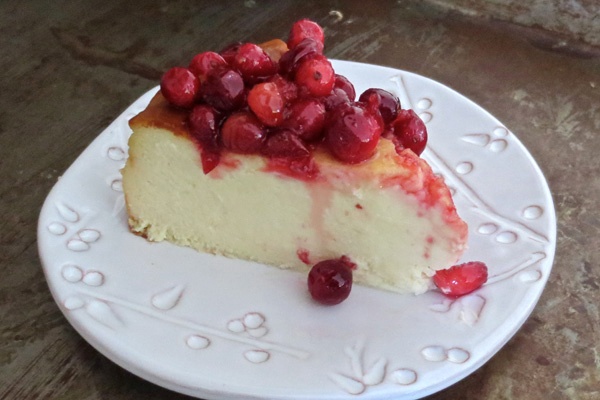 Calories: 208 (per 4oz serving)
Protein: 31g, Carbohydrates: 15g, Fat: 2.5g
Ingredients:
1 1/2 scoops of Whey protein
12oz Fat Free Philadelphia Cream Cheese
10oz plain greek yogurt
2 whole eggs
1 tablespoon of stevia
1/4 cup of milk
1 teaspoon of vanilla extract
dash of salt
fruit to top
Preheat oven to 325 degrees.
Soften the cream cheese in a large mixing bowl by pressing down with a spoon. Add in the rest of the ingredients and continue mixing for 2-3 minutes. Pour into a baking pan lined with parchment paper. Bake at 325 degrees for 25 minutes. Turn the oven temperature down to 200 degrees and continue to bake for an hour. Let cool in fridge for 4-5 hours. Top with fruit as desired!
Share This Story