Clean eating (eating whole, minimally processed foods) is a lifestyle and not a diet. Making the decision to eliminate certain foods from your diet and choosing healthier options is a challenging life choice, not a 30 day fast fix. My favorite resource for staying on track while still being creative with my food is my own experimentation in the kitchen! Here are some clean eating recipes for every meal of the day, tried and tested by yours truly!
Breakfast: Casserole with Eggs, Sweet Potatoes, and Turkey Sausage
INGREDIENTS
20 ounces (600 g) sweet potatoes, peeled & cut into ½ inch cubes
1 pound lean Italian turkey sausage
1 onion, diced
1 red pepper, diced
3 garlic cloves, minced
6 eggs
⅓ cup coconut milk (unsweetened plain)
¼ teaspoon black pepper
1 teaspoon Chipotle spice and 1 teaspoon chile flakes (if you like spice)
sliced green onion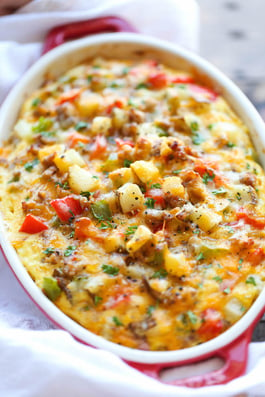 INSTRUCTIONS
Preheat oven to 375 degrees F. Cook the potato dices in salted boiling water for about 5 minutes to partially cook them. Drain and let cool.
Heat a skillet to medium-high and cook the turkey sausage (ground up) until browned. Break it up in the process. Remove from skillet with a slotted spoon. Leave 1 tablespoon of grease.
Cook the onion and red pepper in the sausage grease for about 5 minutes. Add the garlic and cook a couple more minutes. Transfer to a large baking dish (9x13 inches) together with sausage and potato dices. Spread evenly.
In a bowl, whisk together the eggs, milk and black pepper and pour into the baking dish. Stir to combine everything.
Cover with foil and bake for 20 minutes. Uncover and continue baking for 10-15 more minutes.
Let the breakfast bake rest for a few minutes. Add sliced green onion and serve hot. Store for later breakfasts for the week!
Lunch: Lettuce Wraps with Chicken and Avocado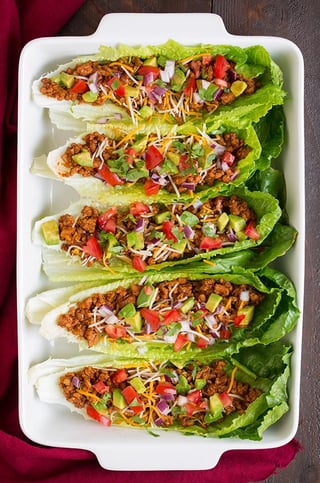 INGREDIENTS
1 lb. Chicken breast tenderloins
1 large head butter, bibb, or Boston lettuce, washed, dried and leaves separated
2 large avocadoes
1/2 cup natural salsa (no added sugar)
1/2 teaspoon sea salt
1/2 teaspoon black pepper
1/2 teaspoon garlic powder
1 tablespoon coconut oil
DIRECTIONS
Wash, dry and separate the leaves of 1 large head of Boston, bibb or butter lettuce. I use butter lettuce but any large leaf lettuce that you enjoy will work. Set aside.
Pat chicken tenders dry. Season chicken breast tenderloins with garlic powder, salt and pepper. Add coconut oil to very hot skillet and then add chicken. Immediately reduce heat to medium and sautee for 8-10 minutes or until thoroughly cooked and no longer pink in the middle. Be sure to turn chicken and check often to prevent burning. When cooked, remove from skillet and chop chicken into 1" pieces.
In a small bowl, mash the flesh of two avocadoes with a fork until just creamy. Spread avocado into each piece of lettuce. This will make about 8 wraps. Equally distribute chicken onto the lettuce wraps and top with natural salsa to taste. Fold like a taco and enjoy!
Dinner: Balsamic Glazed Steak Rolls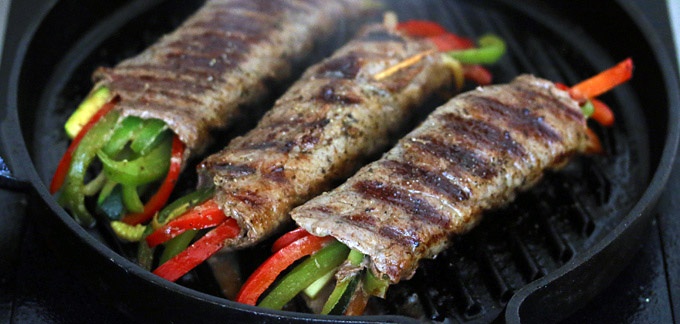 INGREDIENTS
8 thin slices sirloin or flank steak (length and width according to personal preference)
Extra virgin olive oil
Salt and freshly ground black pepper
Fresh rosemary, chopped
1 red bell pepper, sliced into thin strips
1 green bell pepper, sliced into thin strips
1 medium zucchini, sliced into thin strips
1 medium yellow onion, halved and then thinly sliced
A few white button or cremini mushrooms, cut into thin strips
For the Rosemary Balsamic Glaze:
1 teaspoon extra virgin olive oil
1 large clove garlic, minced
1/4 cup dark balsamic vinegar
2 tablespoons dry red wine
2 teaspoons honey
2 sprigs fresh rosemary
1/4 cup Progresso™ beef flavored broth
DIRECTIONS
Rub each side of the steak slices with a little extra virgin olive oil. Sprinkle with salt, freshly ground black pepper and some chopped fresh rosemary.
Heat one tablespoon of extra virgin olive oil in a skillet over medium-high heat and cook the vegetables until crisp-tender, seasoning with salt and pepper.
Place a few of the vegetable strips vertically on one end of each steak cutlet so that once rolled up the end of the vegetables are sticking out of each end of the steak roll. Roll it up, and secure it with a toothpick. Repeat for each steak roll.
For the rosemary balsamic glaze: Heat the olive oil in a small saucepan over medium-high heat. Add the garlic and cook for one minute, until fragrant. Add the balsamic vinegar, red wine, brown sugar and the rosemary sprigs and bring to a rapid boil. Reduce the heat and simmer uncovered for 5 minutes. Add the broth, return to a boil, reduce the heat to low and simmer for another 15 minutes. Discard the rosemary sprigs.
Prepare the grill and grill each steak roll on each side for about 2 minutes or according to desired doneness. Do the same if cooking them in a skillet, frying over medium-high heat until done. Serve immediately drizzled with the rosemary balsamic glaze. Baked potatoes make a great accompaniment.
Side: Cauliflower Mash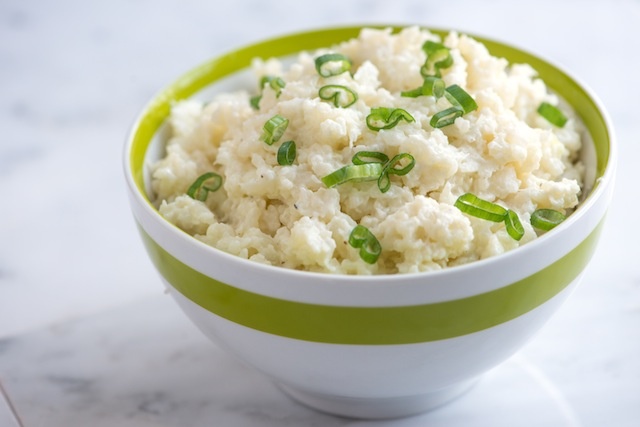 INGREDIENTS
1 (2-lb.) cauliflower, cut into small florets, discard stem
4 tsp. olive oil
1 tsp. sea salt
1-2 Tbsp chives or green onion sliced
1/4 tsp. granulated garlic (optional)
2 Tbsp. low-sodium organic vegetable broth
DIRECTIONS
Preheat oven to 400° F.
Wash cauliflower and pat dry.
Place cauliflower in large baking pan. Drizzle with oil; toss gently to coat.
Season with salt and garlic.
Bake, stirring halfway through, for 40 to 45 minutes, or until tender.
Place in food processor; add vegetable broth. Pulse until smooth. Stir in chives or green onions
See more great healthy recipes
---
Want to learn more about Clean Eating?