Trifecta Meal Prep is the "choose your own adventure" book of the meal prep world. It lets you call the shots and get exactly what you want.
You can order Meal Prep items by themselves or combine them with a full meal plan. Meal Prep is great for adding more protein or veggies to your diet and makes it easy to have healthy snacks on hand throughout the day.
However you choose to use Meal Prep, here's what to expect from the experience—plus some tips, recipes and lesser-known tidbits. Let's dive in!
What are the most popular Meal Prep items?
Our most loved and frequently ordered Meal Prep items are steak, salmon fillets, beef patties and chicken breast. Customers love the juicy texture, premium sourcing, and restaurant quality taste. Plus they're super easy to have as a snack, add to a Trifecta meal to up your protein, carb, or veggie intake, or incorporate into a macro-balanced meal.
What spices do

Meal Prep

foods have?
Meal Prep items are cooked with simple, minimal seasonings such as parsley, onion, garlic, black pepper, and minimal sea salt. Many of our clients count macros and participate in athletics, so we keep added ingredients and seasonings to a minimum.
Which proteins can I order with Meal Prep?
All Trifecta proteins are available to order Meal Prep. The list includes classics like chicken and skirt steak and lesser known options like bison and venison.
We also have an extensive seafood selection that includes sustainably caught:
Red meats are 100% grass fed. White meats are free range. And all Trifecta proteins are humanely raised, which means they have indoor and outdoor access, can graze the land and get many other animal-friendly options that most traditional or industrial farms don't provide.
Which veggies can I order with Meal Prep?
All Trifecta vegetables are available to order Meal Prep. The list includes broccoli, asparagus, zucchini, mushrooms, mixed vegetables.
All Trifecta vegetables are Organic, so they're pesticide free and grown using farming techniques that are gentler on the earth than traditional farming.
What quantities do Meal Prep foods come in?
You can order Meal Prep items in 16 or 32 ounce packages. The only exception is our vegetables, which can only be ordered in 32 ounce quantities. If you want more or less of a certain item, feel free to mix and match different sizes. For example, you can get a 32 ounce package of chicken and a 16 ounce package of quinoa.
Is there a minimum order amount for Meal Prep?
The minimum order for Meal Prep is $119. Having an order minimum allows us to:
Use packaging efficiently
Minimize our carbon footprint
If you'd like to keep costs down, you can choose to receive an order every other week, every three weeks, or once a month.
How are Meal Prep proteins cooked?
All meal prep proteins are oven roasted. We use minimal seasoning and no added fat or oils. We do this so you can get the most nutritious protein possible and easily keep your macros in check without any additional fat.
Are Meal Prep foods cooked with any fat or oil?
No. Meal Prep items are steamed, roasted or baked using no fat, butter or oil. Many of our clients count macros or follow the RP diet so we make sure to leave out any extra fats that could throw off someone's plan for the day.
Are Meal Prep proteins lean?
Yes, all Meal Prep proteins are 90% lean or more. This makes them a good match for RP'ers or anyone who wants to get the most protein-dense meat possible while keeping fat intake to a minimum.
In fact, we work with many professional athletes who are able to eat these proteins throughout their training and all the way up to competition.
Is the beef grass-fed or grass-finished?
Yes, all Trifecta red meats are 100% grass-fed and grass-finished, which means they consume grass their entire lives and never grain.
This is different from grass-fed and grain-finished beef, which means the animal was fed grass most of its life but was fattened up with grain towards the end. Grain-finished beef is fattier than 100% grass-fed beef.
Is the poultry free range?
Yes, Trifecta chicken and turkey are free range so the animals can root, explore and express their curiosity. All of our meats are also humanely raised.
How does Meal Prep work with my RP template?
All Meal Prep items (except muffins and some almonds) are on the RP-approved list, which means they meet the macro standards of your RP template. If you're using Meal Prep with an RP template, all you need to do is weigh to fit your macros and eat.
All macro information is also printed on the Meal Prep containers to make calculating your needs easier. Learn about the difference in weight between your template and Meal Prep foods here.
How should I heat up my Meal Prep items?
We don't recommend putting an entire package of Meal Prep food in the microwave, as the amount of food makes it difficult to heat evenly.
We recommend taking out the amount you want and either microwaving for 2-3 minutes on a microwave safe plate (cooking times may vary) or heating through on a grill or skillet (preferred method).
How does the price of Meal Prep compare to a meal plan?
Meal Prep is our most affordable option and a good way to get your feet wet with Trifecta. By mixing and matching basic staples like chicken and broccoli, you can create meals for $4-6. Since the items are very basic, they're great for adding your own sauces and fresh herbs at home.
If you're someone who enjoy cooking and experimenting with flavors but doesn't have a lot of time, Meal Prep meats are a great way to play around and make some delicious custom meals in a fraction of the time with very little mess.
Won't I get bored with Meal Prep?
Since Meal Prep items are cooked with limited seasonings, they're like a blank canvas. You can add your own sauces and fresh herbs at home to bring variety and flavor to your Meal Prep meals.
Our Favorite Sauces: Keto Sauces, Chimichurri Sauce, Roasted Mango Habanero Sauce, Romesco Sauce
Our Top Herbs: 30 Flavorful Herbs and Spices Perfect for Meal Prep
Things like hot sauce, additional spices and herbs, and citrus can spice up your meats and veggies without adding calories.
What can I make with my Meal Prep items?
The options are endless when it comes to what you can create with your Meal Prep foods. What's nice about Meal Prep is that you can conquer just about recipe in half the time.
From simple recipes with just a few ingredients to more involved dishes with several steps, there are a ton of high protein, nutrient-dense meals you can pull together with your Meal Prep proteins, veggies and carbs.
We regularly post Meal Prep recipes on the blog to help you keep it fresh and exciting. Here are a few popular ones:
How should I store my Meal Prep items?
Once you've opened a package of Meal Prep food, we recommend putting the remainder into a sealed glass or plastic food container right away. This will keep your food fresh the longest and keep your fridge smelling fresh.
How long will my Meal Prep items last?
As long as the package is still sealed, your food will last 7 days in the fridge.
If you freeze your food right away before opening it, it will last about 3 months in the freezer until you're ready to eat it.
Do Meal Prep items have any sugar?
With the exception of Trifecta muffins, Meal Prep items have no refined sugar. This makes them compatible with popular diets such as Paleo or RP.
When is the food delivered?
Trifecta deliveries typically come on Friday, with some Saturday deliveries.
Your delivery will arrive via FedEx, UPS, or GSO by end of day, which can be as late as 8:00 PM in some areas—so don't panic if you get off work and your food hasn't arrived yet.
If you're not around to accept the package, it is in a refrigerated case and will do fine until you can bring it inside and put your meals in the fridge.
How often will I get deliveries?
Trifecta is a subscription-based service that comes every week. Once you sign up, you'll receive weekly deliveries unless you skip a week or contact us to specify otherwise.
What kind of package will the food come in?
Your meals will arrive in a handsome orange and white insulated box that looks like the example below. Larger orders will come in larger boxes, but we try to fit as many packages as we can in each box to reduce the carbon footprint of the shipping.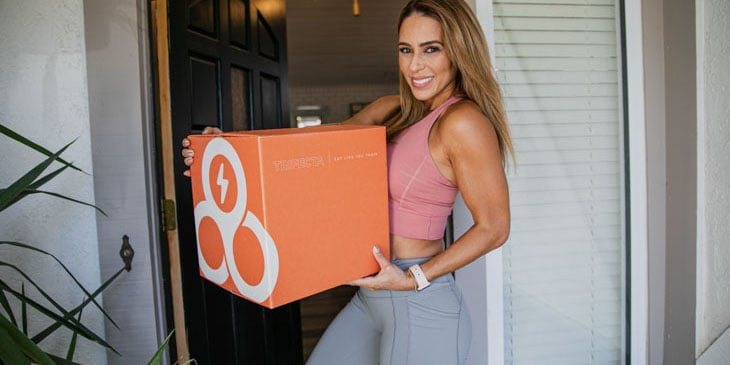 Each box has a refrigerated case inside that keeps the food fresh for as long as 72 hours. The box is filled with food-grade ice packs to keep your food cold and fresh.
Your meals will be packed securely side by side so they don't move around in transit and still look attractive when they arrive.
Meals are prepared fresh each week and arrive ready-to-eat, so all you have to do is heat and enjoy (or take on the go/etc).
How can I track my package?
You'll receive an email with your FedEx, GSO or local delivery tracking number on Thursday, the day before your package is set to arrive.
The food is delivered between 8AM-8PM so you can check your tracking, see when it arrives and get to eating as soon as possible.
What if I'm not home?
If you aren't home, FedEx, GSO, or local delivery service, will generally leave the package at your door. Because of the way our food is packaged, it will remain cold and fresh until you get home.
Also, we do ship nationwide, so if you're ever traveling, we can send your deliveries to any hotel or address that FedEx (or local delivery service) delivers to.
This ensures you never have to take a break from your preferred diet.
What should I do with the items in the box?
Everything that comes in your box is either 100% recyclable or food. We designed it this way on purpose and aim to move towards totally biodegradable trays in the future.
Cardboard Box: Like most cardboard, our boxes are made with recyclable materials. The best way to dispose of them is to reuse, recycle or compost which takes approximately 2 months for full break down and can be accelerated by getting the cardboard wet when you add it to the compost.

Plastic Trays: Our plastic trays are food grade plastic and are 100% recyclable when cleaned.

Box Liner: We use Temperpack ClimaCell box liners for insulation.This starch-based foam box liner functions by trapping air, and minimizing conduction and convection to provide temperature stability; aka keeping your food nice and cold. Using ClimaCell in place of traditional insulation or styrofoam reduces Scope3 emissions and is fully recyclable.

Ice packs: these contain food-safe gel and can be reused! Alternatively, you can also drain them into the sink with the garbage disposal on and recycle the outer plastic case.
Do Meal Prep items come pre-portioned?
Meal Prep proteins come in pre-measured 4-ounce portions, which makes them convenient if you're following an RP template or keeping tracking of macros.
Veggies and carbs aren't sectioned into individual portions—they come bulk-packed in their own trays and can be divided up however you want into meals and snacks.
I have more questions about Meal Prep - who can I talk to?
Our customer support team is standing by to help via chat, call or email. Contact them at the button below with any additional questions you may have.