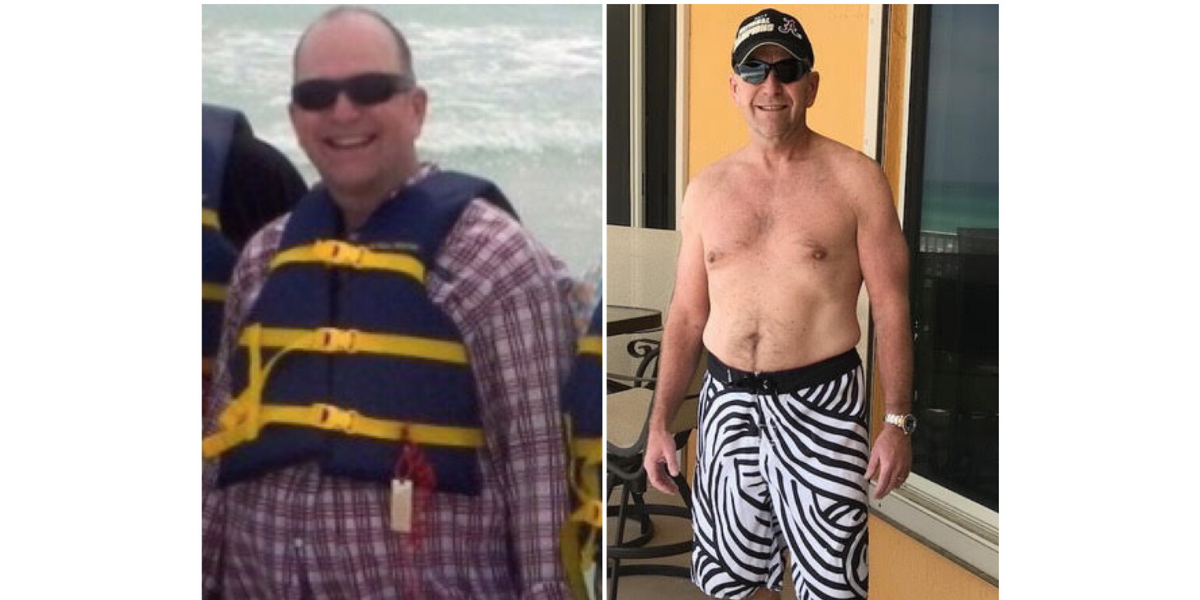 Looking to lose weight? Everyone's weight loss journey is different, but the first step in reaching your goal is committing to a healthy diet. Learn how Chris dropped 45 lbs and improved his health by eating only Clean Meals! In just three months, Chris has already seen huge progress and doesn't plan on stopping anytime soon. If you're looking for some motivation, read his full story below.
"For me, the meals were perfect. I didn't even feel like I was on a diet—I just felt like I was eating better food than I've ever eaten before, and I was also noticing huge differences on the scale." - Chris Cole, Panama City Beach, FL.

Meet Chris
I'm 56 years old, live in Panama City Beach, FL, and work for a systems integrations company. I became overweight last year and ended up having stomach pains for about a year, so I kept gaining weight. When I went on a business trip to San Francisco a few months ago, the pain got so bad that I felt like I was going to die—my wife took me to the hospital right when I got home and that's when we discovered I had gallbladder disease. It was blocking my bile and causing all these problems; I was even turning yellow! They had to take my gallbladder out and I eventually got better, but I was still overweight and ended up getting gout—I really wasn't in good shape.
Getting Started
Right around January, I was trying to work out and eat better, but wasn't getting any material results. I weighed around 235 and I hit a high of 238 lbs in the same month. Soon after, my wife was diagnosed with high blood pressure so she had to go on a diet. I didn't want to throw her off by eating unhealthy food in front of her, so I started looking for healthy food options and found Trifecta online. I also read that they were all organic, free range, whole food, etc. so it was exactly what I was looking for.
"I thought it would take at least 6 months to reach my goal, but I'm already down to 195 lbs in only 12 weeks, and I'm still losing weight! This morning, I woke up and weighed in at 193. I really didn't expect it to go so well."
Shedding Pounds
My main goal was lose weight. I saw a BMI article on Trifecta that tells you the ideal ranges and when I first looked at it, I was like 'crap'—I'm 235 lbs right now, I can't get down to 177 lbs! My initial goal was to get down to 200 lbs, so I would have been happy just losing 10-15 lbs. I was actually just talking to my wife this morning about how I've lost 45 lbs in the past 3 months! I've already reached my goal in such a short amount of time, so it's been really incredible.
Before and after: Chris' 45 lb weight loss transformation from 238 lbs to 193 lbs in only 12 weeks!
I started tracking my weight in the beginning of February and was starting to lose 3-4 lbs per week, sometimes even 6 lbs! The weight just kept coming off. I was working out, but nothing too crazy—maybe 30 minutes of aerobics, ellipticals, a few whole body workouts (nothing like CrossFit thought), and I was seeing amazing results. I'm down 45 lbs and I don't even feel like I'm on a diet! I just feel like I've been eating good food and it's great to have my fridge always stocked with healthy meals. I don't even have to go shop or prepare any food, so it's all been really amazing. I started Trifecta in January I actually don't plan on stopping at all.
Setting New Goals
Now, my goal is to get down to 185 lbs. The last time I was that weight was in college, where I had about 6-7% body fat and was really fit, and now I'm in within 10 lbs of that! I think 185 is the lowest I want to go, just so I can still retain muscle mass. If I hit my goal, I don't mind floating between 185- 190 lbs, which is my long-term goal when I get into maintenance mode. Once I'm there, I'll see how many Halo Tops I can eat at night without screwing me up (on top of staying with Trifecta meals).
Trifecta Favorites
I literally live on the beach; I can walk to the other end of my house and see the sand and water. We have some really good seafood places around here, but the fish—salmon, tuna, cod—that have been included in the Clean meals are as good as anything I can get here! I'm a huge fan of seafood and they're honestly that good.
I had an uncle who was a navy seal, and his saying was "all things in moderation," and I agree because I wasn't comfortable cutting out any major food group like most other diets. You just need have some moderation and the right amounts, and Trifecta is perfect for clean eating like that.
Trifecta has made my diet a lot easier. Everything on the website is exactly true. I either work at home or travel a lot—last week I was in Lisbon and next week, I'll be in Canada. I'm really all over the place so when I come home, I don't want to spend a lot of time having to shop, cook, etc. so the fact that the meals come once a week and I can just stick them in the fridge, it's awesome and perfect for my lifestyle. My wife does a lot of things great but cooking isn't really her thing so between my schedule and the fact that she doesn't like to cook, Trifecta has been a lifesaver because I'm eating better now than I've ever eaten in my life—and I like to eat!
Consistency is Key
"The magic potion of it all is being able to stick to my new, healthy diet and if the food wasn't good, I really wouldn't have been able to stick to it and get these amazing results."
I've been taking gout pills for the past year and just found out that weight gain is a huge factor in gout. Since I've been consistent with the Trifecta meals for the past three moths and lost 45 lbs, I was talking to my doctor and told him I'd like to get off the allopurinol (a pill you have to take for the rest of our life unless something big changes). I told him about my major weight loss and he did 2 things: said he would order some of the meals, and also agreed to take me off the pills! I've been off for a month now, and there hasn't been any gout or anything! I get my blood checked in a week so that's when I'll find out if I get to stay off for good.
A Healthy Tip
Consistency is everything. If you have something you can stick with, that's it! With Trifecta, I don't feel like I'm giving anything up. The weight loss was honestly a stupendous side effect; I was just looking for some quick and healthy meals so I wouldn't throw my wife off her diet. I didn't really expect to lose 45 lbs, but I did! It's easy for me to stick to the meals and I actually look forward to them when I get home. I would absolutely recommend Trifecta—it's a good quality product, the food's delicious, it's healthy, plus it's easy and convenient. The more hectic your lifestyle is, the more benefits Trifecta can provide, plus it's so easy to stick to so you can see amazing results even when you're not looking for them. I don't feel like I'm on a diet—I feel like I can eat these meals for the rest of my life as long as Trifecta is in business and I'm still above ground!
Want to share your success? Send your story, photos, and location to testimonials@trifectanutrition.com.
Ready to fuel your own success story? Find a meal plan that's right for you.