After years of working in the food industry, in a job with long, stressful hours and surrounded by high-calorie temptations, Jake was finally ready to take his health back.
A self proclaimed fried food lover, and difficult dieter, he knew something like Trifecta, that took a lot of the hard work out of the equation, was just what he needed to stay on track.
"I always wanted to be in better shape and finally made the decision to do it. I am not getting any younger. I am in my thirties and it's time to start focusing on myself. But I really needed something to help hold me accountable this time". - Jake S, Sacramento, CA.
Meet Jake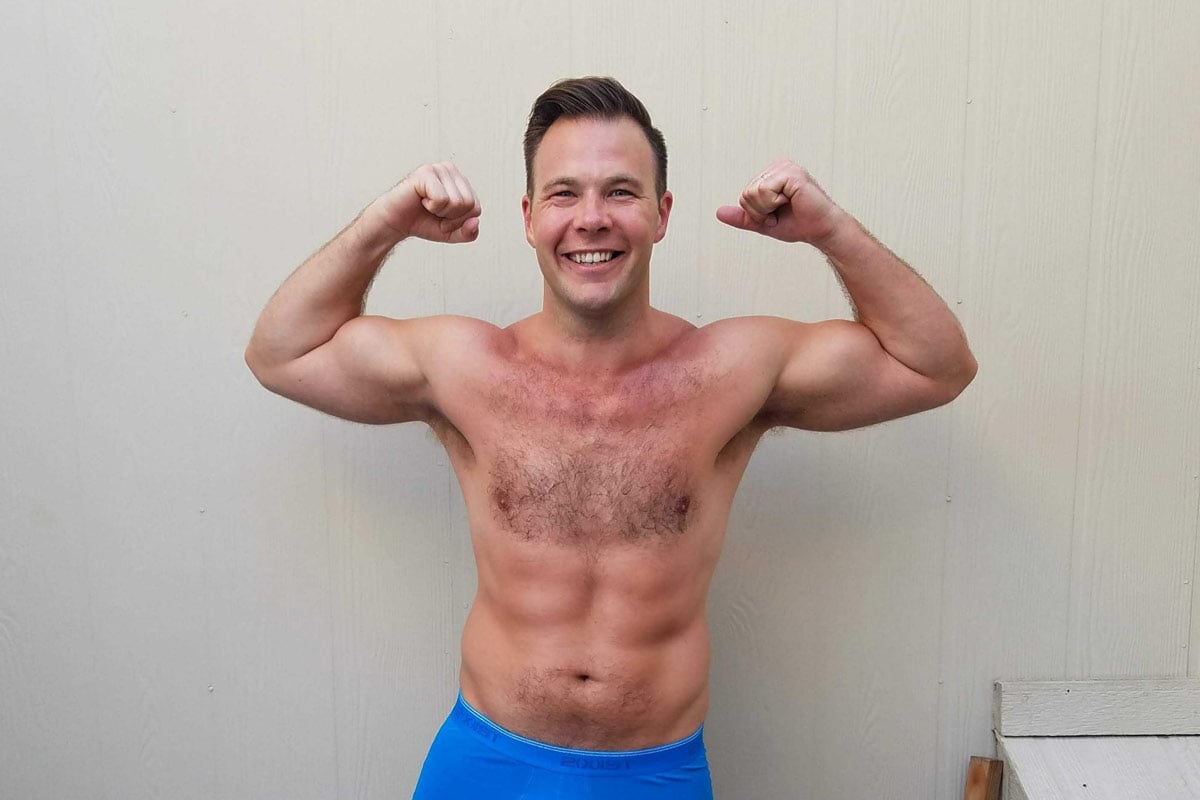 I grew up in the South, so vegetables weren't really a thing - unless they were fried. And I absolutely love high fat foods, especially fried chicken. Because of this, I am not one to skimp on flavor. I need food that tastes good.
My love for food is what got me into working in the catering and events world. And luckily, always being on my feet - and in my twenties - allowed me to eat pretty much whatever I wanted. But that all changed when I switched to working more of a desk job with a long commute.
I was getting older and feeling more tired and out of shape. I also really love fashion, and my clothes weren't fitting me well any longer - this is not ok!
My goal was to get jacked without getting fat. Lift heavier weights and be in better shape all around.
Staying Lean by Eating Clean
I started on the clean meal plan and loved it. It's still my favorite because you always get something new, and there's a good amount of carbs and protein. My favorite meal is anything that comes with chicken sausage. I also really love the turkey burgers… I can eat them all day long.
Ready to dial in your nutrition? Find the meal plan that's right for you.
The combo of eating more clean, and cutting out most fried foods and alcohol made a huge difference. Cutting down on alcohol has been one of the most crucial changes. It was really holding me back.
And I made a conscious decision that i needed to cut down on the drinking if this was going to work. I was killing myself in the gym and alcohol was ruining it.
Cleaning up my diet allowed me to train harder and put on more muscle than fat. It was basically a win-win. I felt less crappy, so I could work out harder and fell in love with my training. And because I was eating clean, I was getting better results from all my hard work.
I started getting more into my fitness, lifting heavier weights and signing up for more intense training.
Losing Fat and Excuses
Trifecta made it so that i didn't have to think about my meals any longer. It is so easy, literally everything is done for me. I didn't have to think about or worry about my diet.
This allowed me to focus on my workout rather than trying to figure out how to eat healthy. It also made it so much easier to stick to my diet... I was out of excuses.
Not having to cook and deal with the grocery store has been a blessing. After an hour commute, dinner only takes 2 minutes. Trifecta saves me so much time and stress. Without it I'd be eating out just about every night and living on pizza, ramen and Chinese food.
Total I've put on about 10 pounds of muscle and lost a little bit of body fat in the process. I feel great. I'm a lot more energetic and a thousand times more confident. I was shocked by how quickly it happened.
I've been working out for so long and when I finally started focusing on my diet and not just exercise, the results started piling up. Especially once I hit a month and a half, and started seeing it, all I wanted was more... to keep going.
Better Recovery and Training
Changing my diet gave me more energy for my workouts, I felt like I could go much longer and I was getting so much stronger. My high intensity training has gotten a LOT better. I am running faster and have so much more endurance. I'm not dying in the beginning of the workouts like before.
Also, when I started eating Trifecta, I noticed that my recovery time after the gym had decreased. Leg day used to put me out forever, now it's no longer a big deal. I bounce back pretty quickly.
Gaining Strength and Confidence
Once I hit 60 days, I started feeling stronger, faster and just overall better about myself. I was leaning out but gaining a lot of strength. Now I am lifting much heavier and doing more focused training, just becoming a better lifter in general. I feel like an athlete these days, going full beast mode in the gym! And gaining lots of muscle.
I feel so good, I am starting to look at getting into some athletic events like a spartan race, maybe even a tough mudder. I am now setting different goals for myself.
I feel like I've become the person I've always wanted to be.
Jake's Advice
Healthy food doesn't always taste great to me, but I knew I had to suck it up and eat better. The Trifecta meals are not fried chicken, but they are still really good.
If you're looking to make a change I'd recommend trying a meal plan. If you focus and just stay on track you will get results. And the results you want.
Trifecta definitely makes it easier to get there. They have thought of everything for you, especially if you don't have time or a clue how to start meal prepping.
Tell us your own Trifecta story! Shoot us an email at testimonials@trifectanutrition.com
---
We got the food, coaching, and community to help you reach your goals.