Bodybuilder. Powerlifter. Motivator. Dad. Entrepreneur. Veteran. Legend. These are all words used to describe Trifecta Athlete and Iron Addicts gym owner C.T. Fletcher. After surviving home struggles, a divorce, and open-heart surgery, C.T. spends his life motivating others and leading by example.
As a Veteran, C.T. is passionate about helping his fellow servicemen and women. We spent some time chatting with him to hear his story and learn more about how he's been able to turn his life around with the help of proper nutrition.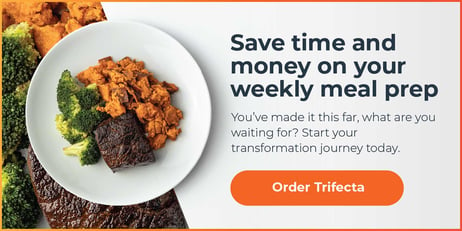 Here's His Story
"I started out as a country boy in Little Rock, Arkansas. We ate Soul Food and there was definitely no concern about being healthy. Everything was greasy and smothered and fried. It tasted good and made me feel like I was strong as all outdoors but man, after a while, it takes a toll on you.
From Heartbreak to Heart Problems
There are 10 kids all together and all of them passed away from heart-related problems. My mom and all 9 of her siblings. I have cousins that are younger than I am and who have passed from heart-related problems. My brother who is just a year and a half older than me also passed away from heart-related problems.
My brother had, and I have cardiomyopathy, an enlarged heart, and my mom had a litany of different heart issues.
I'm sure our diet didn't help. Because we are from the Deep South, we ate soul food. And, while soul food is known for being the tastiest, it certainly isn't known for being the healthiest...
The Moment Things Changed
"I was just having a conversation with my wife and next thing I know, I'm flatlining."
People say your whole life flashes before your eyes, but that wasn't true in my case. I only saw the things I haven't done and the things that I wanted to do. It felt like I was leaving so much undone.
I had my first open-heart surgery when I was 45 years old- they put a pacemaker in. Then, when that wasn't enough, I had stents inserted, and a valve replaced. The Doctors did everything they could possibly do to fix the heart I was born with, but after we'd exhausted all alternatives, the only thing left to do was to replace my heart.
Transplanting More Than a Heart
People think that if you are super super sick, then you're going to be skyrocketed to the top of an organ transplant list, but that's not the case. Every other system in your body, including your other organs, has to be functioning properly in order to get on the list. So, even if everything shuts down, you're not going to make it to the top of the list.
At one point the doctors were even concerned about my kidneys and they thought I was going to have to have a double transplant- for my kidneys and heart. That's when I knew I needed to make a change. I needed to get my body as healthy as possible so that, when the time came, I'd be ready for that new heart.
"It was time to ditch the soul food and focus on good nutrition."
One day Mike (Rashid) came to visit (He's like a son to me). He, like many others, was concerned about my health. I knew he was working with the meal delivery company, Trifecta, so, I asked him, 'Is Trifecta really as good as you say it is?' He told me, 'It's great pop. You're trying to eat healthily and Trifecta makes it simple.'
Or use this simple meal plan quiz to determine what meal plan will work best for you!
A New Perspective / The Longest Wait
From the time I got on the transplant list until I actually received my new heart was 6 months. In that time I flatlined 2 more times- making it 5 total, near-death experiences before I received my transplant. When you flatline, you're concerned about every moment. You feel like every moment could be your last because it happens so suddenly, so unexpectedly.
When you're on a transplant list, doctors like to keep you close to the hospital. So, my wife and I moved into a one-bedroom, one-bathroom, dorm room. We lived there for months waiting for the call.
When you're this sick, you're mostly concentrating on just staying alive. But at the same time, I had to follow very strict dietary restrictions.
"I had to eat a low sodium diet and follow good, basic nutrition."
But on top of everything else going on, cooking meals was too much.
Trifecta relieved an unbelievable burden.
All I had to do was take my meal out, warm it up, and start eating. I knew I was eating nutritiously.
After a couple of months on my new diet, my kidneys perked back up. The doctors were happy with my numbers which helped me get to the place I needed to be to have the heart transplant.
There was no more fear of needing a double transplant.
Life After a Heart Transplant
Anytime someone asks me how I am, my number one answer is, 'I'm blessed' My health is good.
"People don't think about it, but your diet and nutrition are super important, especially for somebody in a compromised position like I was."
I am 100% Vegan now. I should say I am 100% no meat, or "plant-based". Vegans are a little bit more religious about it than I am. I'm doing it solely for health purposes and vegans incorporate their feelings about animals a lot more into their decisions than I do.
Trifecta relieved a tremendous amount of strain. Worrying about my nutrition was just not an option.
Now, I let the younger guys know that the key to being strong is, eating healthy, and having good nutrition. I was brought up the wrong way thinking that soul food was where my power came from and it was not. And now, I'm certain that it was a contributing factor to my health problems."
Thinking of Going Plant-Based Like C.T. Fletcher
Is going plant-based right for you? Understand the difference between plant and animal proteins here.
---
Discover how Trifecta works and why we've helped so many people like C.T. Fletcher regain control of their health and transform their lives.