By meal planning and keeping her body fueled properly, Christine was able to break her unhealthy habits. Thanks to her coach, she found a balance in her diet and nutrition, lost 30 pounds, and discovered a happier, more confident self.
Read more about Christine's transformation and learn how she uses Trifecta's A la Carte menu to stay on track.
Meet Christine
I'm 22 years old and currently studying exercise science and nutrition, so staying healthy is a huge priority for me.
I love lifting weights, but I still very much enjoy finding other ways to stay active. CrossFit originally got me into weight lifting and being active, but I've shifted over the years to compete in powerlifting.
Building Confidence
I was overweight for most of my teenage years. I struggled with my self-esteem and it was hard to take control of my diet up until this past year.
By dialing in my nutrition and understanding the concept of balance and moderation, I dropped over 30 pounds and have been able to successfully keep it off! I'm now so much happier and more confident.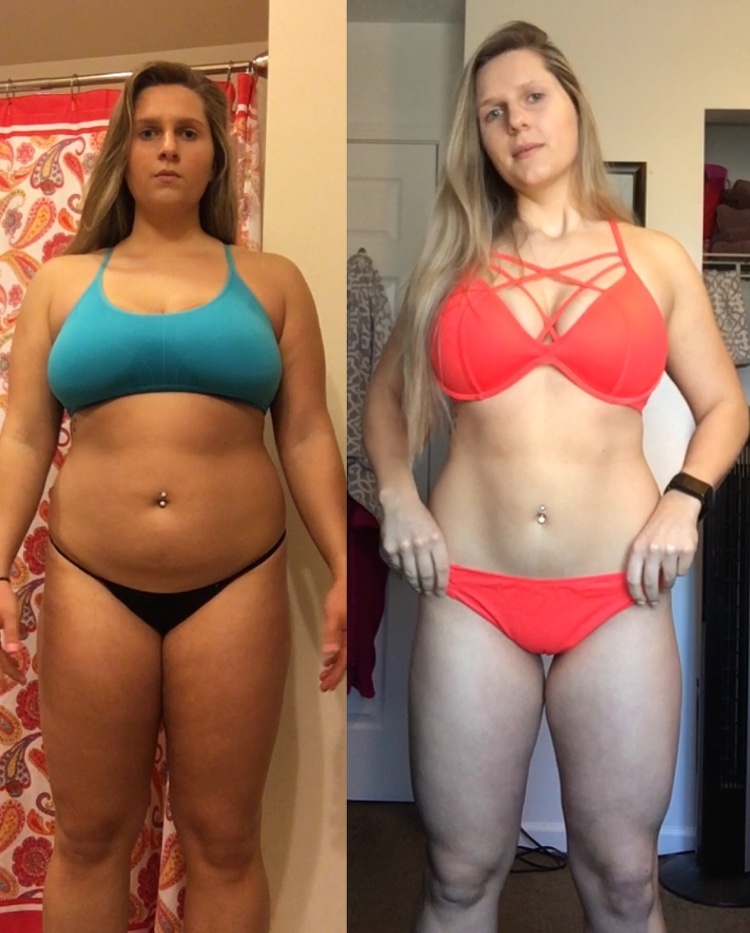 Before and After: My before photo is from February 2017, weighing 198 pounds and the after photo is from March 2018, weighing 167 pounds.
A Healthy Diet
I stay energized a majority of the time with whole, quality foods, which is where Trifecta comes into play.
The A la Carte menu is great because it really allows me to customize my meals to reach my goals and not to mention, everything tastes great. I still indulge in some of my favorite treats occasionally, but then get right back on track with my diet.
I attribute a lot of my success to my powerlifting coach; he wrote my programs and calculated my nutritional needs and I've learned so much about how to fuel my body properly.
Learn what your body needs to support your health and wellness using our calorie calculator to get your customized nutritional needs:
"There's so much variety with Trifecta. They offer so many different meal plans—whether you're on a paleo, vegetarian, or vegan diet, or just looking to eat organic, clean meals, Trifecta can help you reach your goals."
Meal prepping with Trifecta helps me stay on track because I never have to stress about my next meal. As a full-time student, juggling academics and staying on top of my training can be exhausting so when I come home, it's nice to have something healthy and ready to eat.
Trifecta is so convenient because I know I'm getting quality food that's already portioned out, and all I need to do is heat it up.
A Tip for Others
The biggest thing I want others to know is that nourishing your body with quality food and being active is the best form of self-care or self-love.
Treat your body kindly and stop with all the negative self-hate. Learn to respect yourself more! Your body can do some incredible things…don't let it go to waste! Get up and get out there!
Also, to anyone who feels the need to exercise intensely all the time to stay active and fit, you don't need to. Staying active could simply be going outside for a walk, a bike ride, or some light hiking. Remember: keep balance in all aspects of your life. This will lead to a healthier, happier, more confident you!
Want to share your success? Send your story, photos, and location to testimonials@trifectanutrition.com.
---
Ready to show yourself some love? Learn how Trifecta can help you reach your health goals and love yourself in the process.