Up Your Meal Prep Game
These tricks are designed to help you avoid meal prep burnout. We know that eating the same thing over and over again can get boring, but with the right additions, sticking to your macros will be that much easier! These tricks are aimed to support you in getting creative in the kitchen and help you incorporate some new flavors into your weekly meal prep. Flavor and nutrition work in conjunction; you CAN have it all! Aside from these tips, check out our suggestions on how to Meal Prep For Weight Loss. Check out the Trifecta Classic Meals, which are already lightly seasoned or our A La Carte meals, which pair great with all of these meal prep tricks!
1) Sauce = Flavor
Think of sauces as the identity to your dish. In culinary school, one of my chef instructors told our Soups & Sauces lab that, "the flavor of the dish is defined by how good a sauce is." Sauces add moisture, depth of flavor, and a specific identity to your dish.
With this in mind, I highly encourage you to prepare or pick 3 to 4 sauces to add extra oomph to your meal prep, and dress your dishes with them. You can make your own, buy them at the store, or check our blog in a near future for ideas on performance based sauces. An extra culinary tip for you... You can use a sauce to dress your protein, and if you so desire, your starch... AND, you can also use a separate sauce or dressings specifically for your vegetables! Vary among your favorite sauces and mix and match to your desire. This will take any possible dullness out of the same dish. See below my favorite store bought recommendations:
- Trader Joes: KBBQ Style Sauce, Harissa, Sweet Chili Sauce, Marinara, Green Goddess Salad Dressing, Almond Butter Turmeric Dressing, and Carrot-Ginger Miso Dressing (all found in stores - use these last three to dress your veggies!).
- Whole Foods: Peanut Coconut Sauce, Picaflor Spicy Sauce (Probiotic),
- Cookbook favorites: Plenty by chef Ottolenghi, Plenty More by chef Ottlenghi, The Essential Vegetable Cookbook by Sammi Brondo, RD
2) Add Some Fat
Arguably some of the greatest natural flavors come from fats. Healthy fats provide a pleasant mouth feel, add luster and moisture to sauces and proteins, satiation, deep rich flavor, and some great health benefits.
A word of caution: fats are high in calories. Portioning your fats by using measurement tools like tablespoons, or using your hands as a guide, can help you control any possible caloric excess.
Heart healthy, monounsaturated and polyunsaturated fats (Omega-3's), are crucial to Vitamin A & D absorption (1,2), immunity, and a healthy metabolism. Monounsaturated fats also support your system with anti-inflammatory properties (3).
Lastly, to piggy jump point number 1, creating oil based sauces kills three birds with one stone: you add a sauce, adds a heart healthy component (flavor on flavor!), AND you stay satiated for longer. Test out adding avocado, regular or flavored oils (like regular olive oil, chili oil, or basil oil), nuts, seeds (like ground chia and flax), or full fat greek yogurt/cream.
Check out this link to understand fats on a deeper level.
3) Add Pickled Vegetables
Pickled vegetables have to be the most useful addition to any dish. Aside from the possibility of adding some bright colors, pickled veggies add an acidic component to your dishes, brightening the flavors of your overall food! Pickled red onions are a great addition to any dish, but you can pickle just about anything. Add a side of cucumber pickles to your sandwiches, or burgers, or slice them and add them inside of your sandwiches or wraps.
Pickle beets, radishes, harricot verts, turnips, carrots, cauliflower,
Rainbow cabbage, zucchini, fennel bulbs, jalapeños, or sweet peppers.
Add further flavor to your pickles by adding spices and herbs. - Here's a quick recipe for you that makes about 4 Qts. worth of pickling liquid.
4) Add Fermented Goodies
Let's talk about fermentation... Point blanc, fermentation is awesome. One of the most acclaimed restaurants in the world, called NOMA, has a fermentation lab in which they play around with fermentation and come up with some spectacular flavors and textures. Now I'm not saying to create a lab in your kitchen; thankfully for us, there are several fermented foods available at the grocery ready to be purchased. To name a few:
Kimchi, sauerkraut, kefir
Komboucha, miso, tempeh
Greek yogurt with active cultures, apple cider vinegar with mother
Lacto-fermented pickled vegetables (to add benefit to point number 3)
Fresh real ginger ale
Aside from flavor, some research suggests fermented foods may provide many health benefits such as anti-microbial, heart health benefits, and positive health benefits for diabetics. (1)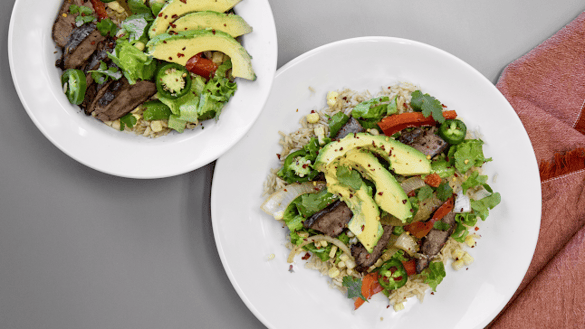 5) Add Something Crunchy
When I was in culinary school, during one of my freshmen labs, we discussed dish components and how to make the experience of the guest as best as we could by playing with the components of each plate. One of them was the crunch factor. Crunch adds an extra texture to your meal prep, and further enhances your own experience.
One of my personal favorites, and some of my past clients favorites, was mixed nuts. Aside from the crunch, you also add fats, hitting two of the six tips we suggest here! Here are some more great crunchy toppings to try:
Add other crunchy factors like raw vegetables, lightly dressed with oil and seasoned with salt and pepper.
Dehydrate herbs, chick peas, or cooked grains.
Add seeds like sesame, poppy, or pomegranate seeds.
Make croutons, or fry some items (though we suggest you do this sparingly as fried foods are high in calories for their cooking method), like puffed grains, tortillas, fried lentils or beans, or fried herbs.
6) Add Herbs & Garnishes
Herbs, micro greens, and small garnishes not only add beautiful color, but can also add amazing micronutrients and flavor.
Garnishes like sliced green onion bulbs, picked fine herbs, chives, sprouts, lime wedges, or micro flowers add small hints of bitterness that round up the orchestra of flavors in your meals.
Fruit zest, like lemon, lime, and orange all add that extra oomph of acid to round up your dishes, with an added benefit of color (a little goes a long way!).
Dice any of your favorite fermented foods and top of your meal prep with them, combining with some herbs, zests, or nuts. Boom, your dish is nothing like yesterday's.
Stay Ahead of the Curve!
When it comes to meal prepping, it can be hard to consistently scarf down the same thing day in and day out. Adding some variety to your meal prep and incorporating new flavors will help you avoid diet burnout and will keep your weekly meal prep fun and enjoyable. There's even some additional health benefits to be gained from these additions to your meal prep.
If you're eating our A La Carte items, we invite you to apply these tips