We strive to source the best quality ingredients available and as many ingredients as we can from local family-run suppliers with sustainable practices. Ingredient quality and nutrition are our top priorities, and we will always strive to include high-quality, nutrient-dense foods.
We choose to use organic ingredients as often as possible to promote ecological balance and conserve biodiversity in accordance with organic regulations. We stand behind producing food without substances that may be harmful and without harm to the animals and planet.
The USDA has regulations for different levels of organic. In order to have the USDA Organic seal on an item, 95% or more of the ingredients must be certified organic. We do not currently have the USDA organic seal on our meals.
We use organic vegetables as often as possible for our Clean, Paleo, and Whole30 meal plans but cannot guarantee that all or any specific % of ingredients will be organic due to fluctuations in supplier availability.
We believe in continuous improvement and are working to be able to include the organic seal in the future.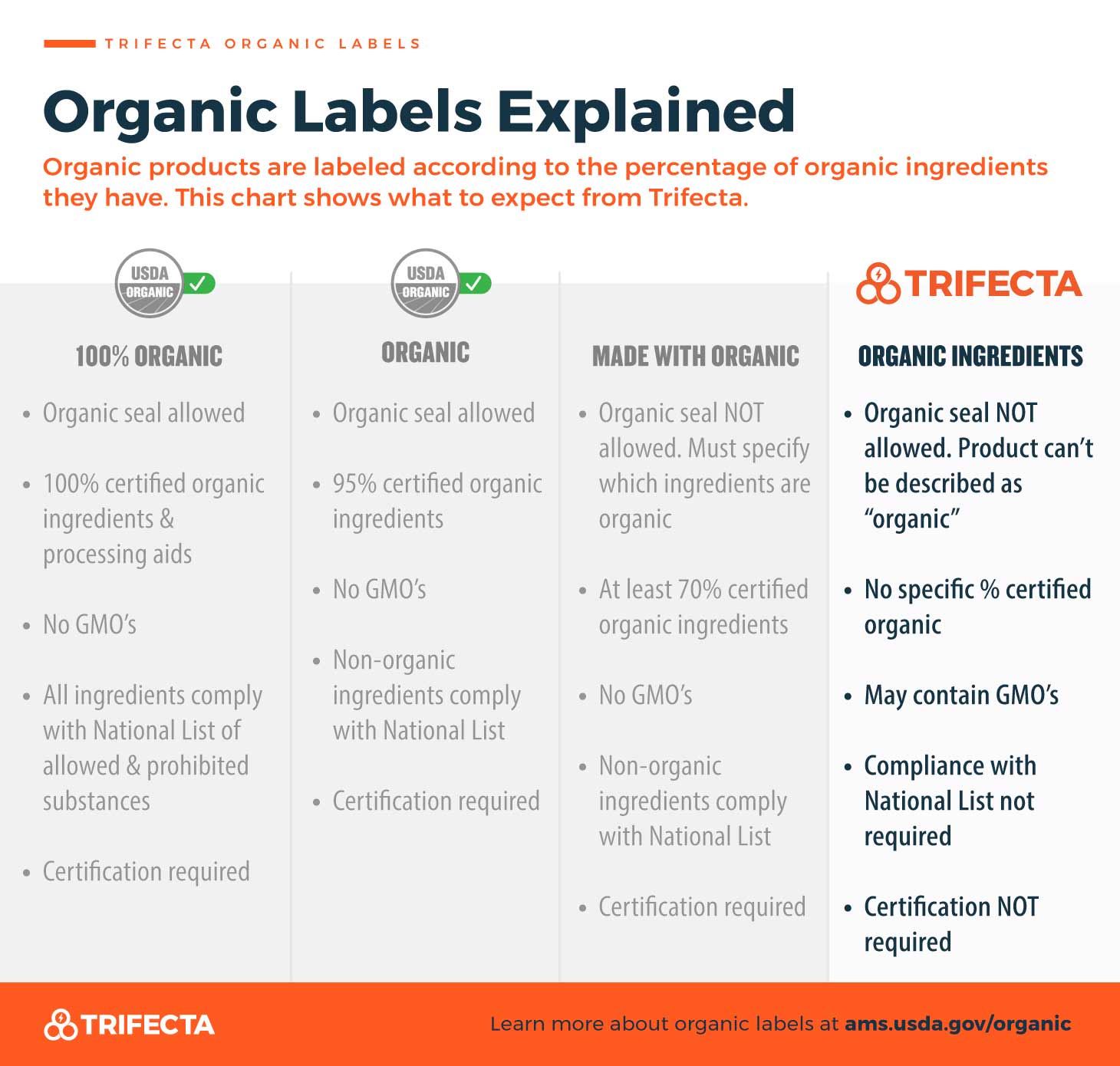 Our Clean, Paleo, and Whole30 meals are made with humanely raised meats. This ensures that all animals are raised with high-quality nutrition in environments that encourage natural behavior, allowing the animals to be happy and playful, and ensuring emotional well-being. We believe animals deserve to live happy lives.
Our Clean, Paleo, Whole30, and Meal Prep seafood is non-GMO, antibiotic-free, and sustainably caught.
Our Clean, Paleo, Whole30, and Meal Prep beef is non-GMO, antibiotic-free, and grass-fed. Studies have shown grass-fed and finished proteins have slightly lower saturated-fat content and higher levels of heart-healthy fats like omega-3 and omega-6 fatty acids.
Our Clean, Paleo, Whole30, and Meal Prep pork is non-GMO, antibiotic-free, and gestation-crate-free, and our turkey and chicken are non-GMO, antibiotic-free, and free-range.
It's our mission to offer proteins of the highest possible standard for all Trifecta plans, and are currently working on sourcing for our Keto and Classic meal plans.