Gameday is usually all about tasty food, beer, and friends, but does all the food always have to derail your diet? To start, some of your favorites may not be as bad as you think and with a few easy swaps, you can make the whole spread more weight loss friendly - without ruining the experience for everyone.
Here's your quick guide for healthy, ready-made and easy to make snacks that will still be crowd pleasers.
What are Healthy Snacks?
Most game day snack options are either high in refined sugar or loaded with high fat, high-calorie ingredients that are can leave you feeling bloated and like you've thrown a grenade into your progress. However, keep in mind that the occasional "bad" day may not do as much damage as you think. It's when these days get way out of hand and seem to happen every Sunday that you're going to start interfering with your weight loss efforts.
It's all about balance. So if you're looking to indulge a little bit, just plan for the extra calories and stick to your favorite options. Grab a few bites of the items you look forward to and then fill the rest of your plate with healthier snack options that will keep you on track.
The best snack options are going to be lower in calories and higher in nutrition so that you can get your fill without the guilt. Including more non-starchy veggies (basically all vegetables except corn and potatoes) and high volume foods (think low-calorie fillers like pickles, air-popped popcorn, water chestnuts, and low sugar fruits like melon) the perfect way to achieve this.
But you can't just serve celery sticks and fruit. So pairing these options with lean proteins and portion controlled healthy fats are a great way to add flavor and keep you feeling satisfied. High protein snacks are also associated with better weight management because they may help control hunger and promote blood sugar control (1,2,3). Healthy fats are also thought to be satiating and can make your food taste better (4,5).
And don't forget about liquid calories. Drink plenty of water, cut back on sugar-sweetened beverages and opt for diet-friendly cocktails.
10 Easy Healthy Snacks
Here are some great snack options that require almost zero prep time.
Peanuts, almonds, other nuts - Nuts are a source of protein and healthy fat and have been linked to weight management, better health, and satiety (6,7). Go for lightly salted or get creative with different flavors. Just be mindful of portion sizes since a small handful contains about 170 calories. For more calorie control, opt for shelled peanuts - they will slow you down while you snack!
Popcorn - Research suggests that popcorn may be more satiating than potato chips (8). Satisfy your crunchy cravings with air-popped popcorn or lightly buttered (only 35 calories per cup). You can even add your seasonings at home with a drizzle of oil to create your own blends.
Jerky - More and more high quality, grass-fed jerky options are hitting the market. Look for brands without a lot of added ingredients like sugar and artificial preservatives. Jerky provides 9g protein and only 100 calories per 1 ounce serving.
Dried fruit or trail mix - Mix and match your favorite flavors with your our version, or opt for a pre-made option. Adding in fruit and other ingredients help reduce overall calories compared to nuts alone - a 1-ounce handful of trail mix has about 130 calories, 4g of protein and 8g of fat. Bonus! Mix in puffed rice cereal or air-popped popcorn for more filler and fewer calories per serving.
String cheese - Low-fat cheese is a great way to get more protein and satisfy cravings. Plus they come already portion controlled. One cheese stick has 80 calories and 5g of protein.
Trifecta shrimp cocktail - Shrimp is a very lean, nutrient dense protein (80 calories and 15g of protein per 4 oz serving) that doesn't need much. Pair already cooked Trifecta shrimp with any cocktail sauce or dip you'd like.
Veggies and hummus or guacamole - Pair high fiber, crunchy veggies like carrots, zucchini, broccoli, cauliflower, radishes, celery, or peppers with a low-fat dip. Hummus and Guacamole are both moderately low carb (1g net carbs per tablespoon) and only 25 calories per tablespoon. Bonus! Swap in grilled chicken strips as a dipper, for even more protein.
Pickles and olives - Pickled veggies and olives can provide a ton of flavor and are great for mindless munching. Pickles are basically calorie free, and olives range from 5 to 10 calories per olive.
Whole grain tortilla chips and salsa - Salsa is essentially vegetables in a bowl and is pretty low calorie (less than 40 calories per 1/2 cup). Load up on this side with your favorite whole grain chips or veggie chips.
Deli meat roll-ups and cheese - Grab some organic deli meat and cheese for a lean and easy source of protein you can throw on a platter in minutes. You can pair with a mustard dipping sauce or serve as is. Deli turkey and chicken has only 60 calories and 8 grams of protein per ounce, and most hard cheeses clock in around 80 to 100 calories and at least 6 grams of protein per slice.
6 Healthy Snack Recipes to Try
Looking to get a little more creative and prep out some food options for the big game? Here are some simple, high protein snacks to get you started:
1. Grilled Chicken Skewers
Ingredients:
16 ounces Trifecta Chicken Breast
1 tsp Sea Salt
1 tsp Garlic Powder
1 tsp Curry Powder
1 Tbsp Cooking Oil
1/2 cup Peanut Butter or Almond Butter, Smooth
1 tsp Red Chili Paste (such as sambal olek)
1/8 cup Low-Sodium Soy Sauce
1 Tbsp Honey
1 Lime, Juiced
1/4 cup Hot Water
Large Wooden Skewers
Directions:
Heat oil in a pan over medium high heat. Slice chicken into strips (about four strips per breast) and saute with seasonings until warmed, starting to brown.
While chicken cooks, mix remaining ingredients in food processor or blender until smooth.
Serve chicken strips on wooden skewers, with the peanut sauce on the side.
Nutrition info: (3 strips and 1 Tbsp sauce) 125 calories, 3g fat, 1g carbs, 20g protein.
2. Grass-fed Sliders

Ingredients:
16 ounces

Trifecta Ground Beef
8 Whole Grain Hot Dog Rolls
8 slices Low-fat Cheddar Cheese
1 Small Onion, Diced
Lettuce
Relish
Ketchup
Mustard
Wooden Skewers or Large Toothpicks
Directions:
Cut burger patties, rolls, and cheese slices into thirds.
Top burgers with cheese and warm in the oven at 350 degrees for 5 minutes. Add buns to the oven to lightly toast them.
Top buns with burger and toppings. Then skewer the burger to hold it together.
Nutrition: (per slider) 125 calories, 5g fat, 8g carbs, 11g protein
*Try these with lettuce in place of the buns to cut carbs. Or use trifecta chicken and buffalo sauce, topped with blue cheese for another twist!
3. Avocado Deviled Eggs

Ingredients:
1 Avocado

1 T

bsp

Cilantro
1 T

bsp

Jalapeno
1 T

bsp

Red Onion
1

T

bsp

Lime Juice

1 pinch Chili Powder

1 tsp Sea Salt
Directions:
Scoop the yolks out of the egg halves, mash them, mix with the avocado, bacon, jalapeno, onion, tomato, lime juice and cilantro and season with salt, pepper, and cayenne.

Place a tablespoon of the mixture back into the holes left by the yolks in the eggs and serve garnished with extra bacon and a pinch of chili powder.
Nutrition: (2 egg halves) 95 calories, 7g fat, 2g carbs, 7g protein
4. Paleo Chicken Wings

Ingredients:
2 Pounds Chicken Wings
1 Tbsp Garlic Powder
1

T

bsp

Paprika
1

T

bsp

Dried Oregano
1

T

bsp

Salt
1

T

bsp

Black Ground Pepper
1

T

bsp

Coconut Oil
1

T

bsp

Apple Cider Vinegar
12 ounces

Hot Sauce
Directions:
Heat the oven to 350 degrees.

Mix garlic powder, paprika, oregano, salt, and black pepper in a small bowl.

Rub spice mix on the chicken wings and place on a lightly greased baking sheet lined with foil.

Bake for 45 minutes until crispy.

In a small saucepan, mix the hot sauce, coconut oil, and apple cider vinegar over low heat.

Add a dash of garlic powder, salt and black pepper to the sauce and continue to stir over low heat for 5 minutes.

When the chicken has finished baking, add to a large bowl and toss with sauce until evenly coated.
Nutrition: (2 wings) 96 calories, 7g fat, 9g protein
5. Mini Salmon Cakes

Ingredients:
2/3 Cup Panko Bread Crumbs

2 Tbsp Canola Mayonnaise

1 Tbsp Minced Fresh Parsley

2 Tbsp Chopped Green Onions

1 tsp Dijon Mustard

1/2 tsp Worcestershire Sauce

Dash of Salt

Dash of Ground Red Pepper

1 Large Egg

8 ounces of Trifecta Salmon

1 Tbsp of Olive Oil

1 Lemon
Directions:
In a bowl, combine half of the panko bread crumbs and all of the ingredients up until the salmon. (On the side, cut up the Trifecta salmon in another bowl)

Then, add in the salmon and mix well.

Using your hands, shape the salmon mixture into 8 to 10 small patties.

Using the other half of the panko bread crumbs, coat the patties.

In a griddle, add the olive oil and cook the cakes for 3-4 minutes on each side or until golden brown.

Serve with a tzatziki dipping sauce.
Nutrition: (per slider) 100 calories, 6.5g fat, 7.5g protein, 2g protein
See the full recipe here.
6. Sweet Potato Chips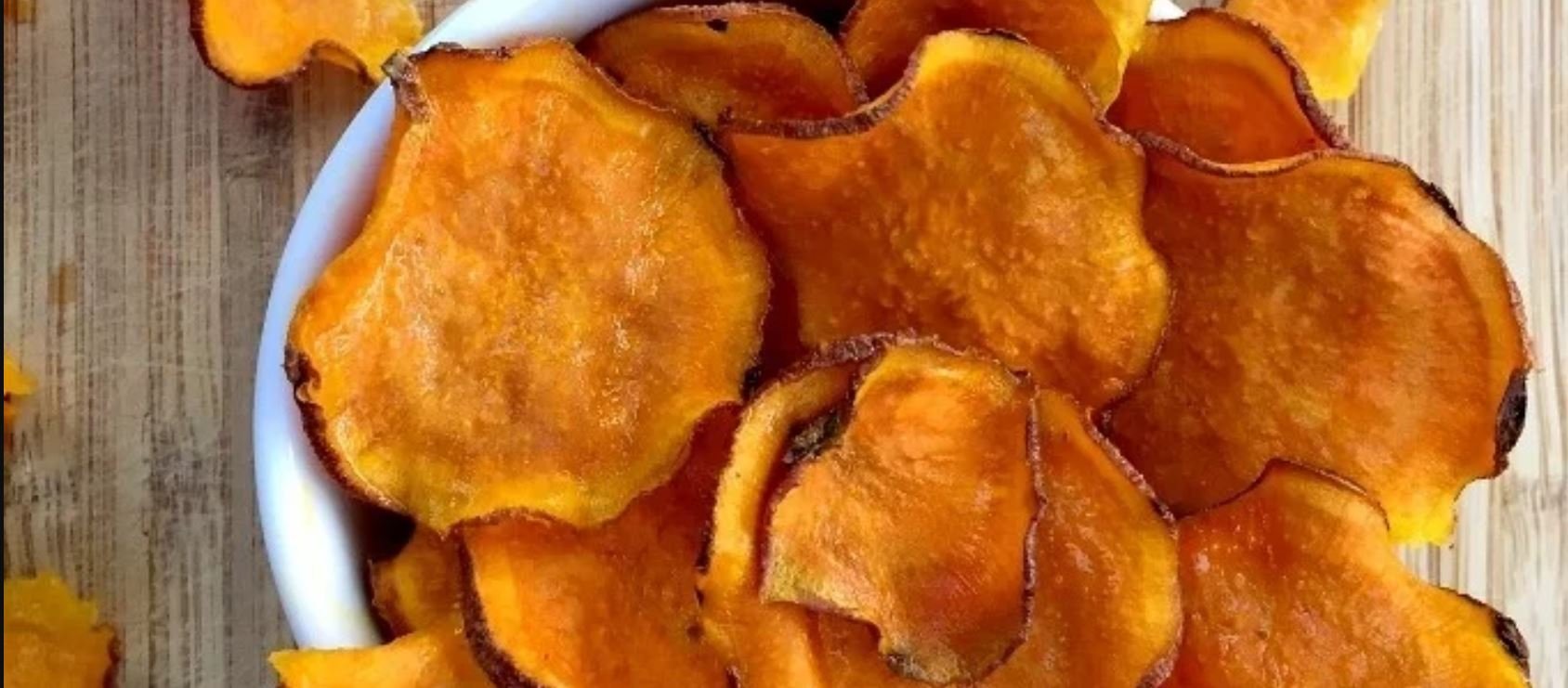 Ingredients:
3 Large Sweet Potatoes

1 tsp Garlic Powder

½ tsp Paprika

1 tsp Sea Salt

1 ½ Tbsp Coconut Oil
Directions:
Preheat oven to 400 degrees.

Cut Potatoes into

thin

chip-like pieces.

Melt Coconut oil and brush onto each chip.

Sprinkle with Sea Salt, Garlic Powder, & Paprika.

Bake for 8-10 Minutes.
Nutrition: (1 ounce serving) 150 calories, 9g fat, 16g carbs, 1g protein
More Ideas:
Want to make more recipes in less time? Check out our a la carte options for healthy, pre-cooked proteins, grains and veggies!