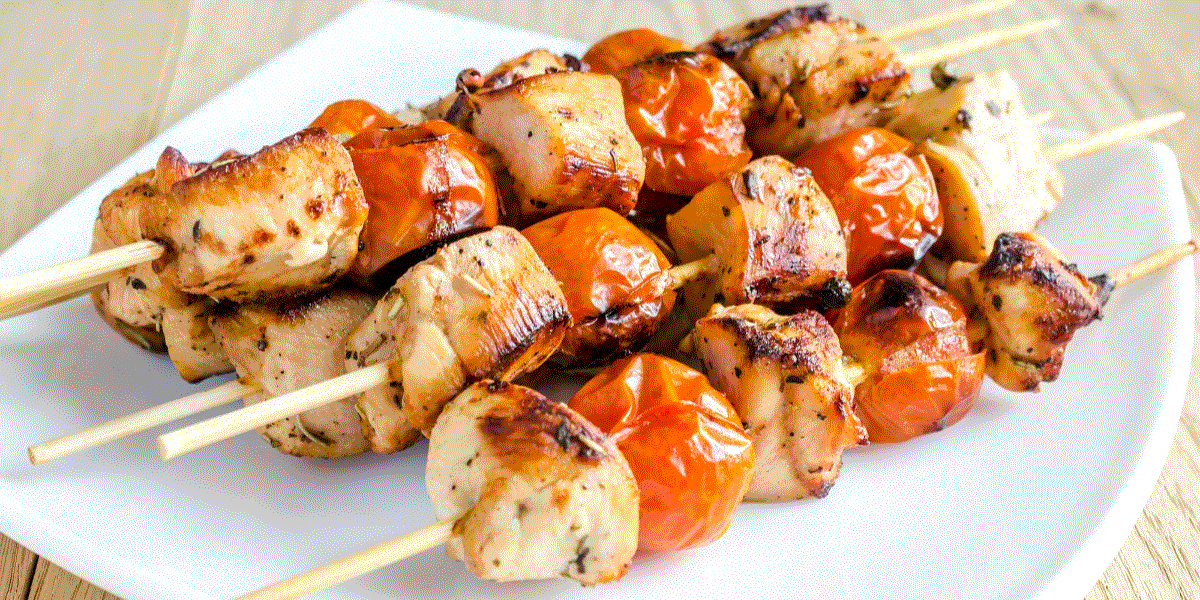 These grilled chicken skewers are the perfect easy finger food to serve up as part of your weekly meal prep or for your next party. Made with lean Trifecta chicken breast and fresh cherry tomatoes! Swap in different veggies (or even fruits) and change up the dipping sauce to keep things interesting.
Use this recipe with this meal prep toolkit for weight loss. A complementary, RD-written guide to crushing your macros, getting results, and building your ultimate weekly meal plan.
How to Make This Recipe
The secret to making these chicken skewers is a little bit of extra oil and seasoning - a good pan sear and some fresh herbs really help bring all the flavors together.
Ingredients
To make this recipe you'll need:
16 ounces Trifecta chicken breast
2 cups fresh cherry tomatoes

1 1/2 to 2 tablespoons avocado oil

1 teaspoon dried garlic

1 tablespoon fresh thyme

1/2 tablespoon fresh rosemary, chopped finely

1 teaspoon dried garlic

1 teaspoon paprika

1 teaspoon sea salt

Long wooden skewers
Instructions
Cut your chicken into 1 inch cubes by slicing each breast in half lengthwise and then cutting across each pieces 3 to 4 times until the desired bite size is achieved. Try to keep the pieces as evenly sized as possible to help them cook consistently.
In a mixing bowl, toss together cut chicken, cherry tomatoes and seasoning with 1 tablespoon of oil.
Heat your remaining oil in a non-stick skillet over medium high heat.
Place your seasoned chicken and tomatoes on the skewer, alternating between the two.
Cook in the skillet for 2 minutes on each side or until chicken begins to brown and tomatoes soften.
Serve with a squeeze of fresh lemon juice and a pinch of finishing salt.
Try these skewers with some tzatziki sauce or hummus for dipping.