Pancakes are a delicious breakfast staple and one of the best items to meal prep ahead of time. This is no different for pancakes that fit into your keto diet. This simple recipe uses a combination of eggs, almond, and coconut flour to yield deliciously fluffy, keto-friendly pancakes.
What Are Keto Pancakes Made of?
Did you know that almost every culture around the world has its own version of a pancake?
In fact, classically pancakes were unleavened flat cakes prepared from the gluten-based batter with eggs, milk, and butter, and cooked on a griddle or frying pan.
Pancakes from around the world take the form of crepes, bellini's, kaletez's, dosa's, and more! Here in the US, we leaven our pancakes with the addition of baking powder and baking soda to achieve a light and fluffy griddlecake.
To prepare a keto pancake, you simply swap out the starchy all-purpose or wheat-based flour for low carbohydrate-containing flours, along with using low carbohydrate sweeteners.
You'll love this easy keto pancake recipe prepared with almond flour and coconut flour along with ingredients like vanilla extract and a sugar replacement (we suggest stevia or erythritol) that's a hint of sweetness common without adding carbs.

Types of Low Carb Keto Flours
One cup of all-purpose flour has over 150g of carbohydrates, so it's no surprise that most keto-friendly baked goods and flours are prepared with gluten-free alternatives (1). But because gluten-free flours lack the structural integrity of the gluten from wheat any baked goods prepared with these flours can become dense if you're not careful.
No matter what kind of recipe you are following, if you are baking using gluten-free flours you will probably be using a combination of them to achieve a texture you enjoy.
Almond flour:

T

his flour has a nutty taste, and tends to impact a crumbly and damp texture in baked goods. This is one of the most popular gluten-free flours used in baking!
Net Carbohydrates per cup: 13.3 grams (2).
Coconut flour: If you don't enjoy a subtle hint of coconut, then avoid using coconut flour because it does impart a slight coconut and sweet flavor. Coconut flour also retains a lot of liquid and will result in an extremely moist baked good so I would never recommend it as a 1:1 replacement. Instead, use it in a blend with other gluten-free flours.
Net Carbohydrates per cup: around 10 grams (3).
Flaxseed meal: Again this is meant to be used more in a mixture of flours vs on its own as flaxseed meal is often used as an egg replacement in egg-free baked goods as well. It will add thickness and a slightly nutty flavor to your recipes.
Net Carbohydrates per 3/4 cup: around 7 grams (4).
Can You Eat Pancakes and Baked Goods Following A Keto Diet Plan?
We wouldn't have created such a delicious recipe if you couldn't eat pancakes or baked goods when following a keto diet! The key to fitting in sweets and recipes that have a high net carb count is making sure you are tracking your overall carb intake or at least have an idea of how many carbohydrates you should be limiting yourself per day to keep your body in a state of ketosis.
If you are unsure of what carb range you need to be in following a keto diet use this keto carb calculator:
How to Prepare Low-Carb Fluffy Keto Pancakes
Prep time: 8 minutes
Cook time: 20 minutes
Servings: 18

Ingredients:
2 cups almond flour
½ cup coconut flour
3 Eggs, whole
¼ cup avocado oil or coconut oil (melted)
2 teaspoon vanilla extract
1 teaspoon stevia or erythritol (Optional)
1 teaspoon baking soda
½ teaspoon salt
1 cup coconut milk (water or favorite milk substitute ok)
Spray oil
Kitchen Needs:
Medium bowl
Whisk
Blender
Measuring cups
Measuring spoons
Non-stick large pan
Plastic spatula
Step One: Mix or Blend Your Batter
When preparing gluten-free pancakes or waffle batters, I find it best to blend your ingredients in a blender. This helps the final product come out a bit fluffier and ensures that you don't get clumps of flour in your batter.
Add all of the ingredients to the blender and blend on high for 1-2 minutes until thoroughly combined.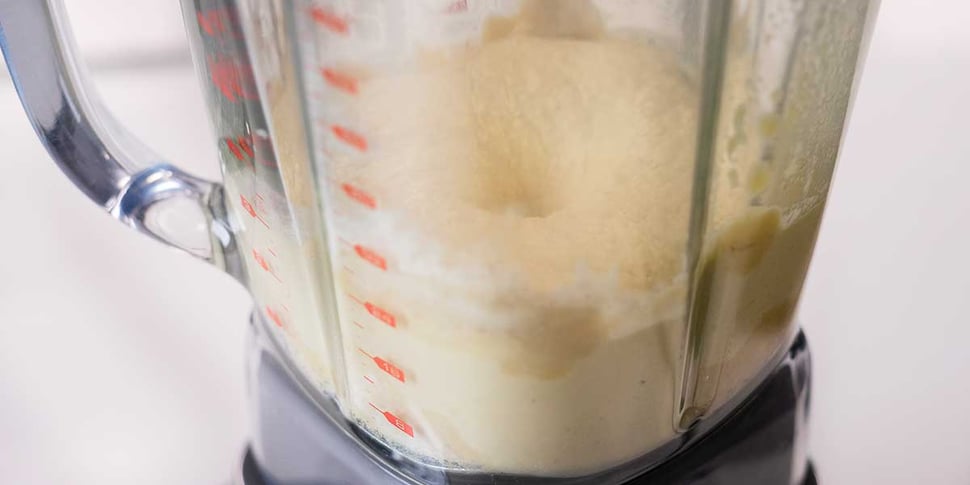 If you don't have a blender or don't feel like getting yours dirty, you can combine all the ingredients in a bowl and whisk them together until they are fully combined.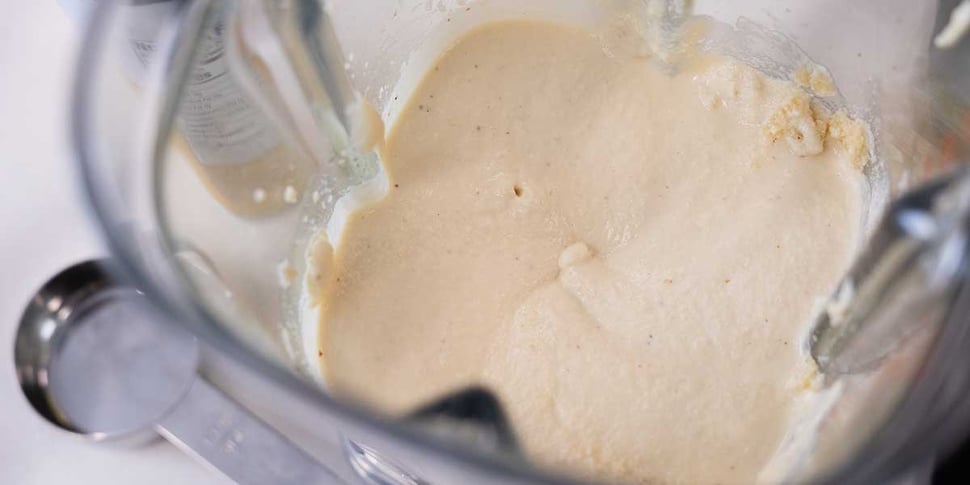 If the mix is too dry, add ¼ cup of liquid at a time until you achieve a greek-yogurt-like texture; because this batter is gluten-free if you make the batter too thin you will end up cooking a crepe-like pancake vs a fluffy pancake!
Step Two: Cook Your Pancakes
Heat a nonstick pan over medium heat. Spray with spray oil. Measuring ¼ cup at a time, add ¼ cup of batter to the pan, allowing a few inches of space in between pancakes. Adjust heat to medium-low if necessary.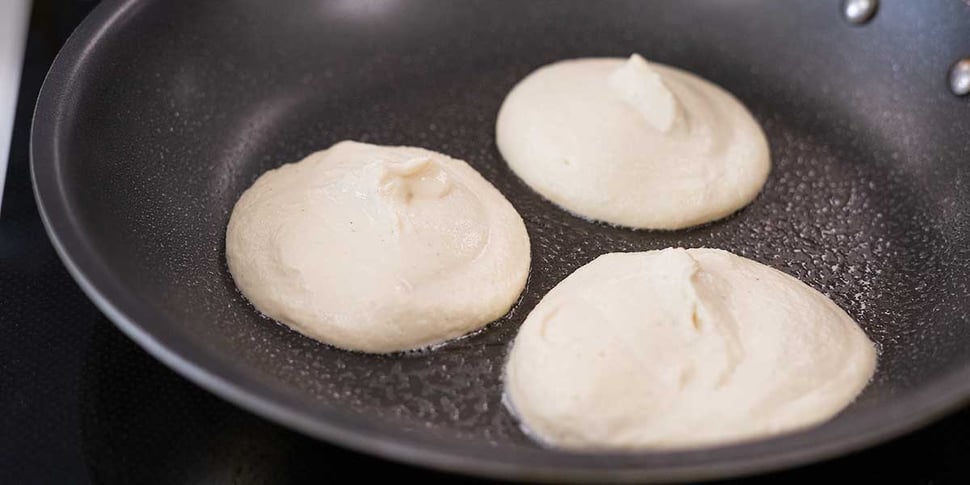 Cook for 3 minutes undisturbed, and flip using a plastic spatula to avoid scratching the non-stick pan. Then cook for another 2 minutes.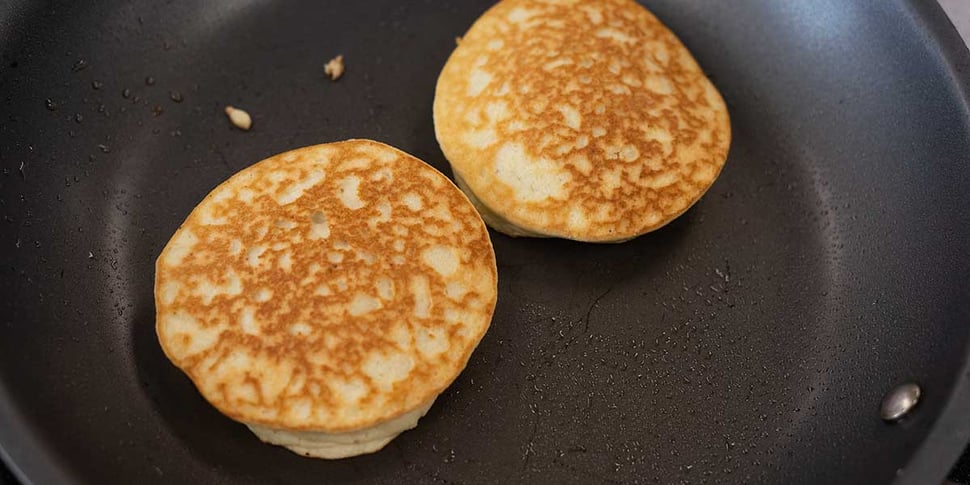 Once both sides of pancakes are cooked, remove and lay on a cooling rack to completely cool if using for meal prep. Otherwise, stack them on a plate and cover them with a cloth to keep warm before serving.
Serving, Storage, and Meal Prep Tips
Serve your keto pancakes immediately or divide them up as a part of your weekly keto meal prep! If you are preparing these to enjoy later, allow them to cool completely on a tray in the fridge before dividing them up in your meal prep containers. You can also freeze them in a large Ziploc bag (my mom used to do this when we were kids and it was genious).
Pro tip: Speed up your meal prep by preparing your dry ingredients in bulk. Simply whisk together the dry ingredients in a large bowl, transfer them to a Ziploc bag, and store them in the freezer.
Feel free to add toppings to your pancakes to make them interesting (and of course, considering if your keto macros allow for this!):
Add ⅓ cup of mixed berries
Add ¼ cup of toasted mixed nuts
Combine the first two suggestions of this list
Dress pancakes with a no-calorie syrup
Combine with scrambled eggs to make a complete meal
Add 1 tablespoon of butter and sprinkle some powder sugar
Get creative!
If you want to make these high in protein, add 1 scoop of your favorite protein powder. Granted, this will vary depending on the protein powder of your choice. You may have to add ⅛ cup to ⅓ cup of extra liquid to thin the batter if it becomes too thick.
You can also prepare this pancake recipe along with scrambled eggs or keto egg muffins for a low-carb breakfast feast!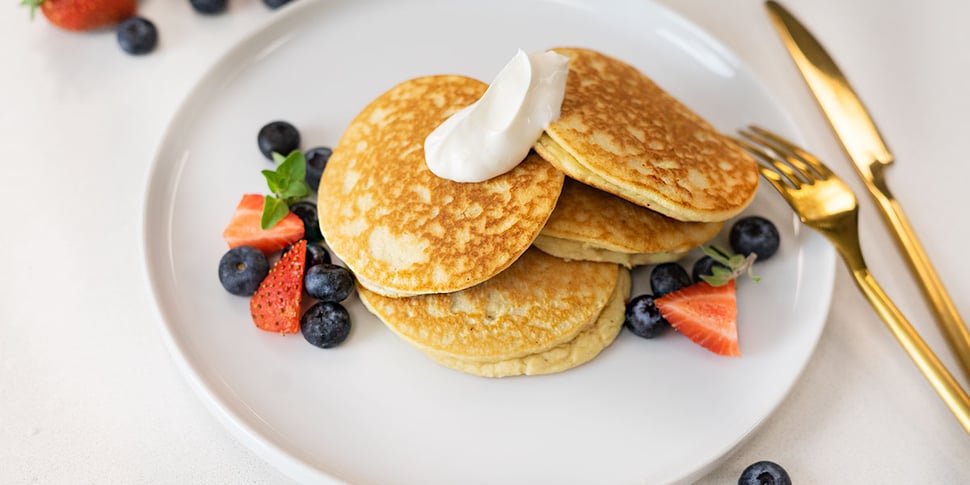 Keto Meal Prep Resources
Following a keto or low-carb diet has its challenges, so we've put together plenty of resources to support you in your wellness journey:
---
Too Busy? We Got You!
Want to get more out of your weekly meal prep efforts? Stick to your calorie goals and budget with our A la Carte Ingredients. Pre-cooked and ready to heat, these ingredients are organic, sustainably sourced, and minimally seasoned to maximize your meal prep.