Wondering what to expect from Trifecta's Classic Meal Plan? You've come to the right place.
Just like our other meal plans, Classic has its own set of features, benefits, and FAQs. You may be wondering things like What makes Classic different from the other plans? What are the portion sizes like? Who's a good match for this plan?
Glad you asked. Let's dive in below.
What makes Classic different from the other Trifecta meal plans?
Simplicity
The Classic plan offers simple, straightforward meals comprised of protein, carbs, and veggies. There are no sauces and minimal seasonings—this is different from our other plans, which feature a rotating variety of sauces, spices, and flavorings.
Choice
Classic is the only meal plan that's not the chef's choice, which means you get to pick the exact meals you want versus receiving different meals seasonally. With Classic, it'll feel like you have an at-home chef who's completely aligned with your weight loss and muscle-building goals—because the meals never veer off plan and are simple enough to fit most diets.
How many meal options do I get with Classic?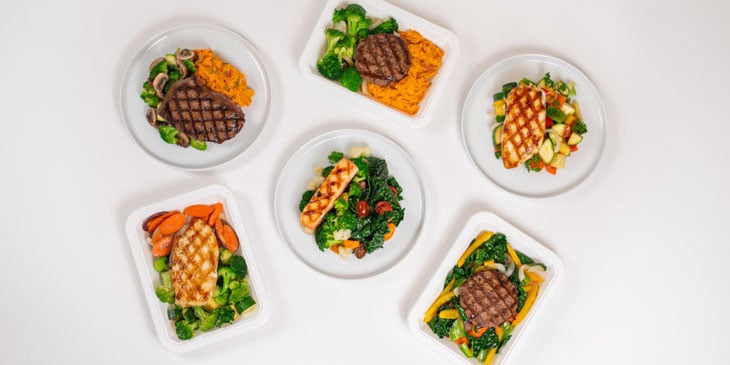 On the Classic plan, you have nine meals to choose from—each one has a slightly different combination of protein, carbs, and veggies. (View all Classic meal options here.) Each meal is appropriate for breakfast, lunch, or dinner, however, we have two specific breakfast options with eggs.
Here are the top 4 most popular Classic meals:
1) Turkey, Brown Rice, and Veggies
2) Chicken Tenders, Brown Rice, and Veggies
3) Salmon, Brown Rice, and Veggies
4) Chicken Breast, Sweet Potato, and Veggies
Can the Classic plan work for a Paleo diet?
Yes! The Classic plan offers several Paleo options, so if you're not interested in our Paleo plan but still want to stick to your Paleo diet while ordering classic. Any Classic meal that includes sweet potatoes instead of brown rice is considered Paleo.
Here are some meal examples: Chicken Breast, Sweet Potato and Veggies Meal; Beef Patty, Sweet Potato, and Mixed Vegetables Meal.
Who will the Classic Plan work best for?
The Classic plan is likely an appropriate match for you if you:
Count and track specific macros
Do weekly meal prep with strict, clean ingredients
Follow a regimented diet template similar to RP
Like to keep it simple with your food choices and don't mind eating the same meals each week
With Classic, you know exactly what you're going to get, which makes it easier to achieve your macro goals (protein, fat, carbs). If you're just getting started on a weight loss regimen, having Classic meals delivered to your door makes eating healthy much easier.
Who is not a great match for the Classic Plan?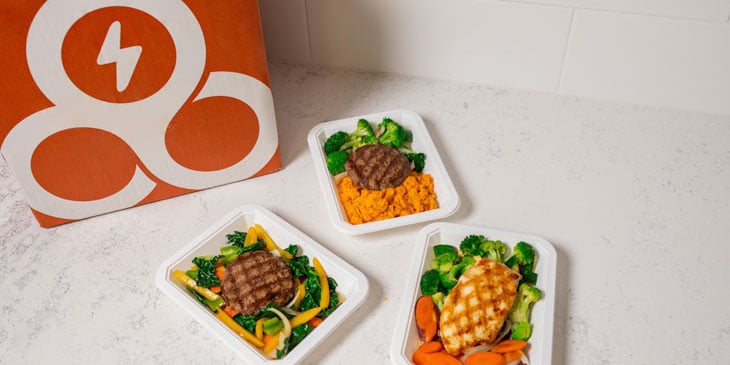 If you're someone who craves variety, likes to be surprised, is open to all types of ingredients including things like pasta, or wants different flavorings and sauces to avoid diet burnout, Classic is probably not right for you, as the meals are very simple and the meal options are the same from week to week.
If you're just looking to eat better, more nutritious food in general but have more flexibility in terms of protein, fat, and carb intake, one of our other meal plans may be a better match. (Explore our other meal plans here.)
What are the portion sizes?
All Classic meals come with 4 oz of protein, 4 oz of carbs, and 4 oz of veggies. Customers find these portions offer just the right amount of food—not too much or too little—which cuts down on food waste while helping you meet your nutrition goals.
I want to try Classic but I'm afraid I'll get burned out - any advice?
If you want to order from Classic for the nutrition benefits but you're worried you'll get burned out or bored, don't despair. There are lots of low or no calories tricks for spicing up your classic meals so it doesn't feel like you're being deprived or missing out.
Check out this video from our RD Emmie Satrazemis for 6 ways to add macro-friendly flavor and excitement to your meals. (hint: pickled veggies and nutritional yeast are life)

Also, note that you can change easily change your meal plan from week to week so if you try classic but get bored and decide you want more variety, no sweat!
Is there a minimum order amount?
Yes, the minimum order amount for Classic Meals is $119. For that price, you can get as few as 8 meals or as many as 10, depending on which meals you choose.
Having an order minimum allows us to:
Minimize our carbon footprint from delivery
Use packaging most efficiently - i.e. sending several meals in one box versus sending out one or two meals at a time.
How does the price compare to other meal plans?
Of our meal plans that include meat, Classic is the most cost-effective. Here's a rough breakdown of the price per meal for each plan.
Classic Meal Plan
Most expensive meal: $15.99 per meal when you buy 8 meals/week
Least expensive meal: $11.99 per meal when you buy 10 meals/week
Paleo Meal Plan, Clean Meal Plan
$15.86 per meal when you buy a minimum of 7 meals/week
Vegetarian Meal Plan, Vegan Meal Plan
$14.28 per meal when you buy a minimum of 7 meals/week
*** Shipping cost not included and may vary depending on your location
I'm not interested in the Classic plan. What other plans do you offer?
Lucky for you, we have plans to fit most dietary needs or food preferences.
In addition to Classic, we offer Paleo, Clean, Whole30 Approved, and Keto, which include ingredients like meat, fish, pasta, veggies, carbs, sauces, and seasonings in interesting and delicious combinations.
Or if you follow a plant-based diet, we offer Vegetarian and Vegan plans.
The meal plans mentioned above are all chef's choice, which means our kitchen will select a variety of meals, ingredients, flavors, and sauces. These plans also include traditional breakfast options—things like scrambled eggs and sausage or veggie frittata—which aren't available on the Classic plan.
I have questions about delivery in general - where can I learn more?
For questions about delivery, packaging, tracking or heating instructions, check out this What to Expect From Delivery blog post.
Can I talk to someone about which meal plan is best for me?
Yes, we love to offer one-on-one guidance, and our customer support heroes are standing by to help. Ask them via phone, email, or chat available at the button below.