If you're a plant-based eater and are in need of some carbohydrate comfort, try these high-protein vegan pasta recipes that will leave you feeling full and help you conquer your vegan macros.
If you're on a vegan diet or you have been looking for new Meatless Monday plant-based recipes, this is your list.
How to Make Perfect Meal Prep Pasta

Most packaged pasta you find in the store is 100% vegan and now there are now several high-protein pastas made with chickpeas, lentils and other plant-based ingredients, making pasta more macro balanced than ever before.
Hit your vegan protein goals by including a variety of high-protein meat alternatives and learning how to maximize your grocery list with protein packed-ingredients.
Not only is pasta insanely satisfying, it's one of the most adaptable foods for meal prep. Some pasta dishes even taste better the second day after all the ingredients get to know each other.
Pasta is one of the easiest meals to make, often needing just one pot to prepare and can be tossed with almost anything you have in your pantry or leftover in your fridge.
Pasta is easy to prepare in bulk and portioning is a breeze. Each of these dishes will keep in the fridge for up to five days with virtually no loss of quality.
Top prepare pasta for meal prep I recommend cooking your pasta separate from your sauce or mix-ins and do these two steps to ensure a delicious and food safe meal:
Cook your pasta slightly firmer than you would when eating it immediately. This way, after you reheat your dish you'll have perfectly cooked al dente pasta like you ordered it fresh from a restaurant.
To cool your cooked pasta rapidly, shock it in an 'ice bath', i.e. a bowl of ice water then strain it through a colander or pasta strainer. This will quickly stop the cooking process and prevent you from over cooking the pasta.

Nutrition: 364 Calories, 17g Fat, 42g Carbs, 19g Protein.
"How do you get your protein?"
The question that every vegan gets asked at least once a day when someone finds out you choose to live a plant-based and animal friendly lifestyle.
Now and days there are plenty of vegan meat alternatives and creative products such as high protein pasta to help any vegan met their protein goals. Add some crumble beyond beef, tempeh, tofu, or any other plant-based meat alternative to kick this recipe up a notch!
This recipe uses lentil pasta and a medley of Mediterranean ingredients to bring out the taste of the region and 19 grams of protein in less than 20 minutes.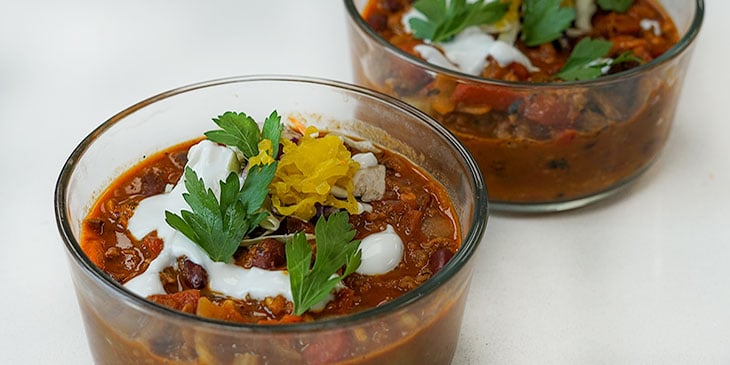 Nutrition: Calories 580, Fat 19.5g, Carbs 55g, 28g Protein.
Alright don't laugh, but I swear when you combine this homemade vegetarian chili recipe with some elbow-shaped chickpea noodles (or whatever shape you're feeling)...it tastes like a fancy 5-star version of a southwestern hamburger helper.
The best part is this version is healthy, macro balanced and packed with flavor, by combining a 2 oz serving of chickpea pasta with a 1 cup serving of this chili you'll get around 28 grams of protein in one meal!
If you are worried about the amount of carbs in this recipe, all you have to do is leave out the kidney beans in the chili, this will cut your total carbohydrates in half, with most of them coming from the pasta.
Taking a high-protein pasta and combining it with classic one pot meals like chili or even vegan pot-roast recipe is a great way to maximize your meal prep for any macro goals you may have.
Who said vegans couldn't bulk and gain muscle? These recipes are proving everyone wrong.
410 Calories, 11g F, 58g C, 24g P
If you're new to a vegan diet or have a hankering for umami rich dishes, this vegan pasta sauce definitely hits the spot. You'll love the flavor of capers, Kalamata olives, tomatoes and high quality olive oil.
The secret to this recipe's simplicity and deliciousness is in the tomato, or rather than can the tomatoes are packed in. Choose a high quality can of Italian San Marzano tomatoes for near instant gratification: a delicious chickpea and tomato sauce for dinner in under 30 minutes.
420 Calories, 18g F, 49g C, 20g P
Spinach and artichoke are a classic combination, perfect for pizzas, dips and this vegan pasta. The addition to sun dried tomatoes mixed with the artichoke gives this dish a brightness and Mediterranean flair.
The superstar of this dish is the superfood pesto. By using sunflower seeds and spirulina powder, a blue-green algae that's packed with protein and many micronutrients, this functional food based pesto blends perfectly with with the produce. Bonus points that it is dairy free!
Better yet, it comes together barely longer than it takes to make plain cooked pasta.
420 Calories, 14g F, 54g C, 21g P
Making a dairy-free Alfredo sauce is easier that it seems, the magic trick, soaking cashews in water and blending them with nutritional yeast and a little vegan cheese if you're looking for an extra-'cheesy' pasta sauce.
This vegan Alfredo sauce recipe combines cashews, almond milk, and some roasted red peppers for a unique and tasty twist on classic pasta alfredo all in 4 quick steps.
290 Calories, 19g F, 16g C, 18g P
Trust me when I say you'll fall in love with this vegan kelp noodle pad thai recipe. This healthy, plant-based pad thai is a low-carb alternative to the classic asian street food we all crave. Stir-fry's are quick to prepare and can easily include a variety of vegetables. Prepare this recipe with the spicy almond dressing or this Thai Peanut-Sesame Sauce Recipe.
This creation starts with starch free kelp noodles to keep carbs and calories low. Add in crispy air fried tofu, fresh mushrooms, pepper and other produce, and lets it all get to know each other in a silky Thai almond sauce.
Super easy to make and super efficient calories here with 18 grams of protein and just 16 grams of carbs. That's not a typo. There's more protein in this pasta dish than carbohydrates.
Switch it up and feel free to utilize high-protein past in lieu of the kelp noodles.
400 Calories, 20g F, 33g C, 25g P
Alright so technically this isn't a pasta recipe, but it's still a delicious and nutrient dense option for pasta night.
This comforting and savory low-carb vegan meatballs and spaghetti will leave you feeling satisfied and satiated. Plus, this recipe is high in vitamins and minerals such as calcium, iron, and potassium!
Enter spaghetti squash. This vegetable is only related to spaghetti in final appearance, once the soft, cooked flesh of the gourd is forked out from its skin.
As for the meatballs, well those are meat in name only too. These delicious munchkins are made with cauliflower and Beyond Meat®, browned in a skillet with the same sizzle and aroma of their bovine brethren.
Spaghetti and meatballs is a classic dish to be enjoyed no matter what dietary preferences you may have, prepare this recipe as is or pair the meatballs with a high protein pasta and marinara sauce of your choosing.
Nutrition with 2.5 oz High-Protein Pasta: 430 Calories, 20g Protein, 51g Carbs, 19g Fat.
One of my favorite go-to recipes is a pesto. You can use a variety of herbs and greens along with vinegar and spices to achieve unique flavors and combinations.
You don't have to include cheese or nuts in your pesto if you are dairy-free or nut-free; although some would argue that you couldn't call the sauce a pesto anymore.
A classic Italian pesto is prepared with basil, pine nuts, olive oil, garlic, and parmesan cheese.
The issue you may run into when preparing a classic pesto is that most recipes call for 1/2 cup or more of oil, although this may help blend the pesto it leads to excess fat and calories.
This kelp noodle pesto bowl recipe includes a recipe for a delicious and quick kale pesto prepared with parsley, cilantro, and kale, blending using apple cider vinegar and lemon juice. Swap out the kelp noodles with 2.5 ounces of high-protein pasta and you'll get a meal with almost 20g of protein.
Mix in veggies, potatoes or anything you'd like with this stuff!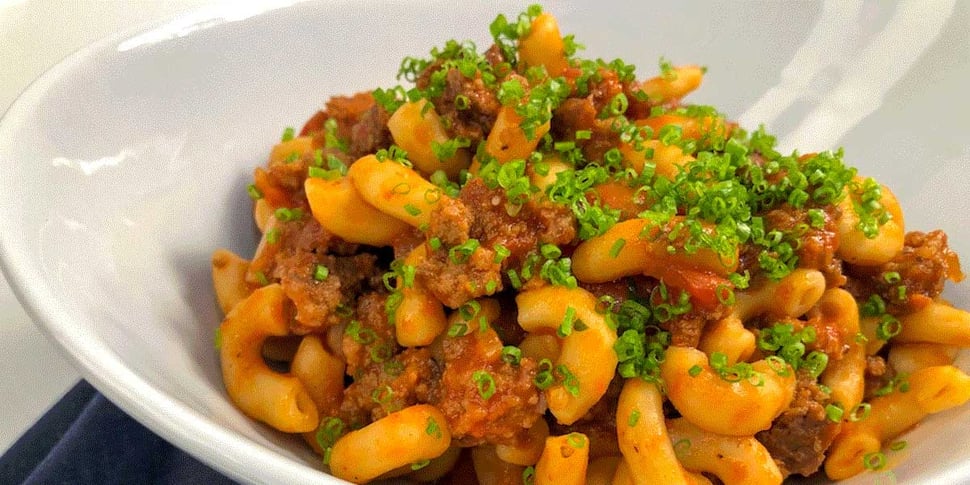 Nutrition: Calories 510, 52g Carbs, 38g Protein, 22g Fat.
Find an incredibly simple and fast recipe to make a twist of the classic macaroni and cheese dish. This time around however, we do not use any cheese, and instead bet on a mix of spices and condiments to achieve a meat sauce consistency that coats the macaroni elbows smoothly.
Feel free to add any extra vegetables you'd like! We substituted beyond meat in the recipes instead of beef and used high-protein pasta.
---
Want to try Trifecta vegan recipes every night of the week without the cooking? Shop our vegan meal plan now for fresh vegan meals delivered weekly.