Preparing a phenomenal low-carb and beanless chili is all about making a bomb chili base rich in dried spices and layered with flavor.
Dig into this simple one-pot keto chili recipe and learn about various chili powders in the process!
The Key To Low-Carb Chili Recipes
Classic chili recipes are usually bean-heavy, and unfortunately, beans are starchy vegetables that are not so keto-friendly. To make a simple low-carb chili recipe, drop the beans and purchase more meat than you would normally. You can also mix in some low-carbohydrate vegetables such as cauliflower, zucchini, or cabbage!
The goal of any keto diet is to limit your carbohydrate intake to anywhere below 50 grams per day or so (this can vary depending on your size and weight). Limiting your carb intake and increasing your intake of healthy dietary fats will shift your body to enter a metabolic state called ketosis and to utilize more fat for fuel.
If you aren't sure about how many grams of carbohydrates you need per day to transition into ketosis, get your custom keto carbohydrate count by using the calculator below:
This hearty gluten-free keto chili recipe also includes a variety of seasonings such as roasted red peppers, smoked paprika, and nutmeg to add flavor without sabotaging your macros.
Choosing the Right Chili Powder
The most important part of your chili recipe is sourcing a quality chili powder or preparing some roasted chili paste to use in your base.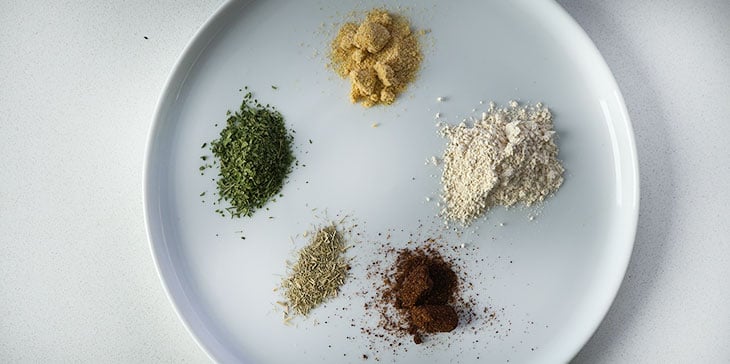 Chili powders are typically a blend of dried chilies with cumin, onion, cayenne, and paprika.
Beware that pre-blended chili-powders can sometimes contain excess sodium, so look for sodium-free blends or prepare your own at home!
You can also opt to purchase specific kinds of ground, powdered chiles. Note that "chili powder" refers to a mixture of spices vs "chile powder" refers to a dried and ground form of one specific chile. To make it even more confusing some dried chile powders are named differently from their fresh counterparts.
Here are a few different types of chile powders you could consider using to flavor and season your chili recipe at home:
Chipotle Chile Powder - Prepared from dried and smoked jalapenos, and has a rich, smokey, and spicy flavor. Be sparing with this spice if you don't enjoy intense heat.
Guajillo Chile Powder - A common pepper found in Mexican and Southwestern cuisine and the dried form of the marasol chile. It has a tangy flavor and a medium spice level.
Ancho Chile Powder - A dark chile powder prepared from dried and ground poblano peppers, tends to be fruity, mild in spice, and slightly smoky. Great for those who want a smokey chili flavor but less spice.
Cayenne - Prepared from red cayenne peppers, this chile is better as an extra seasoning than a base for a chile recipe because it is by far one of the fiercest and least smoky out of this list.
Chile de Arbol

- Related to the cayenne pepper, this variety of chile is typically used in that cuisine or Indian curry dishes and tends to have a nutty flavor and a heat that doesn't linger.

How to Prepare a Beanless Chili
Chili's make a wonderful meal prep addition because you can recycle any leftover vegetables or odd-and-end meal prep from the week.
Whether you are making this chili as a part of your weekly keto meal prep or to feed family and friends we know you'll love this recipe as you can also prepare it in a slow cooker, crockpot, or Instapot if you'd like.
Here are a few of our favorite keto chili tips and tricks:
Substitute beans for low-carb vegetables such as roasted cauliflower, zucchini, or broccoli.
You can also use low-carb roasted root vegetables such as turnips, jicama, and celery root. Be sure to pre-roast these beforehand in a 400-degree oven for 25 minutes until slightly tender.
Purchase cauliflower rice, frozen or fresh to mix into the chili to give it extra volume and nutrition, or serve it with the chili.
Add in some cooked bacon or saute bacon as the first step of the process for extra flavor.
Use a variety of ground meats: grass-fed beef is great and delicious, but you can also use ground bison, ground turkey, and even ground chicken!
How to Prepare Your Homemade Keto Chili Recipe
Prep Time: 10 minutes
Cook Time: 25 minutes
Servings: 4
Ingredients
16 ounces grass-fed ground beef or 4 Trifecta Beef patties, crumbled
2 teaspoon avocado oil
1/2 Yellow onion, small diced
2 stalks celery, finely chopped
3 cloves garlic, minced
1 cup roasted red pepper, drained from jar, diced or 1 bell pepper, diced
1 (15 oz) can roasted diced tomatoes
3 tablespoon chili powder blend
2 tablespoons smoked paprika
1 teaspoon nutmeg
2 cups beef stock
2 tablespoons orange juice or apple cider vinegar
1 Jalapeño (optional)
For Garnish and Serving
1 Avocado
1/2 cup shredded cheddar cheese
1/4 cup sliced green onions (optional)
1/2 cup sour cream
2 cups cauliflower rice, cooked
Tools
Large pot
Spatula
Knife & cutting board

Step 1: Gather Your Ingredients and Cut Aromatics
Gather all of the ingredients needed for your chili recipe. In the culinary world, we call this step gathering our "mise en place" which literally means, 'put in place'.
This might seem like a silly step, but you'll be happy to have everything right where you need it once you start the cooking process so you don't have to run to the pantry or store while trying to cook! Gathering your ingredients also gives you time to double-check if you would like to use any leftovers in your fridge or choose specific ingredients.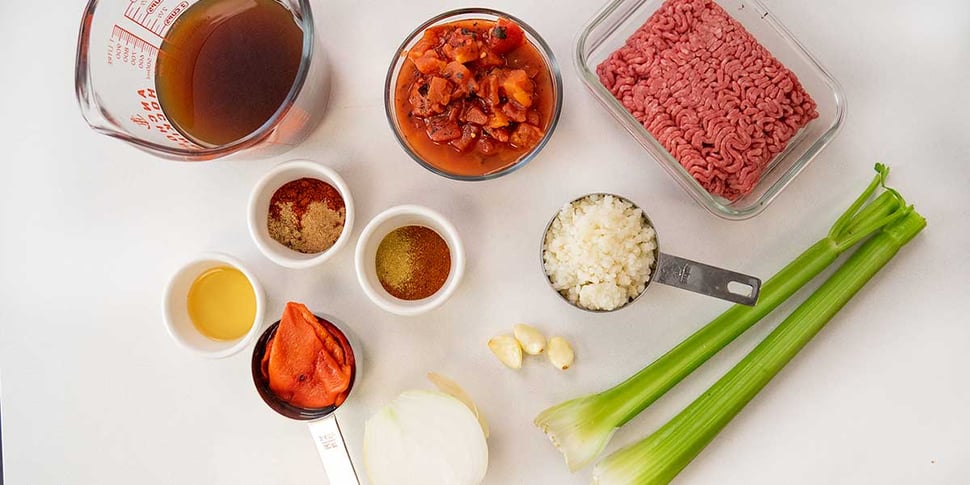 Once you have your ingredients together, cut up your aromatics and other whole vegetables. Small dice the onion, celery, and pre-roasted red pepper, and mince your garlic.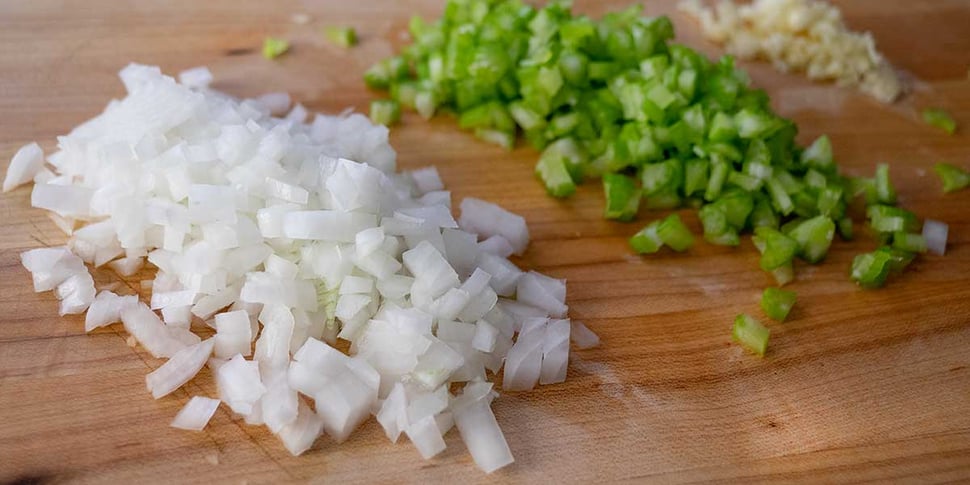 Pro tip: use a microplane or grate to 'mince' your garlic instead of having to chop it up finely with a knife.
Step 2: Brown Your Aromatics and Meat
In a saucepot on medium-high heat, add avocado oil or olive oil, minced garlic, diced onion, and celery.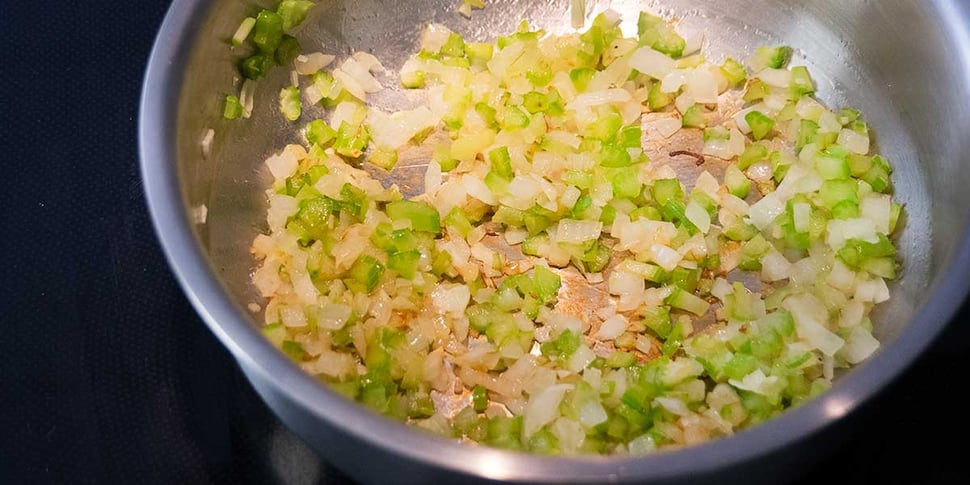 Stirring occasionally cook for 5 minutes or until the onions begin brown.
Add the raw ground beef, and continue to cook on medium-high heat for 8 to 10 minutes or until meat begins to brown and is cooked about 3/4 of the way through.
If you are using Trifecta Meal Prep. crumble 4 Trifecta Beyond Meat patties and cook for 3 minutes.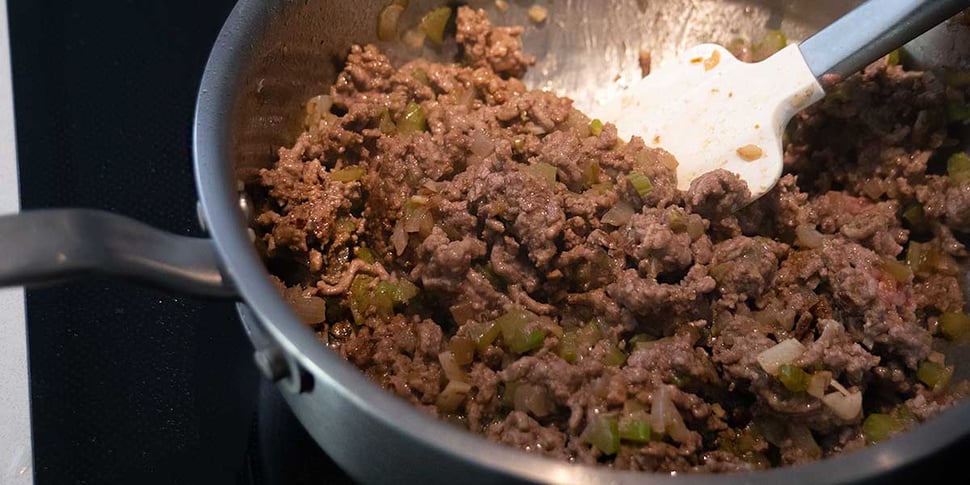 Step 3: Add Chili Powder, Extra Spices & Roasted Peppers
Once the meat and vegetables have browned, add in the spices and roasted red peppers and cook for 1 minute until aromatic and stir to combine.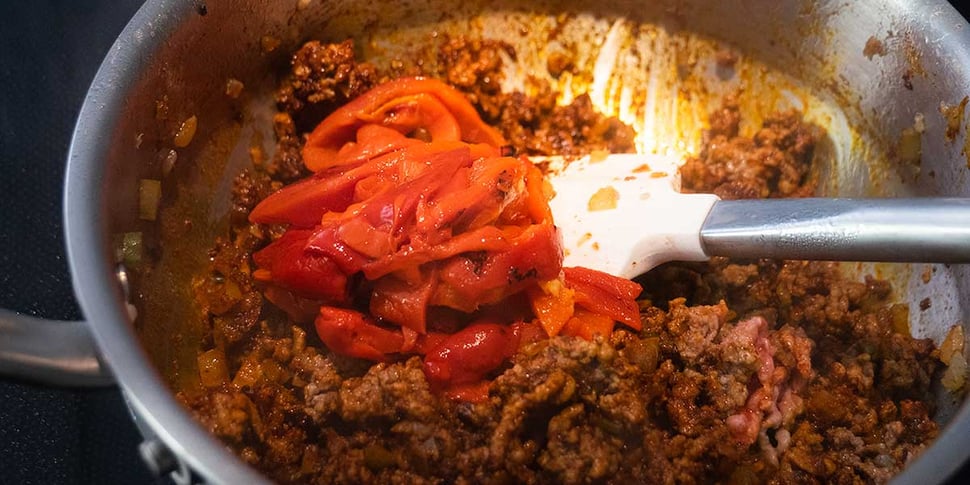 Step 4: Add Stock and Diced Tomatoes then Simmer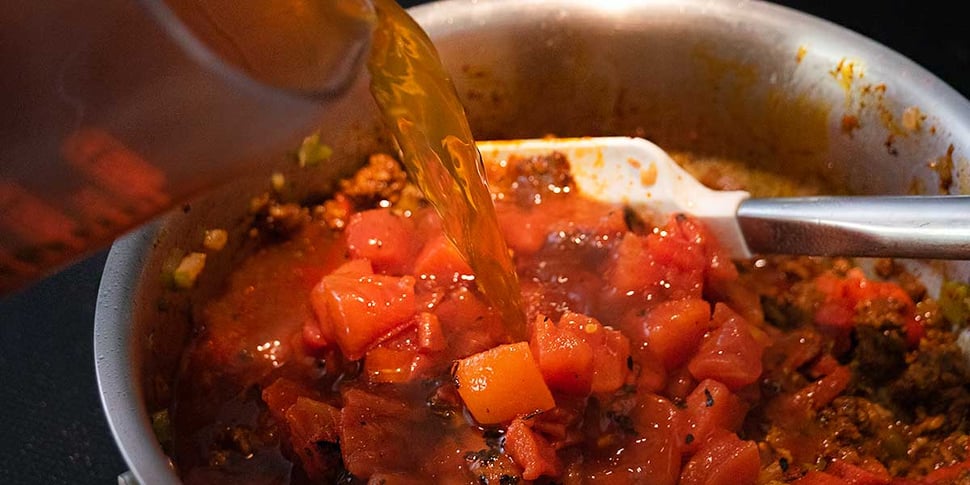 Continue to cook on medium-high heat and add beef stock to release any of the brown bits stuck to the pan, then stir in the diced tomatoes; bring to a boil, then reduce the heat to a simmer cook for 20 minutes.
Feel free to substitute the dice tomatoes for ¼ cup tomato paste or ½ cup tomato sauce if you don't have diced tomatoes.
At this point, you can add in a cup of cauliflower rice to help thicken the chili or any additional vegetables like Trifecta Broccoli or Trifecta Mixed Vegetables for extra flavor and nutrition.
Season with orange juice or apple cider vinegar, a pinch of salt or pepper is desired then dig in!
Pro tip: If you like a thick chili you can also stir in a cornstarch slurry. 2 tablespoons cornstarch blended with 3 tablespoons of liquid.

Serving and Storing Your Chili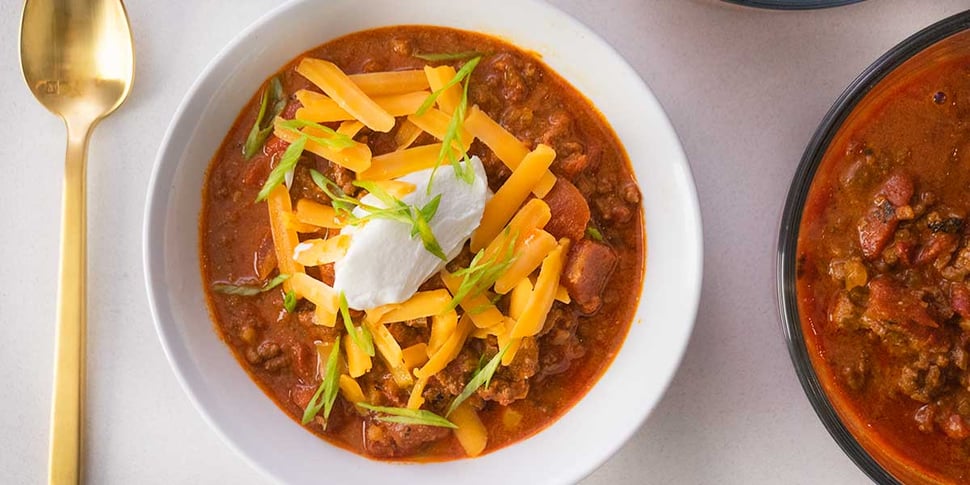 You'll love making this keto chili in advance as the flavor often gets better after sitting for a day in the fridge! Portion out your chili into 1 cup serving sizes and reheat in the microwave for two and a half minutes when ready to eat. It helps to give it a good stir halfway through the reheating process to make sure it is heated all the way through.
Here are a few other tips for this meal prep dish:
Package any easily perishable garnishes and toppings separate from the chili such as fresh herbs, avocado, or sour cream.
Portion and freeze any unwanted leftovers for future weeks.
What to Pair Your Chili With
Chili makes for a great main meal or can be added to a variety of recipes to add more versatility to your meal prep for the week. Here are some keto-friendly pairings to try:
Serve with sour cream, cheese, and fresh avocado
Serve over spinach, kale, or other dark leafy greens for a taco-ish salad.
Pair with scrambled eggs and roasted turnips for a keto chili breakfast hash.
Skip the beef stock and tomato paste substituting 2 tablespoons of salsa for a delicious taco filling.
Top with sauerkraut for a probiotic boost
Keto Meal Prep Resources
If you're adding this great recipe to your weekly keto meal prep, remember you can cross-utilize the ingredients! Use this ground meat as a filling for low-carb tacos or prep extra vegetables for the week.
Following a keto or low-carb diet has its challenges, so we've put together plenty of resources to support you in your wellness journey:
---
Too Busy? We Got You!
Skip the meal prep, and let us deliver macro-balanced keto meals directly to your door.
Sometimes there just isn't enough time in the week to perfectly plan every meal. Let us help you make conquering your nutrition even easier by providing organic meals you can count on.