Prepare the perfect Keto green smoothie with this simple recipe and find expert tips for crafting your keto smoothie recipe utilizing low-carb fruits, vegetables, and other delicious ingredients.
Whether you are starting a ketogenic diet or just looking for a reliable keto-friendly breakfast smoothie recipe to add to your weekly meal prep, here are some tips for building nutrient-dense keto smoothies.
How to Prepare Nutrient Dense Keto Smoothies
Many smoothie recipes are loaded with carbohydrate-dense fruits, liquids, and additives that could certainly make or break your success on a ketogenic diet since it is a macro-based low-carb diet.
When you are aware of the range of carbohydrates you need and the number of carbohydrates in specific foods, you can easily conquer the keto diet and prepare a variety of keto recipes that fall within your carb count.
If you are unsure of what carb range you need to be in following a keto diet use this keto carb calculator:
This keto green smoothie recipe is dairy-free, gluten-free, and utilizes low-carb vegetables.
When preparing a keto smoothie you will most likely include a few of the following ingredients:
Base liquid: This includes things like coconut milk, unsweetened almond milk, heavy cream, or flaxseed milk. You can also utilize yogurt, kefir, and even kombucha as the liquid to help blend together with your ingredients for your smoothie. Use as little or as much as you'd like based on how thick you would like your smoothie.
Low-carb fruit or low-carb veggies: incorporating vegetables and fruits into your breakfast smoothie is a great way to get in your daily servings of whole foods and increase your nutrient intake. When following a keto diet be sure to focus on using foods low in carbohydrates.
Healthy fats: these could be ingredients such as nuts (peanuts, almonds, hazelnuts) and nut butter, seeds (pumpkin, chia, hemp, flax), oils (MCT oil, almond oil, etc.). Avocado is a commonly used ingredient in keto breakfast smoothies both for nutrition and texture.
Additional functional foods and flavorings:

You can use a variety of other ingredients to come up with flavorful customized smoothies. Unsweetened cocoa powder is common in chocolate smoothies but you can also utilize food powders such as spirulina, functional mushroom powders, fruit powders, and more! Fresh herbs and spices are another way to add variety and functionality to your breakfast smoothie recipes.
The Best Low Carb Vegetables For Keto Smoothies
Vegetables are high in fiber and nutrients, providing numerous health and nutrition benefits. However, like many plant-based options, certain veggies can contain high amounts of carbohydrates. The key to including vegetables in your breakfast smoothie is to choose more non-starchy vegetables that are low in calories and high in water content and nutrition.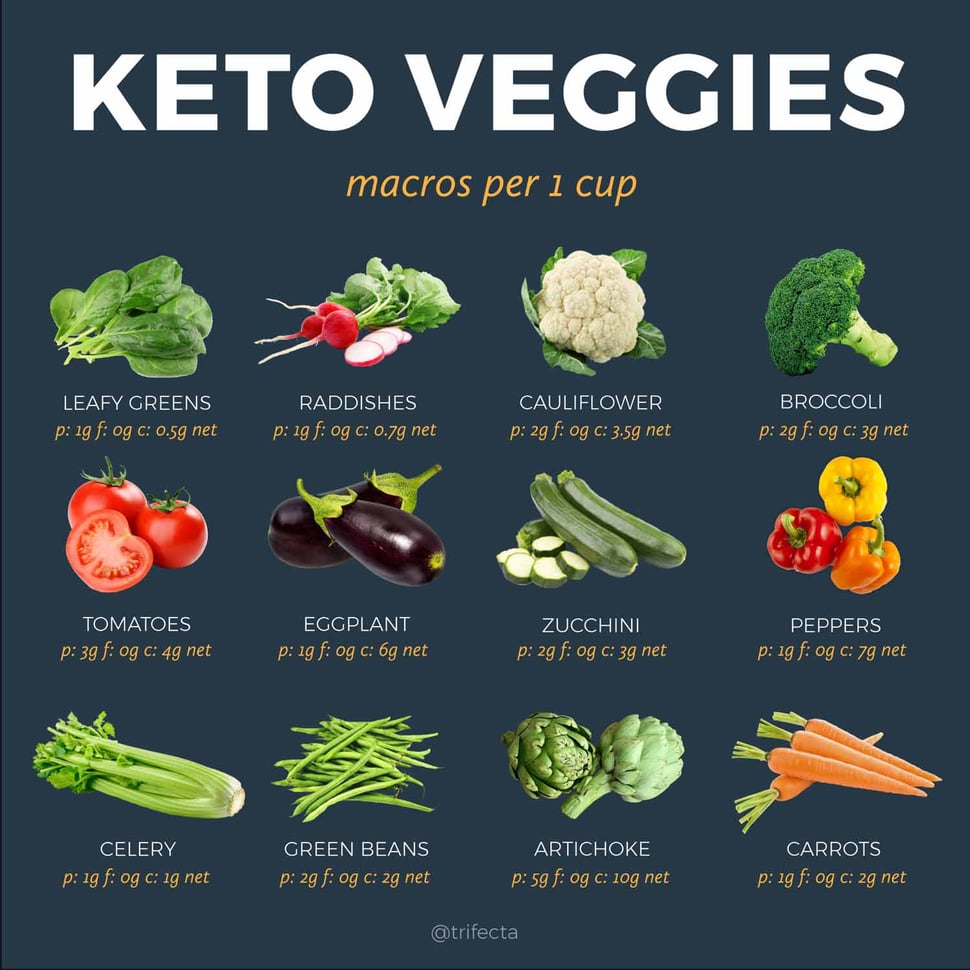 Four great tips for enjoying breakfast smoothies while following a keto diet:
Understand where carbohydrates come from in your foods
Learn how to calculate net carbs as although some foods may have a high carbohydrate content, most of it may be from fiber which is good for you!
Use tools like a keto food list to help you choose naturally low-carb whole foods to include in your diet

Follow a basic recipe like the one outlined below and swap out ingredients for different flavors and nutrient density
Here is your list of the most popular low-carb veggies for keto smoothies:
Leafy greens (kale, swiss chard, spinach)
Cauliflower
Broccoli
Zucchini
Cucumber
Celery
Jicama
All fresh herbs
Use any of these vegetables and other healthy greens to create delicious keto breakfast smoothies packed with nutrition and flavor.
Follow this basic smoothie recipe ratio to help you create any kind of keto green smoothie:
1 cup dairy or dairy-free liquid
½ to 1 1/2 cups of non-starchy vegetables
2 tablespoons chia seed
½ cup fresh herb
1 cup ice
1 scoop vanilla or unflavored protein powder (optional)
Stevia or sweetener if desired

How to Prepare Your Keto Green Smoothie Recipe
Ingredients:
1 cup spinach or kale, packed
1/2 cup arugula (or other green)
1/2 cup parsley, chopped
1 tablespoon lemon juice
1 scoop vanilla or unflavored protein powder (optional)
2 tablespoons hemp seeds
1 tablespoon pumpkin seeds
1 tablespoon chia seed
1 cup almond milk or coconut milk
1/4 avocado, fresh
1 tablespoon spirulina powder (optional)
Kitchen Needs:
Blender
Ball jars, or Tupperware containers
Measuring cups
Tablespoons
Spatula
Step One: Measure Your Ingredients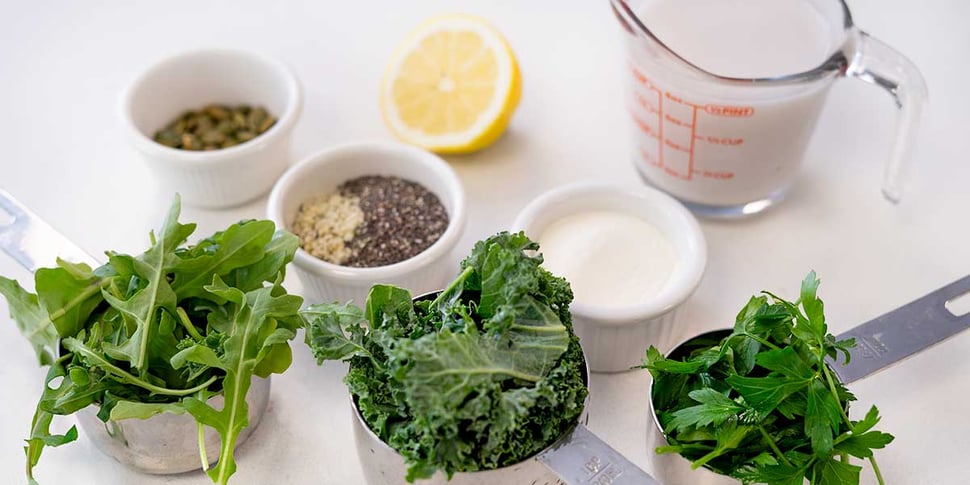 Grab a blender, measure, and add all ingredients to the blender base.
Note that you can substitute any kind of leafy green to prepare a keto green smoothie, check out your local farmers market and pick up something seasonal!
We've included a variety of nuts and seeds in this recipe as each provides additional healthy fats and nutrients:
Chia Seeds: These tiny seeds are from a flowering plant in the mint family native to central and southern Mexico. Chia seeds are rich in fiber and a diversity of minerals; they are a popular source of heart-healthy omega-3 fatty acids (1).
Pumpkin Seeds: aka 'pepitas', these tasty seeds are typically roasted before consumption and are rich in vitamins and minerals like manganese, vitamin K, and magnesium (2). Similar to chia seeds they also contain high amounts of fiber.
Hemp Seeds: These seeds are definitely underutilized as they can be eaten raw, roasted, or cooked; another use is for non-dairy hemp milk and cheeses!

3 tablespoons of hemp seeds contain 166 calories, 9 grams of protein, 15 grams of fat, and less than 3 grams of carbohydrates, making them one of the best seeds to eat when following a low-carb or keto diet (3). They are also a good source of vitamin E, B vitamins, zinc, and omega-3 fatty acids!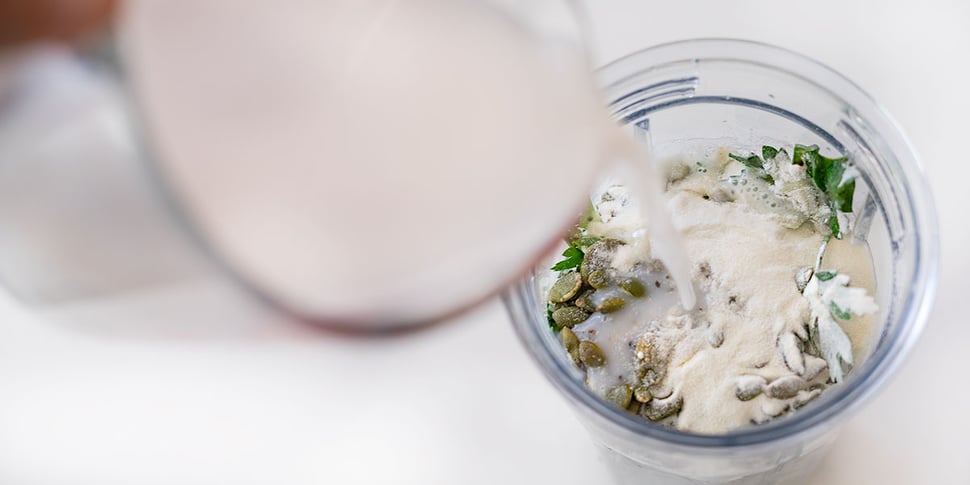 Step 2: Blend Until Smooth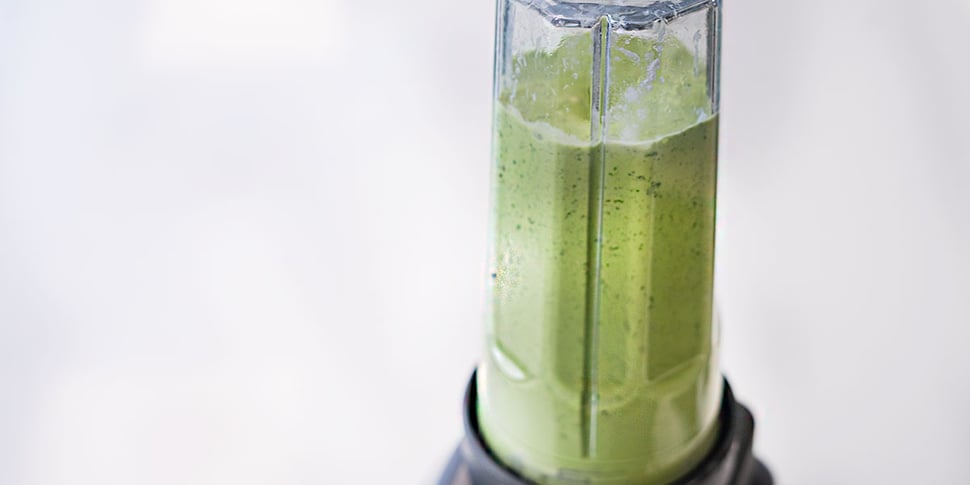 Cover your high-speed blender with its lid, and blend for 30 seconds up to one minute - until everything is mixed well and a smooth consistency is created. Transfer your shake to your container of choice and repeat if making multiple shakes. You can also do this in a bullet-like blender (like Ninja or Nutribullet).
Smoothie Storage and Keto Meal Prep
Most smoothies are best prepared fresh, but that doesn't mean you can't meal prep some of the ingredients to save even more time if you are preparing this in the morning before work.
Measure out your smoothie ingredients in a mason jar or container the night before to easily grab them and blend them in the mornings!
You can prepare this smoothie the night before but note that the consistency will be a bit thinner from the ice melting and you'll have to shake it up if any of the ingredients separate.
If you are just starting to meal prep for a keto or low-carb diet, smoothies are a great entry point! Choose 3-4 days a week to try a smoothie for breakfast and then move on to prepping lunch or dinner 2-3 days a week. We have plenty of delicious and nutritionally balanced keto recipes and resources for your keto meal prep:
---
Planning Out Your Keto Meals?
This shake pairs perfectly with our keto meal plan! You make breakfast and we provide lunch and dinner! Shop our fully prepared and ready-to-eat keto meals delivered directly to your door.