How to Prepare Your Keto Avocado Egg Salad
Prep Time: 10 minutes
Cook Time: 10-15 minutes
Servings: 4
Ingredients
8 hard-boiled eggs
1/2 large avocado, ripe
1/3 cup yogurt (can use dairy-free) or cottage cheese
2 tablespoons dijon mustard
1 tablespoon chives, chopped
1 tablespoon dill, chopped
1/2 teaspoon smoked paprika
juice and zest from 1 lemon
Salt and pepper to taste
Tools
2 medium bowls
Spatula
Fork or small grate
Knife and cutting board
Measuring cups and spoons
Step 1: Hard Boil Eggs, Cool, and Dice Them
You'll want to start with cooking the eggs since this will take a majority of the prep time.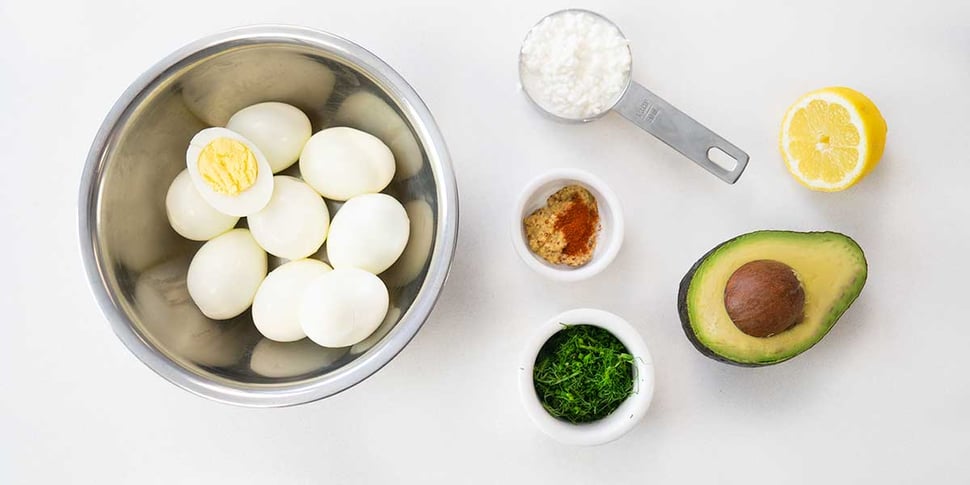 Once your eggs have cooled, removed shells and chop them into small bite-size pieces, and set them aside. You can chop the eggs into whatever size you prefer, but smaller pieces typically tend to blend better with the other ingredients and provide better overall consistency.
A quick way to dice your hard-boiled eggs is to grab a roasting rack or grate and place it on top of a medium-sized bowl. Then use your hand to gently press the cook egg through the grate.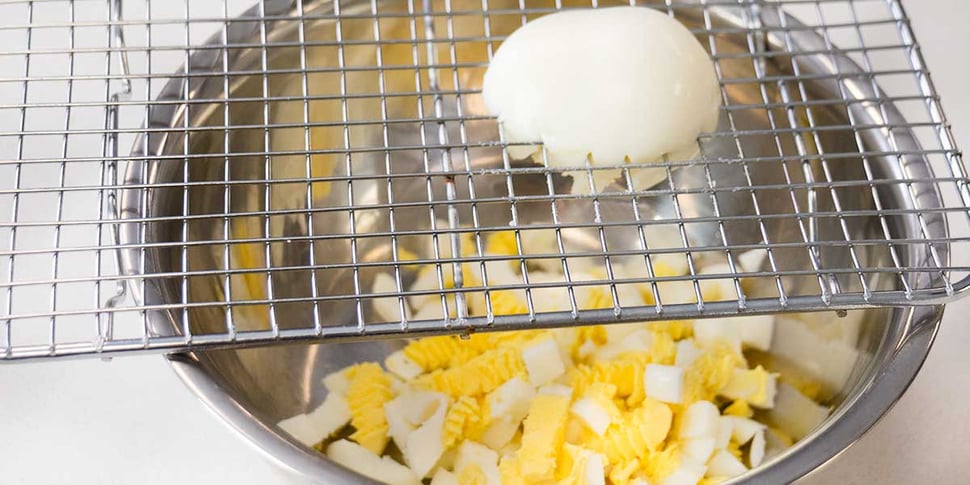 This is a simple way to dice the hard-boiled eggs and get them ready to mix with the rest of your ingredients.
If you opted to remove the yolks from this recipe for a low-fat version, cut your eggs in half and remove the yolk then gently press the egg whites through the gate to get the same effect.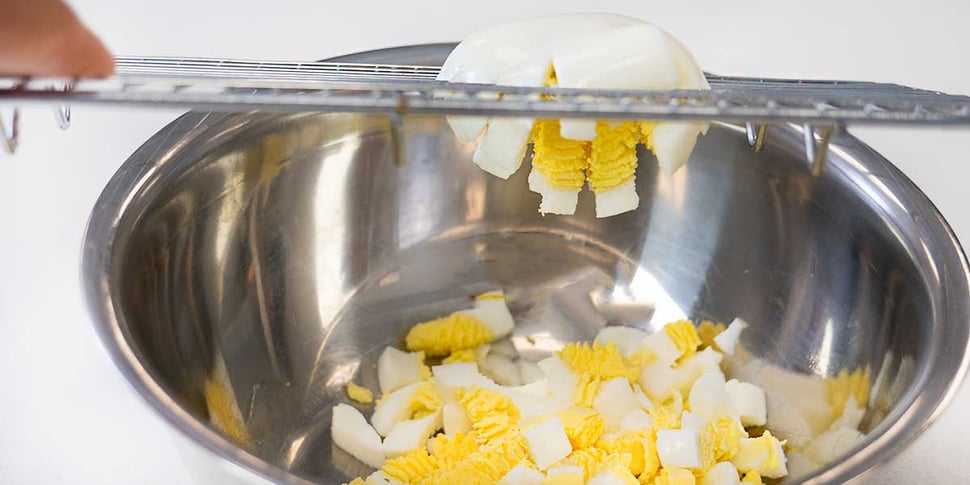 Step 2: Mix Diced Eggs with the Rest of The Ingredients
In the same bowl, mix the rest of your ingredients including the lemon juice and zest with the diced hard-boiled eggs using a spatula.
Feel free to add in sliced green onion as that is a popular addition to a classic egg salad.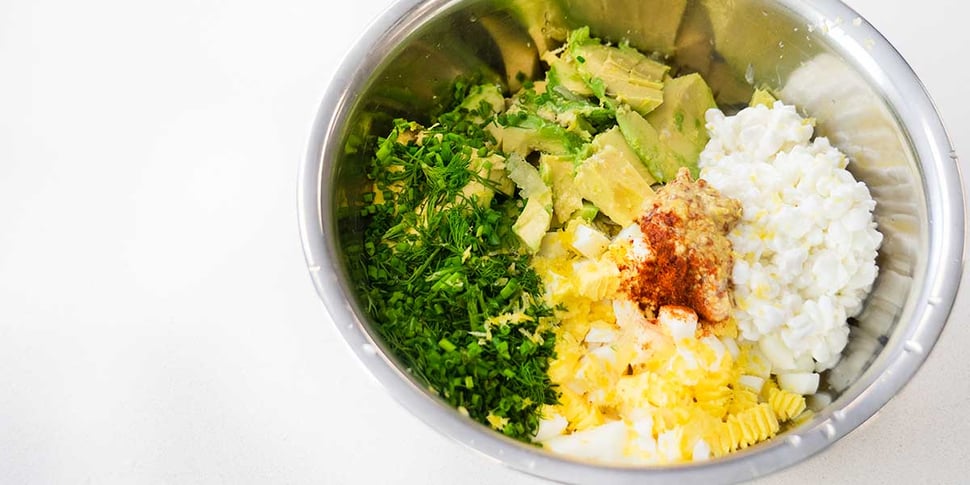 I used cottage cheese as it's what I had available but you can greek yogurt or dairy-free yogurt to keep it paleo.
Season the egg salad with salt and pepper as desired.
You can also add in additional flavor with a sprinkle of smoked paprika and garlic powder!
Serving and Storage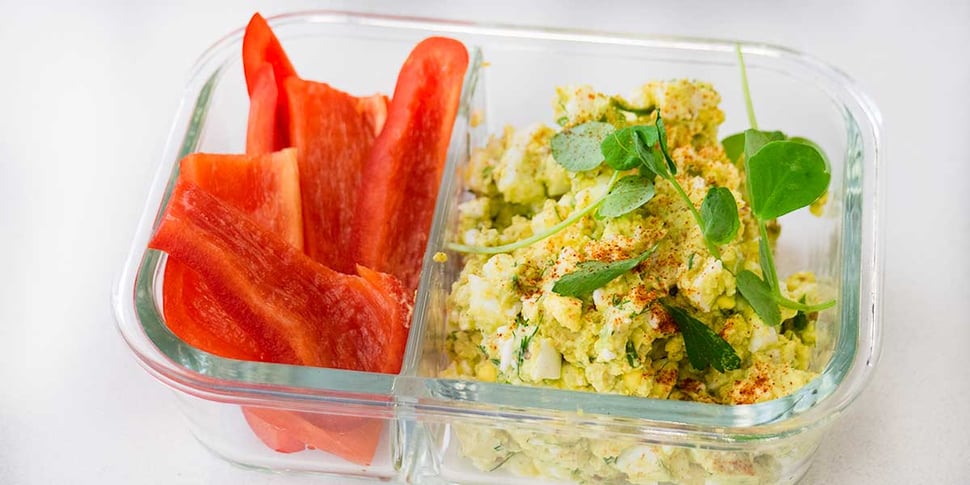 This recipe works great on its own, as a dip, on a salad, or in a sandwich. And it can be eaten as a main dish or a snack. If you choose to make a keto egg salad sandwich look for keto bread or low-carb bread alternatives.
I typically meal prep this as a favorite high protein snack during the afternoon with some whole-grain chips or crackers.
Other Healthy pairings:
Sliced radish, carrot sticks, or bell pepper

Whole grain tortilla chips or rice chips

Whole grain bread or roll
Whatever way you choose to enjoy your keto avocado egg salad, this recipe will last in the fridge for up to 5 days, although making and enjoying it fresh is preferably the best!
Keto Meal Prep Resources
If you're adding avocado toast to your weekly keto meal prep, remember you can cross-utilize the ingredients. Prep extra keto cloud bread for a breakfast sandwich or use the leftover avocado in a keto chocolate avocado smoothie!
Following a keto or low-carb diet has its challenges, so we've put together plenty of resources to support you in your wellness journey:
---
Too Busy? We Got You!
Skip the meal prep, and let us deliver macro-balanced keto meals directly to your door.
Sometimes there just isn't enough time in the week to perfectly plan every meal. Let us help you make conquering your nutrition even easier by providing organic meals you can count on.