Level up your salsa game with a functional food salsa recipe! This tangy and peppery turmeric mango salsa recipe packs flavor and functionality; the perfect raw food salsa to optimize your meal prep and your nutrition.
About this recipe
Why buy a jar of boring salsa when you can quickly prepare a fresh, homemade salsa that not only tastes bomb but is also packed with more nutritious ingredients?
Classic mango salsa recipes include these basic ingredients:
Ripe mangos
Red bell pepper
Red onion
Cilantro
Jalapeno
Lime
While this combination is a terrific blend of sweet and spicy, in a chef's eyes and from a nutrition standpoint there's always room for innovation! Plus knowing how to prepare various sauces and salsas is a simple way to avoid meal-prep burnout and explore unique flavors.
This fresh turmeric mango salsa recipe includes other nutritious ingredients such as turmeric, ginger, and cilantro. All whole-foods have the power to improve our health when included in a balanced and portion controlled meal plan.
Mango's are a good source of fiber and vitamin C, in fact, 1 cup of fresh, ripe mango contains around 3 grams of fiber along with 60mg of Vitamin C and a substantial amount of Vitamin A (

1

). We cannot synthesize vitamin C so we need to consume it in our diet from foods like fresh tropical fruits, red peppers, broccoli, and berries. Vitamin C is essential for wound healing, immune function, and improves the absorption of non-heme iron found in plant-based foods.
Ginger has been used for generations as a natural home remedy for soothing digestive upsets, and contains antioxidant, anti-inflammatory, and immuno-supportive compounds (4

).

Turmeric has also been prized for thousands of years, especially in India where it has been used both as a spice and medically. Curcumin is the main active ingredient in turmeric, and research has shown it has antioxidant and anti-inflammatory effects but these therapeutic effects vary based on how the curcumin is ingested (from a food source or supplement), the strength of the supplement, and the duration of use (1).
No matter if you're looking for a therapeutic effect from a specific food or to improve your culinary repertoire, preparing recipes rich in whole-foods and spices can provide basic nutritional benefits. These recipes, like this salsa, are often lower in calories, packed with fresh ingredients, and rich in vitamins and minerals that can help support our health.
How to Prepare Curry Mango Salsa
Prep Time: 10 minutes
Cook Time: 0 minutes
Servings: 2 cups
Ingredients:
1 cup small-diced Mango
1/4 cup shredded red cabbage
2 tablespoons lime juice, fresh
1 tablespoon lime zest, fresh
2 tablespoons orange juice, fresh
2 fl ounce rice wine vinegar
2 teaspoons honey or maple
1 tablespoon olive oil
4 teaspoon chopped cilantro
2 teaspoon minced ginger
1 teaspoon minced jalapeno
1 teaspoon turmeric powder
1 teaspoon mustard seed
1 pinch black pepper
Kitchen Tools:
small sheet tray
knife and cutting board
blender
spatula
measuring cups and spoons
Step 1: Cut and Measure Ingredients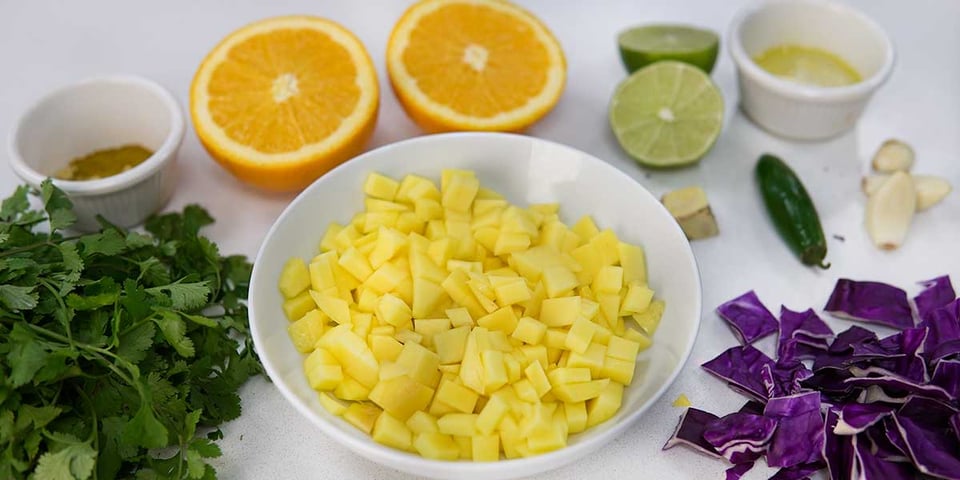 Gather all of your ingredients for your fresh salsa, remember that this is your salsa! So if you want to leave something out or substitute another ingredient feel free to do so.
For example, this recipe calls for cilantro, but if you don't like that herb, then substitute it for parsley or even mint!
Step 2: Blend all ingredients together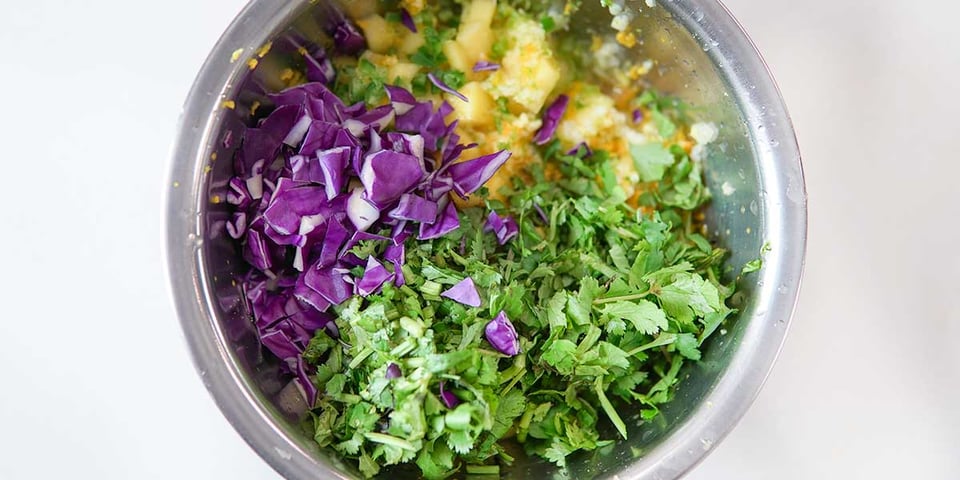 In a medium bowl mix all of your ingredients together and let marinate for at least 5 minutes before using.
This recipe keeps for up to 7 days in the fridge.
What to Serve this sauce with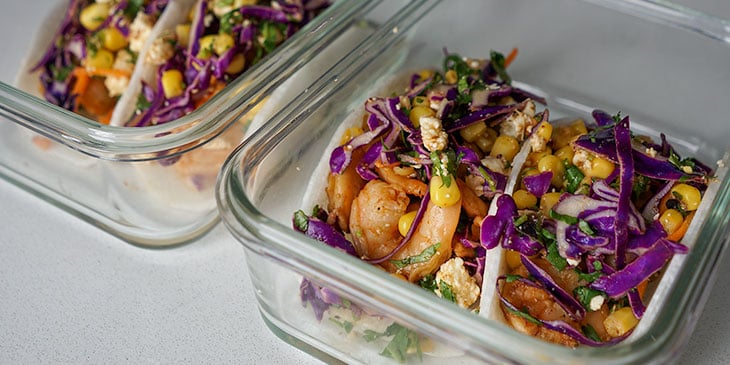 Any kind of salsa is great to have on hand when you want to prepare a tasty meal in a pinch. It can literally go on just about anything and will easily take your meal prep to the next level.
We used Trifecta meal prep ingredients to prepare these mouth-watering recipes to save time, but feel free to substitute in roasted chicken from the grocery store, any other grains or grain substitutes such as cauliflower or broccoli rice, and fresh veggies from the farmers market to make a healthy teriyaki bowl or any of the recipes below:
---
You can also use this sauce to top off any of our ready-to-eat meals from a vegetarian taco bowl to classic salmon and veggies! Find out more about our freshly prepared meals and how we can help you optimize your health.