Learn how to master this one-pot dish by preparing a simple and creamy keto chicken casserole recipe. Try the zucchini and sundried tomato recipe outlined below or follow the tips and tricks to create your own keto-inspired casserole recipe.
About This Recipe
Casseroles are the best ways to prepare a flavorful and easy low-carb one-pan meal, setting you up for a quick keto breakfast, lunch, or dinner throughout your week. They truly are one of the most underutilized ways to prepare meals; who doesn't want a low-carb recipe that only requires mixing some ingredients together and baking them!
Classic casseroles are typically prepared with meat, chopped vegetables, and some kind of starchy binder to hold it all together. You can make a variety of casseroles for any diet style whether you're vegan or vegetarian, paleo, flexitarian, or modify the casserole to any food preferences. As a bonus, they are usually gluten-free as well!
Preparing a healthy keto casserole is about swapping out starchy vegetables for low-carb vegetables. You can also add as much or as little cheese or meat depending on how creamy you want your casserole.
The anatomy of a healthy casserole can be broken down as follows:
Protein: From bacon to breakfast sausage, you can choose any kind of meat you'd like when making a casserole. Ground beef, turkey, chicken, shredded chicken, etc. Any of these options can be mixed with other ingredients to prepare a casserole. Eggs make a great base for

breakfast casseroles

and can be added to this recipe or any recipe utilizing another kind of meat. If you are vegetarian feel free to substitute a

meat alternative

such as beyond beef or tempeh. Whatever you choose, be sure to use high-quality proteins such as grass-fed or organic meats and/or eggs.
Low-Carb Vegetables:

If you are following a keto diet opt for non-starchy veggies first like spinach, kale, zucchini, broccoli, or cauliflower. When cooking these kinds of vegetables, these tend to release liquid helping the casserole stay moist. This is where you can multitask for your weekly meal prep; if you know you're going to purchase some zucchini for your casserole, chop up extra and set it aside to use for a quick

stir fry

later in the week.
Dairy (cheese): Any kind of cheese works well in a casserole, so your choice may be dependent on what you have available or what your flavor combination is (i.e. Spanish style vs Italian inspired). Some popular cheese options: American, goat, Swiss, Monterey Jack, parmesan cheese, cottage cheese, cheddar cheese, mozzarella cheese, and feta. Mix in a bit of cheese to the casserole base and the top of the top for a melty layer of cheesy goodness.
Sauce: This can refer to any kind of liquid you add to the casserole. Stock, wine, vegetable juice, salsa, marinara, etc., can all be used to add flavor and help create a symphony of flavor in your casserole recipe.
Herbs and Spices: Don't forget that you can open up your spice cabinet or pick up some fresh herbs. Dried rosemary, thyme, basil, and parsley can be easy ways to add flavor to your casserole, or opt for chopping up some fresh herbs like cilantro, dill, or chives! Other dried spices that may add some flair and flavor are, coriander, cumin, black pepper, curry powder, sage, and oregano.
Creative Seasonings:

There are plenty of other creative ways to change up the flavors in your casserole recipes. Purchase a can of sundried tomatoes in oil and chop them up! Other easy add-ins could be olives, roasted red peppers, pesto, and tapenade!
For this recipe, we choose to use sun-dried tomatoes and zucchini along with some dried herbs, but you could swap the zucchini for spinach or add in some steamed broccoli if you'd like! The combinations are endless.
Are You Following a Low-Carb Diet?
You don't have to count your calories or macros to be healthy, but understanding how to do so can assist you in proper food portioning and finding a balance in your diet. It can also help you develop a deeper relationship with where your food comes from and personalize your nutrition. It can also help you develop a more mindful and intuitive approach to eating.
When it comes to keto, the goal is to reduce your carbohydrate intake based on a suitable range for your body that shifts you into a state of ketosis - a nutritional state thought to promote increased fat burning and utilization.
No food is truly forbidden on a keto meal plan - as long as you are balancing your food intake and aware of your keto macro goals. However, certain high carbohydrate foods can make achieving this a real challenge, including some fruits and vegetables
Use this simple calculator to learn how many grams of net carbs you should be eating every day!
Tips on Making a Keto Casserole
There are many ways to prepare a casserole but we have a few tips to help in the process no matter what flavor combination you choose.
Choose the right type of casserole dish: If you enjoy more of a 'crispy' casserole, you'll want to use a shallow dish. Bonus: Shallow dishes also cook quicker!
Pre-Cook Your Protein: This may add an extra step to the recipe but if you pre-cook your protein you'll save yourself a lot of time and be able to add more flavor to your casserole. Pre-cooking your protein could be boiling and shredding chicken, sauteing ground meat with spices, or grilling and slicing some steak. Or skip this altogether and use pre-cooked Trifecta meal prep ingredients like our grass-fed ground beef patties or shredded chicken.
Saute or Roast Your Vegetables: Similar to pre-cooking your proteins, if you saute or roast your vegetables beforehand this will cut down the total cooking time of the casserole, it also helps remove any excess water from vegetables like spinach and zucchini. Try to stick to more hearty vegetables like swiss chard, cauliflower, broccoli as they won't get mushy through the cooking process.
Pick the Right Cheese: If you want a melty and creamy casserole use melting cheeses such as cheddar, swiss, and parmesan. You can ultimately use any cheese and mix and match, but including at least one meltable cheese in your combo will add to the rich and ooey-gooey texture.
Don't Fill Your Casserole Dish To the Top: Leave about a 1/2-inch room of space at the top of your casserole to give it room to bubble up. This ensures you won't have to deal with any spillover mess, although I would still recommend putting a sheet pan underneath the casserole before placing it in the oven to prevent any spillover from burning (this can create smoke and a mess inside the oven).
Try it Out in a Slow Cooker: You can take most casserole recipes and prepare them in a slow cooker if you want to set it and forget it without having to worry about it over-cooking or burning. Perfect for the busy holidays.
How to Prepare Your Keto Chicken Casserole Recipe
Prep time: 8 minutes
Cook time: 20 minutes
Servings: 5

Ingredients
16 ounces chicken breast, boiled and shredded or 4 each trifecta chicken breasts, shredded
1/2 cup sun-dried tomatoes in oil
1 cup zucchini, small diced
1/2 cup onion, minced
2 tablespoon garlic powder or 2 cloves fresh garlic
1 tablespoon oregano
1 tablespoon paprika
1 cup cream cheese (room temp)
3 tablespoons lemon juice
1/2 cup heavy whipping cream
1/2 cup chicken stock
1/2 cup shredded mozzarella
Kitchen Tools
Oven
2 medium bowls
Measuring Cups and Spoons
Spatula
Casserole dish
Knife and Cutting Board
Step 1: Gather Your Ingredients
Preheat your oven to 400 F degrees.
Gather your ingredients for your casserole recipe; if you aren't using Trifecta shredded chicken, you can purchase pre-cooked and shredded chicken from most grocery stores!
Alternatively, you can also purchase raw chicken breast. and quickly cook it by poaching it in water or stock. To do so simply heat up a dish of water or stock until boiling, then add the raw chicken breast and simmer for 12-15 minutes until the chicken registered 165 degrees on the thermometer.
Prepare your chicken, or any other meat you may be using then be sure to slice your onion and dice your zucchini.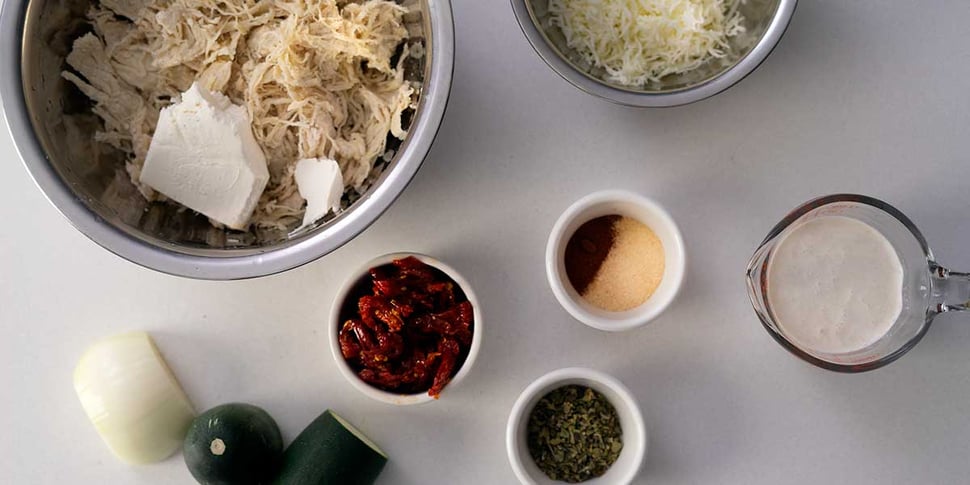 In one bowl whisk together the cream cheese, heavy cream, and stock.
In a separate bowl combine the onion, zucchini, dried tomato, and spices. Then mix this with the cream cheese mixture; add in 1/2 of the shredded cheese. Season with a pinch of salt and pepper if desired.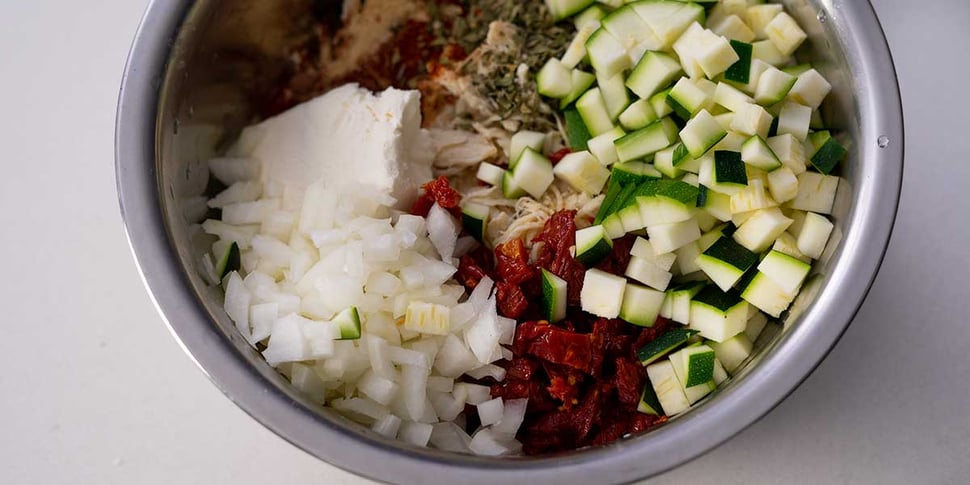 Step 2: Transfer to Casserole Dish and Top With Cheese
Transfer the casserole mix to a dish that has been sprayed with non-stick spray and top with the mozzarella.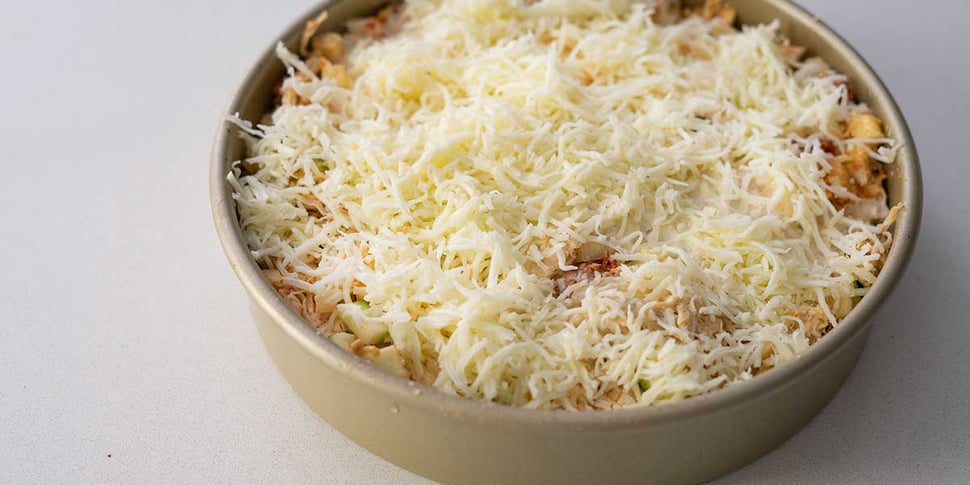 Place your chicken casserole into the oven and cook for 15-20 minutes until warmed through and the cheese is fully melted and browned.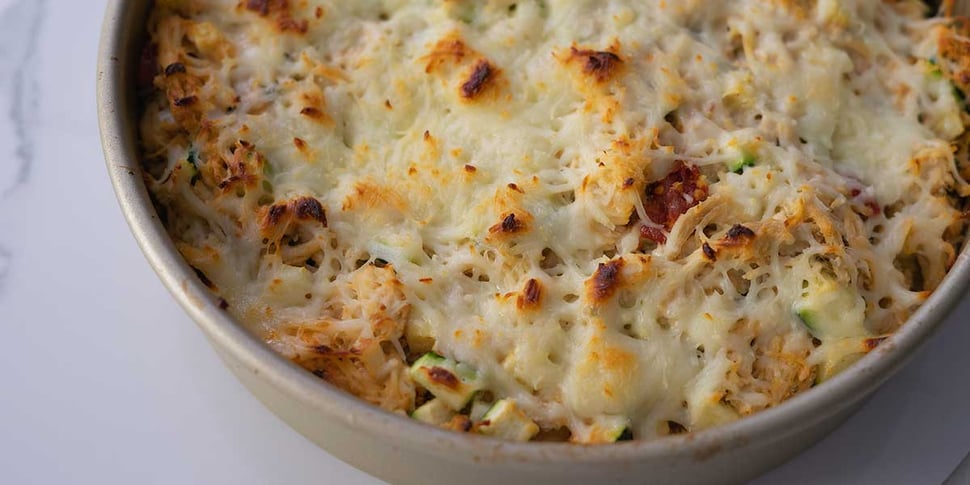 Remove from the oven and allow to cool for 4-5 minutes on the countertop before dividing into storage containers or wrapping whole.
Severing & Storing
This keto breakfast casserole will keep for up to 5 days in the fridge. When storing them make sure you don't down squish your casserole.
Portion out as much as you need for breakfast as a part of a balanced keto breakfast or used as a mid-day snack. Using the guide below, you could count a portion of this casserole as your protein and include the non-starchy vegetables as the add-ins.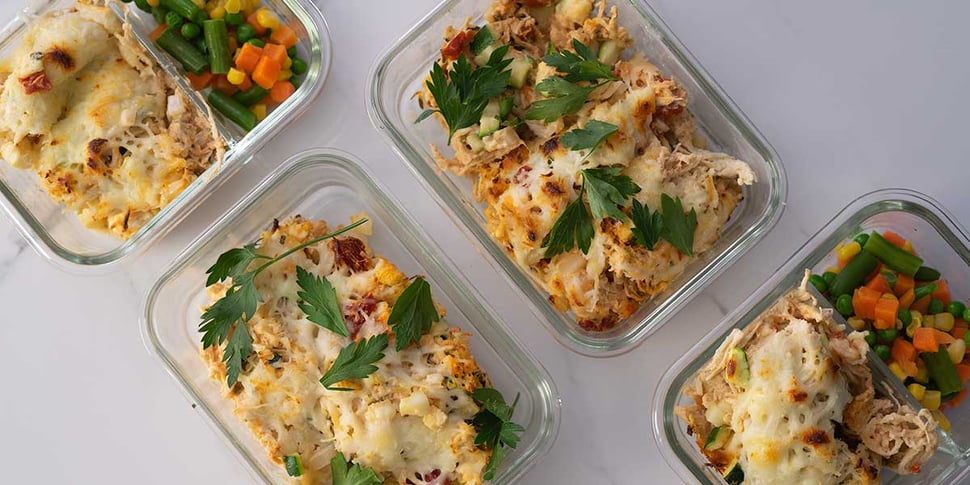 Keto Meal Prep Resources
If you're adding this great recipe to your weekly keto meal prep, remember you can cross-utilize the ingredients! Use this ground meat as a filling for low-carb tacos or prep extra vegetables for the week.
Following a keto or low-carb diet has its challenges, so we've put together plenty of resources to support you in your wellness journey:
---
Ready to Eat Meals Delivered Straight to You
Skip the meal prep, and let us deliver macro-balanced keto meals directly to your door.
Sometimes there just isn't enough time in the week to perfectly plan every meal. Let us help you make conquering your nutrition even easier by providing organic meals you can count on.