Feel gourmet AF and make all your co-workers jealous with this crazy easy, paleo and keto friendly steak stir-fry recipe for lunch. Smokey, savory and a little tangy, it's guaranteed to transform your meal prep game. Made only with minimal ingredients, it delivers on flavor and will help you hit your macros with ease. Plus, the sauce is a real game changer that can be used on most meat and veggie combos.
How to Make This Stir Fry
For this recipe, you're going to need the following:
Asparagus
Cherry tomatoes
Fresh cilantro
Smoked paprika
Lemon
Oil
Salt
To save even more time, try this with pre-cooked Trifecta veggies!

Prep Your Steak and Veggies
This is the most difficult and time-consuming portion of the dish. You're going to need to wash and slice the steak, veggies, and cilantro. And then saute them for a few minutes. Try not to panic, these five to seven minutes of cook time will go by fast and you will be enjoying your steak meal shortly.
Dice everything up into bite-sized pieces and add to a non-stick skillet to saute. Start with your asparagus since this is the toughest veggie, and cook for 2 to 3 minutes until soft and slightly browned (but still crunchy!). Then add in your tomatoes for another 2 minutes until they start to break down.
Then add your steak and warm through for about another minute.
Now you're ready to add the sauce. Turn off the heat and proceed to the best part below.
It's All in the Sauce
This sauce is fire, and could not be easier to make. Simply whisk your paprika, lemon juice, oil, and cilantro in a small bowl until blended. Then season with salt to taste, and that's it!
When ready, toss your warmed steak and veggies in the sauce until everything is coated evenly. You can add the sauce directly to the skillet. Then plate your stir-fry and dig in.
Tip: Save some sauce for finishing to add more flavor once platted. A little more salt also goes a long way!
Like any professional sauce, you've got the right balance of acid, fat and seasoning to take this dish up a notch. You can even get creative by adding in some chili flakes for heat, or subbing in your favorite vinegar instead of lemon.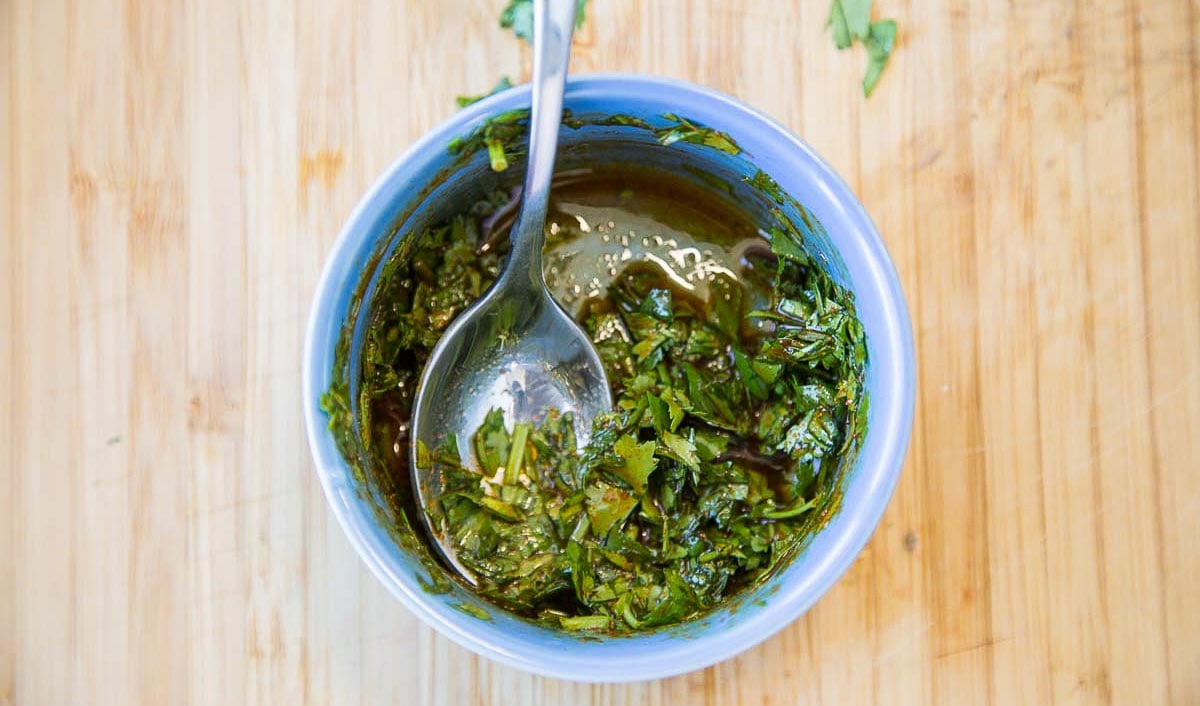 Psst...It also goes great on shrimp and chicken.
Tip: Wait to add the cilantro to the sauce until you're ready to eat, this will keep it from browning.

Reheating Your Steak
If making this for weekly meal prep;
Pre-cook only your veggies
Slice your steak (but don't cook it)
Package with sauce on the side - keeping the cilantro separate to prevent browning
As for meal time, the easiest way to ruin this meal is to overcook the steak in the microwave - causing it to dry out and become tough and chewy. Instead, warm everything up in a non-stick skillet, oven or air-fryer if you're able to. If not, don't sweat it, just keep your microwave time to 2 minutes or less and wait to add the sauce when everything is warmed up.
Want all your meals to take 10 minutes or less? Save time on all of your favorite meal prep recipes with pre-cooked, healthy ingredients from Trifecta a la carte.
Serve this With

Feel free to mix and match this sauce with any of your favorite proteins or seasonal veggies. And to boost up the carb intake (although this makes the dish no longer keto or paleo) serve it over rice or pasta. Need more ideas? Here are some favorite pairings and toppings to try: