Whether you are looking for low carb breakfast meal prep ideas to start your day or just need something fast on your way out of the house, we've got you covered. Regardless of your cooking skill set, here are healthy breakfast ideas that are simple to execute and make sticking to a low carb lifestyle easier than ever. Along with some no cook options for when you are really in a pinch.
8 Quick Low Carb Breakfast Recipes
One of the best ways to save time in the morning is using meal prep to cook and portion out your low carb breakfast options in advance. So when you are running out the door you can grab something that is healthy, delicious, and won't blow up your carb intake first thing in the day. Many of these recipes mentioned below work perfect for low carb meal prep. A little time spent planning and cooking in advance can save you a lot of time and stress later on.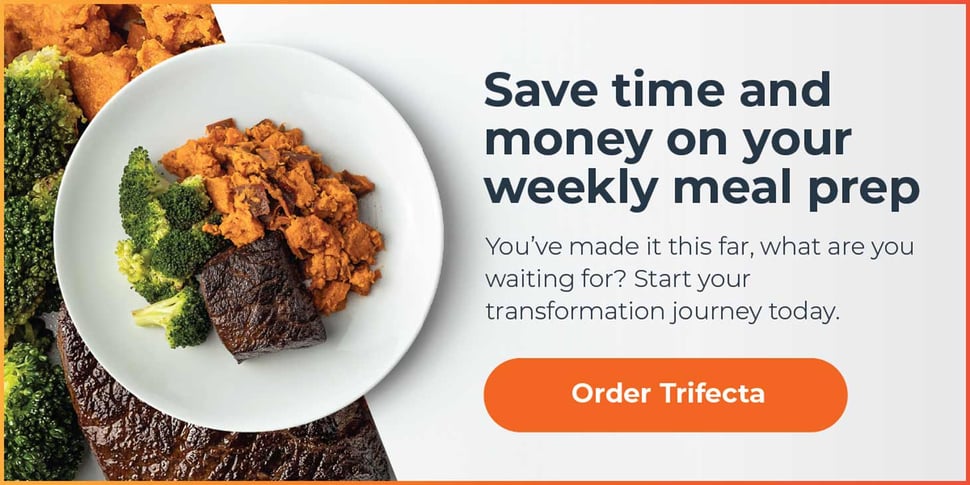 These quick and easy healthy recipes are all high protein, low carb, and full of nutrition to support your health and weight loss goals.

1. Low Carb Oatmeal
Yes, you can enjoy the consistency and flavor of traditional oats without all the carbs. A blend of nuts and seeds makes for a great oat substitute and the high amounts of healthy fats and fiber ensure it will stick to your ribs and keep you feeling full up until lunch time. This recipe also works well for a keto diet.
Made with hemp seeds, chia seeds, and flax seeds, this easy breakfast recipe has only 9 grams of net carbs per serving and takes less than 15 minutes to prep.
https://www.trifectanutrition.com/blog/keto-low-carb-oatmeal-recipe

2. Vegetable Egg White Frittata
This protein packed recipe requires a bit of cooking time in advance but it is perfect for breakfast meal prep. You can use any veggies and cheese you have on hand. Or change up the ingredients to keep things interesting week after week. Cook once and get at least four quick breakfast out of it.
One giant slice has less than 4 grams of net carbs and is a low-carb breakfast that can be warmed up and ready to eat in minutes.
https://www.trifectanutrition.com/blog/vegetable-egg-white-frittata-recipe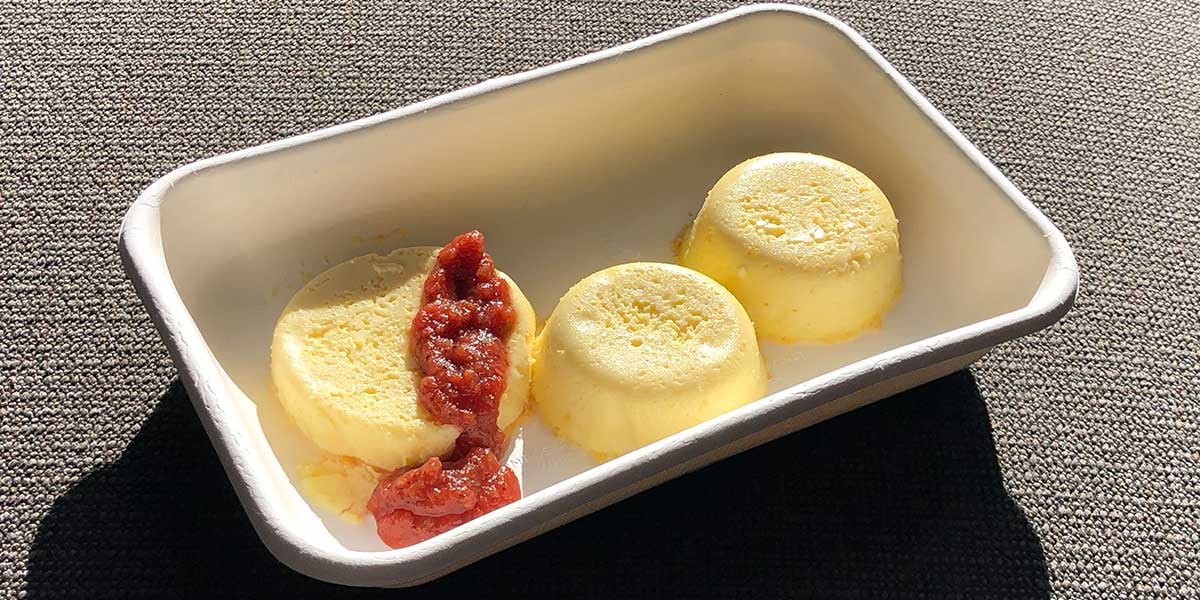 3. Baked Egg Cups
Many egg cup recipes can come out with a spongy texture that doesn't work well for a tasty breakfast option. These baked egg cups are so creamy and rich tasting you won't believe your taste buds. The secret ingredient is the cottage cheese! You can prep them ahead of time in 20 minutes for a great grab-and-go option in the morning.
Add in any toppings you desire - try these with cheddar cheese and bacon. And load up on as many that will fit your calorie needs. Each egg cup is only 60 calories and has less than 1 gram of net carbs
https://www.trifectanutrition.com/blog/baked-egg-bites-recipe
You can also try this keto breakfast egg cup option made with bell peppers and kale. https://www.trifectanutrition.com/blog/keto-egg-muffin-recipe

4. A "What's Around" Low Carb Smoothie
Smoothies are an excellent way to pack in nutrients, and they can be easily adapted to fit a low-carb diet. Plus, they can be made in less than five minutes each morning. Use unsweetened cashew or almond milk as a base, and add some low-carb fruits like berries or watermelon, or try it with leafy greens.
Whatever is near, fresh, and would be tasty blended. You can also add in some protein powder, chia seeds, or nut butter for extra nutrition and a creamier texture.
Here are some great low carb smoothie recipes to try:
Low Carb Green Smoothie Recipe
https://www.trifectanutrition.com/blog/keto-green-smoothie-recipe
Low Carb Chocolate Avocado Smoothie Recipe
https://www.trifectanutrition.com/blog/chocolate-keto-avocado-smoothie-recipe
Low Carb Strawberry Lavender Smoothie Recipe
https://www.trifectanutrition.com/blog/keto-strawberry-lavender-smoothie-recipe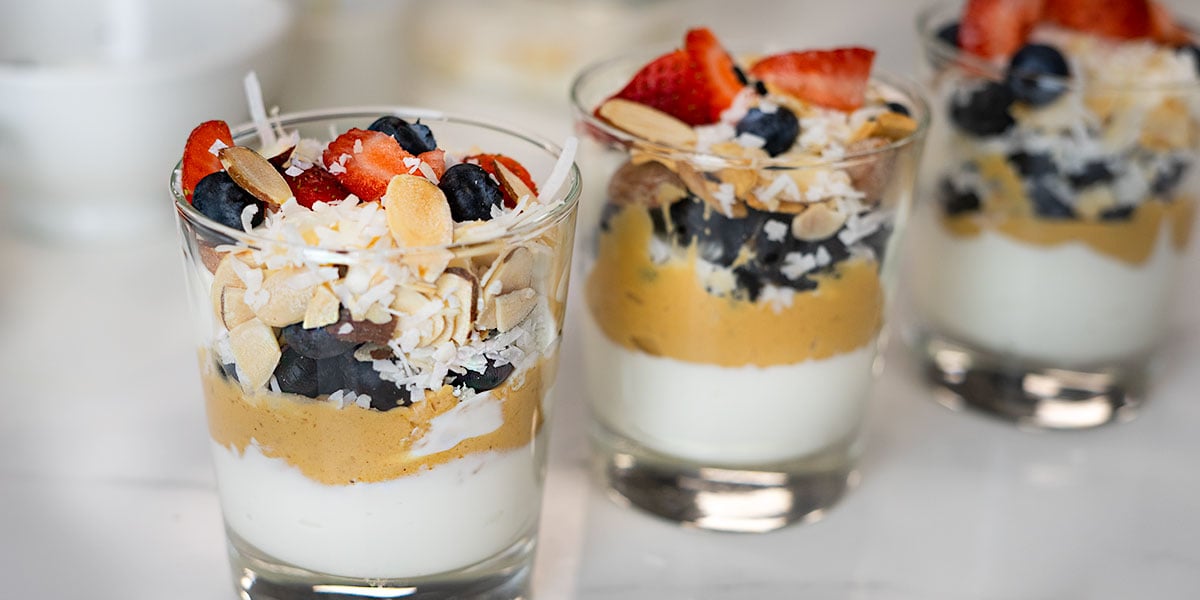 5. Greek Yogurt Parfait
Traditional yogurt parfaits are loaded with sugar. In fact, even yogurt without sugar can be a source of carbohydrates in the diet. However, Greek yogurt tends to be lower in carbs and higher in protein than regular yogurt varieties. Look for plain, unsweetened Greek yogurt as the base for your parfait. Then top with nuts, nut butter, low carb fruits, and whatever else suits your fancy.
Try this fully loaded parfait with only 9 grams of net carbs per serving.
https://www.trifectanutrition.com/blog/fully-loaded-keto-breakfast-parfait-recipe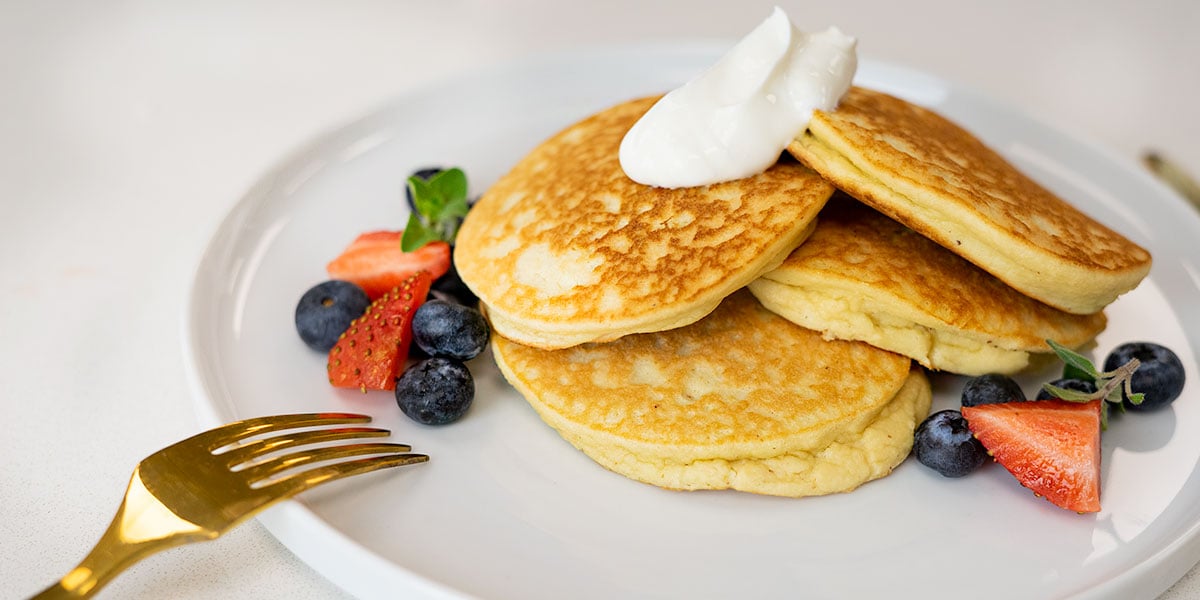 6. Low Carb Pancakes
With the explosion of flour alternatives available on the market today, making homemade low carb pancakes is easier than ever. This easy recipe uses a blend of almond flour and coconut flour as the base and is sweetened with monk fruit. One serving has less than 10 grams of net carbs.
You can make this in the morning in less than 20 minutes or prep them in advance. Skip the maple syrup and top with peanut butter, sugar-free syrup, or fresh berries.
Low Carb Pancake Recipe
https://www.trifectanutrition.com/blog/low-carb-fluffy-keto-pancakes-recipe

7. Breakfast Casserole
A great alternative to a frittata is a breakfast casserole. Layers of low carb veggies, meat, cheese, and eggs for a hearty and healthy low carb dish. Similar to a frittata, this recipe works best for meal prep and can be portioned out for a quick morning meal throughout the week.
Here are two great recipes with less than 6 grams of net carbs you can try:
Keto Breakfast Casserole Recipe
https://www.trifectanutrition.com/blog/low-carb-keto-breakfast-casserole-recipe
Paleo Breakfast Sausage Casserole Recipe
https://www.trifectanutrition.com/blog/paleo-breakfast-sausage-casserole-recipe

8. Low Carb Vegan Breakfast Tacos
If you're looking for a plant based option, look no further than this super simple vegan taco recipe. In less than 20 minutes you can enjoy tasty breakfast tacos with less than 10 grams of net carbs per serving. This recipe works great with scrambled eggs too!
Vegan Low Carb Breakfast Taco Recipe
https://www.trifectanutrition.com/blog/vegan-low-carb-breakfast-taco-recipe
BONUS: 7 No Cook Low-Carb Breakfast Ideas
When you are really in a pinch and need something fast that requires zero cooking time, consider stocking up on some of these great low-carb staples as a breakfast option:
Greek yogurt
Low carb trail mix
Hard boiled eggs
Low carb cereal with unsweetened almond milk
Low carb protein bars
Sliced low fat cheese and charcuterie
Low carb protein drinks
The easier it is to stick to your diet goals the more successful you will be. Thus, choosing quick and easy breakfast staples to start your day is one of the best ways to get you off on the right foot. Just remember to keep these healthy habits going all day long.
Want to enjoy a low carb lunch ready made and on hand? Trifecta has low carb meal plans that can be cooked and shipped to your door each week. So you can have your breakfast and lunch covered.