This uber creamy, rich and satisfying keto parfait is sure to brighten any morning. Plus it tastes like dessert without blowing up your keto carb goals.
Building a Perfect Keto-Friendly Parfait
The word "parfait" means "perfect" in French and classically refers to a dessert prepared with egg, cream, sugar, and liqueur layered into a tall glass. The American version is a bit less decadent but we use the word parfait to refer to any type of layered cream variation served with fruit, granola, or nuts.
Most American parfaits tend to be made with yogurt, fruit, and other toppings; making it a healthy option for breakfast or a nutrient-dense on-the-go snack. Building a parfait is incredibly easy, and you don't need a fancy glass to enjoy it, all you need is to start by choosing the best yogurt.
What Yogurt is Best for a Keto Diet?
Most yogurts can be enjoyed when following a keto diet as long as you are aware of your portion size!
The reason why Greek yogurt is suggested is because of its higher protein content and lower carb count. As well, by mixing Greek yogurt with heavy cream, creamier consistency, and higher fat content are achieved!
Different types of yogurts you could choose for a creamy and delicious keto parfait:

Key Tips for Making a Keto Parfait
Choosing a yogurt low in carbohydrates isn't the only way to create a parfait perfect for keto. In the recipe below we whipped heavy cream into greek yogurt to add flavor and fat, but you can also maximize your macros by choosing other nutrient-dense ingredients to layer in:
Nuts & Seeds: You can layer a variety of toasted nuts and seeds such as pecans, almonds, pine nuts, pumpkin seeds, chia seeds, flax seeds, and hemp seeds! Or alternatively utilizing a nut-butter when layering your parfait.
Low Carb Fruit: You can still enjoy fruit when following a keto diet, the key is to choose fruits lower in carbohydrates and make sure you are portioning properly.
Along with choosing your ingredients wisely, make sure you are paying attention to how much of each ingredient you are using. Instagram-worthy parfaits may look delicious but adding too many toppings can quickly sabotage your macro goals and lead to extra calories you may not want.
How to Conquer Your Keto Macros
You don't have to count your calories or macros to be healthy, but understanding how to do so can assist you in proper food portioning and finding a balance in your diet. It can also help you develop a deeper relationship with food, and also a more mindful and intuitive way of eating food.
When it comes to keto, the goal is to reduce your carbohydrate intake based on a suitable range for your body that shifts you into a state of ketosis - a nutritional state thought to promote increased fat burning and utilization.
No food is truly forbidden on a keto meal plan - as long as you are balancing your food intake and aware of your keto macro goals. However, certain high carbohydrate foods can make achieving this a real challenge, including some fruits and vegetables.
Use this simple calculator to learn how many grams of net carbs you should be eating every day!
This recipe has 33g of fat, 9g net carbs (12g carbs - 3g dietary fiber), and a whooping 14g of protein!
How to Prepare Your Fully Loaded Keto Breakfast Parfait
Prep time: 10 minutes
Cook time: 0 minutes
Servings: 4

Ingredients:
1.5 cups Greek yogurt, whole milk
0.5 cup heavy whipping cream
6 tablespoons almond butter
2 teaspoon vanilla extract
1/2 cup berries (strawberries, raspberries, or blueberries)
4 tablespoons pecans, sliced
2 teaspoon coconut flakes
Fresh mint leaves, picked, for garnish
Cacao powder, for garnish
Kitchen Needs:
Mason jars, or Tupperware containers
Measuring cups
Tablespoons
Spatula
Mixing Bowl (optional)
Step One: Gather Your Ingredients and Whip Yogurt
Gather all of the ingredients you will be using to build your parfait, including any additional toppings or low-carb keto-friendly fruit.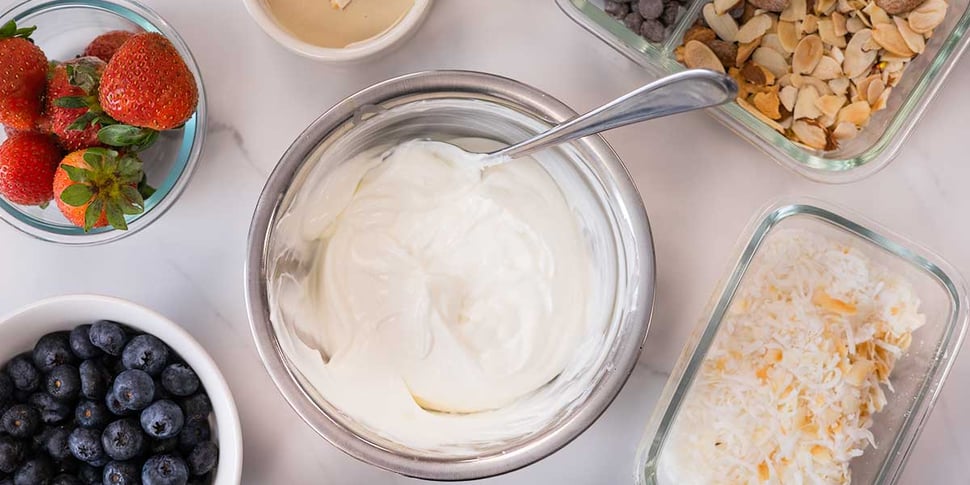 Prepare your whipped yogurt by whisking together the yogurt, heavy cream, and vanilla in a medium-sized bowl.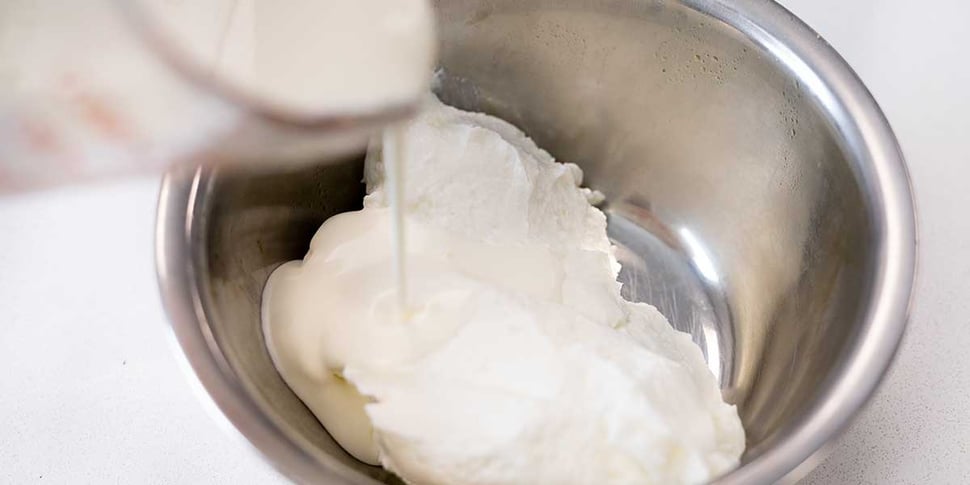 This is a great time to add any dried spices as well! Take your parfait to the next level and experiment with adding any of the following flavors:
Pumpkin spice
Allspice
Cinnamon
Nutmeg
Lemon zest
Almond extract
Ginger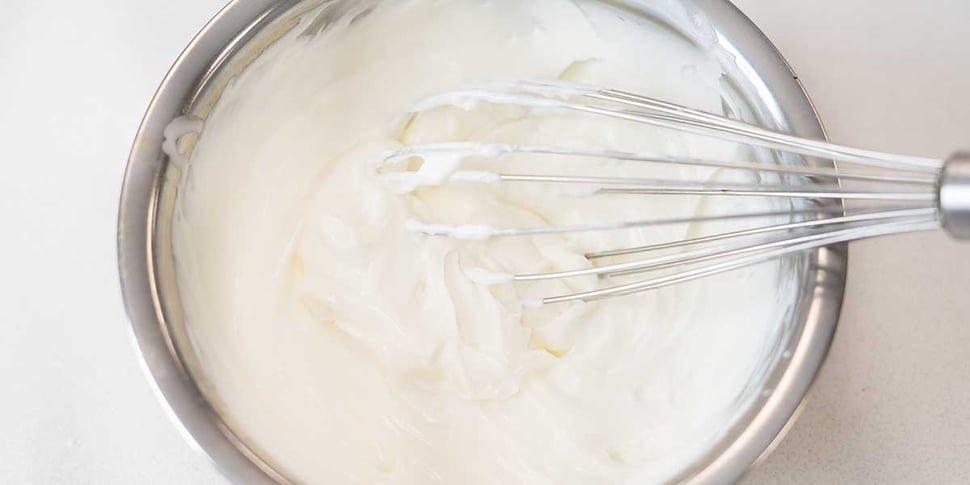 Grab four separate containers of your choice and line them up in a prep area. In a bowl mix, the Greek yogurt, vanilla extract, and heavy cream until fully incorporated.
Portion 1/2 cup of Greek yogurt mix in each container and press down with a spatula, flattening the surface of the yogurt.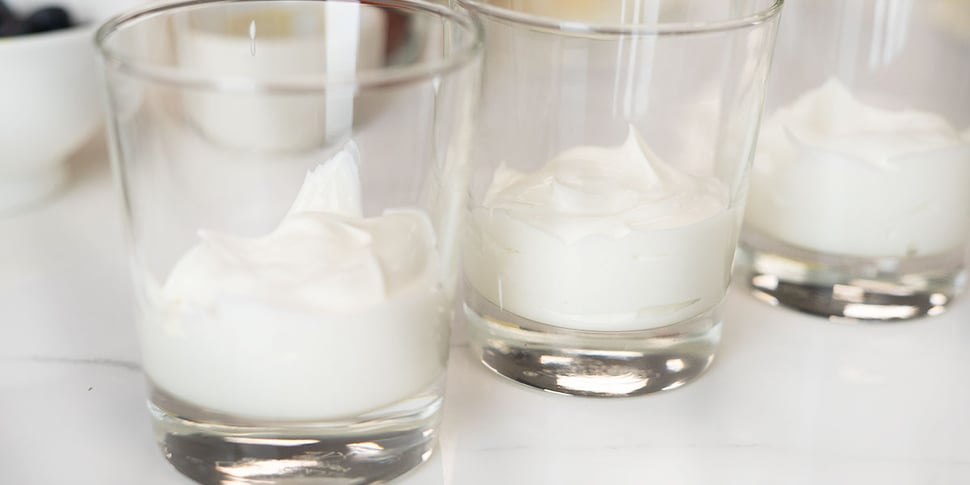 Next, add 1.5 tablespoons of almond butter (or nut butter of choice), in the middle as a dollop, or vertically across the container.
Step Two: Portion Remaining Ingredients
Next, add 1/8 cup of your preferred choice of berry mix (I love raspberries and blueberries) around the container.
Top with 1/4 teaspoon of coconut flakes, 1 tablespoon of sliced pecans, and finish with 1/4 teaspoon of coconut flakes. Garnish by gently sprinkling cacao powder on top of the parfait and by adding fresh-picked mint leaves.
If you'd like your parfait a bit sweeter, feel free to add a small quantity of a non-caloric sweetener, like liquid stevia or erythritol.
Storing and Serving
Cover all containers with their appropriate lids. Store in the fridge until you're ready to enjoy!
These parfaits will keep for up to 7 days in the fridge.
Keto Meal Prep Resources
If you're adding this great recipe to your weekly keto meal prep, remember you can cross-utilize the ingredients! Use this ground meat as a filling for low-carb tacos or prep extra vegetables for the week.
Following a keto or low-carb diet has its challenges, so we've put together plenty of resources to support you in your wellness journey:
---
Too Busy? We Got You!
Want more delicious keto-friendly meals like this? Learn how to hit your keto carb goals with ease with this free meal prep toolkit for keto. A step-by-step guide on how to plan amazing keto dishes for weight loss.