Summary
You are likely never relying on one sole source of fuel during your workouts, and a mixed macro approach is typically needed to achieve optimal results. However, at the simplest level, here is how each macro is used to support different types of exercise.
| | |
| --- | --- |
| Primary Fuel Source | Type of Exercise |
| Carbohydrates | Explosive movements like sprinting, power lifting, quick turns, jumps, hitting/pitching a baseball, all out finishes, etc. |
| Fat | Low to moderate intensity like jogging, endurance training, swimming, cycling, moderate lifting, and aerobics. |
| Protein | Acts to protect muscle mass, not a primary source of energy for most people. |
Nutrient Timing: When to Eat
One of the biggest limiting factors in deciding what to eat before exercise is how soon you plan to train and when your last meal was.
Unless you are training at intense levels daily or multiple times a day, specific pre-workout meals are not required. Whether you workout fasted or not will not significantly impact your overall nutrition goals or ability to burn fat (14). And if you eat a meal too soon before training, this could cause stomach issues, since your digestive system is competing for blood flow with your muscles (15).
It takes two to three hours prior to exercise to fully digest your meals and utilize that energy for training. So if you have eaten a meal one to three hours before the gym, you likely don't need an additional pre-workout fueling option, unless you are feeling low on energy.
If you workout first thing in the morning and don't have time to digest food prior, you can workout fasted or try a quicker source of energy 30 to 60 minutes before training. But this is dependent on the person and how you feel during training - feel free to play with different options and find what helps you perform best.
When to consider including a pre-workout option:
You are training multiple times a day or for more than a couple of hours at a time
You are looking to gain muscle
You feel low on fuel and energy
Macro Cycling
One meal is not going to outdo your overall diet, so it is also important to pay attention to how you are feeding your body all day long to support your performance. A balanced, healthy diet is sufficient for most people, but others find additional benefits in swinging their calories, carb cycling, and being more strategic with their macro intake.
By increasing your intake of certain macros on days you use them more, you can potentially utilize your calories more efficiently and fuel your workouts better. Use the following breakdown to customize a specific macro based meal plan that supports your workout routine.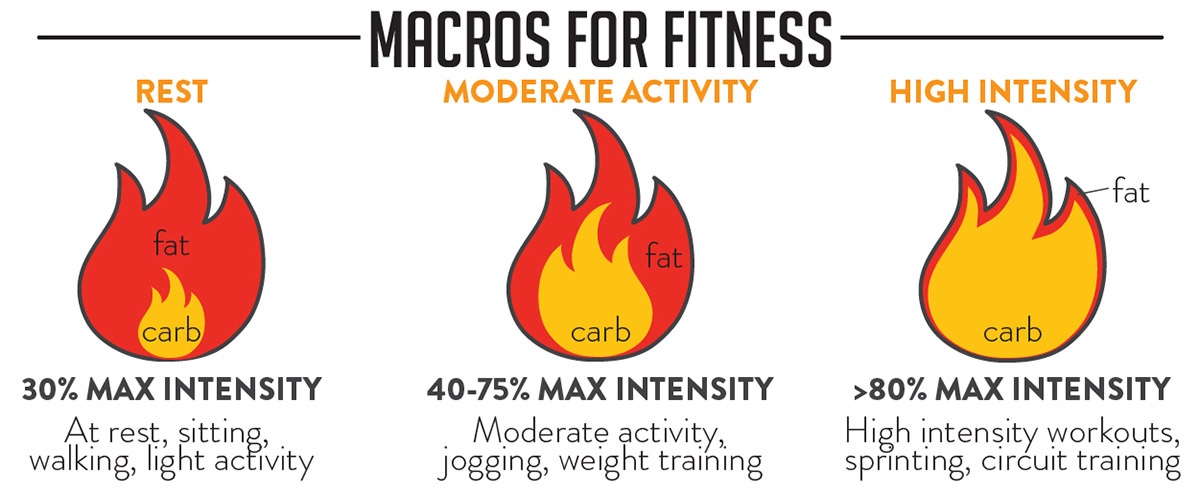 At Rest
At rest and low intensity, your body is using mostly fat for long-lasting energy.
How your daily calorie needs change: At rest, you are at a lower overall calorie burn, and can decrease your total calorie intake on these days by 10 to 20%.
How your daily macro needs change: You are using less carbohydrates and can decrease your intake of carbs and fat on these days while keeping protein the same.
Moderate Activity
During moderate exercise, your body is still using mostly fat for energy but starts using some carbs for quick energy.
How your daily calorie needs change: You are at a moderate calorie burn and should keep your calorie intake close to your estimated TDEE.
How your daily macro needs change: You should eat a moderate amount of carbs around the time of your workout, and keep fat and protein intake at normal levels.
High Intensity
When performing at high intensity, your body is burning mostly carbs for fast energy, as well as some fat for sustained endurance.
How your daily calorie needs change: On these days you have a higher overall calorie burn and increased fat-burning potential. You may want to slightly increase total calories on these days by 5 to 10%.
How your daily macro needs change: Increase carbs slightly to replenish lost fuel and keep protein and fat intake the same.

Pre Workout Meal Examples
While the best pre-workout meals can differ greatly from one person to the next, we do know that a well-balanced approach works well for most. Depending on when you are planning to exercise, here are some of the best food options to consider before hitting the gym:
Meals (2 to 3 hours before) -
If you have the time window to eat a full meal before you work out, this is a great opportunity to load up on quality options. Meals should include a mixed balance of lean protein, starchy carbs, and moderate amounts of fat to promote longer digestion and sustained energy. Some great meal examples include:
Chicken, roasted sweet potatoes, and veggies
Pasta with marinara and grass-fed beef
Stir-fried tofu and veggies over rice
Protein shake with milk, fruit, and peanut butter
Recipes to try -
Snacks (>2 hours before) -
As you get a little closer to your exercise window, you'll want to cut down on food volume and use a similar macro approach as your meals. Adding in some more quick-source carbs can also help you top off your gas tank. Here are some mini meals to try:
Greek yogurt with honey and granola
Peanut butter and jelly sandwich
Whole grain crackers with deli meat and cheese
A banana and a spoonful of peanut butter
Protein waffle with syrup
Trail mix granola bar or protein bar
Cereal with milk
Quick Fuel (30 min to 1 hour before) -
Right before you exercise, quick carbs are your go-to. Additionally, you'll want to scale back on high-fat foods and high-fiber foods to reduce stomach issues. Some fast fuel sources include:
Low-fat fruit smoothie
Low-fat chocolate milk
Fruit juice or sports drink
Low-fat muffins
A piece of fruit
Pre-Workout Supplements
Often times people will turn to pre-workout supplements to boost their training output. It is essential to note that while these options may potentially increase energy, mental focus, and perceived stamina, they do not actually supply any fuel to your body - only calories can do that. Thus, these options don't override a balanced diet and general nutrition needs.
If you are turning to supplements for a potential pre-workout boost, keep in mind that these are regulated differently than food and it can feel like a challenge to find a trusted option. Your best bet is to choose products with ingredients that are clearly listed (no proprietary blends) and look for ingredients you recognize, as well as third-party certification. You can also do your own research and see what is giving you a potential benefit in various mixes and powders.
Hydration and Performance
Part of supporting your performance with good nutrition also means focusing on hydration. In fact, some of your fatigue and workout struggles could be related to poor fluid intake (16).
Water helps regulate your body temperature, but it also plays a role in transporting nutrients to and from your muscles for use. Thus, if you're not drinking enough water or fluids each day, your not going to perform well regardless of what you're eating.
Perfecting Your Pre-Gym Routine
Ultimately, optimizing your nutrition game depends on your level of training, overall eating habits, and individual needs. It may take some time to find what works best for you, and you also may find that training on an empty stomach is preferred. Play with different options and see what you're body responds to.
Need help getting your diet on track? Stop wasting your workouts and leave your nutrition to the experts. Our expert chefs and nutritionists design macro-perfect meals and a la carte staples to simplify your life, so you can spend more time focusing on everything else. All you need to do is warm them up and dig in!