If you are looking for a quick and easy meal prep recipe for your breakfast that is both keto and easy to prepare, you're in luck, because this recipe was made exactly for you. Use this as a blueprint for any frittata-like breakfast option - change the toppings each week to avoid meal prep burnout!
How to Make a Pan-Baked-Egg-Anything
My inspiration to develop this recipe was a combination of our Nutrition and Content Director wanting a sheet-pan recipe, and tasting a similar dish in a restaurant in Houston, Texas. This recipe only has a handful of ingredients, and it's super simple to make. It works well for hosting a brunch party on the weekend, meal prepping for the week ahead, and adding variety to your keto meal prep.
Use the blueprint of this recipe to create any kind of keto frittata-like breakfast dish (using the first 4 ingredients on the list below). Get creative and add any of your favorite ingredients! Use this recipe for a quick breakfast on your busiest mornings, or bake the egg mix plain, slice it into squares and use it for keto sandwiches, keto grilled cheeses, or as a sneaky source of extra protein to add to sandwiches and burgers!
I used a combination of egg whites and whole eggs to increase the protein content, while keeping the recipe high in fat to support your keto diet. The milk is necessary to add moisture and fluffiness. Feel free to sub coconut milk if you are lactose intolerant. I also used a chicken & apple sausage link for this recipe but you can use chorizo, soyrizo, or any other preferred sausage link.
This recipe has 21g of fat, and only 4g of net carbs (6g carbs - 2g fiber), and 20g of protein! Let's go!
Feel free to swap in any of your favorite keto toppings to keep things interesting, add variety, and avoid meal prep burnout.
Here's how to throw it all together:
Ingredients:
10 eggs, whole, cracked
1 cup egg whites
1/3 cup milk, full fat or cream
1 tablespoon coconut oil
1.5 teaspoon caraway seeds
1 teaspoon of both kosher salt and black pepper
4 favorite sausage link, sliced into half moons
Garnish:
1 avocado, sliced lengthwise, divided into quarters
Ricotta cheese, crumbled, for garnish
Kitchen Needs:
9x13 sheet pan, 1" deep
Blender
Measuring cups
Parchment paper or foil
Cutting Board
Knife
Step One: Crack eggs, add Whites, Season, and Blend
Preheat oven to 375 F (190 C).
Crack eggs directly into a blender or bowl (crack eggs into a bowl if you are using an immersion blender. Otherwise do this in the blender). Add the egg whites, milk, coconut oil, and season with salt, pepper, and caraway seeds.
Blend for 10-20 seconds, avoiding over blending, until all ingredients are emulsified.
Step Two: Prepare Pan, Cut Sausage, and Bake
Liberally spray the bottom of the sheet pan with spray oil. Add foil on top, covering the entire length and width of the pan, and spray liberally a second time. Slice the sausage links into half-moons and keep aside in a bowl until needed (thought the image shows parchment paper, upon testing the recipe, I realized foil was a better lining product than parchment, due to it's ability to stick to the pan uniformly).
Pour the egg mix into the pan carefully. Add sliced sausages by spreading around the pan as evenly as possible. Transfer pan carefully into the middle rack oven and bake for 30 minutes. Set a timer. Rotate the pan 180 degrees half way through the baking period - this will allow even cooking.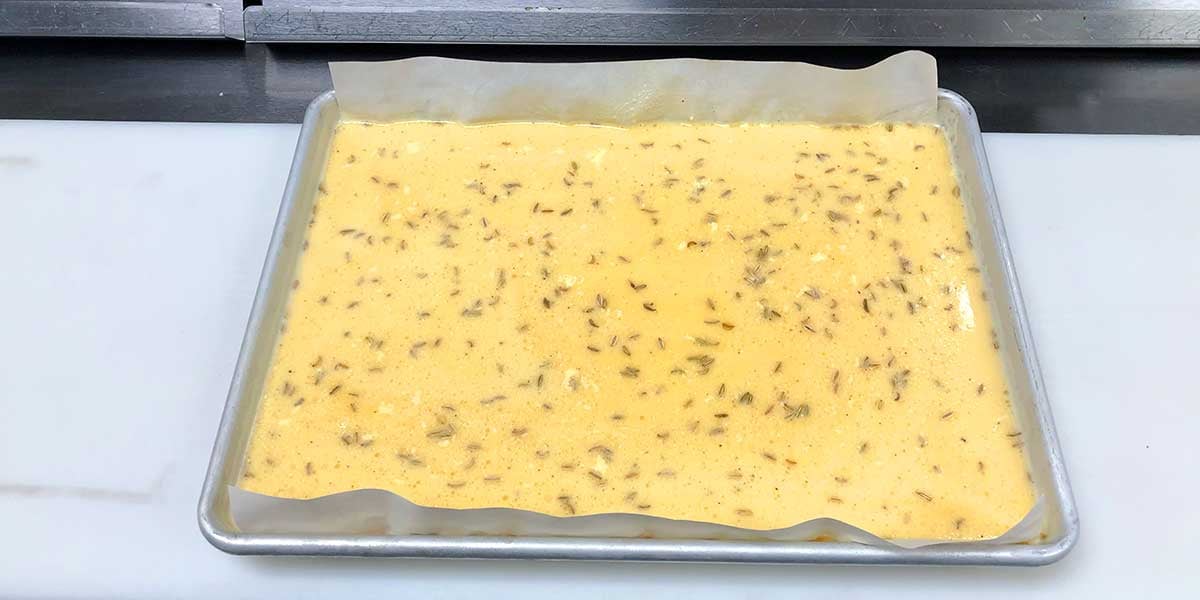 Step Three: Test, Cool, Cut, Serve or Store
After 30 minutes, test the eggs by sticking a fork, toothpick, or cake tester into the middle of the pan and removing it. If eggs are fully set and none stick to your poking-tool of choice, the sheet pan eggs are done. Otherwise, add 2-4 minutes at a time. Remove from oven and cool on the side (set pan on top of oven mitts or cooling racks to avoid cracking/burning the surface of your countertop).
Once cooled down, cut into even squares. The recipe makes 8 - 6.5oz/188g squares. Transfer to a deep Tupperware container and store in the fridge. When ready to serve, top each square with sliced avocado, and a dollop of ricotta cheese. You won't regret it.
Helpful Tips for Successful Cooking:
Do not over blend the egg mix

. Blend for about 10-20 seconds, just enough to have all ingredients come together. Over blending will cause the egg mix to foam excessively (as air gets introduced to the mix while blending). If you have an immersion mixer (one of those handy stick blenders), I highly suggest you use that instead of a blender. Either works, just avoid the excessive blending.

Coat the sheet pan excessively and multiple times with spray oil.

Spray and coat the bottom of the pan liberally, add the foil or parchment paper on top, and then spray the paper or foil once again liberally with spray oil. This will help you immensely when removing the cooked egg from the pan itself.

Use a rimmed 1" deep baking sheet, and if possible, non-stick.

The 1" rims will help maintain the egg in the pan and form a beautiful baked product. Ideally the size of the sheet pan is 9x13. Other larger sizes will simply make the Keto Sheet Pan thinner.

Test doneness in the middle.

Before completely removing from the oven and letting cool, poke the middle of the egg with a toothpick, fork, or cake tester. If no egg gets attached to your poking-tool of choice, then you can confidently remove the sheet pan from the oven and begin to cool. We do this because as it is with most things, the middle is always the last part to cook - the rims will cook first and the fastest, always.
A neat little trick is to flip the sheet pan upside down on a cutting board after it's cooled down and pop it out of the pan. Be swift, and careful to avoid breaking the egg apart. Remove foil or paper and then cut and portion on the cutting board.
Storing and Serving
The avocado slices and ricotta garnish work incredibly well for this recipe. However, as I stated at the beginning of the blog, you can simply cook this keto recipe, cut into 6.5 squares and use for any meal prep needs throughout the week. Feel free to add some of our Trifecta broccoli or mushrooms, and even some caramelized onions.
Store in the fridge for up to a week, covered in a Tupperware with an airtight container.
Meal Prep like a Pro
Want to get more out of your weekly meal prep efforts? Stick to your calorie goals and maximize results with this free meal prep toolkit for weight loss. An RD-written guide complete with macro meal planner, food lists, and expert advice to help you lose weight quickly.