Guacatillo is a bright creamy sauce that coats proteins incredibly well. These salad wraps are incredibly tasty and simple to make. Use this recipe as a base for a solid keto chicken salad, adding any extra toppings as desired! Let's dive into it.
What is Guacatillo?
Guacatillo is a Mexican-based sauce prepared by blending avocado and tomatillos, yielding a highly delicious and full-bodied green sauce, making it creamy without the need of sour cream. So yes, this sauce is both dairy-free, and gluten-free (also paleo and Whole30 Approved!).
This sauce coats sliced or pulled chicken incredibly well and adds tons of moisture and flavor. Nothing more to it.
The recipe is made with diced chicken, but it can also be made with shredded chicken, by either using Trifecta's A La Carte or by making your own or buying/using some leftover rotisserie chicken (always an excellent use).
How To Calculate Your Keto Macro
Use this calculator to find out your keto macros in minutes!
How To Make a Keto Guacatillo Wrap?
Though this recipe is a wrap mix recipe, feel free to use the chicken and sauce mix to create a chicken salad mixture. Use your favorite crunchy salad leaves of choice for the wrap or shell. The recipe only takes about 20 minutes to prep.

Let's dive into it.

Prep time: 20 minutes
Cook time: 20 minutes
Servings: 4



Ingredients:
1 Lb or 16 ounces chicken, cooked, diced, or use Trifecta A La Carte Chicken
8 tablespoons Guacatillo sauce
4 tablespoons pistachio, lightly roasted
4 teaspoons slivered almonds nuts, lightly roasted
8 Romaine lettuce leaves, shocked and rinsed
8 Cherry tomatoes, rinsed, halved
1 tablespoon avocado oil (or neutral oil)
1-2 dashes Tabasco
4 teaspoon cotija cheese, crumbled
Salt and Pepper to taste
Spray oil
Garnish: Paprika powder
Kitchen Needs:
Knife and Cutting board
3 Medium bowls
Measuring spoons
2 Baking sheet, 1 large & 1 small with foil
Oven

Step One: Dice and Cook the Chicken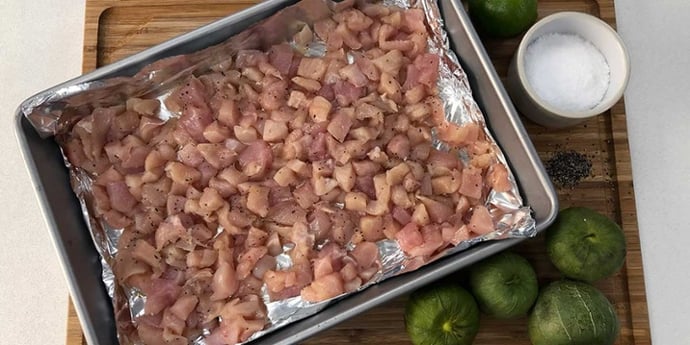 Preheat your oven to 425F (215C).
Dice the raw chicken and combine into a medium bowl with salt and pepper, mix to evenly season the chicken. Spread chicken evenly on a foil-lined baking sheet sprayed with oil.
If you are using Trifecta A La Carte chicken, skip this step, and simply dice the chicken breast!
To avoid cross-contamination and potential food-borne illness, wash your cutting board, knife, hands, and any other surface where the raw chicken breast was handled.
Bake for 14 minutes or until the chicken is cooked through (165F internal temp). Remove from the oven and cool at room temperature for 5 min. then transfer to a fridge to finish cooling down.
Step Two: Make Guacatillo Sauce and Prep Ingredients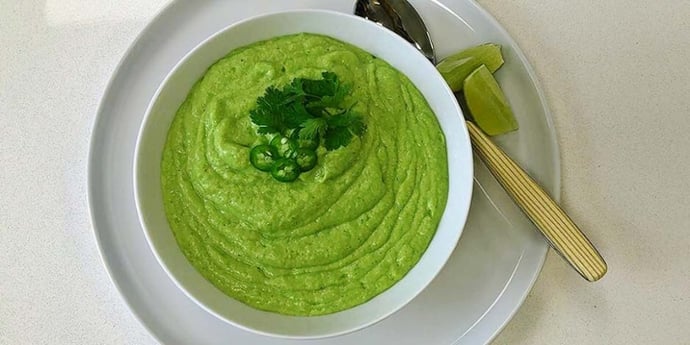 Prepare the Guacatillo sauce as directed on the recipe. Feel free to make this recipe ahead of time and have it available for your meal prep rotation. The sauce will naturally oxidize over time and begin turning brown (due to the avocado); so be sure to use the sauce within 5 days of making it.
To prevent avocado based sauces from oxidizing, turning brown, add ascorbic, citric acid, extra lemon juice to curve the oxidization process.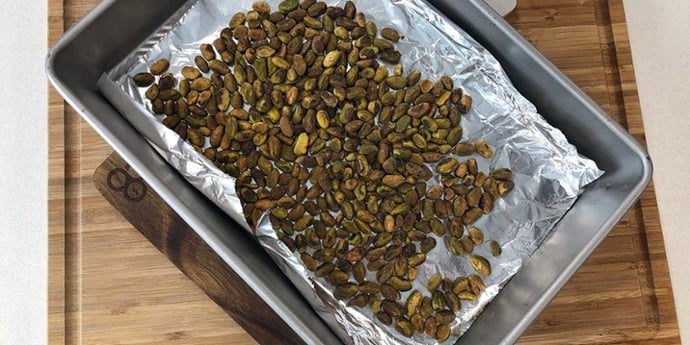 In the oven, lightly toast the pistachios and slivered almonds for 5 minutes then remove and let cool at room temp.
Prepare your lettuce wraps by cutting off the bottom core portion of the lettuce. Separate the largest nicest looking leaves, for a total of 8 whole lettuce leaves and prepare to shock them.
Fill a large bowl with ice water (half ice + half water), and carefully 'shock' the lettuce leaves for ~5 minutes. Halve cherry tomatoes and keep them aside in a small container until needed.
"Shocking" is a culinary term that means to plunge greens in ice water to keep the color bright and the texture crip (crissssspppp - that's right).
Step Three: Put It all Together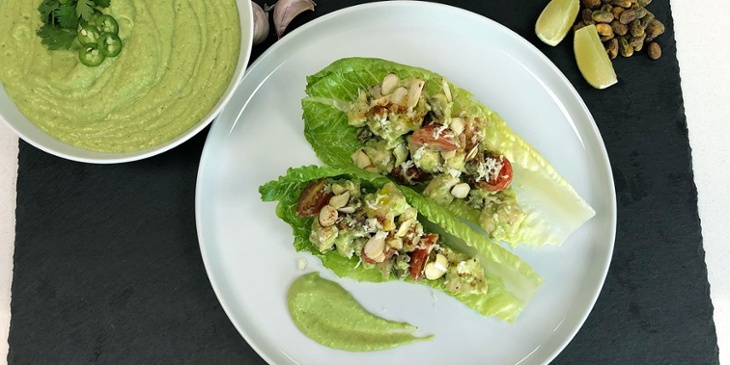 Once all ingredients are cooled and ready, use a scale to measure 4 ounces of the diced chicken, 2 tablespoon of the Guacatillo sauce, 1 tablespoon of pistachios, 1 teaspoon of slivered almonds, a few halved cherry tomatoes, and a dash of Tabasco. Mix gently to fully incorporate the sauce into all ingredients.
Divide the chicken mix into two Romaine lettuce leaves. Sprinkle a small amount of paprika for color and garnish, plus 1 teaspoon of cotija cheese. Store in an airtight container.
The macros for this recipe are:
330 kcal; 21g Fat; 5g Net Carb (11g CHO - 6g DF); 28g Protein. A perfectly balanced meal.
Helpful Tips for Storing and Serving
:
If you are preparing multiple of these for the week, store the chicken mixed with the rest of the ingredients in one container, and the rinsed Romaine lettuce leaves in a separate container. Plate the night prior. This will help retain the freshness of the lettuce as the week goes by.
Also feel free to use the chicken mixture for any other kind of meal prep dishes. Have fun and get creative with this recipe!
If you want to save even more time, simply make the Guacatillo Sauce

and combine it with our

A La Carte Chicken Breast

! The recipe prep time is reduced by half!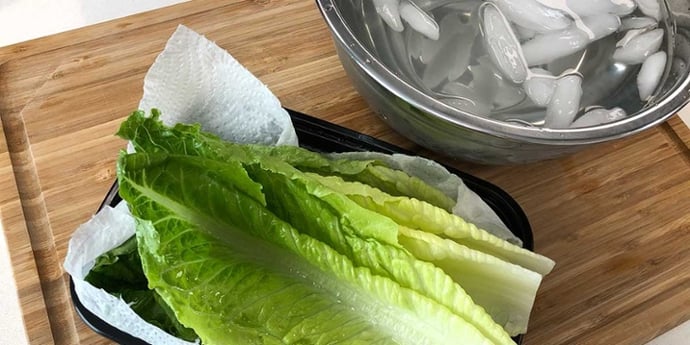 ---
Too Busy? We Got You!
Want to get more out of your weekly meal prep efforts? Stick to your calorie goals and budget with our A la Carte Ingredients. Pre-cooked and ready to heat, these ingredients are organic, sustainably sourced, and minimally seasoned to maximize your meal prep.