Chicken parmesan is a delicious classic crowd-pleasing recipe that is insanely easy to meal prep ahead of time. This keto diet-friendly recipe is no different. Make this keto chicken parmesan recipe with two surprisingly small, yet major tweaks.
How to Make Keto Chicken Parm
Believe it or not, typical chicken parmesan is a dish quite high in carbs. Traditionally, the chicken is coated with a classic breading method and all purpose flour (aka bread crumbs + AP flour) and drenched in marinara sauce. Rightfully so.
So how do we make this dish keto-friendly?
By replacing the typical breading with a low-carb flour alternative (in this case, we recommend almond flour), and by switching the marinara or tomato sauce with a nut-based romesco sauce, we achieve a perfect high-fat dish, with the same classic feel and flavor profiles.
Romesco is a Spanish tomato based sauce classically prepared with toasted bread. To make this sauce keto-friendly, we've put our own spin on this rich, smoky, and peppery sauce substituting the bread with roasted almonds, and hence providing a heart-healthy source of fat!
Meal prep 4 of these chicken breasts in no time and have a delicious keto protein option available to be reheated any day of the week.
How To Calculate Your Keto Macro
Use this calculator to find out your keto macros in minutes!
If you are meal prepping, add the sauce and fresh cheese to each chicken breast after they are done cooking and completely cooled down. This will reflect the exact macros outlined per serving on the recipe below. Otherwise, you can add the sauce & cheese during the last 5 minutes of the baking time, and serve immediately.
Here's a quick time-saving tip:

Use Trifecta's A La Carte chicken and cut down on the prep time by simply coating the chicken and shallow-pan frying!
Are you ready? Let's get into it.

Prep time: 30 minutes
Cook time: 15 minutes
Servings: 4

Ingredients:
4-2 oz (12 oz total) chicken breasts or Trifecta Chicken
0.75 cup almond flour
2 eggs, whole, beaten
1.5 cups parmesan cheese, finely grated
4 tablespoons grated mozzarella cheese, finely grated
1 tablespoon garlic powder
1 teaspoon onion powder
1 teaspoon oregano (sub an Italian seasoning if desired)
1/2 teaspoon crushed red pepper (optional)
Kosher salt, to taste
Black pepper, to taste
2 cups avocado oil (or neutral oil) for shallow-frying
4 tablespoons Romesco sauce
Kitchen Needs:
Knife and Cutting board
3 Medium bowl
Whisk
Measuring cups and measuring spoons
Sauteuse or large heavy-bottom pan
Baking sheet and foil

Step One: Heat Oil, Butterfly, and Season Chicken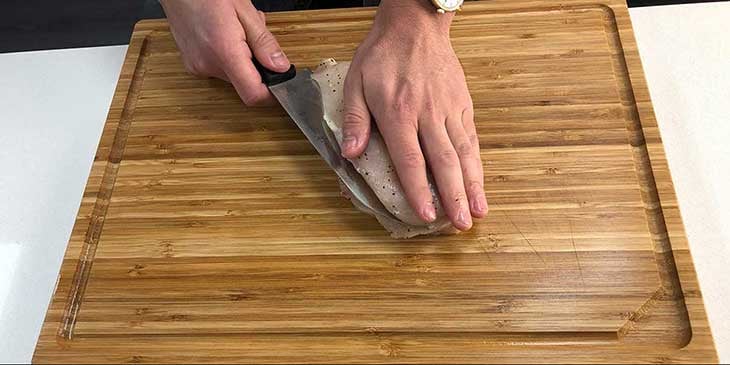 Preheat your oven to 400F (200C).
One chicken at a time, butterfly the breast by cutting crosswise down the middle. Season both sides with kosher salt and black pepper. Repeat with all four chicken breasts. Keep aside in a container.
Step Two: Follow an A-typical 'Breading' Method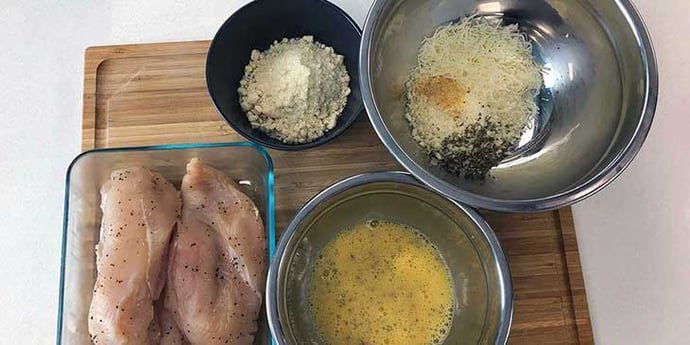 In a shallow pan, heat the oil over a low flame/heat. The goal is to bring the oil to the ideal pan-frying temperature without going over the oil's smoke point. Keep a close eye on the oil, use an oil thermometer or laser thermometer to monitor and heat to 400F (200-C).
Avocado's smoke point is 520F (271 C); aside from the neutral flavor, the oil has high smoke point makes it ideal for frying and cooking.
As the oil reheats, coat the chicken pieces (aka 'breading' method) via the following procedure:
In three separate shallow bowls place:
the almond flour
the eggs, cracking and beating them, lightly seasoned with salt and pepper
the parmesan, mozzarella, and spices in a third bowl, tossing to incorporate and spread the spices in the cheese mix.
Season each bowl with a hint of salt and pepper and follow this pattern: flour, egg, cheese.
Working with one butterflied chicken breast at a time, coat the chicken in almond flour by firmly pressing both sides against the flour. Shake to remove excess and transfer to the egg mixture. Fully submerge, remove, and shake off any excess to then again dip a third time in the seasoned cheese mix, once again pressing firmly to coat both sides evenly.
Repeat with all four breasts and hold on a foil-lined sheet pan until needed.
Step Three: Pan Fry Chicken Breast and Prepare Romesco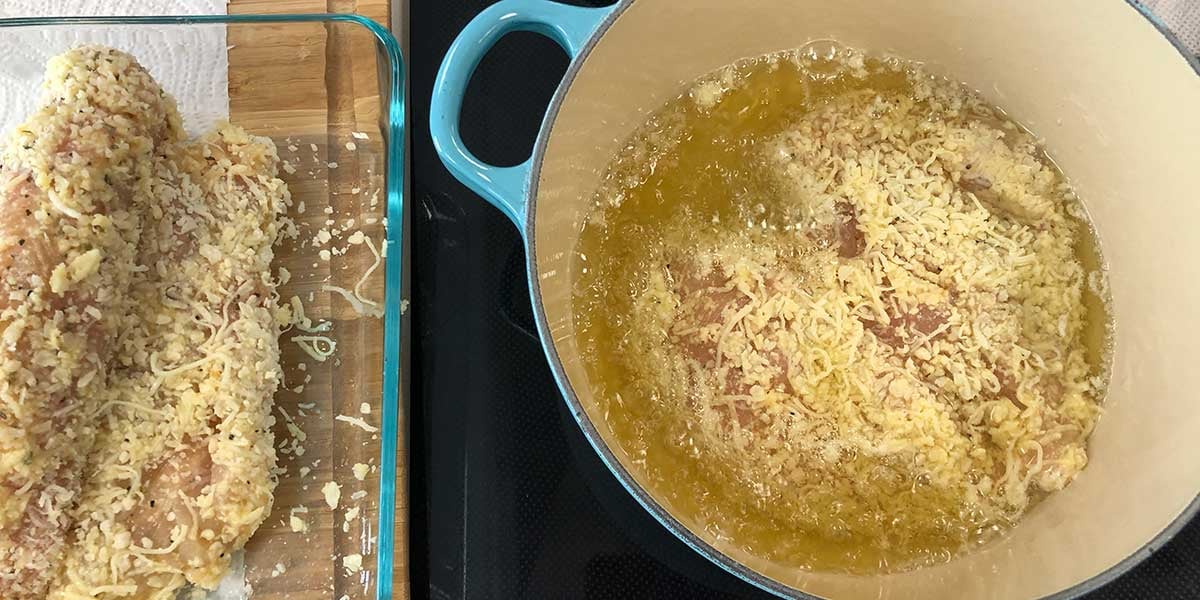 Carefully drop chicken breasts into the hot oil by gently laying the chicken breast away from you (this will prevent any potential hot oil spills from hitting you). Fry the chicken breasts one or two at a time - depending on the size of your pan.
Pan-fry for 1.5-2 minutes per side, or until coating is golden brown. Avoid burning and adjust time and heat as needed.
Transfer all chicken breasts to the previously used foil-lined sheet pan. Transfer to the preheated oven and cook for an additional 6-8 minutes, or until the internal temperature of the chicken is 165F (74 C). Remove from the oven and let rest for 2-3 minutes before serving.
If meal prepping for the week, immediately cool down in the fridge in an open container/tupperware.
Meanwhile, make Romesco sauce or gather it if you have it ready.
Make the romesco sauce ahead of time and keep it in your fridge as part of your high fat & heart-healthy sauces meal prep rotation. Or feel free to buy a prepared romesco/red pepper sauce from the store. Note the macronutrients will be different from the one displayed here if so.

Step Four: Cool, Portion, Sauce, and Store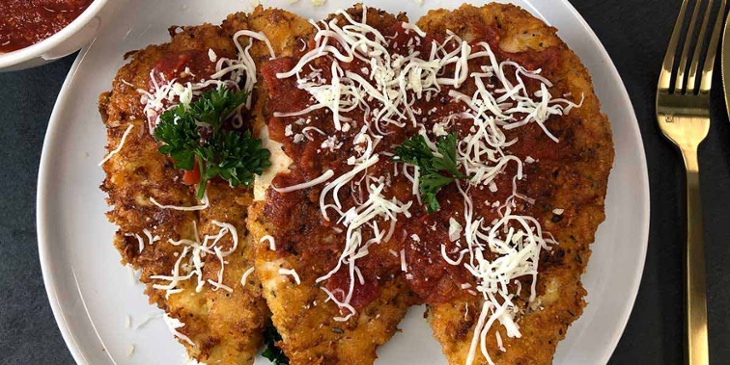 Once all the ingredients are ready and cooled down, add 1 tablespoon of Romesco sauce on top of each chicken breast, along with a generous sprinkle of parmesan cheese. Spread romesco across the entire chicken breast, and add an extra tablespoon if desired for extra fat and flavor.
Transfer to a large Tupperware, and store covered in the fridge.
Now you have four delicious proteins meal prepped and ready to be reheated at any point of the week!
Helpful Tips for Reheating:
In the oven bake for 5 minutes, and then broil for 1-2 minutes; this will caramelize the cheese sprinkled on top of the sauce. The first step will heat the entire chicken breast without burning the outside, and the second step will give it color and an extra layer of flavor.
In an Air-fryer following the machine's instructions. I suggest you rotate the chicken breast halfway through while keeping a close eye on it to avoid the top from burning.
In the microwave cover with a damp paper towel and reheat for 1.5 minutes.
Storing and Serving
Store in the fridge for up to a week. Serve with your favorite keto sides and vegetables. The great thing about this dish is that you have your protein and your sauce all in one place.
---
Too Busy? We Got You!
Want to get more out of your weekly meal prep efforts? Stick to your calorie goals and budget with our A la Carte Ingredients. Pre-cooked and ready to heat, these ingredients are organic, sustainably sourced, and minimally seasoned to maximize your meal prep.