What is Cauliflower Rice?
Cauliflower seems to be the perfect substitute for much of what is carbs in a non-ketogenic diet. From Cauliflower ' Mac' n Cheese, to Cauliflower Mash, to the ability to make Tots, and even cauliflower pizza crust, it is no surprise that cauliflower makes the perfect rice substitution.
Cauliflower rice is basically cauliflower ground into a rice like graininess, used as a low-carb substitute for rice. As simple as that. Whether you are in a keto diet plan or not, are looking to test out some new keto recipes, or you are in general looking for new recipes, this recipe contains exactly what you're looking for.
The Simplest Keto Recipe Out There
Cauliflower rice is by far one of the easiest and fastest keto recipes to make. Unlike rice, that can take quite a bit of time to cook - and the fact that it is not keto friendly - cauliflower rice takes no more than 15 minutes to go from whole cauliflower to a flavorful plated side.
How Many Carbs Does Cauliflower Rice Have?
Amazing question! 100 grams of raw cauliflower, which is about 3/4 cups, contains an average of ~4.5g of carbs and an average of ~2.2g of fiber, which equals a total amount of 2.3g of NET carbs! Not bad for a 3/4 cup serving size! Of course, keep in mind that the more ingredients or produce you add to it, the more carbs it will have.
Calculating Your Keto Carb Needs
If you are starting or have been following a ketogenic diet, understanding how to count your macros to track your carb intake is key.
If you need some extra help with this feel free to use our keto macro calculator to help you get started.
How To Make Cauliflower Rice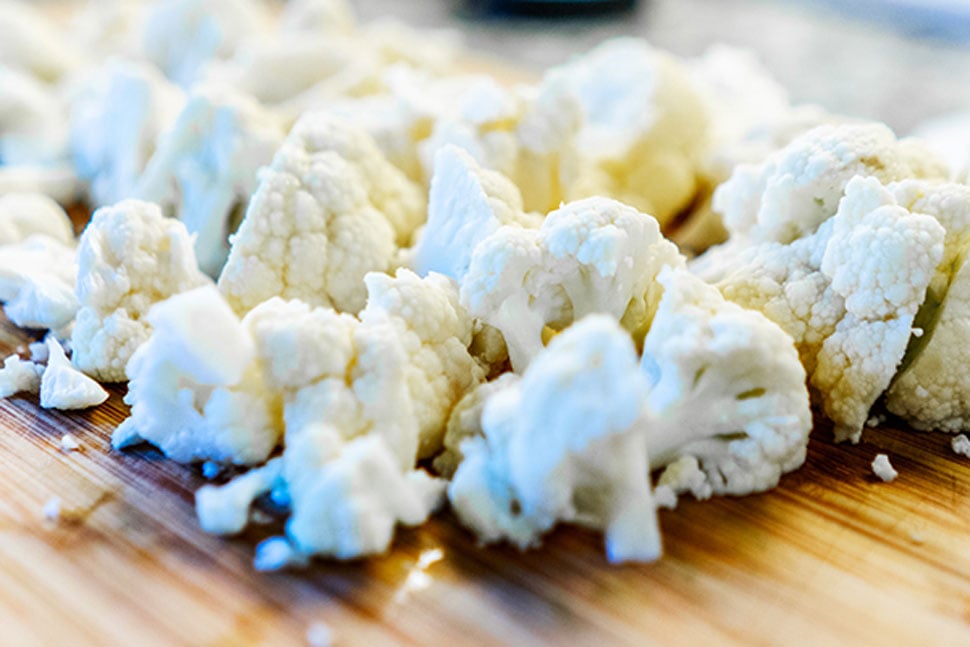 Begin by cutting the whole cauliflower into small florets, as even as possible. By keeping the cauliflower raw, you can control the graininess of rice (compared to roasting it first, which releases quite a bit of moisture, and can create a mushy product, versus the desirable grainy product).
How to Rice Cauliflower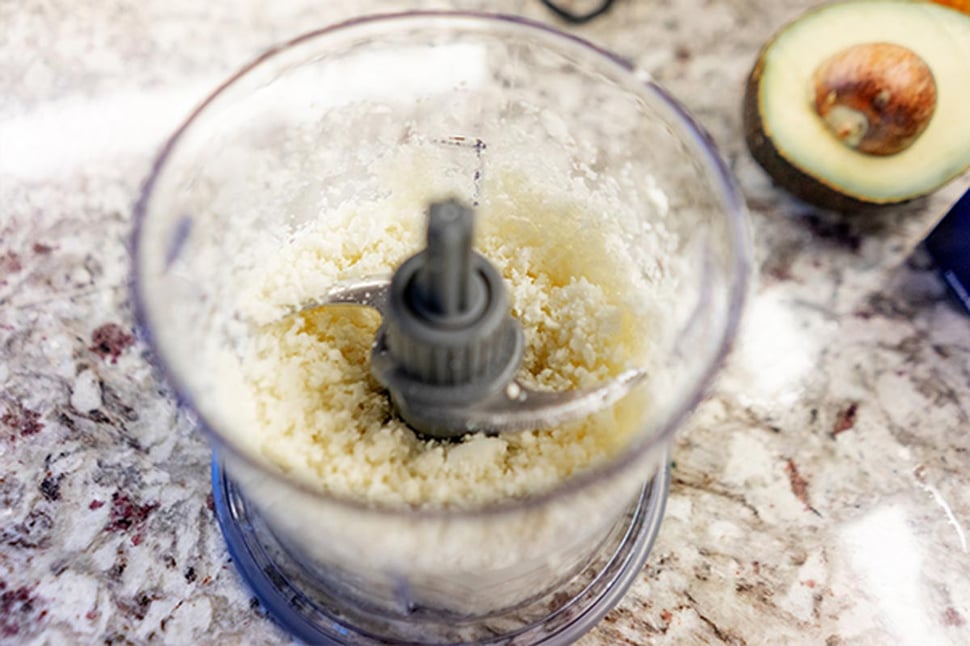 Process the florets in batches in a food processor, by pulsing the blade 2-5 times, depending on the type of processor you have. If you happen to have a food processor large enough to process all your cauliflower, feel free to do so as well. However, by processing in smaller batches, you can control the coarseness of the cauliflower rice and create an even looking 'rice'.
Cooking Cauliflower Rice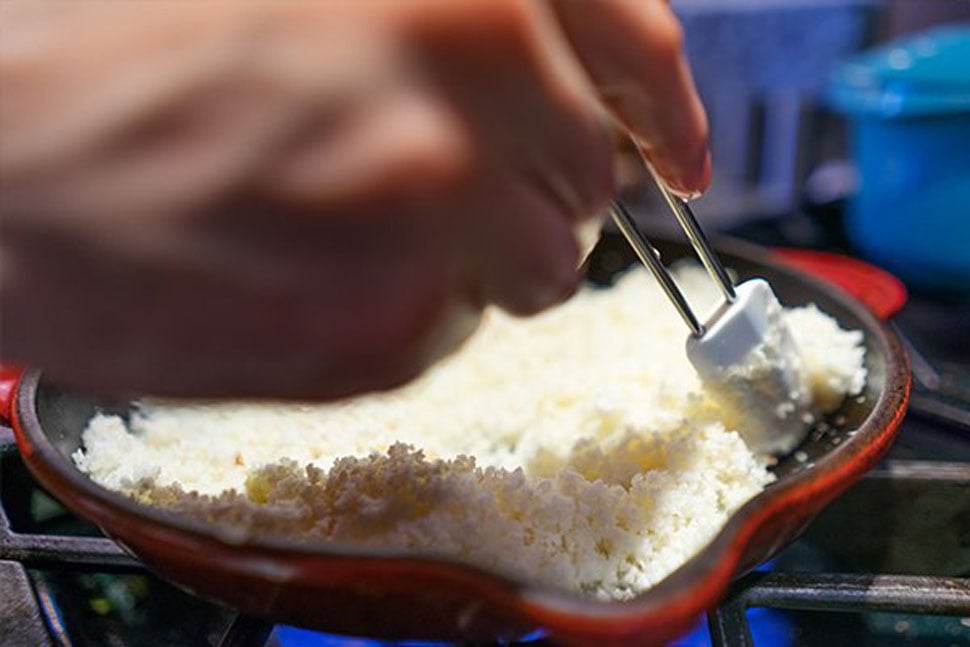 Heat up a sauté pan with 1 to 2 tbsp of your favorite oil. I like coconut oil because it adds the necessary fat to make this dish a real keto dish, and it also adds another layer of flavor. Once the oil is hot and slightly smoking, add the cauliflower into the pan. The moderately high heat will help caramelize and bring color to the rice. This will result in a deeply flavorful dish.
Pro Tip: If you decide to make your cauliflower rice a certain style, before adding the cauliflower, sauté your veggies first and then add the ground cauliflower. Season with salt and pepper to taste.

Continue to cook and in a way, stir-fry, the cauliflower rice. Dress it up however you like (in this case we made a cauliflower cilantro lime rice). Once the caulirice is heated through, it has gained a small amount of color, and it is seasoned to your liking, serve it with your favorite protein and keto sauce of choice.
Cauliflower Rice, Many Ways
You can cook this recipe in bulk and store it in a container to warm up as needed, or you can cook a small amount, a la minute. Use it as a base for a keto burrito bowl, or as a side for any of your favorite keto recipe. Feel free to dress it up any way you like as well:
Mexican Cauliflower Rice: sauté a small amount of onions and garlic, add cumin, coriander, lime, and cilantro. You can also add a small amount of pureed tomato or pureed chipotle peppers for some heat

Indian-style Cauliflower Rice: sauté some green onions, and add turmeric, coriander, a pinch of cinnamon, fresh ginger, red pepper powder and cumin. Feel free to dress it with cilantro as well.

Asian style Cauliflower Rice: sauté some green onions on sesame oil, with a pinch of soy sauce or tamari, rice vinegar, and a mix of chives and cilantro.

South American style Cauliflower Rice: sauté a liberal amount of garlic combined with a small amount of onions, and season with salt and pepper. Add a pinch of lemon juice and serve on the side.
Make this recipe even easier, using already cooked cauliflower from our a la carte menu.