Preparing a hearty and delicious keto beef stew is as simple as making a few minor swaps. This one-pot recipe is perfect for your slow cooker or instant pot. Enjoy this comforting and cozy keto beef stew recipe.
Stewing 101
Stewing is similar to braising, but instead of cooking one large piece of meat, stewing refers to cooking smaller chunks of meat and vegetables completely submerged in liquid, low and slow until the ingredients meld together in a glorious symphony of flavors.
Utilized for centuries, stewing is the ultimate one-pot meal as you can literally cook together a myriad of ingredients, including tougher pieces of meat such as shanks and oxtails.
Stewing is a combination cooking technique using both dry and wet heat to cook uniform pieces of food in liquid, producing a magical dish with little effort.
Whether you are making this comfort food as a part of your weekly keto meal prep or to feed family and friends we know you'll love this recipe as there are several different ways you can prepare a stew:
Stove Top Stewing: We prepared this recipe below via stovetop. One of the most classic methods but it is harder to control the temperature when cooking a stew stovetop and you will want to check the liquid levels frequently to make sure there are no hot spots (aka uneven heating of the pot) or the stew isn't scorching on the bottom.
Slow Cooker Stewing: This method is the simplest and most carefree way to stew, as you can literally just through all of your ingredients into the slow cooker or crockpot and press start, allowing it to do all the work. The downside is most slow cookers don't allow you to you sear the meat and ingredients very well, so if you're looking for the deep and savory flavor of a well-cooked stew you will have to depend on cooking your stew for a longer time.
Stewing in the Oven: This method of stewing has you beginning your stew on the stovetop then transferring the covered, oven-safe dish to your oven to finish cooking. Pros are that you can control the temperature well and it will cook evenly; very similar to braising.
Tips for Preparing a Keto Stew
Honestly, most stews are probably keto-friendly, you just have to watch out for the addition of starchy vegetables such as potatoes, sweet potatoes, carrots, corn, etc.
Here are a few of our favorite stewing tips and tricks:
Opt for low-starch vegetables such as celery, onion, mushrooms. or reduce the number of starchy vegetables in the recipe.
Serve with low-carb sides such as cauliflower rice or mashed cauliflower instead of potatoes.
Add extra oil during the cooking process when searing or butter; finish your stew with a bit of heavy cream or coconut milk if desired.
How to Conquer Keto Nutrition
If you're preparing this keto recipe as part of your weekly keto meal prep to reach specific health goals such as weight loss or muscle gain, then having an idea of how much you should be eating per day can help you gauge how to plan your diet.
You don't have to count your calories or macros to be healthy, but understanding how can assist you in proper food portioning and finding a balance in your diet. It can also help you develop a deeper relationship with where your food comes from and personalize your nutrition.
When it comes to keto, the goal is to reduce your carbohydrate intake based on a suitable range for your body that shifts you into a state of ketosis - a nutritional state thought to promote increased fat burning and utilization.
No food is truly forbidden on a keto meal plan - as long as you are balancing your food intake and aware of your keto macro goals. However, certain high carbohydrate foods can make achieving this a real challenge, including some fruits and vegetables.
Use this simple calculator to learn how many grams of net carbs you should be eating every day!
Let's get into preparing your keto beef stew.
How to prepare Your Keto Beef Stew Recipe
Prep Time: 10 minutes
Cook Time: 30 minutes
Servings: 4
Ingredients
16 ounces Beef Chuck, cut into 1x1-inch pieces or 4 Trifecta Beef Patties, Crumbled
2 tablespoons butter
2 tablespoons avocado or grapeseed oil
1/2 Yellow onion, small diced
2 Carrots, sliced
3 Cloves garlic, minced
1 cup mushrooms, sliced
1 teaspoon dried parsley or thyme
1 teaspoon celery seed
1 teaspoon dried rosemary
2 tablespoon tomato paste
1 tablespoon smoked paprika
1/2 teaspoon cinnamon
2 cups Beef stock
2 tablespoons balsamic vinegar or apple cider vinegar
2 tablespoons lemon juice
1/4 cup heavy cream
Tools
Large pot
Spatula
Knife & cutting board
Step 1: Gather Your ingredients and Brown Meat
The first step in any recipe should be to gather all of your ingredients before starting the cooking process to ensure you aren't having to run to the grocery store or make drastic modifications to the recipe on the fly.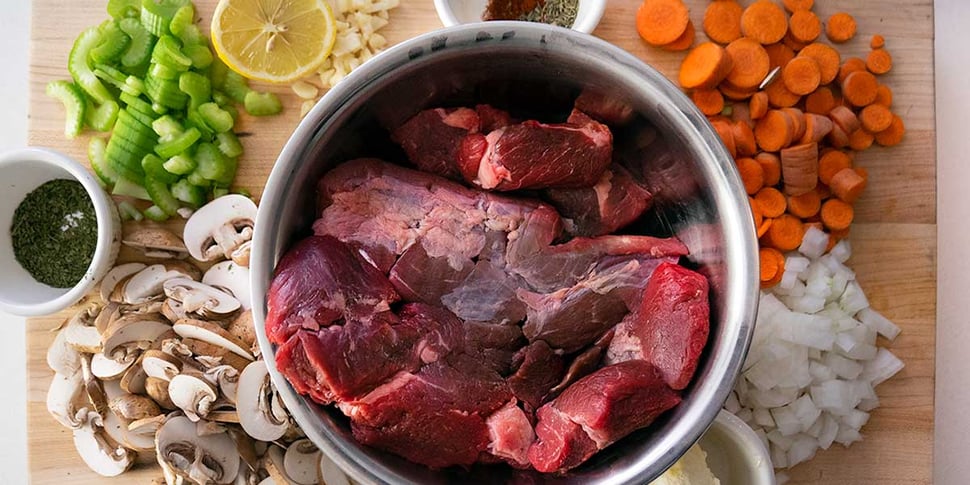 Once you have gathered all of your ingredients for your beef stew, heat your pot to medium-high heat and add 1/2 the butter and the avocado oil to the pan.
Slowly brown the beef by adding the pieces of meat into the pan and sear for 3-4 minutes per side until slightly browned. You are not cooking the meat all the way through, but browning it for flavor and to build flavor in the bottom of the pot. We call this the 'fond', referring to all the delicious brown bits starting to build up on the bottom of the pot from the searing process.
When searing your meat for a braise or stew, be sure to not overcrowd the pot; you may have to sear the meat in batches to ensure you are browning the meat and not steaming it from over-crowding the pan.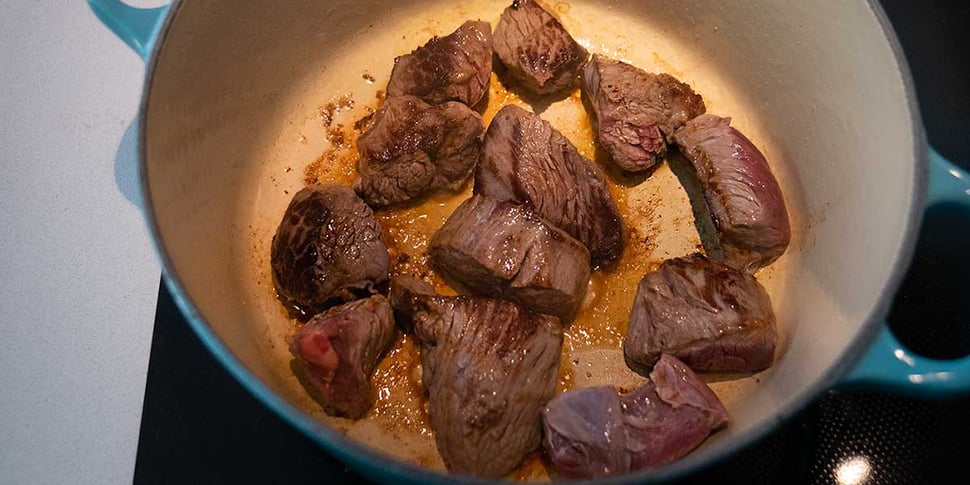 Once you have browned your meat, remove it from the pan and place it into a separate bowl and lower the heat to medium.
If you are preparing this recipe using Trifecta Meal Prep Ingredients:
Brown the crumbled beef in the pot first for 3-4 minutes then keep the meat in the pan and follow the rest of the recipe as follows. Since the beef is cooked already, you only have to simmer the stew for 15 minutes and then finish by thickening it with heavy cream or a cornstarch slurry!
Step 2: Saute Mirepoix
Mirepoix refers to the mixture of onion, carrots, and celery used as a flavor base for many soups, sauces, and stews. In this recipe, we have slightly reduced the number of carrots and added mushrooms!
In the same pot as you seared your meat, keep it on medium heat, add the minced garlic, diced onion, celery, and carrot. Stirring occasionally cook for 3 to 5 minutes or until the onions begin brown.
You'll be able to use these vegetables to help scrape off any of the fonds that have developed on the bottom of the pot.
After 5 minutes add in the mushrooms and cook for an additional 3-4 minutes until the mushrooms are slightly browned. Be sure to keep an eye on your heat during this process, if it seems like your ingredients are getting too dark lower the heat and add 1/2 teaspoon more oil or some beef stock to prevent any of the fond from burning.
Feel free to add any additional vegetables like Trifecta Broccoli or Trifecta Mixed Vegetables for extra flavor and nutrition.
Step 3: Add Spices, Tomatoes, and Then Stock
At this point add all of the spices in the recipe and the tomatoes, allowing this to cook for 3-4 minutes on high heat until aromatic.
You can mix and match your spices for this recipe, feel free to add bay leaves, Italian seasoning, or substitute any seasonings you'd like! Even a dash of Worcestershire sauce can add a ton of depth and flavor.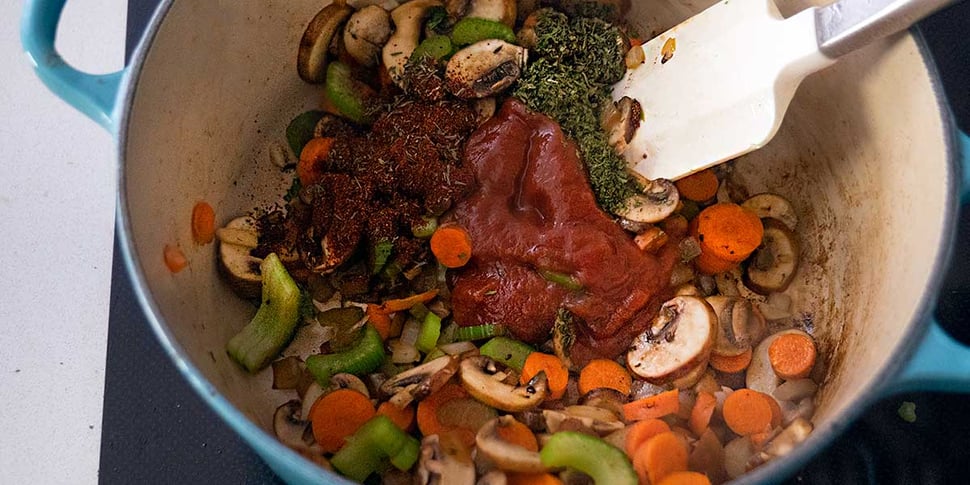 Once your spices are toasted and aromatic add the beef back into the pot and prepare to deglaze the pot.
Deglaze the pan with your beef stock and apple cider vinegar, but slowly pouring the liquid into the pot and then vigorously stirring to scrape off all of the fond.
Traditionally red wine or white wine is the go-to liquid for deglazing but honestly, any liquid will do (wine, broth, vinegar, tomato juice, etc.). For this recipe, we used beef stock. Scrape the bottom with a wooden spoon to remove any brown bits that may have formed at the bottom of the pan.
Deglazing is the process of releasing all of the fond or browned bits from the bottom of the pan by adding liquid.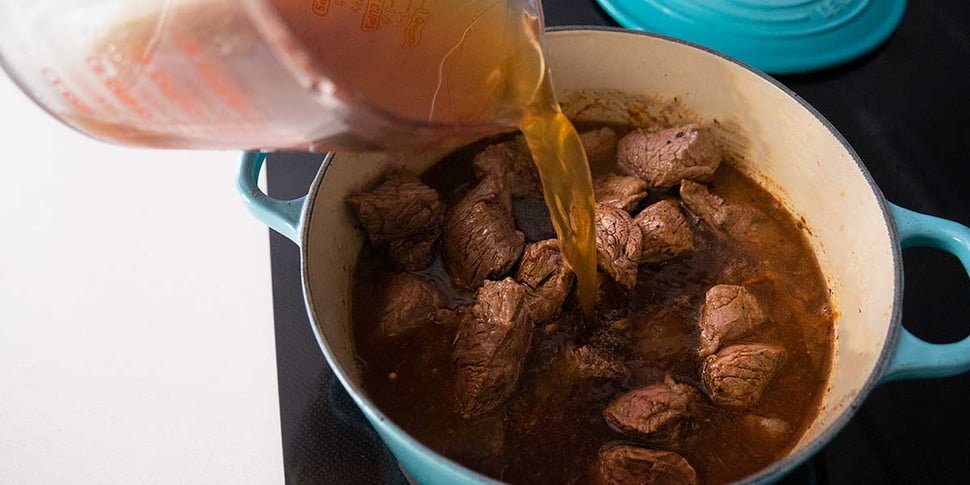 Bring the stew to a boil and then reduce to a simmer. Cover the pot with a lid and cook on medium-high heat to sustain a simmer for 25-30 minutes until the meat and vegetables are tender and the liquid has reduced slightly.
Step 4: Season and Finish with Heavy Cream
Once your vegetables and beef are tender, the stew is done! Season it with lemon juice, a pinch of salt and pepper, and add heavy cream to help thicken the stew.
Alternatively, you can use a cornstarch slurry to thicken the stew instead of heavy cream. For this recipe mix 1 tablespoon cornstarch with 1 tablespoon water then slowly mix it into the warmed stew to thicken.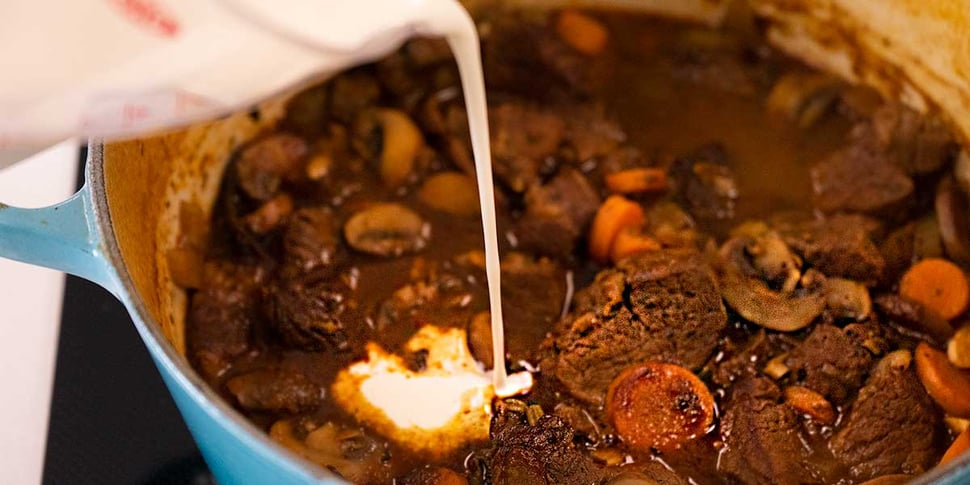 Serving, Storing, and Reheating
You'll love making this keto beef stew recipe in advance as its flavor often gets better after sitting for a day in the fridge! Portion out your stew into 1.5 cups serving size and reheat in the microwave for two and a half minutes when ready to eat. It helps to give it a good stir halfway through the reheating process to make sure it is heated all the way through.
Here are a few other tips for this meal prep dish:
Package any easily perishable garnishes and toppings separate from the chili such as fresh herbs.
Portion and freeze any unwanted leftovers for future weeks.
Serve Your Keto Beef Stew With:
Stew makes for a great main meal or can be added to a variety of keto recipes to add more versatility to your meal prep for the week. Here are some healthy pairings to try:
Pair with cauliflower rice or mashed cauliflower.
Mix in dark leafy greens such as kale, collard greens, or spinach for extra nutrition.
Top with sauerkraut for a probiotic boost
Low Carb Meal Prep Resources
If you're adding this great recipe to your weekly keto meal prep. Following a keto or low-carb diet has its challenges, so we've put together plenty of resources to support you in your wellness journey:
---
Too Busy? We Got You!
Skip the meal prep, and let us deliver macro-balanced keto meals directly to your door.
Sometimes there just isn't enough time in the week to perfectly plan every meal. Let us help you make conquering your nutrition even easier by providing organic meals you can count on.