Cheesy, scoopable, and endlessly decadent; this keto taco casserole recipe will be your new favorite Tex-Mex recipe for meal prep. Casseroles are the best way to prepare a flavorful and easy low-carb one-pan meal, setting you up for a quick lunch or dinner throughout your week.

Anatomy of A Healthy Keto Casserole
Casseroles are by far one of the most underutilized ways to meal prep. They are hearty, comforting, and usually easy to prepare because all you have to do is mix everything into a baking dish and cook it!
This Tex-Mex inspired low-carb taco casserole recipe utilizes ground beef, an array of seasonings and spices, along with vegetables and melted cheese to create a filling meal perfect for any day of the week.
But preparing a keto-friendly taco-inspired casserole isn't the only way to make a casserole recipe; there are endless flavor combinations for you to mix and match. A normal, aka high-carb casserole, is usually prepared with protein, starch, sauce, vegetables, and cheese. The starch in these recipes is typically used to bind ingredients together. These could be ingredients like flour, potato, pasta, or a crunchy topping such as tater tots or bread crumbles.
When it comes to creating a keto version, swap out starchy vegetables for low-carb vegetables, and feel free to double up on the meat! You'll still be able to create a delicious topping utilizing cheese, cauliflower rice, or even crushed pork rinds.
The anatomy of a healthy keto casserole can be broken down as follows:
Protein: From bacon to breakfast sausage, you can choose any kind of meat you'd like when making a casserole. Ground beef, turkey, chicken, shredded chicken, etc. Any of these options can be mixed with other ingredients to prepare a casserole. Eggs make a great base for breakfast casseroles and can be added to this recipe or any recipe utilizing another kind of meat. If you are vegetarian feel free to substitute a meat alternative such as beyond beef or tempeh. Whatever you choose be sure to use high-quality proteins such as grass-fed or organic meats and/or eggs.
Low Carb Vegetables: If you are following a keto diet opt for non-starchy veggies first like spinach, kale, zucchini, broccoli, or cauliflower. When cooking these kinds of vegetables, these tend to release liquid helping the casserole stay moist. This is where you can multitask for your weekly meal prep; if you know you're going to purchase some zucchini for your casserole, chop up extra and set it aside to use for a quick stir fry later in the week.
Dairy (cheese): Any kind of cheese works well in a casserole, so your choice may be dependent on what you have available or what your flavor combination is (i.e. Spanish style vs Italian inspired). Some popular cheese options: American, goat, Swiss, Monterey jack, cottage cheese, cheddar, and feta. Mix in a bit of cheese to the casserole base and the top of the top for a melty layer of cheesy goodness.
Sauce: This can refer to any kind of liquid you add to the casserole. Stock, wine, vegetable juice, salsa, marinara etc., can all be used to add flavor and help create a symphony of flavor in your casserole recipe.
Herbs and Spices: Don't forget that you can open up your spice cabinet or pick up some fresh herbs. Dried rosemary, thyme, basil, and parsley can be easy ways to add flavor to your casserole, or opt for chopping up some fresh herbs like cilantro, dill, or chives! Other dried spices that add some flair and flavor: coriander, cumin, black pepper, curry powder, sage, and oregano.
Creative Seasonings:

There are plenty of other creative ways to change up the flavors in your casserole recipes. Purchase a can of sundried tomatoes in oil and chop them up! Other easy add-ins could be olives, roasted red peppers, pesto, and tapenade!
How Does This Recipe Support Your Health?
If you're preparing this recipe as part of your weekly meal prep to reach specific health goals such as weight loss or muscle gain, then having an idea of how much you should be eating per day can help you gauge how this recipe will help you reach your goals.
You don't have to count your calories or macros to be healthy, but understanding how can assist you in proper food portioning and finding a balance in your diet. It can also help you develop a deeper relationship with where your food comes from and personalize your nutrition.
When it comes to keto, the goal is to reduce your carbohydrate intake based on a suitable range for your body that shifts you into a state of ketosis - a nutritional state thought to promote increased fat burning and utilization.
No food is truly forbidden on a keto meal plan - as long as you are balancing your food intake and aware of your keto macro goals. However, certain high carbohydrate foods can make achieving this a real challenge, including some fruits and vegetables.

You can always skip the meal prep, and let us deliver macro-balanced keto meals directly to your door.
Sometimes there just isn't enough time in the week to perfectly plan every meal. Let us help you make conquering your nutrition even easier by providing organic meals you can count on.
How to Prepare Your Cheesy Keto Taco Casserole Recipe
Prep time: 8 minutes
Cook time: 30 minutes
Servings: 6 each

Ingredients
16 ounces grass-fed ground beef or 4 Trifecta beef patties, crumbled
1/2 Yellow onion diced
1 Red bell pepper diced
1 cup zucchini, sliced
1 cup cauliflower rice, uncooked
2 teaspoons avocado oil
1 to 2 cups red salsa of choice
1 Jalapeno seeded
1 tablespoon oregano
1 teaspoon cumin
3 to 4 tablespoons taco seasoning (homemade or store-bought)
1/4 cup beef stock or chicken stock
2 cups shredded Mexican cheese
For Serving
1/2 cup cilantro
1 cup sour cream
1 cup salsa
Tools
Casserole dish (8x11 or smaller)
Medium bowl
Spatula
Measuring cups and spoons
Oven
Knife and cutting board
Step 1: Gather Ingredients and Cut Your Vegetables
Preheat your oven to 400 degrees.
Gather all of the ingredients needed for your chili recipe. This might seem like a silly step, but you'll be happy to have everything right where you need it once you start the cooking process so you don't have to run to the pantry or store while trying to cook!
Gathering your ingredients also gives you time to double-check if you would like to use any leftovers in your fridge or choose specific ingredients.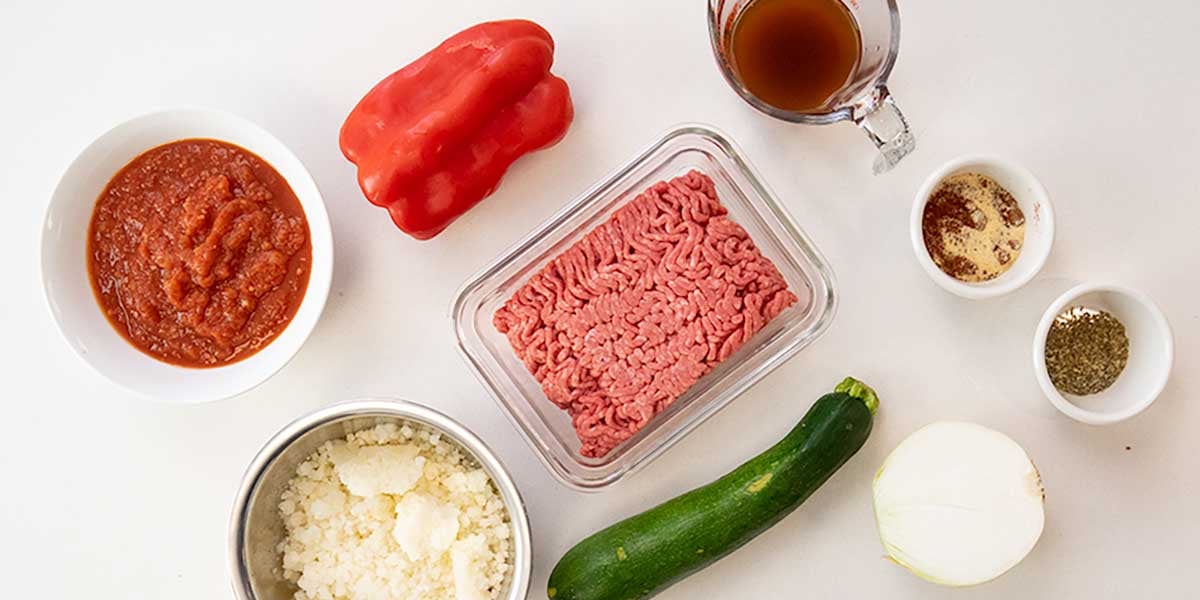 In the culinary world, we call this step gathering our "mise en place" which literally means, to 'put in place'.
Go ahead and cut any raw vegetables you are using, in this recipe, you will slice the zucchini and small dice the red pepper and onion.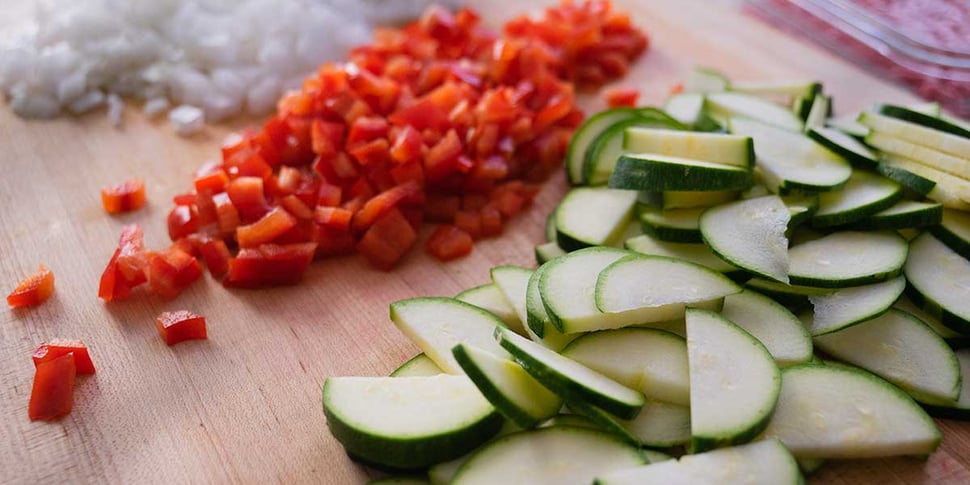 Step 2: Mix Raw Meat With Spices and Onion
Mix your ground raw meat with the taco seasoning, stock, and chopped onion, feel free to add any other seasonings you'd like such as onion powder, or add fresh herbs like chopped cilantro or parsley.
Mix until well combined.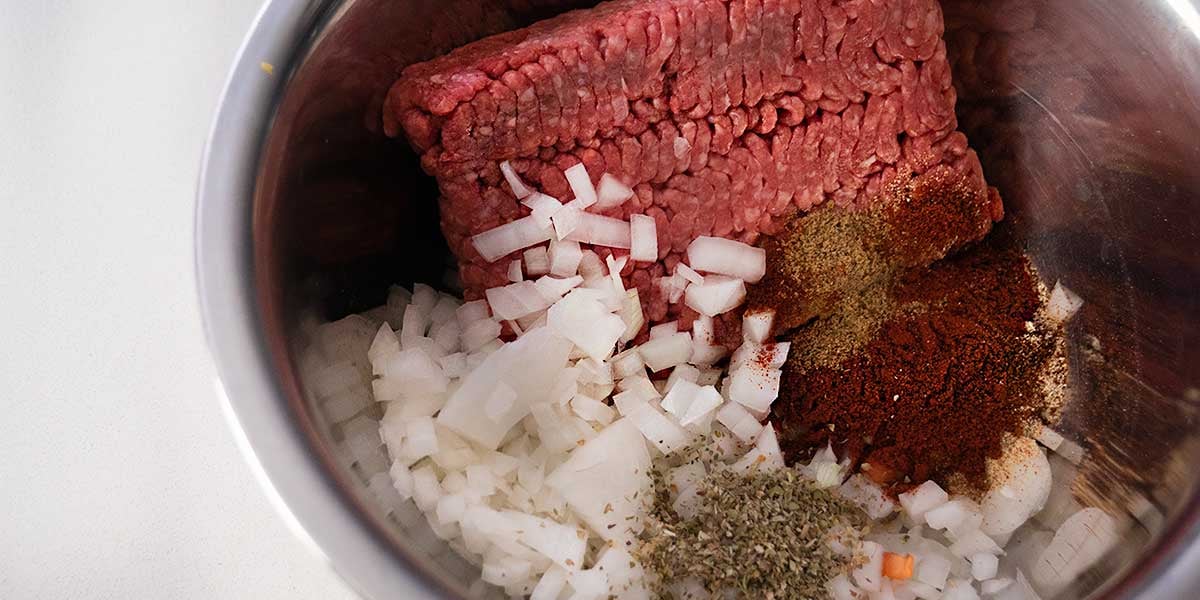 Step 3: Layer Casserole into Baking Dish
At this point, you could just combine all of your vegetables and meat into the bowl and scoop it into your casserole dish or you can build two layers by first putting a layer of meat mixture and then topping it with salsa, vegetables, and 1/2 of the cheese.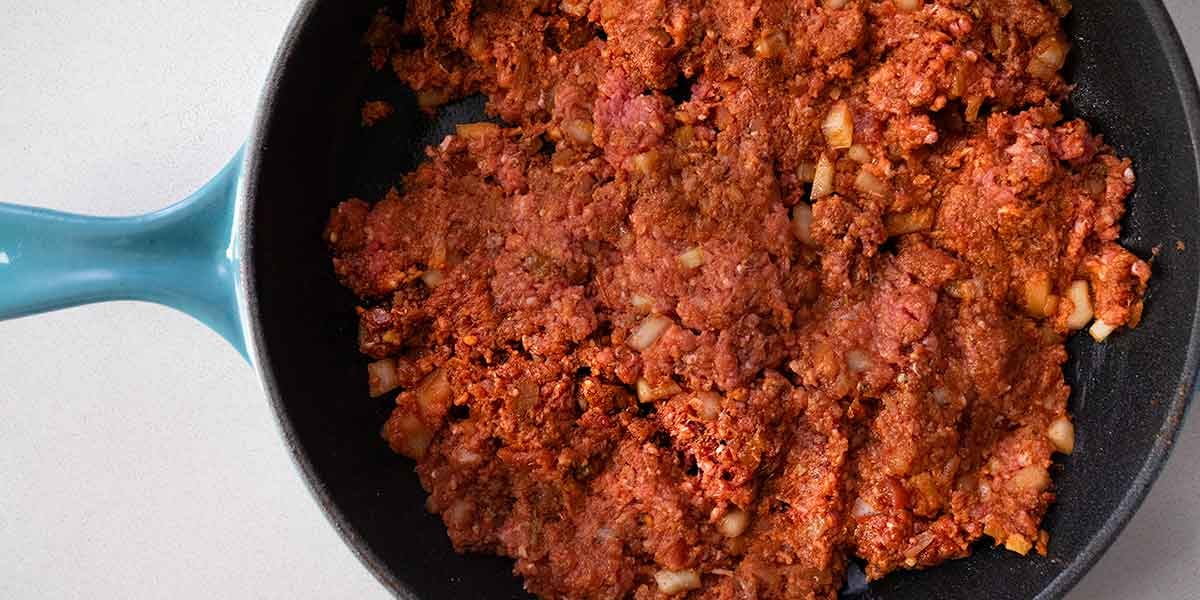 Then repeat this process again. Top with extra cheese and fresh sliced jalapenos if desired.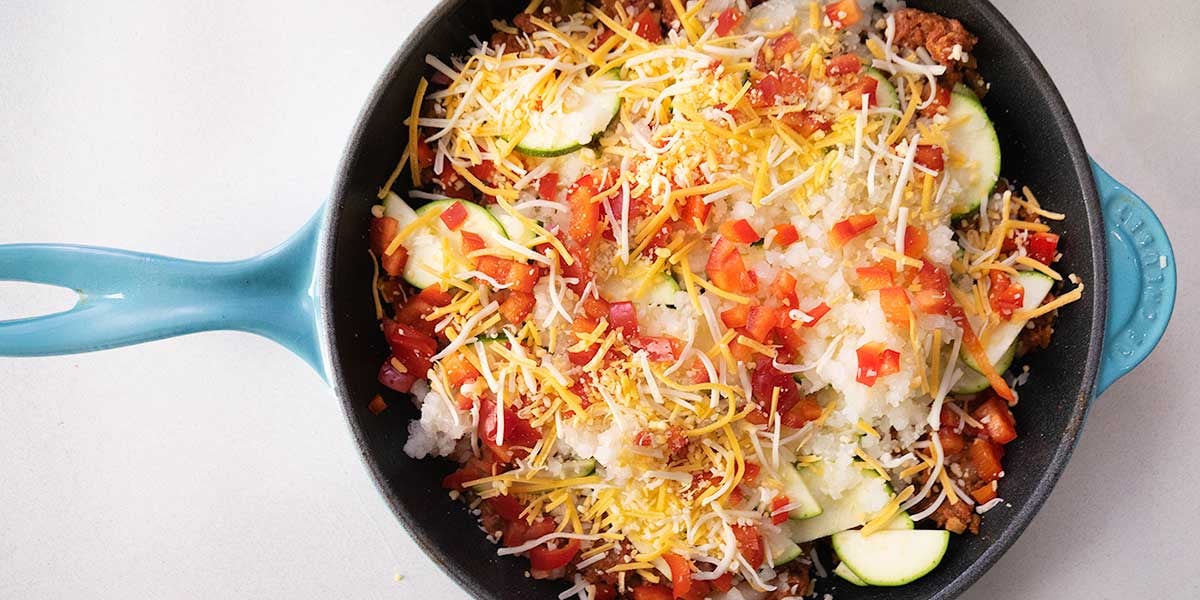 Step 4: Bake in Over 25-30 Minutes Until Fully Cooked.
Place your casserole dish in the heated oven and cook for 25-30 minutes until fully cooked, typically around 165 degrees Fahrenheit internal temperature. The cheese on top should be browned and melty!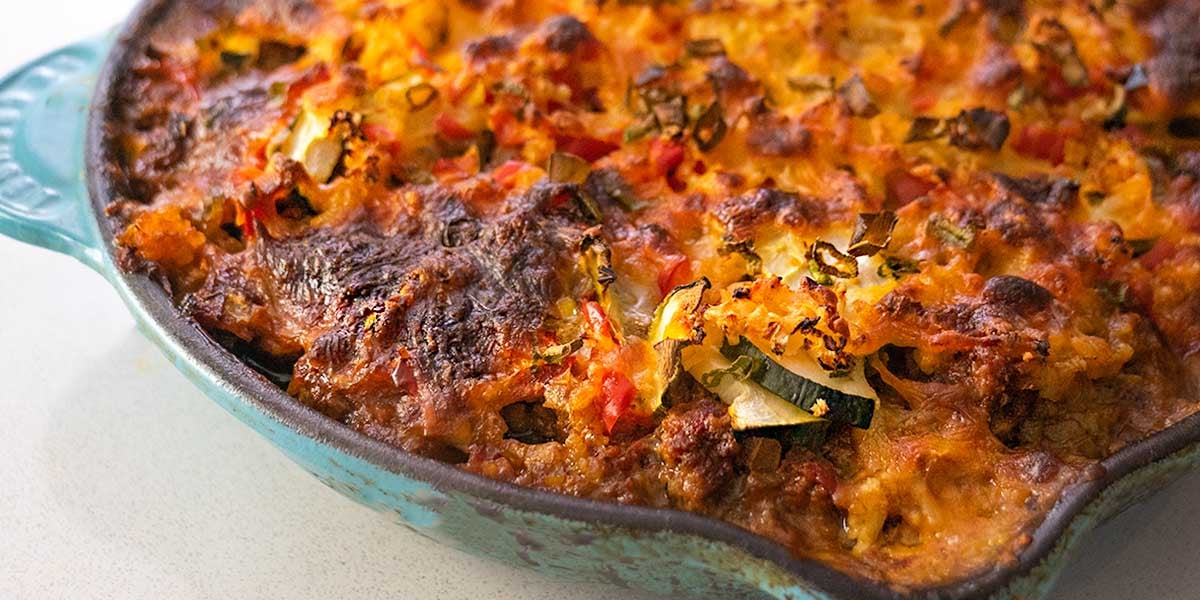 Remove your casserole from the oven carefully and serve immediately or allow the casserole to cool in the fridge, uncovered before positioning it out into your meal prep containers.
Tips on Serving, Storing, and Reheating
This keto taco casserole will keep for up to 5 days in the fridge. When storing them make sure you don't down squish your casserole.
You can top off your casserole with sour cream, avocado or guacamole, fresh cilantro or green onions, or more salsa if you'd like!
Keto Meal Prep Resources
If you're adding this great recipe to your weekly keto meal prep, remember you can cross-utilize the ingredients! Use this ground meat as a filling for low-carb tacos or prep extra vegetables for the week.
Following a keto or low-carb diet has its challenges, so we've put together plenty of resources to support you in your wellness journey:
Use this simple calculator to learn how many grams of net carbs you should be eating every day!