These crispy paleo broccoli tots are a satiating snack, made with three main ingredients and seasoned beautifully with a mix of spices. This recipe takes no time to make and it's a great meal prep snack recipe for all your paleo needs!
---
There are two cooking methods in this recipe: blanching and air-fying.
Blanching is a cooking method that requires cooking the ingredient(s) in a boiling medium.
Air-frying can be said to be one of the most modern ways of cooking. Unlike what the name suggests, air-frying does not need any kind of oil to 'fry'. Rather, air-frying uses high heat and convection air to evenly cook and brown the item being cooked. A tiny amount of oil can be added for browning and shine; however, this method is both efficient and healthy. We use the Breville Smart Oven, which is a countertop and air-fryer oven all in one.
First, the cauliflower and broccoli florets are blanched to cook them through. Then they are processed, and then they are shaped and air-fried to get them crispy and cooked through.
If you don't have an air-fryer, fear not. You can also bake these in a countertop or conventional oven. The time will vary, so keep an eye out as these are cooked through. Start with 10 minutes and add 5 minutes at a time until you achieve a golden color and crispy texture.
The macros for this recipe are incredible:

60 kcal; 2.5g Fat; 5g Carb; 5g Protein
If you desire to change the spice mix, feel free to do so. I included nutritional yeast to add a punch of B-vitamins and also a cheesy flavor profile without adding any dairy. Believe it or not, nutritional yeast is the vegan-flavoring cheese substitute.
If you wish to make these tots fully vegan, substitute the egg with 1 teaspoon of soaked flaxseed. The flax will act as a binding factor, much like the egg does in this case.
How to Make a Paleo Coconut Yogurt Parfait Recipe
Prep Time: 10 minutes
Cook Time: 30 minutes
Servings: 12 servings
Ingredients
2 cups broccoli florets, blanched
2 cups cauliflower florets, blanched
1 whole egg
1 teaspoon Dijon mustard
½ cup almond flour
¼ cup nutritional yeast
1 tablespoon garlic, granulated
1 teaspoon paprika
½ teaspoon cayenne pepper
¼ teaspoon kosher Salt
Kitchen Tools
Medium saucepan
Medium bowl
Food processor like Breville's All In One
Measuring cups and tablespoons
Meal prep containers
Step 1 : Prepare Ingredients and Blanching Station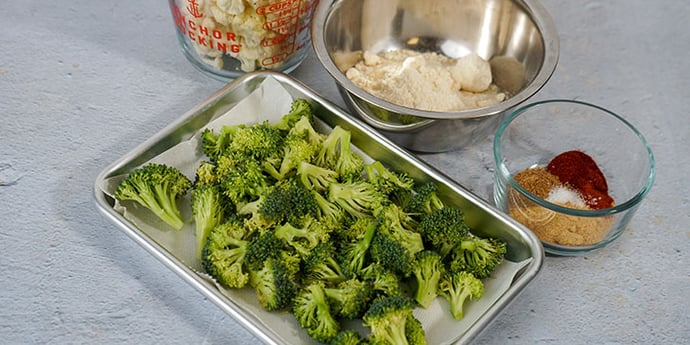 Prepare all your ingredients. If purchased whole, cut cauliflower and broccoli into individual florets.
Bring a big pot of water to a boil and salt liberally to achieve the same saltiness level as ocean water.
Grab a separate bowl and fill it with ice and water to shock the vegetables. This will stop the cooking process and will avoid the vegetables from overcooking.
Step 2: Blanch Vegetables
Once water is at a full rolling boil, blanch the cauliflower and broccoli in batches, always keeping the water boiling and avoiding it from cooling down too much.
Using a spider or a large slotted spoon, remove the vegetables from the water into the iced water and submerge completely.
Repeat this process until all cauliflower and broccoli are blanched.
Step 3: Dry Vegetables and Process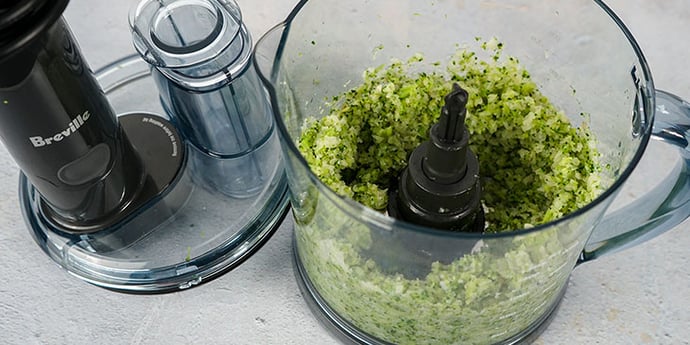 Remove the vegetables from the ice water and pat dry with paper towels, removing as much excess water as possible.
Transfer vegetables to a food processor and process them until broccoli and cauliflower are almost like a paste-like consistency.
Transfer to a medium-sized bowl.
Step 4: Mix Processed Vegetables with Dry Ingredients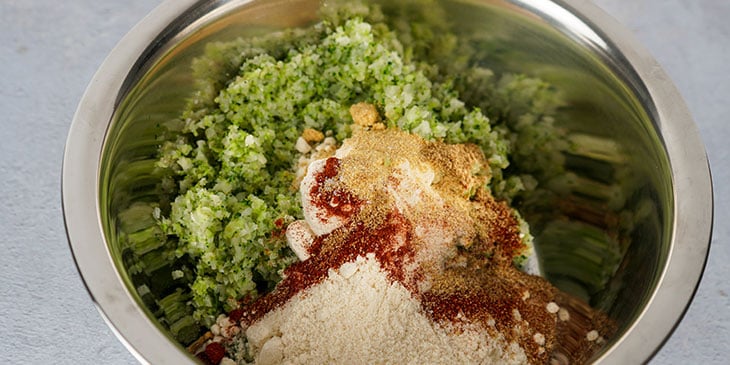 Preheat air-fryer to french fries setting. In the same bowl, add almond flour, nutritional yeast, garlic powder, paprika, cayenne pepper, and salt.
Mix to fully incorporate, making sure all ingredients are mixed in together into a uniform consistency.
Step 5: Scoop and Form Tots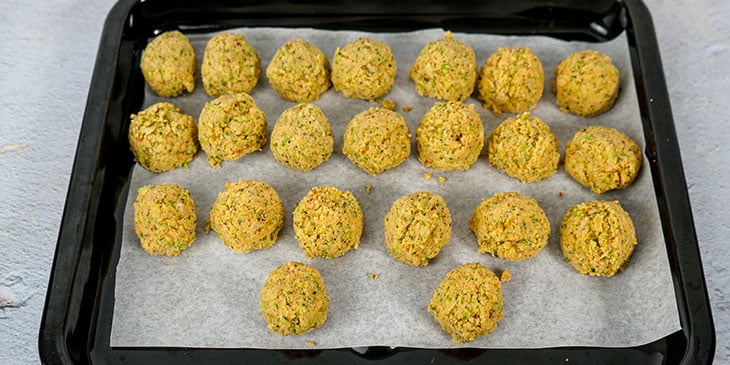 Using a small ice cream scoop, scoop the mixture into a parchment-lined sheet pan. Line them up keeping some distance in between.
Step 6: Air-Fry, Cool, Store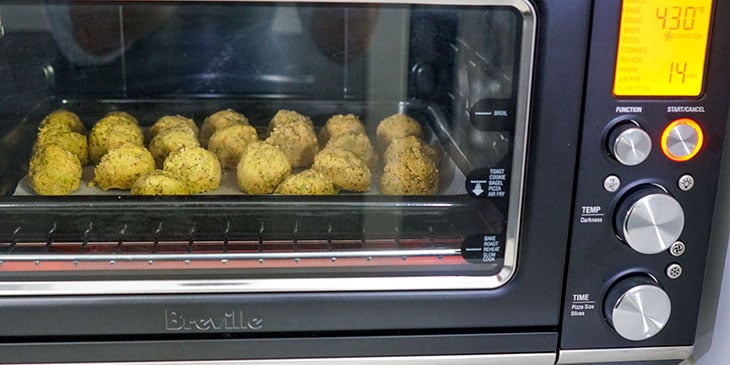 Place tots into the airfryer tray. We use the Breville Smart Oven, which is a countertop and air-fryer oven all in one. Air-fry according to instructions, but generally, these tots will crips up and cook anywhere from around 10 to 15 minutes.
Remove from the air-fryer and cool down. Serve with favorite sauces and eat as a snack throughout your week.
Storing and Reheating Your Crispy Tots
Store your crispy paleo tots in an airtight container, avoiding squishing them out. Gently nestle them in one or two containers as needed.
Because the base of these tots are made with cruciferous vegetables, storing them over a week may cause an off smell.
Consume them within the week to avoid spoilage.
To reheat your tots, and if available, either spray with spray oil and reheat in the air-fryer or on a countertop oven, or gently brush with a small amount of oil and then reheat in your appliance of choice.
Meal Prep Tips
Make this snack part of your rotation of paleo snacks and enjoy a wide variety of paleo snacks throughout your week. This recipe can also work as a quick paleo breakfast solution.
If you are unsure as to what to eat on the paleo diet, here are some useful resources to get you started!
---
Get started on paleo now.Hit the easy button on paleo meal prep with paleo approved meals cooked and delivered to your door. Our team of experts will plan, prep, and ship a tasty menu each week.