Easy chicken meal prep is so good it will have you feeling like you eating lunch by the Mediterranean Sea, the sun on your face, watching sailboats float on by. Okay maybe it's not that good, but it's pretty dang easy to make and tastes like the perfect collab of fresh, tangy, and creamy ingredients. And you can easily sub in paleo-friendly hummus and dairy-free yogurt to make this recipe fit into just about any diet plan.
How to Make This Recipe
To make this recipe, you're going to need the following (see below for paleo substitutions):
Hummus

Greek yogurt or dairy-free yogurt

Cucumber

Tomato

Mint

Dill

Scallions

Hemp seeds

Parsley

Lemon

Garlic

Olive Oil

Salt and Pepper
Start by prepping your grain-free tabbouleh:
Wash and thinly dice scallions, including the white ends.
Wash, de-stem and roughly chop parsley, mint, and dill. Set aside 1/2 tablespoon of chopped dill

for the yogurt sauce.

Wash and mince 2 tablespoons of cucumber. Set aside for yogurt sauce.
Wash and dice the remaining cucumber and tomatoes.
Mince garlic. Set aside 1 teaspoon

for yogurt sauce.
In a mixing bowl, combine scallion, dill, parsley, mint, tomato, cucumber, and garlic. Add in hemp seeds, and season with lemon, olive oil, and salt. Set aside.
Tip: a little bit of oil goes a long way with this herb salad. If you are looking to cut calories, feel free to be less generous!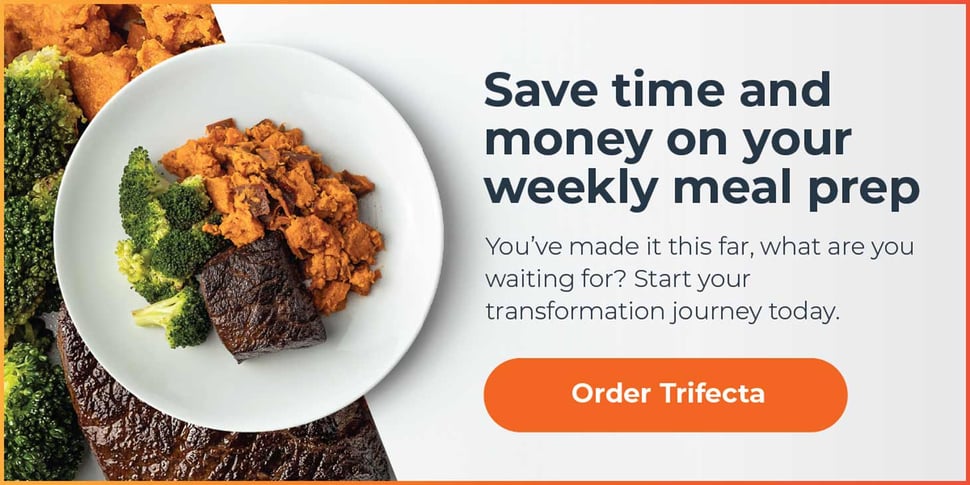 Mix yogurt with the remaining dill, garlic, and cucumber. Squeeze 1/2 lemon juice into the yogurt mixture and season with a pinch of salt. Portion out into 4 small to-go containers and keep in the fridge until ready to serve.
If using Trifecta a la carte chicken, lightly sear in a non-stick pan with a small amount of cooking spray or oil to give it a nice brown color. Don't worry about cooking it through, since it is already cooked and ready to eat. Cooking it too long will dry it out and cause it to break apart. You can also just dice it up cold and serve it as is!
Now you're ready to put it all together. Yes, it really is that easy
Begin constructing your masterpiece by portioning out your tabbouleh into 4 meal prep containers. Add a hefty dollop of hummus and top your "platter" with sliced chicken breast. And don't forget your yogurt sauce!
Enjoy this dish cold or with warmed chicken.
Tip: you can save the chicken prep for when you're ready to eat if you prefer it warm. Just pan sear or microwave separate from other ingredients.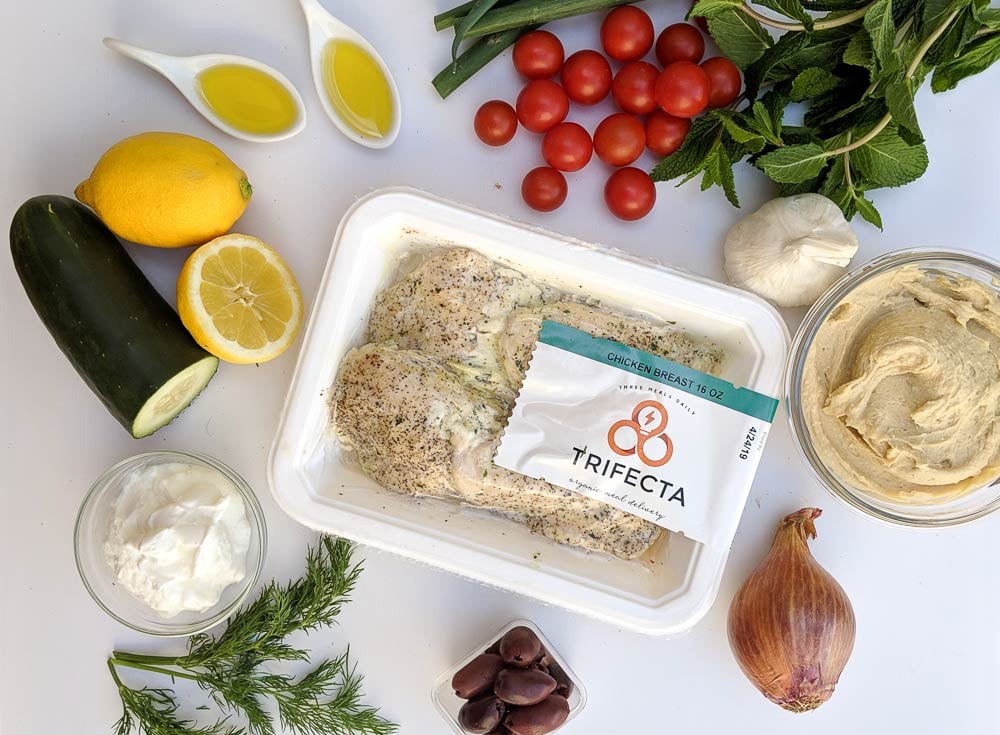 Want to make this in less than 10 minutes? Cut out all the chicken time, with Trifecta a la carte proteins, and find 20 chicken recipes meal prep worthy here!
Make this Recipe Paleo
With a few simple swaps, you can easily make this meal prep recipe paleo!
The tabbouleh in this recipe is already grain-free and paleo-friendly, since hemp seeds are used instead of traditional wheat bulgur. The yogurt is also an easy swap with dairy-free options available at most stores - my personal favorite is cashew yogurt or coconut (just make sure you choose plain yogurt!).
The hummus (traditionally made with chickpeas that are not paleo) can be a bit more challenging since you will probably have to prep your own paleo version. I love this easy cauliflower version. It's simple to make, cuts carbs and calories, and tastes like the real deal.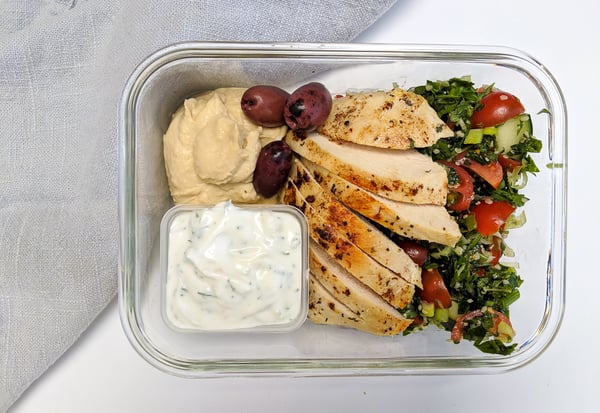 Serve this With

Finish this off with a squeeze of lemon, a small drizzle of oil, and some finishing salt. This will help brighten up the flavors and make this dish that much better!
Also works great with the following toppings:
Olives

Whole Grain Pita

Feta Cheese