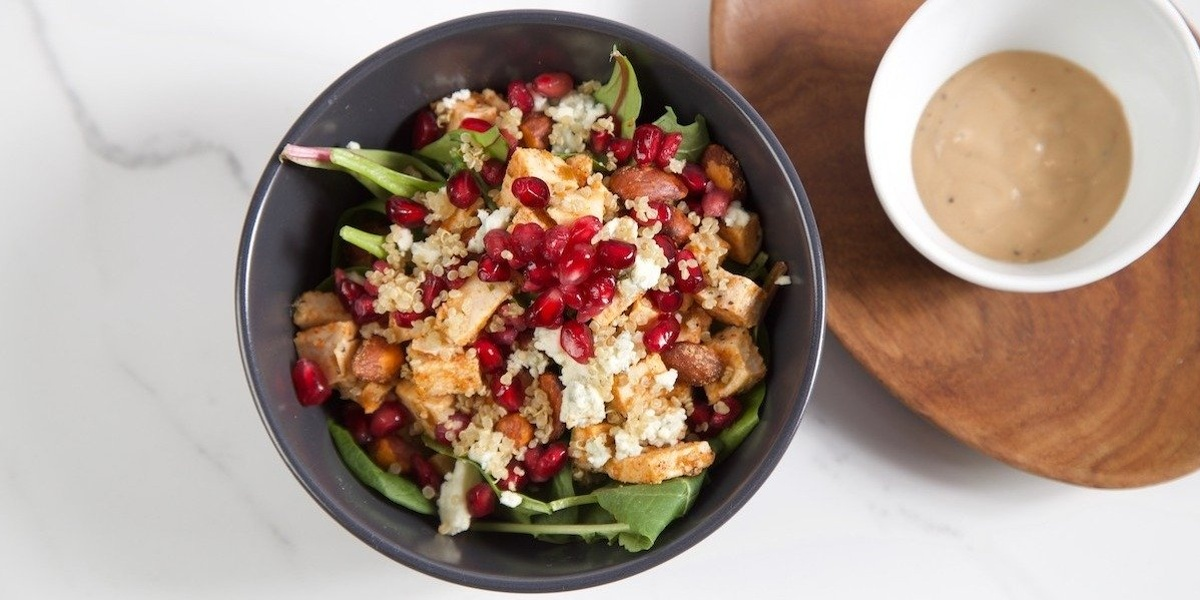 Fall and winter have some beautiful hearty produce. Things like cherries, pomegranates, fall and winter squashes, all can make a beautiful and hearty salad.
This recipe is a super quick and delicious salad I used to make while I worked at EXOS. Both athlete's and staff would devour this recipe.
If you are not a fan of gorgonzola cheese, feel free to use feta or any other white cheese (or simply eliminate it).
You can also make this recipe super Keto friendly by portioning the quantity of pom seeds you add, making your own mustard vinaigrette (to control the sugar quantity - see recipe below), and adding nuts/seeds, and replacing the quinoa with some cauliflower rice.
Feel free to make this recipe in a jar as well, and use your favorite at hand mixed greens.
Quick Mustard Honey Vinegar Recipe
1 tablespoon Dijon mustard
2 teaspoon yellow spicy mustard
1 tablespoon honey
1 tablespoon sherry vinegar
⅓ cup avocado oil
Mix all ingredients except avocado oil in a bowl and whisk. Once everything is incorporated, slowly whisk avocado oil into the mix. Season with salt and pepper. Save in an airtight container in the fridge until needed.
Serving; 1 tablespoon
Want to get the most of out this dish? Use this recipe and 20 other Trifecta chicken meal prep recipes with this free meal prep toolkit for weight loss - complete with custom macro calculations, food lists, and meal planning templates.