You'll love this hearty, cozy, and savory vegan pot pie recipe prepared in less than an hour, with a creamy and flavorful filling enclosed by a warm, flaky pie crust. Move over meat eaters, plant-based eating is taking over all your favorite classic meals.
About This Recipe
This hearty plant-based pot pie recipe is sure to make you feel warm and fuzzy, and there's nothing quite like the smell of pie crust toasting away in your oven. Pot pies are a staple comfort whose origins can be traced back to ancient times. Like many of our favorite classic meals, most cultures have their own version. For example, in Greece, they prepare Kotopita, a Greek-style chicken pot pie with a shredded chicken filling mixed with gravy and feta cheese.
A traditional pot-pie consists of a savory meat-based filling stewed with vegetables in a thick and creamy gravy.
This vegan pot pie captures savory 'umami' flavor by incorporating mushrooms, roasted root vegetables, and tahini paste. The tahini paste has a nutty and earthy flavor, I love adding a tablespoon or two when preparing any kind of vegetable-based gravy as it brings a well-rounded depth of flavor to the dish. Feel free to exclude Tahini if you can't find it in stores.
Don't feel like you need to follow this recipe to the T... Pot pies are a homage to most of the scraps you can find around the kitchen so feel free to substitute any vegetables or other plant-based meat alternatives such as vegan chicken. Or utilize this vegan pot roast recipe as the filling instead.

How to Prepare Vegan Rosemary Root Vegetable Pot Pie
Prep Time: 10 minutes
Cook Time: 30 minutes
Servings: 7
Ingredients
2 sheets of store-bought pie crust or vegan puff pastry
2 tablespoons avocado oil
1/2 cup yellow onion, minced
2 cloves garlic, minced
1 1/2 cups carrots, medium diced
1/2 cup celery, diced
1 small celery root, medium diced
12 oz tempeh, diced
3 cups vegetable broth
1.5 cups raw mushrooms, diced or 1 cup

Trifecta portobello mushrooms

1 teaspoon dried thyme leaves
2 tablespoon rosemary
2 tablespoons tahini
2 tablespoons apple cider vinegar
2 cups peas (fresh or frozen) (optional)
2 tablespoons organic cornstarch
¼ cup parsley
Tools
Step 1: Roast Your Root Vegetables
Preheat your oven to 420 degrees.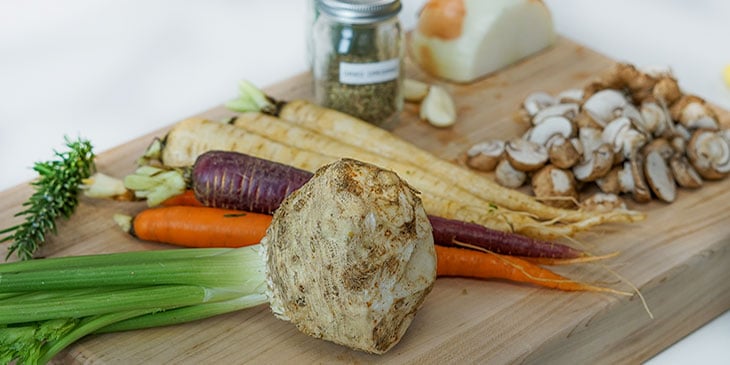 Preheat your oven to 425 degrees and cut your carrots, parsnips, and celery root into medium-sized pieces, about ½" x ½", mix with 1 tablespoon of oil and any dried spices you'd like (rosemary and thyme) and spread out onto a baking sheet.
Try this recipe with Trifecta broccoli and mixed vegetables instead of root vegetables for a low-carbohydrate pot-pie.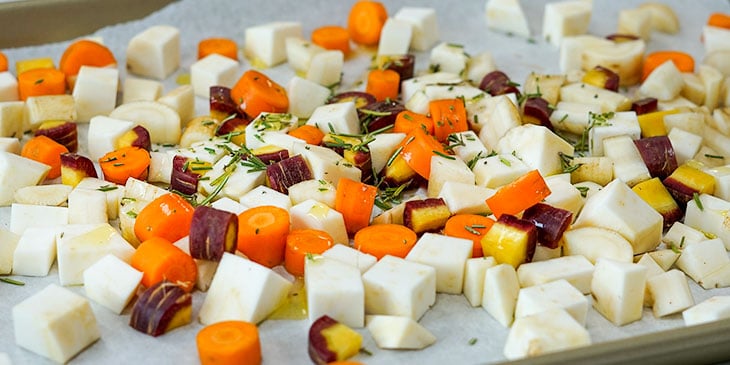 Roast for 20 minutes until lightly browned and slightly tender, we love using our Breville countertop oven for quick and mess-free cooking.
By roasting the vegetables slightly we par-cook them to shorten the total cooking time of the pot pie. Remember we don't want to completely cook them in the oven, just roast them enough to draw out more of their natural flavor and tenderize them slightly.
While your vegetables are roosting, begin to make the pot pie gravy base.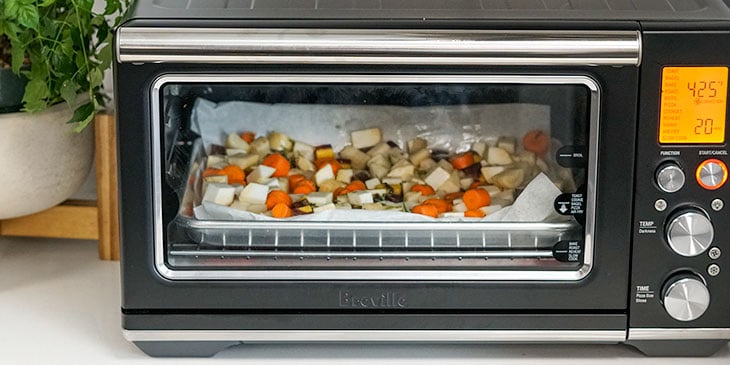 Step 2: Prepare Your Pie Crust
Gently coat a 9-inch pie pan or deep-sided baking dish with a spray of oil and line the bottom and sides with one layer of crust.
You can also skip the bottom layer and use a non-stick, oven-safe pie dish opting to only put a top layer of pie crust onto your pot pie to reduce the total carbohydrates and fat. You can find pre-made pie crust in the freezer section of most grocery stores or if you have time, prepare your own.
Skip this step and instead top your pot pie with vegan friendly biscuit dough for a simplified version of traditional pot pie that can also be prepared gluten free.

Step 3: Prepare Your Pot Pie Filling by First Sautéing Tempeh and Aromatics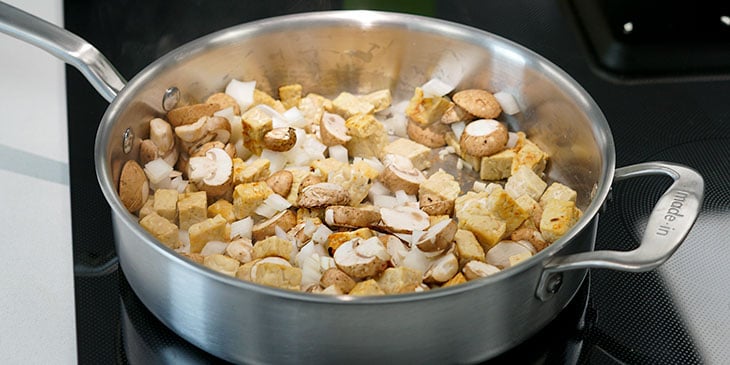 Heat a medium-sized pot over medium heat and add the tempeh, celery, onions, garlic and mushrooms. Add small amounts of the vegetable stock to saute the ingredients and prevent anything from sticking to the bottom of the pan as needed until the ingredients are slightly browned about 8 minutes.
Step 4: Add In Roasted Root Vegetables, Tahini, Herbs and Spices then Add Stock
Once your aromatics and tempeh, or other vegan meat alternative, are slightly browned add in the roasted root vegetables, apple cider vinegar, rosemary, thyme, and tahini along with any other seasonings you'd like. Cook for 1-2 minutes.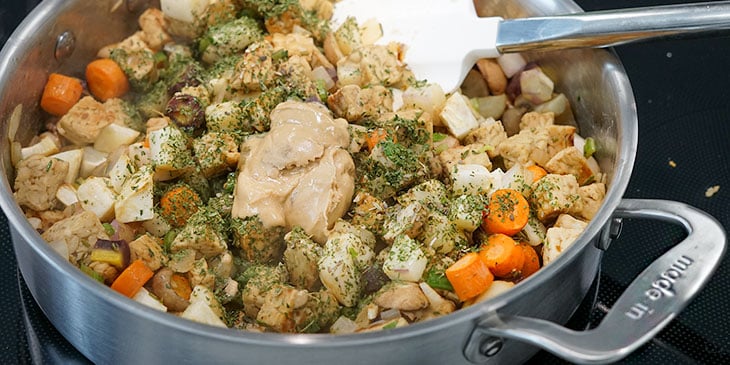 Enjoy using any vegetables you'd like in this filling such as peas, broccoli, or cauliflower.
Tahini is typically prepared from toasted and ground sesame seeds blended with a bland oil to form a paste.
Add in the vegetable stock and bring to a simmer for 5 minutes. For a creamier filling feel free to use ½ cup more of the stock.
Step 5: Thicken with Cornstarch Slurry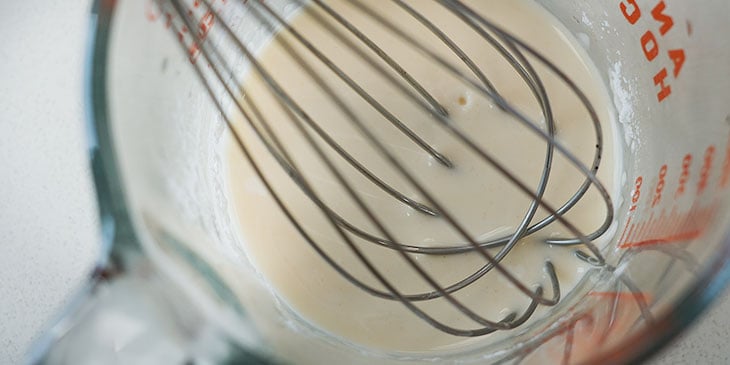 To turn this recipe from soup to gravy, we used a corn-starch slurry to thicken the filling quickly. Prepare your slurry by whisking together the cornstarch and some of the liquid from the pot or warm water. Then slowly pour the slurry into your pot and stir to thicken, after 1-minute turn off the heat and continue to stir.
Cornstarch is a classic thickener but you can also use arrowroot, tapioca starch, wheat flour, xanthan gum or even ground flaxseeds.
Season the filling with salt, pepper, and some lemon juice if desired then let it cool for a few minutes and get ready to build your pot pie.
Step 6: Transfer to Pie Dish or Baking Dish and Cover with Crust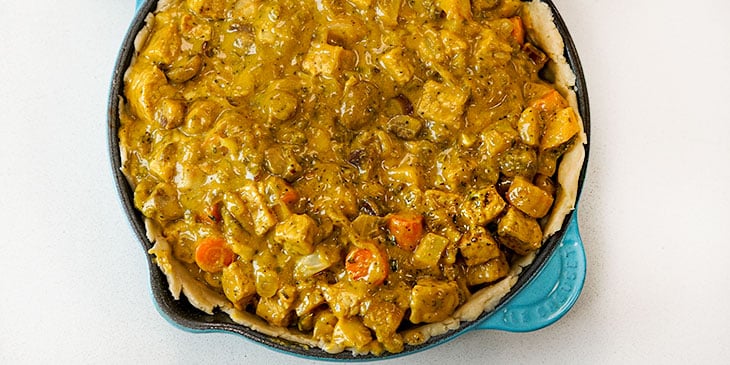 Transfer your vegan pot pie filling to a pie dish or baking dish lined with the cold pie crust or non-stick spray. Then top with another layer of pie dough.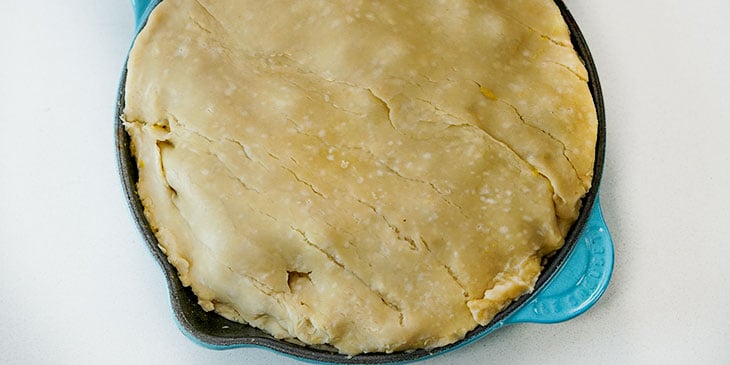 Step 7: Bake 30 Minutes Until Golden Brown
Transfer your hearty pot pie to the oven and bake for 25 to 30 minutes until golden brown, this is more to cook the crust of the pie than the filling. Remove from the oven and let stand before serving, 5 to 7 minutes before you dig in!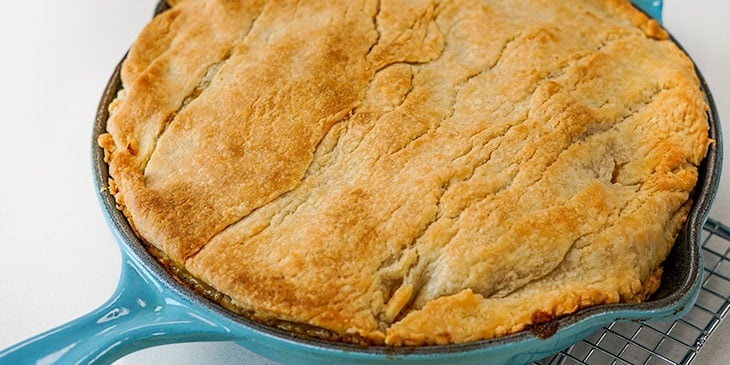 Step 8: Serve or Store
This dish is really hearty and stands alone as a meal. To balance out the heavy, rich flavors try one of these fresh and healthy pairings:
A simple green salad with a light vinaigrette
Refreshing and calorie-free sparkling water with lemon
It can be stored in the fridge for up to 7 days, or freeze the prepared filling and save it for later!

Make this for Your Vegan Meal Prep
This dish is super easy to reheat for lunch or dinner any day of the week. Just scoop out your portion and warm it in the microwave or oven.
You can also recreate this recipe to make single-serving pot pies! Just portion out your filling ingredients into smaller, oven-friendly dishes.
Use mini vegan pie crusts, or rework the larger pie crust dough into smaller circles. Use a circular cut-out (about 3 to 4 inches in diameter) to create smaller pie crusts. Then ball up the remaining dough, roll it out, and continue to cut circles until you have enough to cover all of your pies. Bake for 20 minutes, then enjoy.
---
Put this recipe to good use with this free meal prep toolkit for vegan diets. This RD-written guide is complete with custom vegan macros, food lists, and menu planning templates to keep your diet on track and help you achieve your health and fitness goals!