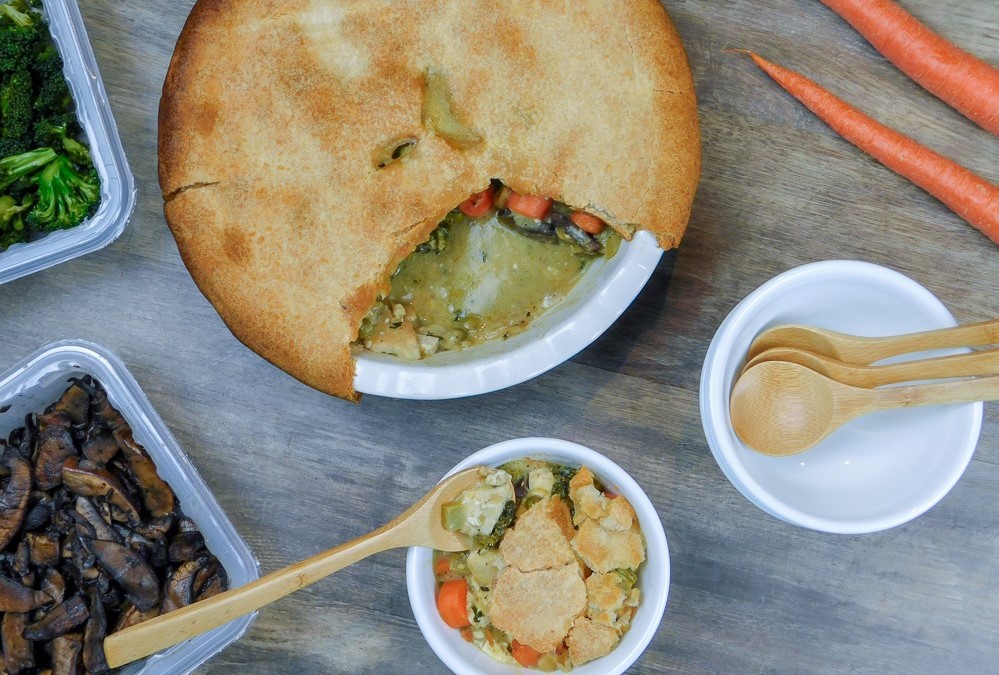 Pot pie is typically made with a boatload of animal products like dairy and chicken, but this plant-based version is crafted with fresh ingredients, including nutritious broccoli and meaty portobello mushrooms from Trifecta! Stuffed with a creamy, flavorful filling contained by a warm, flaky pie crust, this dish is proof that vegan-ized recipes are just as good (or dare I say better?) as their traditional counterparts. Serve it as a weeknight meal or a culinary holiday centerpiece that your family will love.
Put this recipe to good use with this free meal prep toolkit for vegan diets. This RD written guide is complete with custom vegan macros, food lists and menu planning templates to keep your diet on track and help you achieve your health fitness goals!
How to Make this Recipe
For this recipe, you're going to need the following:
1 (14 ounce) package of extra firm tofu, drained
2 sheets store-bought pie crust
2 tablespoons avocado oil
1 cup Trifecta broccoli
1-3/4 cup vegetable broth
1/2 cup oat milk
1/2 cup Trifecta portobello mushrooms, diced
1 garlic clove, minced
1/4 teaspoon dried thyme leaves
1/2 cup chopped carrots
2-1/2 tablespoons hemp seeds
1/4 cup sliced celery
1/3 cup onion, diced
1 cup peas (canned or fresh)
2 tablespoons organic flour
3/4 teaspoon parsley, chopped
1/2 teaspoon Himalayan Fine Pink Salt
1/4 teaspoon ground black pepper
Start by prepping your pie crust.
Preheat oven to 425 degrees Fahrenheit. Prepare the pie crust accordingly to the instructions on the box for a 9-inch pie pan; set aside. See below to make these into individual pot pies. You can also skip the bottom layer and use a non-stick, oven safe pie dish.
TIP: Save some calories by omitting the bottom pie layer! You'll still get all the satisfaction of a butter crust and creamy filling.
Then create your filling. Use a 2-quart saucepan over medium-high heat. Add the oil to the pan followed by the onions, garlic, celery, mushrooms, hemp seeds, broccoli and carrots. Cook veggies, stirring frequently for 2 to 3 minutes.
Once veggies have started to soften and brown, sprinkle in the flour, salt and pepper. Stir mixture to coat veggies. Then carefully pour the oat milk and vegetable broth into the saucepan, mixing until well blended.
Let the mixture cook for 5 to 10 minutes until thickened and bubbling. Then add in the tofu, peas, and parsley. Remove from heat and spoon mixture into your pie pan.
Top your pie with the second layer of crust, pressing down on the edges to secure it in place. For a golden brown crust, brush with a small amount of vegan butter.
Bake the pot pie for 30 to 35 minutes, or until top crust is slightly golden brown. To prevent the outer edge of your crust from burning, you may wrap tin foil around the pie crust for the first 20 to 25 minutes; removing for the remainder of the cooking time.
Let stand before serving, 5 to 7 minutes before you dig in!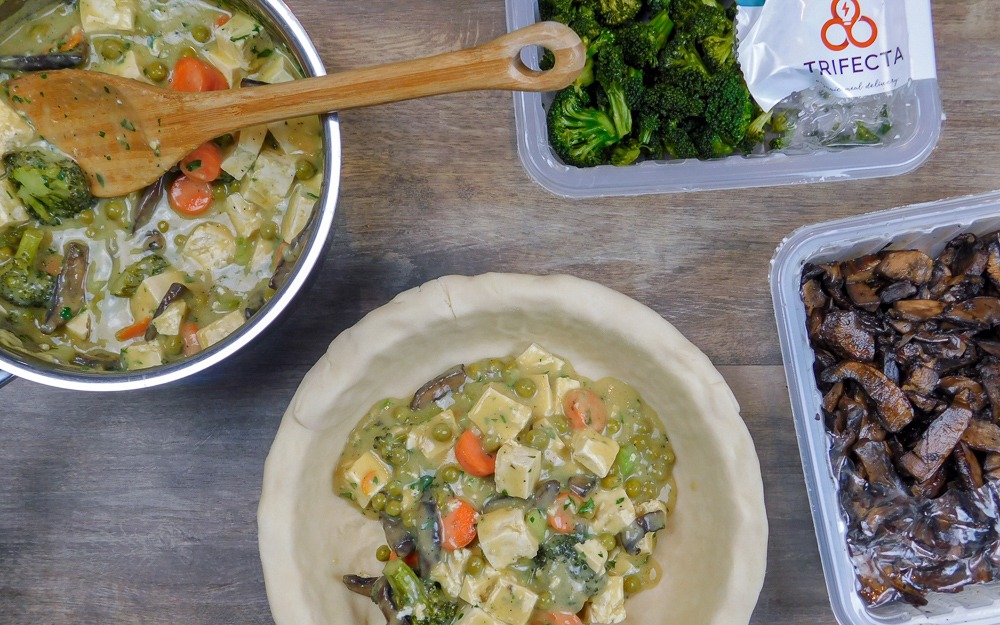 Use this dish and my other high protein vegan recipes, in your weekly vegan meal prep!
Make this for Your Vegan Meal Prep
This dish is super easy to reheat for lunch or dinner any day of the week. Just scoop out your portion and warm in the microwave or oven.
You can also recreate this recipe to make single serve pot pies! Just portion out your filling ingredients into smaller, oven friendly dishes. Use mini vegan pie crusts, or rework the larger pie crust dough into smaller circles. Use a circular cut out (about 3 to 4 inches in diameter) to create smaller pie crusts. Then ball up the remaining dough, roll it out and continue to cut circles until you have enough to cover all of your pies!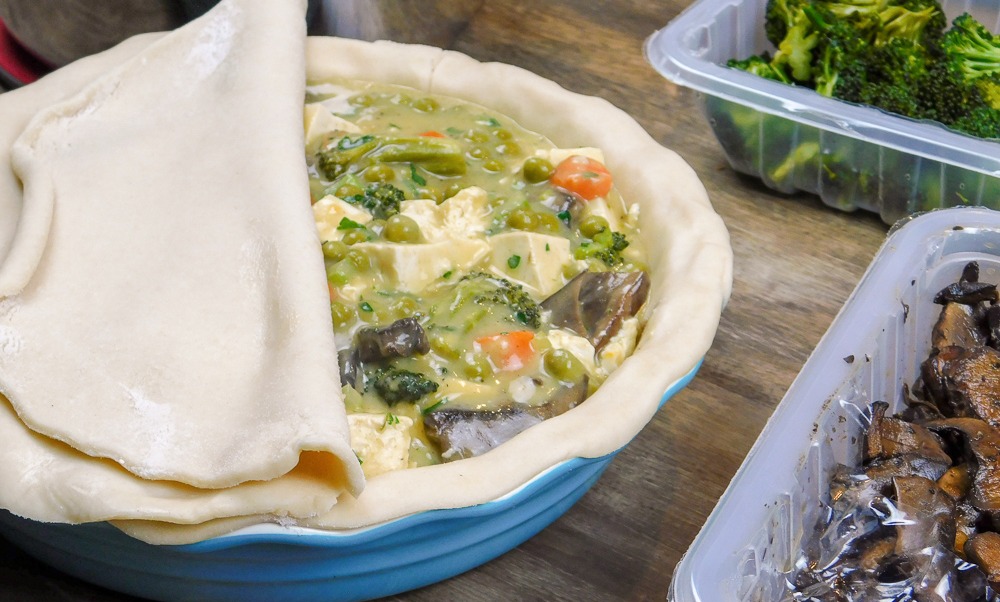 Serve this With

This dish is really hearty and stands alone as a meal. To balance out the heavy, rich flavors try one of these fresh and healthy pairings:
A simple green salad with a light vinaigrette

A refreshing and calorie-free sparkling water with lemon
Get more recipes like this from Ryan Shepard, the Vegan Rhino here.