Crush your vegan macros with this easy grain salad recipe that takes less than 5 minutes to make and has 20 grams of protein per serving. It's crunchy, vibrant, a little sweet, and somewhat cheesy - and more than enough to keep you feeling satisfied. With zero cooking required and made only with simple, whole-food ingredients, it is guaranteed to brighten up your vegan meal prep for the week.

How to Make This Recipe
For this recipe, you're going to need the following:
Dried figs

Scallions

Nutritional yeast

Parsley

Olive oil

Lemon

Salt and Pepper
This dish is super simple to create. Using Trifecta a la carte ingredients, all you need to do is piece everything together and enjoy! Start by prepping the following:
Finely dice scallions
Chop parsley leaves and stems
Coarsely chop almonds
Juice one lemon
For the quinoa, you may want to warm it in the microwave for about a minute to help it break up evenly. You can also warm the broccoli some if you don't want the grain salad to be cold.
Tip: Add in chili flakes for more spice and seasoning.
Toss everything together in a large mixing bowl and top with nutritional yeast to finish it off. Portion your salad into meal prep containers or bowls for serving.
Tip: Swap in cheddar cheese instead of nutritional yeast for a vegetarian version of this recipe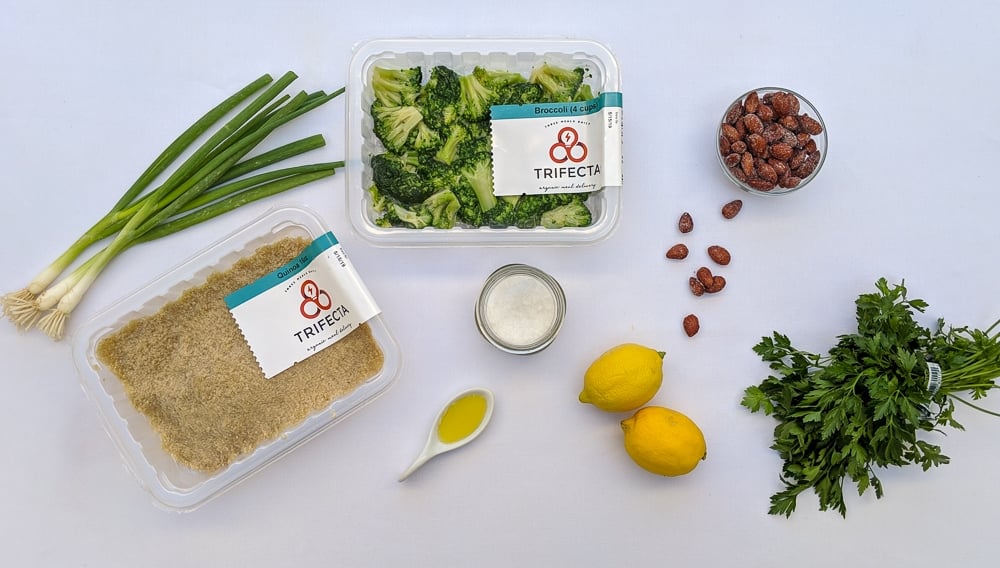 Serve this With

Enjoy this recipe as a hearty and filling main dish or serve it as a side salad alongside your favorite vegan recipes (vegan mac and cheese anyone?). Here are some of my favorite ways to keep it interesting.
Healthy pairings and swaps:
Top with baked or roasted tofu for even more protein and oomph.

Swap in your favorite dried fruit instead of figs, like cherries, black currants, or raisins.

Swap out the almonds for any nut like pistachios or peanuts.

Change up the flavors with different herbs like cilantro, mint, and basil.