This healthy lemon ginger protein cheesecake recipe packs everything you love about cheesecake without the use of cream cheese! Enjoy this recipe as a dessert or make mini-cheesecake bites for a midday snack.
How to Prepare a Healthy Cheesecake
You may be surprised to find out that most cultures have their own version of a cheesecake. Italians often use ricotta cheese in their filling while the Germans prefer cottage cheese, and the Japanese prepare a style of dessert that uses cornstarch and or gelatin to prepare a smooth and creamy, custard-like cheesecake.
It's said that the ancient Greeks created the first cheesecake in the fifth century BC by mixing fresh cheese with flour and honey, calling it 'plakous', meaning 'flat mass'. As the Roman empire expanded and the sweetened dessert was adopted in Great Britain and Eastern Europe, the recipe began to change by including beaten eggs to help the cake rise versus yeast.
Eventually, this recipe made its way to America where the addition of cream cheese became a classic cheesecake staple after the invention of cream cheese in the early 1870s when the Philadelphia Cream Cheese brand began.
A traditional cheesecake filling contains a soft, and sweetened, whipped mixture of fresh cheese, (cottage cheese, cream cheese, or ricotta), eggs, and sugar; making this dessert more of a custard pie or torte vs an actual "cake".
You have many options when it comes to crafting your preferred cheesecake, from baked to un-baked, to flavoring the main layer in various ways utilizing ingredients such as vanilla, spices, lemon, chocolate, or pumpkin. You can also add additional flavor and some decorative appeal by topping off the finished cheesecake with fresh fruit, whipped cream, toasted nuts, chocolate syrup, or a cooked fruit sauce!
We've crafted a healthy, but still decadent equivalent with less sugar, less fat, and more protein than the traditional cheesecake recipe!
This tangy and refreshing recipe is prepared with greek yogurt, lemon, ginger, and egg whites to yield a smooth and creamy cheesecake filling. Additionally, Instead of a graham cracker crust you'll prepare a honey almond and oat crust packed with fiber.
How to Prepare Your Lemon Ginger Protein Cheesecake Recipe
Prep Time: 10 minutes
Bake Time: 40 minutes
Servings: 8
Ingredients
To Prepare The Crust
1/2 cup almonds, toasted
2 tablespoons almond powder or PB2 peanut butter powder
1 tablespoon honey
1/2 cup oats
1 tablespoon coconut oil
2 tablespoons milk of choice
To Prepare Protein Filling
2 cups greek yogurt
3/4 cup egg whites
1 teaspoon vanilla extract
1 tablespoon honey
1 tablespoon lemon zest
1 teaspoon lemon juice
1 tablespoon grated ginger, fresh
1/2 cup protein powder, vanilla or unflavored
Optional Berry Compote:
1 cup mixed frozen berries
1/4 cup water
1-2 tablespoons honey, maple syrup, or sweetener
1 teaspoon lemon zest
1 tablespoon lemon juice
Step 1: Measure Your Ingredients and Prepare Your Crust
Preheat your oven to 325 degrees.
Measure out your ingredients for your crust, filling, and optional berry compote.
To prepare the crust, combine the toasted almonds, arrowroot starch, honey, milk, coconut oil, and oats in the base of a food processor.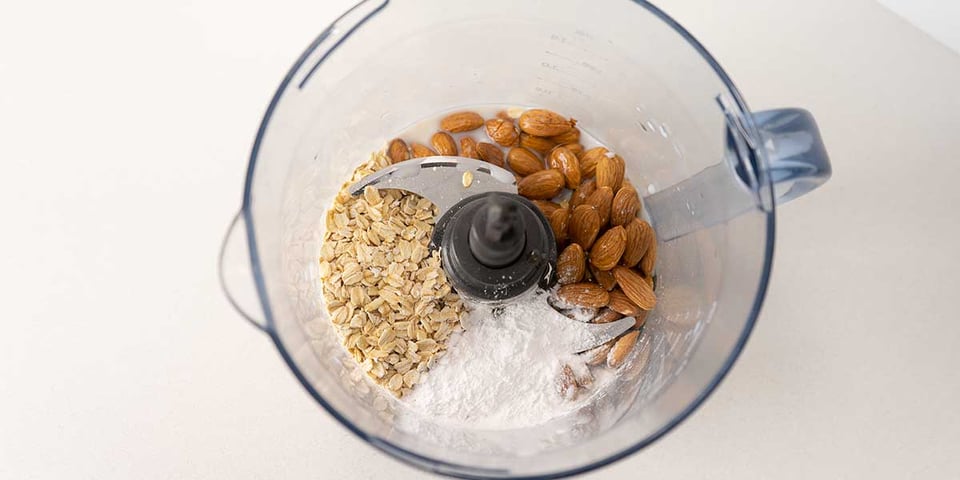 Pulse for 1-2 minutes until the ingredients form a damp crumble. Remove from the food processor and set aside. Prepare your pan by coating a round cake pan with non-stick spray.
A spring-form pan works the best when preparing a cheesecake recipe as you can easily remove the cake from the pan without having to turn or flip the cake pan and risk the cheesecake falling apart.
You can also prepare mini-cheese cake bites by lining a cup-cake pan with muffin liners and pressing down the crust ingredients and then baking them for 5-6 minutes before adding the filling.

Remove the crust from the food processor and gently press down into your cake pan or lined muffin tin to create a 1/4-inch base.
Transfer to the oven and bake for 8 minutes, then remove and let cool before preparing the filling.

Step 2: Make Your Filling Then Bake Cheesecake
To prepare your protein cheesecake filling, add all of the filling ingredients to a food processor and blend until thoroughly mixed, about 2 minutes.

Remove from the food processor and pour filling on top of your baked crust.
Before transferring your cheesecake back to the oven, prepare a water bath, this will keep the oven moist and help moderate the heat so that the edges of your cheesecake do not cook faster than the middle of the cheesecake.
You can bake your cheesecake without a water bath, but you risk over-cooking the cheesecake and ending up with a dry and less creamy texture.
For your water bath opt to use a larger rectangular cake pan or you can use a tall-sided sheet tray (this works wonders if you're using a muffin pan) to place your cheesecake pan in.
Transfer both the water-bath tray and the cheesecake tray to your oven BEFORE adding the warm water. This helps prevent spilling any water during the transfer process.
Now add warm water to the larger tray or pan until the water rises 1/4 of the way on the outside of the cheesecake pan or muffin pan.
Bake your cheesecake for 35 - 40 minutes until it no longer jiggles when you shake the pan.
If you've opted to make cheesecake bites using a muffin pan, your cheesecake will bake faster! Only bake for 20 minutes or until set.
Step 3: Cool and Portion
After 40 minutes, remove your cheesecake from the oven and transfer to the fridge to cool overnight. Then Dig in!

To prepare the berry compote:
Place all of the ingredients into a small sauce-pan and simmer for 20 minutes until thickened. Serve warm over the cheesecake.
How Long Does Fresh Cheesecake Last?
This recipe will keep up for 5 days in the fridge. Enjoy the cheesecake by itself or top it off with:
Fresh fruit
Homemade whip cream
Fruit Syrup
Warmed Berry Compote
Meal Prep Resources
---
Our consciously crafted meals are prepared with organic ingredients and are RD-approved. We offer a variety of meal plans from plant-based to low-carb options.
Just pick the meal plan with the foods you enjoy most and let us do all the hard work of prepping, portioning, and cooking it for you. All you need to do is kick your feet up and savor every bite.