Paleo Grain-Free Cornbread
Calories: 173.8 per slice (Serves 10!) P: 5.6g, F: 14.5g, C: 7.2g
Ingredients:
1 ½ Cups Almond Flour

½ Teaspoon Salt

½ Teaspoon Baking Soda

3 Eggs

3 Tablespoon Melted Ghee (clarified butter)

2 Tablespoon Honey

½ Cup Unsweetened Almond Milk
Preheat the oven to 325 degrees. Grease an 8×8 baking pan. Mix the dry ingredients in a large bowl and mix the wet ingredients in a small bowl. Add the wet ingredients to the dry ingredients and mix well. Pour the batter into the baking pan and bake for 25-30 minutes. Carefully remove the bread from the pan and let cool on a drying rack.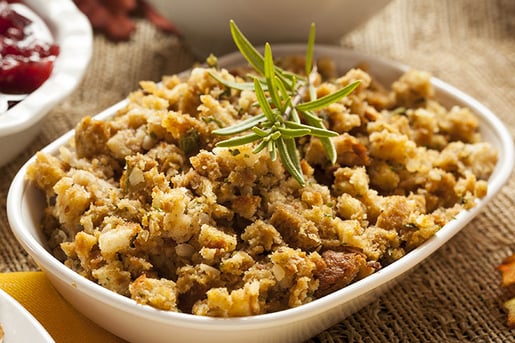 Paleo Cornbread Stuffing
Calories: 182.2 per serving (Serves 10!) P: 6g, F: 14.9g, C: 8.7g
Ingredients:
1 loaf of Paleo Grain-Free Cornbread

4 Tablespoons Ghee (clarified butter)

1 Small Onion, Finely Diced

3 Stalks Celer, Finely Chopped

¼ Teaspoon Thyme

¼ Teaspoon Dried Rubbed Sage

½ Teaspoon Garlic Powder

¾ – 1 Cup Chicken or Vegetable Stock

Dash of Salt and Pepper

½ Cup Dried Cranberries (optional)
Preheat oven to 175°F. Cube the cornbread and place on a baking sheet. Place sheet in oven for 2-3 hours, checking every 30 minutes until the bread has the texture of a crouton. Remove from oven and let cool. Increase oven temperature to 350°F. In a large pan on medium heat, melt Ghee and then add in onions, celery, and spiced and sauté until translucent. Place the dried bread, cooked vegetables, and cranberries in a large bowl and mix well. Add the stock slowly until your mixture is slightly moist. Place mixture in a baking dish and bake for 20-25 minutes.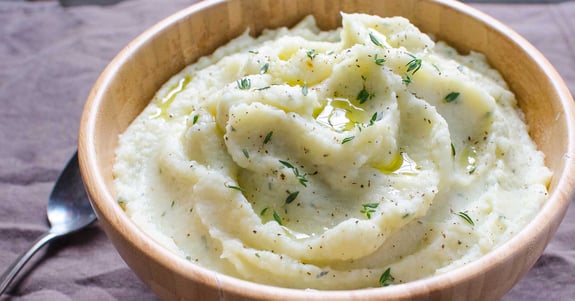 Creamy Cauliflower Garlic Mash
Calories: 123 per serving (Serves 2!) P: 4g, F: 8.5g, C: 10.5g
Ingredients:
1 Head of Cauliflower (approx. 4 cups)

1 Clove of Garlic

1 Tablespoon Ghee (clarified butter)

¼ Cup Unsweetened Coconut Milk

Dash of Salt and Pepper
Bring a pot of water to boil. Remove stem and leaves from cauliflower and break into florets. Place in the water and cover. Boil until cauliflower is very tender, approx. 5 minutes. Drain well. In the same pot, add the garlic and ghee over medium heat and stir until garlic is golden brown. Place cauliflower and garlic in blender or food processor. Pulse until cauliflower is smooth. Slowly add the coconut milk, pulsing after each addition. Season to taste with salt and pepper.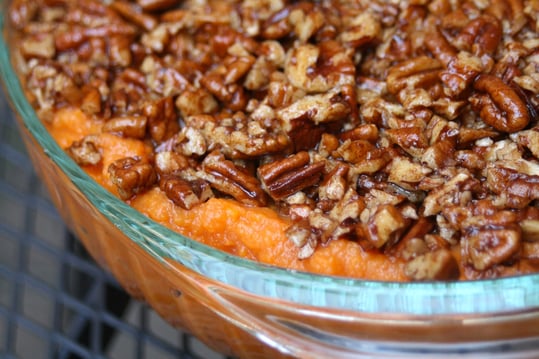 Sweet Potato Casserole
Calories: 192 calories (Serves 16!) P: 2.75g, F:12.8g, C:17g
Ingredients:
For the sweet potatoes:
2lbs Trifecta Sweet Potatoes

⅓ Cup of Almond Milk
3 Tbsp Ghee
¼ Cup of Pure Maple Syrup
1 Tsp Salt
1 Tsp Vanilla
2 Eggs
For the pecan topping:
1½ Cups of Pecans

2 Tbsp Ghee

3 Tbsp Pure Maple Syrup

½ Tsp Cinnamon

Pinch of Salt
First, take your Trifecta sweet potatoes and add them to a large bowl. Then add the almond milk, ghee, syrup, salt, vanilla, and eggs. Mix until even. Then, pour the mixture into an 8x8 baking dish and smooth the surface. Cover the dish and refrigerate.
When you are ready to cook the sweet potato casserole, preheat the oven to 375 degrees. In a medium bowl, combine the pecans, ghee, syrup, cinnamon, and salt. Sprinkle over the sweet potato mash. Cover the dish with foil and bake for 20 minutes. Then, remove the foil and check the casserole. Bake for another 20 minutes. Enjoy!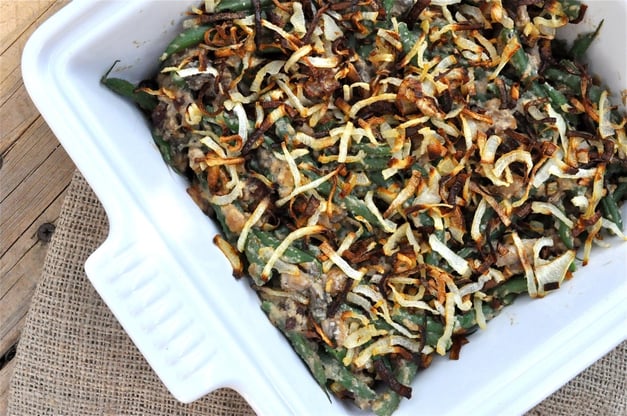 Paleo Green Bean Casserole
Calories: 85 calories per serving (Serves 10!) P: 2.5g, F: 6.3g, C: 5.3g
Ingredients:
1 lb Fresh Green Beans

8 oz Chopped Mushrooms

1 Cup Sliced Onions

3 Cloves Garlic

½ Cup Almond Meal

1 1/2 Cups Unsweetened Almond Milk

3 Tsp Sea Salt

2 Tsp Black Pepper

2 Tbsp Extra Virgin Olive Oil
First, preheat the oven to 350 degrees. Then, line a baking sheet with parchment paper. Drizzle olive oil on the sliced onions and sprinkle with 1 tsp sea salt. Bake for 30 minutes, removing from the oven and flipping halfway through. Put a large pot of water and salt on high heat and bring to a boil. Cook the green beans for 5 minutes and then remove from heat. Heat a sautee pan and then add the garlic and mushrooms. Once mushrooms are lightly brown, lower the heat and add the milk and 1 tbsp of olive oil. Whisk together while simmering. Slowly add in the almond meal. Add the salt and pepper.
Whisk until the gravy thickens. Add the green beans to the sauté pan and stir. Pour the entire mixture into a medium-sized casserole dish. Cover with aluminum foil and bake at 350 degrees for 15 minutes. Remove the foil and then add the onions! Cook for another 5 minutes without the foil.