This comfort classic recipe has been upgraded to meet the paleo-lifestyle guidelines, while building layers upon layers of flavor. Make a double batch to get 8 meals for your week in just 30 minutes, and use the sloppy joe in any version you'd like (sandwich, with sweet potatoes and broccoli, with butternut squash or any other combination you can image).


A sloppy joe is a slight variation of a chili. The backbone of the recipes are incredibly similar and they follow the same intention: to build tons of flavor before adding the meat. The big difference? Adding a smaller quantity of stock while cooking and cooking it out to create a variation of a 'glaze'.
We'll have fun making this recipe.
If you are new to paleo, this is the easiest way to stick to a paleo diet. Download this free, RD-written meal prep guide complete with meal planning tools, approved food lists, and tips for eating paleo.
This recipe has the following macronutrients:
350 kcals; 15g Fat; 19g Carbs; 26g Protein
How to Make a Great Sloppy Joe
The use of various aromatics like shallots, garlic, and a small amount of ginger are the base that provides the backbone flavor of this recipe. As well, the combination of the warm and hearty spices, along with the acidity of the tomato and apple cider, and the sweetness from maple syrup is the key to the building blocks of flavor that make up this paleo sloppy joe so great.
This recipe takes about 15 minutes to prepare, and about 30 minutes to cook. It makes 4 servings.
Ingredients
16 ounces or 4 Trifecta beef patties, fully crumbled

4 Shallots, minced

4 each or 1 Tbsp. garlic cloves, minced

1 Tbsp. ginger, grated

1 Tbsp. avocado oil

6 ounces tomato sauce, canned

1 Tbsp. tomato paste

2 Tbsp. paprika

2 Tbsp. chili powder

2 tsp. mustard powder

2 tsp. nutmeg

1 tablespoon Maple syrup

1 tablespoon Worcestershire sauce

1 cup of stock, beef or vegetable

1/8 cup apple cider vinegar

Kosher salt and black pepper, to taste
Kitchen Needs:
Mixing bowls
Deep soup pan
Cutting board and knife
Food processor, optional
Wooden spoon

Step 1: Prepare Ground Beef, Aromatics, Spice Mix, and Wet Ingredients
If you are using raw ground beef take it out from the fridge and transfer it to a bowl. Season the beef with salt and pepper and mix it in with your hands to fully incorporate the seasoning.
If you are using the Trifecta burgers, process them in your food processor and keep them aside. Conversely, if you don't have a food processor, crumble them completely with your hands.
Prepare your aromatics by cutting the shallots, mincing the garlic, and grating the ginger all into one bowl. Keep aside until needed.
Lastly, measure and mix all your spices into a separate small bowl and combine your maple syrup, and Worcestershire sauce. Keep your apple cider vinegar on the side.
If you want to taste the seasoning of the ground beef, cook a small pinch and eat it. Adjust salt and pepper as needed.
Step 2: Caramelize Aromatics and Deglaze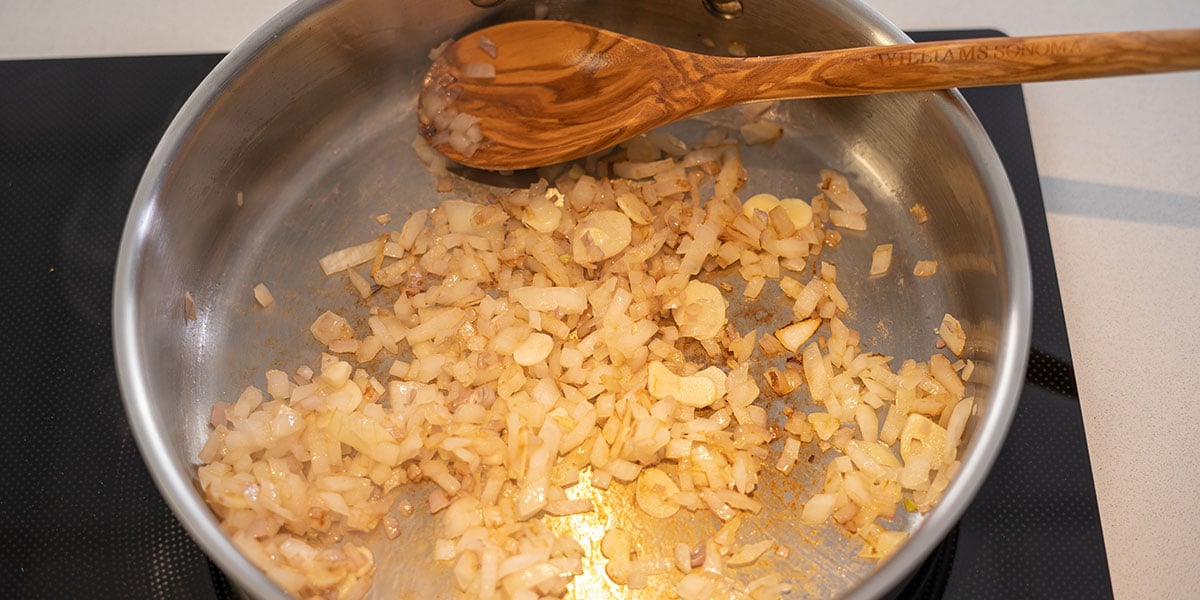 Begin by heating 1 tablespoon of avocado oil in your pan until the oil is loose and shimmering over medium-high heat. Add your aromatic mix and constantly mix to avoid them from burning. Reduce heat to medium - you want to hear a sear throughout this process.
Continue to cook until all aromatics are translucent and caramelized. Deglaze with apple cider vinegar.
Step 3: Add Spices, Toast, and Cook Ground Meat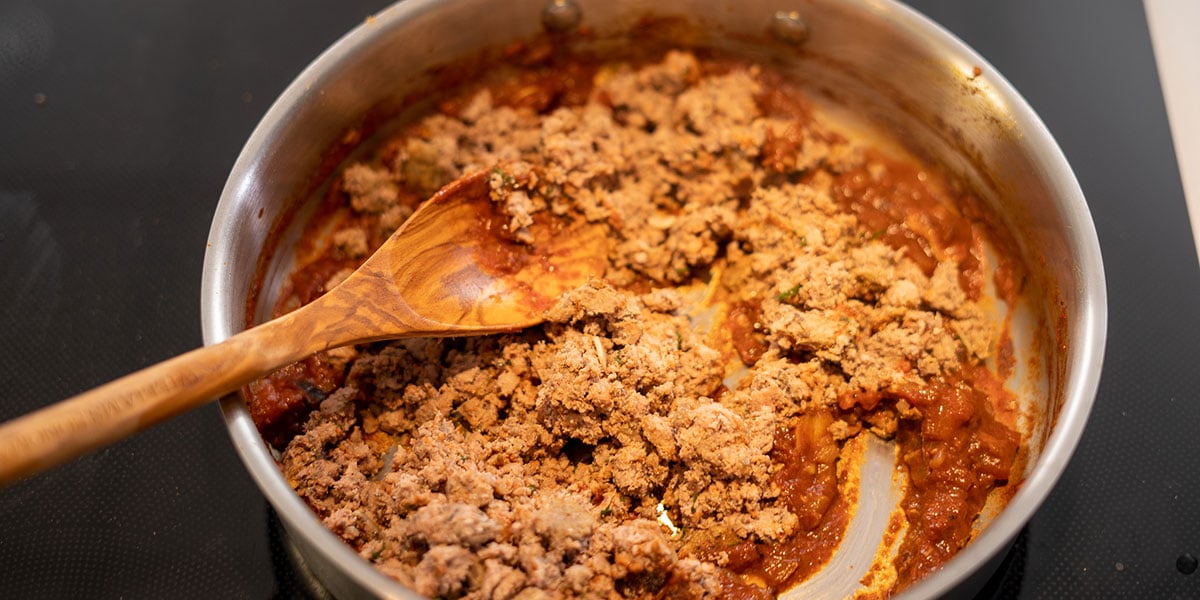 As soon as you deglaze the pan, add your spice mix to the onions and mix to fully incorporate. Over the same medium heat, toast the spices for 10-20 seconds, or until the smell is fragrant. Add tomato paste. Season with a pinch of salt and pepper. Add tomato sauce, Worcestershire, and maple syrup. Mix.
Immediately after, add ground beef and mix to fully incorporate the aromatic-spice mixture. Increase the heat to medium-high and begin cooking the ground meat. Stir and scrape any brown bits.
Step 4: Add Stock, and Simmer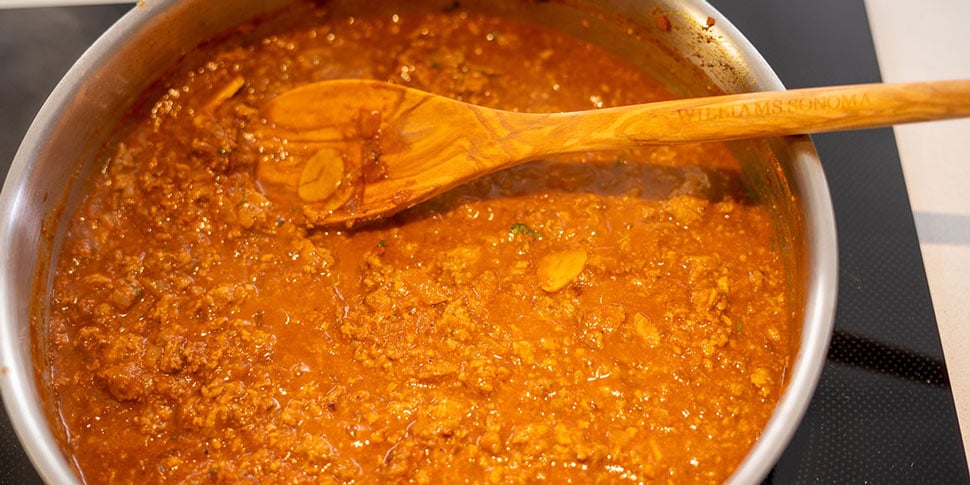 Once the ground beef has started to turn brown, add the stock bring it to a boil, and then bring the mixture down to an active simmer. Simmer for 5-10 minutes or until the liquid has reduced 85-90% of the way. This is a quick process since the 1 cup of added stock evenly distributes with the rest of the ingredients.
Taste and adjust the seasoning as needed.
Meal Prep Tips
To keep your meals paleo, roast some sweet potatoes or butternut squash.
Feel free to also roast your favorite vegetables like broccoli and serve them on the side for a complete meal.
Cool down before portioning and store in the fridge for up to a week.
Get started on paleo now. Download your free meal prep toolkit, complete with meal planning tools, paleo food lists, and tips for eating paleo.