How you prepare any kind of food will make or break it's flavor and texture; boil the life out of any vegetable and yeah, it's probably going to taste like dirt. That's not the case with roasted beets; roasting root vegetables enhances naturally present sweet earthy flavors while achieving the perfect texture.
Beets are like brussel sprouts in the sense that both have been on the unpopular foods list. Classically, brussels sprouts a.k.a. miniature cabbages were steamed and served whole similarly to boiled beets. But apply a different cooking technique such as roasting with olive oil and fresh herbs or frying and these brain-shaped cabbages turn into a flavorful and desired treat. Who would have thought brussel sprouts would become a restaurant favorite served up in a variety of glazes and all thanks to utilizing a variety of cooking techniques.
Roasting beets, not steaming them, brings out their natural sweetness and with little effort turns them into a delectable treat.
Whether you're eating vegan or striving to be more plant-based, the process is worth it to always have some low calorie and heart-healthy roasted beets laying around to toss in a salad, make grilled kabobs, or serve as a unique side-dish.
Beyond their candy-like taste here are a few quick reasons to love beets and incorporate them into your weekly meal prep:
1 cup of roasted beets is a good source of potassium, and fiber and an excellent source of folate (

1

).
Heart protective properties (2).
Plant-based phytonutrients, such as purple

anthocyanins

(2

).
How To Meal Prep Roasted Beets Like a Boss
This recipe takes about 5 minutes to prepare, and around 45 minutes - 1.5 hours to cook. Overall, this method of preparation should yield about 4 to 5 cups of cooked beets.
Ingredients
4-5 medium-sized beets or 8-10 small beets
At least a cup of apple cider vinegar
Water as needed
Tools
Baking dish
Foil
Knife and cutting board
Step 1: Preheat the Oven. Trim and Clean Beets.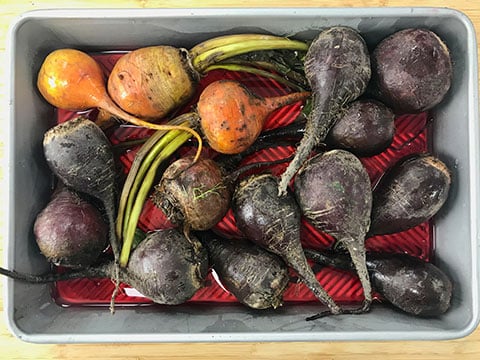 Preheat your oven to 425 degrees Fahrenheit
For this recipe I used some red and golden beets, separate them by color and size if you can, this will prevent color bleeding and promote even cooking.
If you have purchased fresh beets with the tops, don't throw away the greens! Rinse and dry them before sautéing them like spinach or add them raw to your salad green mix.
Step 2: Add your Vinegar and Water
Add 1 cup of apple cider vinegar and water to cover the beats half-way with liquid, not too much, and then wrap the beets and pan tightly with aluminum foil.
Pro Tip: Aim for the liquid to cover the beets by a quarter or half-way up, enough to help steam the beets slightly but avoid boiling.
I use apple cider vinegar for its tart flavor and easy sourcing, but you can also replace this with balsamic vinegar, red wine vinegar, or rice vinegar. No need to add salt and pepper now, I wait to season my beets until after they have been roasted and cut.
Adding vinegar, fresh herbs, or spices will add more flavor to your roasted beets and produce a delicious roasting liquid that can be reduced in a pan to make a glaze or dressing!
Add as much vinegar as you'd like, the acidity will transfer to the beets slightly, any left-over roasting liquid can be strained and reduced with a little bit of honey or sugar into a tasty beet glaze for salads, pizzas, and more.
Step 3: Bake for 35 to 45 minutes
The amount of time the beets will take to bake depends on their size; the larger the beet the longer the time it will take. Start out by setting a timer to 35 minutes, then check every 15 minutes until you reach a perfect fork tenderness.
To check if your beats are done, test them with a fork or small toothpick, it should pierce the skin effortlessly.
Don't let this time go to waste, multitasking is the name of the game in kitchens, if you're planning on roasting beets as a part of your meal prep make that one of the first tasks you do.
While they are roasting start other simple tasks like chopping vegetables or organizing your meal prep containers.
Step 4: Remove from Oven, Cool, and Peel
The key to not dying yourself or your kitchen beet red is to take it slow, I like to put plastic wrap over the cutting board I am going to use and clear the area around me, then I make sure I am wearing an apron; if you have some disposable gloves that always helps as well.
Cut the tops of the beets off with a knife then take a paper towel and gently wipe away the skin.
A well-cooked roasted beet skin should come right off. If it's being a bit stubborn just grab a vegetable peeler and peel it off.

Clean Up, Storing, and Shelf Life
You can store your cut beets for up to six days in the fridge, or pack them in freezer-safe bags and freeze them. If you are roasting the beets a few days before you plan to use them, peel the beets and leave them whole before storing them in the fridge, this prolongs the freshness of the beets.
Save the left-over roasted beet juice to make a simple beet balsamic glaze. For every 1/2 cup of leftover roasting liquid add 4 tablespoons balsamic vinegar and 2 tablespoons honey. Place in a pot over medium-high heat and reduce until it has a syrup-like consistency. This is a great glaze for salads, pizzas, and even vanilla ice cream.
Serve this With
After you're done peeling the beets, cut them however you desire.
A few ideas for your flavorsome roasted beets:
Add to a salad.
Try out this Tofu Tabbouleh Bowl with Roasted Beets and Kale.
Toss them with balsamic glaze, goat cheese, beet greens, and fresh herbs like mint and parsley for a quick side dish.
Blend them with canned chickpeas, drained from their liquid, a little sea salt, and lemon juice for a tasty and colorful hummus.
---
Want to get more out of your weekly meal prep efforts?
Stick to your calorie goals and maximize results with this free meal prep toolkit for weight loss. An RD-written guide complete with macro meal planner, food lists, and expert advice to help you lose weight quickly.