Make fish tacos more meal prep friendly with this incredibly easy-to-make taco bowl recipe. Loaded with brown rice, a crunchy slaw tossed in a tangy, sweet and slightly spicy dressing, and topped with perfectly cooked fish and fresh salsa. This dish makes for a foolproof lunch or dinner and pairs well with all of your favorite tex-mex ingredients and flavors... whether it's taco Tuesday or not!
How to Make this Recipe
For this recipe, you're going to need the following:
Green and purple cabbage, shredded
Carrots, shredded
Pico de gallo
Fresh cilantro
Lime zest and juice
Greek yogurt
Garlic
Honey
Taco seasoning
Oil
Salt
Perfecting the Veggie Slaw
Zest one of your limes and then juice both - keeping the zest to the side until ready.
Thinly slice your cabbage and grate your carrots, and add them to a medium-sized mixing bowl. You can also use pre-shredded veggies to save on time, but fresh tends to lend a lot more flavor. Add 1/4 to 1/2 cup of chopped cilantro leaves and stems to the slaw.
Cabbage is a tough little veggie that can be softened with a little acid and salt - allowing the flavors to open up. Add in half of your fresh squeezed lime juice and sprinkle a pinch of salt into the bowl. Then toss to mix and let them sit for 15 to 30 minutes while you make the dressing.
Tip: for more heat, add some fresh diced jalapeno to the veggie slaw mix.
For the dressing, add your yogurt, garlic, honey, and remaining lime juice to a small mixing bowl to combine. Then slowly whisk in the yogurt. Add a small amount of oil or water, if needed, to thin out the mixture. You can also blend the ingredients in a mixer or food processor. To finish, fold in a 1/4 teaspoon of taco seasoning add salt to taste, adjusting saltiness as needed.
Stir the yogurt mixture into the veggies to coat everything evenly. Taste again for the right balance of sweet and salty, with a hint of spice.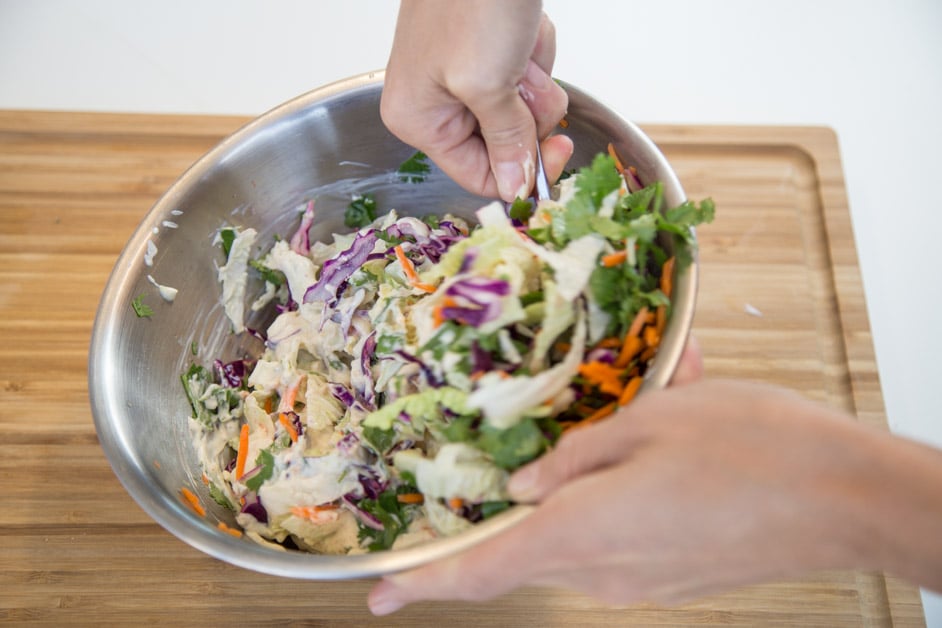 Finishing the Fish
Pat dry and season your pre-cooked mahi mahi with the remaining taco seasoning. Add 1 tablespoon oil to a pan over medium-high heat. Pan sear the fish, cooking for about 1 to 2 minutes per side or until it starts to brown - be careful not to overcook it, it just needs to be warmed slightly.
Tip: if making this for meal prep, save this step until your ready to dig in, packing your fish separate from the other ingredients.
Building the Bowl
Warm the brown rice in the microwave and get ready to start plating.
Using a food scale or measuring cups, evenly divide the rice between four plates or meal prep containers (4 ounces/113g per portion). Then top your rice with the slaw, followed by the seared fish and pico de gallo.
Garnish with extra cilantro and lime, and enjoy!
Want all your meals to take 10 minutes or less? Save time on all of your favorite meal prep recipes with pre-cooked, healthy ingredients from Trifecta a la carte.
Serve this With

Just as we all have our favorite toppings for tacos, this bowl version is no different. Add healthy fats, extra crunch, more spice, or a hint of sweetness with the following additions:
Sliced Avocado
Low fat cheese
Baked tortilla chips
Hot sauce
Diced mango
Corn