Following low-carb dieting doesn't mean all you'll ever eat is salads and cauliflower rice! Learn how to enjoy the benefits of a low-carb diet packed with protein, vegetables, and plenty of other whole foods that will fill you up.
What are Low-Carb Foods?
There are loose parameters on what "low-carb" foods actually are.
Carbohydrates come in the form of sugars, starch, and fiber found within the foods we eat. And just like other macros (protein and fat), carbohydrates provide calories - four calories per gram to be precise.
Commonly when we think of carbs, our minds go straight to options like bread, rice, and pasta, but carbohydrates come from all plant foods - including vegetables.
The majority of vegetables can be considered "low-carb" foods, but a notable few can pack a significant amount of starch. These high-starchy vegetables, such as potatoes or winter squash are often considered carbs. The quality and type of carbohydrates will have varying impacts on our health.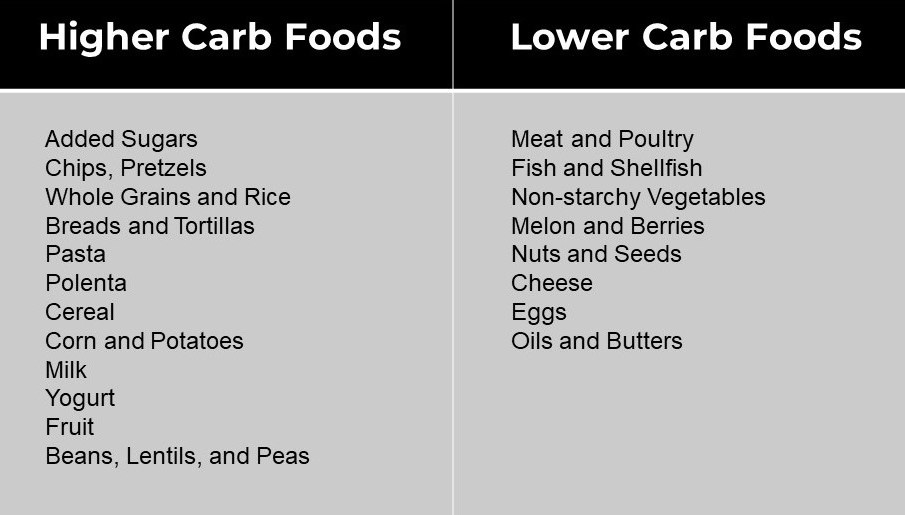 There is no set definition to what a "low-carb' food is, as this will depend on the portion size and type of food we are eating.
What About Fiber?
Fiber is a natural carbohydrate and the bulk of vegetables are naturally high in fiber.
Fiber is a beneficial type of carbohydrate thought to aid digestive health, as it is classified as a prebiotic.
There are two types of fiber, soluble and insoluble. Both may have beneficial impacts on our health and do not impact our blood sugar levels the same way as when we eat something high in sugars.
Which is one of the reasons why studies suggest that obtaining nutrition from whole fruits and vegetables will have better health implications than eating refined grains and processed sugary foods (1).
Interestingly, because of this phenomenon, even though fiber content shows up on the nutrition label as carbohydrates, it can be oftentimes subtracted from your total daily carb intake, leaving you with a net carb amount.
Total carbs minus fiber = net carb intake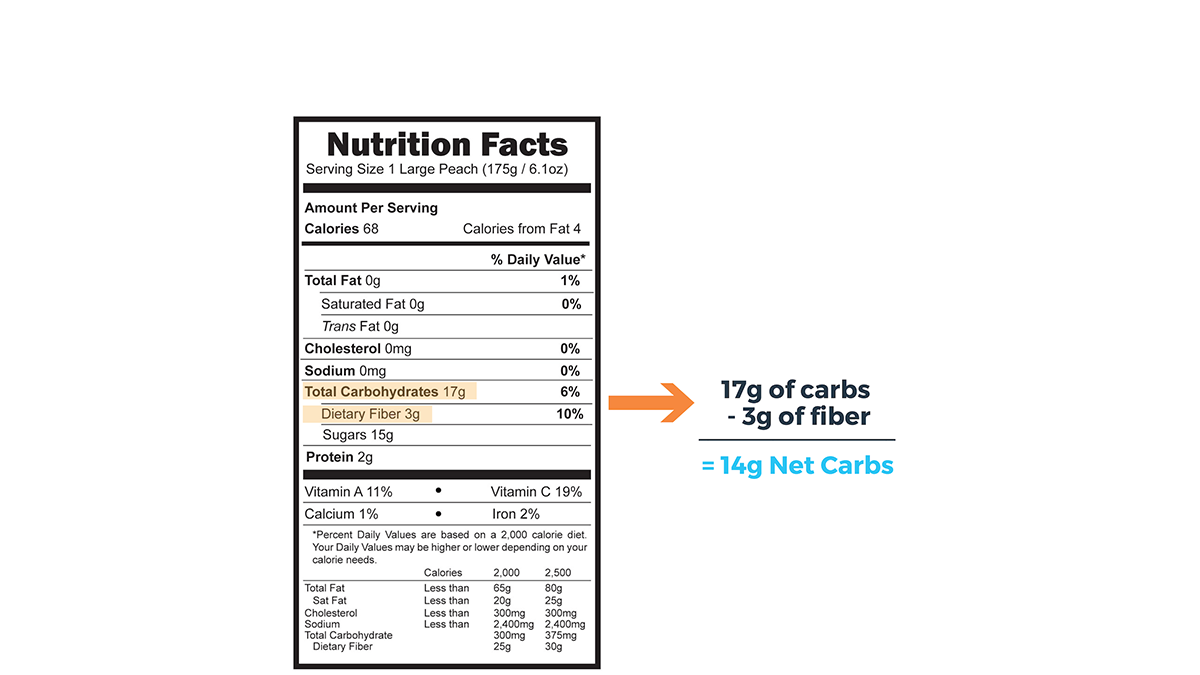 If you're eating a diet low in sugar or following a ketogenic lifestyle, paying attention to the amount of fiber you consume is an easy way to load up on nutrient-dense veggies without all the carbs.
Nonetheless, fiber content is not considered when determining whether a veggie is non-starchy or not, as peas, corn and other starchy foods can still be an excellent source of fiber.
Are Too Many Carbs Bad?
There is some debate around whether too many carbs can affect your body composition – meaning eating too much can make you have more body fat. But the research hasn't proven this, as your diet isn't a reflection of just one food group; it's made of all of your food choices.
A good number of the carbs you eat are immediately used for fuel and organ function. The type of carbohydrate will also change how your body decides to process and store it; meaning your body may tolerate carbs from fruits and vegetables better than carbs from a soft drink or french fries.
Learn exactly how many grams of carbohydrates you need each day to support your fitness goals using this simple carb calculator.
Various other factors effect how we process and absorb food such as our genetic make up, hormones, physological stress, age, and more (2).
What is a Low Carb Diet?
Low-carb diets are trendy because people truly believe that carbs are 'bad'. when in reality it's more about the type and quality of carbohydrate you are eating.
Most low-carb diets recommend eating less than 100g of carbohydrates a day, sometimes as little as 20g such as the Keto diet.
To put that into perspective, a banana has about 27g of carbohydrates so that would be more than your total carbohydrates for the day.
The US Dietary Guidelines recommend that we get between 45 and 65 percent of our calories from carbohydrates (3). And with the recommended calorie intake anywhere from 1800-3000 calories a day, based on gender, age, and activity level, this translates into at least 200 grams or more of carbs per day (4).
But many popular low carb weight loss diets and health professionals recommend a range from 25% to 40% of your daily calories.
If you're looking to start a low-carb diet, first ask yourself what your goals are and look at your activity level; this will help you determine a healthy range of carbohydrates to get from food. You can also use a health app to determine your daily macros for you!
Eating low-carb isn't complicated, just focus on real, whole-foods and plenty of fruits and vegetables.
Potential Health Benefits of Low-Carb Diet
Low-carb diets should be focused on whole foods and lots of low-starchy vegetables. Low starch vegetables are rich in important vitamins and minerals (micronutrients), and low in calories.
Compared to other starches, like rice, which contains more than 200 calories and 50g of carbs per cup, a cup of leafy greens has only seven calories and roughly one gram of carbohydrate.
Research suggests that diets high in vegetables are associated with reduced risk for chronic diseases like type 2 diabetes, cardiovascular disease, and cancer (5,6,7).
Weight Loss
Low carb diets are often used as an approach to weight loss because they help you cut calories.
Carbs sneak their way into many favorite foods like snacks, desserts, and sweetened beverages.
Cutting carb intake allows you to trim these "extra" options from your day and cut calories naturally, but this could also be said for reducing your fat intake or calories from other sources in your diet.
There are numerous studies that support low-carb diets to promote faster weight loss compared to low-fat diets (9). And there are also plenty of studies that show no difference. Including a recent, larger study by Stanford that controls for calories in both diet types and found no significant difference between either approach (8).
At the end of the day, sustainable weight loss is about building a comprehensive wellness program tailored to you that takes into consideration your lifestyle, activity level, and current health status.
If you are looking to lose weight or improve your health, increasing your intake of non-starchy vegetables can help drastically augment your nutrition and support a calorie-controlled diet (9,10).
What Not to Eat on a Low Carb Diet
There really isn't a right or wrong in terms of what you can eat when following a low-carb diet because everyone has different health goals, metabolisms, etc.
There are certain foods you may want to limit if you are trying to control your carbohydrate intake:
Starchy vegetables (potatoes, sweet potatoes, butternut squash)
Unrefined grains (brown rice, oats, quinoa, etc)
Legumes (lentils, black beans, pinto beans, etc.
Chocolate and Sweets
Wine and other alcohols
Coffee, Tea, sweetened beverages
60 Low Carb Foods Other Than Lettuce
Here is your comprehensive list of quality low-carbohydrate foods, including fiber content and net carb totals for each. You can opt for either fresh or frozen vegetables.
Proteins
Pretty much all meats are considered low carb because most of them contain little to no carbohydrates.
The exception to this is plant-based meat alternatives. Some vegan meat alternatives are processed from beans, gluten, and other carbohydrate-dense ingredients, the end result being a delicious quinoa black bean burger or --meatball but high in carbohydrates. If you are following a plant-based diet be sure to read the ingredient label to check the carbohydrate content.
Common protein selections:
Chicken
Eggs
Beef
Lamb
Pork
Shrimp
Salmon & other Seafood (trout, sardines, lobster, tuna, cod etc.)
Jerky
Turkey
Venison
Veal
Bison
Tofu
Tempeh
36 Non-Starchy Vegetables
Here is your comprehensive list of nutrient-dense non-starchy veggies, including fiber content and net carb totals for each. You can opt for either fresh or frozen vegetables.
| | | | | |
| --- | --- | --- | --- | --- |
| Vegetable | Serving Size | Total Carbs (g) | Fiber (g) | Net Carbs (g) |
| Kale | 2 cups | 1.8 | 1.7 | 0.1 |
| Broccoli Rabe | 1 cup, chopped | 3 | 2.8 | 0.2 |
| Jalapeno | 1 pepper | 0.9 | 0.5 | 0.5 |
| Watercress | 2 cups | 0.9 | 0.3 | 0.6 |
| Bok Choy | 1 cup, shredded | 1.5 | 0.7 | 0.8 |
| Arugula | 2 cups | 1.4 | 0.6 | 0.8 |
| Spinach | 2 cups | 2.2 | 1.3 | 0.9 |
| Celery | 1 cup, chopped | 3 | 1.6 | 1.4 |
| Swiss Chard | 2 cups | 2.7 | 1.2 | 1.5 |
| Mustard Greens | 2 cups | 5.2 | 3.6 | 1.6 |
| Radish | 20 medium | 3 | 1.4 | 1.6 |
| Asparagus | 7 med spears | 4.3 | 2.4 | 1.9 |
| Mushrooms | 1 cup | 3 | 1 | 2 |
| Tomato | ½ cup cherry or ½ med tomato | 2.9 | 0.9 | 2 |
| Onion | ¼ med | 2.6 | 0.45 | 2.15 |
| Bamboo Shoots | ½ cup | 3.95 | 1.7 | 2.25 |
| Eggplant | 1 cup, cubed | 4.8 | 2.5 | 2.3 |
| Cucumber | 1 small, whole | 3.4 | 1.1 | 2.3 |
| Leek | ¼ whole leek | 3.15 | 0.4 | 2.75 |
| Turnip | 1 small | 3.9 | 1.1 | 2.8 |
| Cauliflower | 1 cup, chopped | 5.3 | 2.1 | 3.2 |
| Bell Pepper | ½ large | 5 | 1.7 | 3.3 |
| Kohlrabi | 1 cup | 8.4 | 4.9 | 3.5 |
| Broccoli | 1 cup, chopped | 6.5 | 2.5 | 4 |
| Zucchini | 1 med | 6 | 2 | 4 |
| Okra | 8 pods | 7 | 3 | 4 |
| Green Beans | ½ cup | 7 | 3 | 4 |
| Cabbage | 2 cups | 8 | 3.5 | 4.5 |
| Brussel Sprouts | 1 cup | 7.9 | 3.3 | 4.6 |
| Snow Peas | 1 cup | 7.4 | 2.5 | 4.9 |
| Carrots | 1 large | 6.9 | 2 | 4.9 |
Additional Vegetables may include:
Beet Root
Rutabaga
Carrots
Parsnips
Artichokes
16 Low Carb Fruits
Just like vegetables, most fruits can be considered low-carb in moderate amounts, because they contain natural sugars.
The USDA Dietary Guidelines recommend 1 1/2 to 2 1/2 cups of fruit per day depending on your calorie needs and health goals (11). If you're following a low-carb diet this may be reduced to just 1/2 cup or 1 cup serving a day.
Raspberries
BlackBerries
Strawberries
Apples
Plums
Clementine
Kiwi
Cherries
Blueberries
Cantaloupe
Peach
Orange
Pineapple
Banana
Apple
Avocados
Other Low Carb foods
A balanced diet isn't just protein, fruits, and vegetables. If you are following a low carbohydrate diet you'll want to include other foods such as:
7 Nut and Seeds
Most nuts and seeds can be low-carbohydrate as long as you are eating no more than a handful. Nuts and seeds contain carbohydrates as fiber
Brazil nuts
Macadamia
Pecans
Hazelnut
Walnut
Sunflower Seeds
Chia Seeds
8 Dairy Options
Butter or Ghee
Brie or soft-ripened cheese
Hard aged cheese such as cheddar
Plain greek yogurt
Sour Cream
Cottage Cheese
Cream Cheese
Milk (in small amounts)
Fats and Oils
All fats and oils should have around zero carbohydrates. Some of our favorites:
Avocado Oil
Olive Oil
Coconut Oil
Sesame Oil
Almond Oil
Low Carb Snacks
The best snacks are high in protein, healthy fats and fiber to help keep you fuller longer; and let's be real a well-balanced diet includes delicious drinks and snacks.
Some simple low carb snacks:
1-ounce almonds: 170 calories, 2 grams net carbs

1/4 cup sunflower seeds: 175 calories, 2 grams net carbs

4 small stalks celery and 2 tablespoons peanut butter: 195 calories, 5.5g net carbs

1 cup cauliflower with blue cheese dip: 170 calories. 3.5 grams net carbs
Find a extensive full low-carb snacks list all with under 10 grams of net carbs here.
Tips to Starting a Low-Carb Diet
1. Track Your Intake
If you aren't aware of where your carbs are coming from or how much you're consuming a day how will you know you're consuming a low-carb diet?
There are multiple ways to track your intake, you can try using a fitness app like the Trifecta App, a food journal, or calculate how many calories you need per day.
2. Plan Your Meals
Plan your nourishment around your health and wellness goals by starting a meal prep routine at home. This can be as simple as revamping your grocery list to include healthier snack options or cooking and portioning out a healthy recipe for lunch for the week.
3. Use Portion Control
Estimating your food intake will get you closer to your goals, but it really takes understanding portion sizes to get it right. Studies suggest that most people underestimate their calorie intake by nearly 20% (12,13,14).

If you're eating out and enjoying foods without a nutrition facts label, it can be a challenge to guesstimate how much food and macros you are consuming. And even if there is a nutrition facts label, eyeballing your portion size will only get you so far.

Instead of guessing, consider using measuring cups or take it one step further and learn how to weigh your food.

Understanding portion control can deepen your nutrition knowledge and ensure you are hitting your calorie goals more closely.
4. Eat more whole foods
The quality of your food impacts your health just as much as when you are eating and how much you are eating.
The health benefits of eating more fruits and vegetables come from those rich in nutrient-dense plant foods such as whole grains, fruits, vegetables, nuts, and legumes and lower in less healthy plant foods such as refined grains and sugar-sweetened beverages associated (15).
---
Need help sticking to a low-carb diet? Whether you are struggling with meal prepping your food or just not sure if you are counting carbs correctly, we've got you covered.
Or rely on our expert chefs and nutritionists who have curated delicious low-carb meals to take all the frustration out of dieting so you can focus on other things, like hitting the gym!