What are the best foods for weight loss? Is there a specific type of diet you should be following to get the most results? If you are feeling confused about what you should be eating to lose weight, you are not alone.
The thing is, there is no single food that will make or break your health or your weight loss goals. Nor is there any one type of diet we should all be on. And while eating to lose weight is not always the exact same approach as eating for longevity, nutrition still matters across the board. Read more below to hear my top picks for foods that might make losing weight a little easier AND still help improve your overall health and wellbeing.
What is the Best Diet Plan for Weight Loss?
There are an endless amount of diets to choose from these days - like keto, paleo, or vegan, with each of them promising superior results. But the reality is that there is no one size fits all approach to healthy eating. We are all different when it comes to what works well for our own unique bodies and individual needs. What worked for your friend, family member, or co-worker may not work for you. And that doesn't mean you are doing it wrong. Our individual needs can differ based on weight, age, level of fitness, allergies, genetic make-up, etc. There is even research suggesting the bacteria in our gut, shaped by where we are from, what we've eaten and where we've been throughout our lives, may also influence our nutrition needs (1).
Popular diets are popular because they work, even if only for a short time. And they work because they follow the number one rule to weight loss: they restrict calories in some way. That's right, every single diet out there uses some form of calorie control, typically by cutting out food groups or certain items that add empty calories to the diet - like decreasing portion sizes, or cutting out sugar, refined grains, and processed foods. Which is why it shouldn't come as a surprise that no matter what diet you're on, you will only lose weight if you eat fewer calories than you burn.
But the calorie rule for weight loss doesn't mean the type of food you choose isn't important. Your body also needs good nutrition to thrive and live a long healthy life. That's why the best diets cut calories and focus on quality, emphasizing more whole foods and good nutrition.
Top Foods to Eat to Lose Weight
Fact: Nobody has ever gotten fat from eating one donut and nobody has ever gotten a six pack from eating one salad. All foods, even the highest calorie junk foods, can fit into a healthy weight loss diet. And while you could theoretically lose weight eating unhealthy foods, having a little more balance and good nutrition in your diet is going to do a little more than just help you shed pounds. Nutritious foods support better moods, energy levels, appetite control and when coupled with the right fitness routine can support a better overall body composition - more lean mass and less body fat.
To set yourself up for diet victory, regardless of the type of meal plan you are on, here are some of the top things to look for in your weight loss food choices.
Real Food
Clean eating stems from the mentality of eating less processed ingredients and more whole foods. Or in other words, eating more real food.
One of the top things that you can do for your health, is to eat real food. This is the stuff we have been eating for hundreds of years and are biologically designed to consume. Real food is any natural, whole food with ingredients you recognize. If your Great Great Grandparents were here today, would they be able to readily identify the food you are eating? Can you picture these ingredients in your head and visualize you making it at home? Did it grow like that? How much processing and manipulation took place to get the food to where it is now?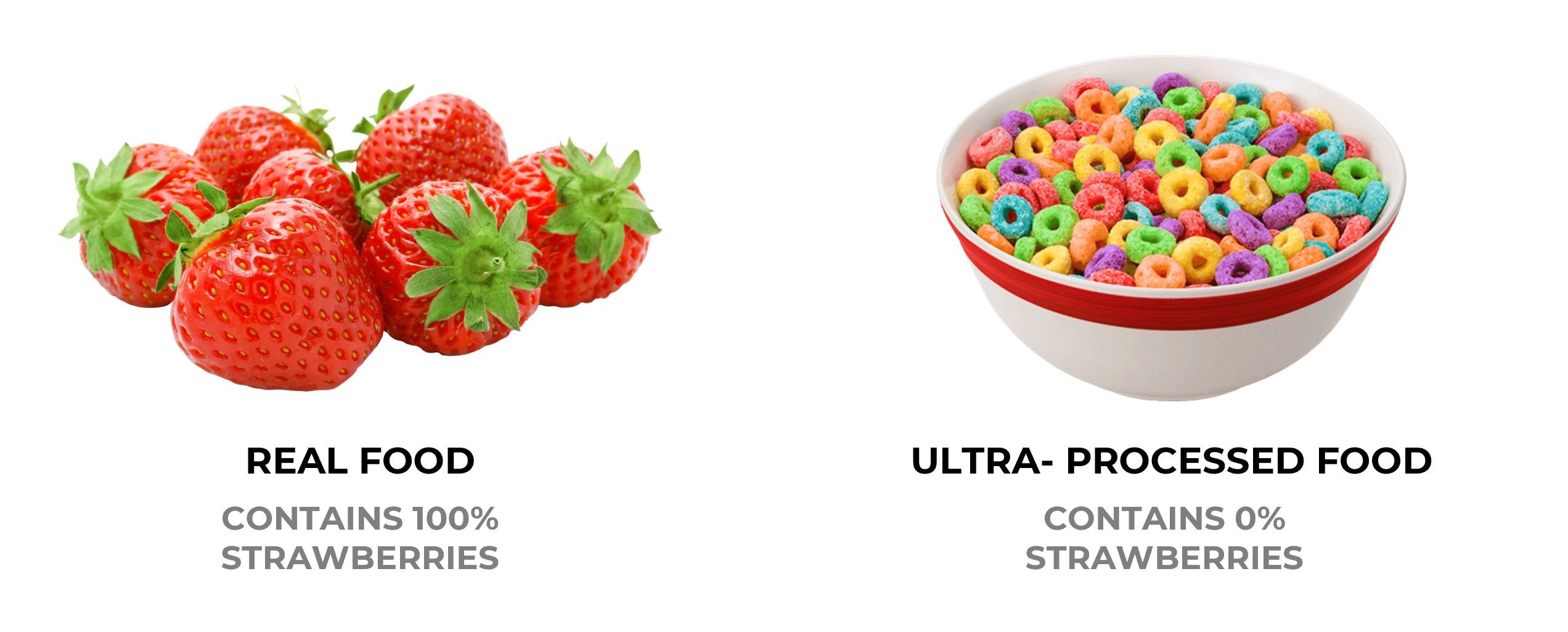 Real foods provide real nutrition that keeps our bodies running like a well-oiled machine. Whereas highly processed foods, high in sugar, sodium and trans fats, might play a role in increased inflammation and counteract weight loss efforts (2). One study showed your body may even burn twice as many calories digesting less processed foods. And growing research continues to suggest that eating a diet consisting of mostly whole foods is associated with more weight loss (3,4,5). Look for options with ingredients you can pronounce and recognize, or choose more fresh options that don't even need an ingredients label.
Real Foods Include:
Vegetables
Fruits
Whole Grains
Lean meats and Seafood
Nuts and Seeds
Beans and Lentils
The best real food options include whole foods like fruits, veggies, whole grains and lean proteins.
Nutrient Dense Foods
The easiest way to decrease your calories and increase your nutrition intake is by choosing more nutrient dense foods. These are the foods that have the most nutrition per calorie, compared to other options that may be higher in empty calories, added fat and sugar.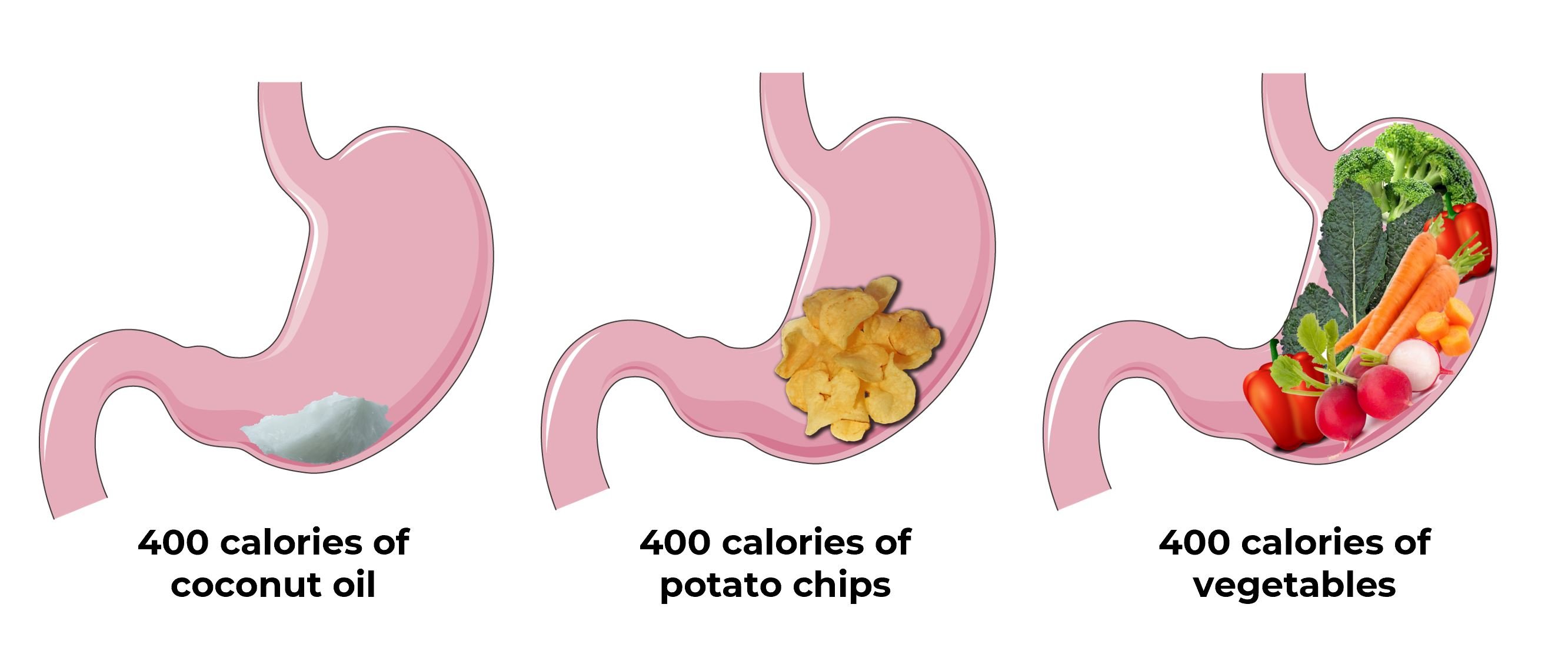 Many of the most nutritious low-calorie foods you can find tend to be non-starchy vegetables. This includes nearly all veggies, except peas, corn, potatoes, and starchy squash - that tend to be a little higher in carbs and calories. While all vegetables are an excellent choice for a healthy diet, choosing non-starchy ones more often is an easy way to cut calories without having to sacrifice portion control. And research suggests that eating more veggies can help control appetite and improve mood, which can definitely make cutting calories a little easier (6,7)!
The best nutrient dense foods include:
Bright colored fruits and veggies

Dark leafy greens
Red and orange veggies
Dark colored berries

Lean proteins

Seafood
Non-fat dairy
Poultry
Grass-fed meats

High Fiber Grains and Starches

Sweet Potatoes
Ancient Grains
Sprouted Grain Breads
Aim to stack half of your plate or meals with non-starchy veggies to maximize your nutrition intake and give your diet a healthy boost.
Other great sources of nutrient-dense foods include whole grains, fruits, and lean proteins. Did you know that melon and strawberries are the lowest calories and carb fruits you can choose?
High Fiber Foods
Fiber is a great, calorie-free way to control appetite and promote health (8). There are two types of fiber found in plant foods - soluble and insoluble, and both hold unique benefits.
Although technically a carb, insoluble fiber is not easily absorbed by the body. Meaning you don't get calories from insoluble fiber the same way you do other carbohydrates. And because what goes in, must come out, it still needs to be pushed through your system - which is exactly how this type of fiber help keeps things moving along.
Soluble fiber, on the other hand, can be dissolved in water to form a gel-like substance - which is what happens in your stomach when you eat this type of fiber. Water gets drawn into your gut and allows the fiber to expand, helping you feel more full. This process is also thought to help draw out cholesterol from the body providing heart health benefits to you (9)!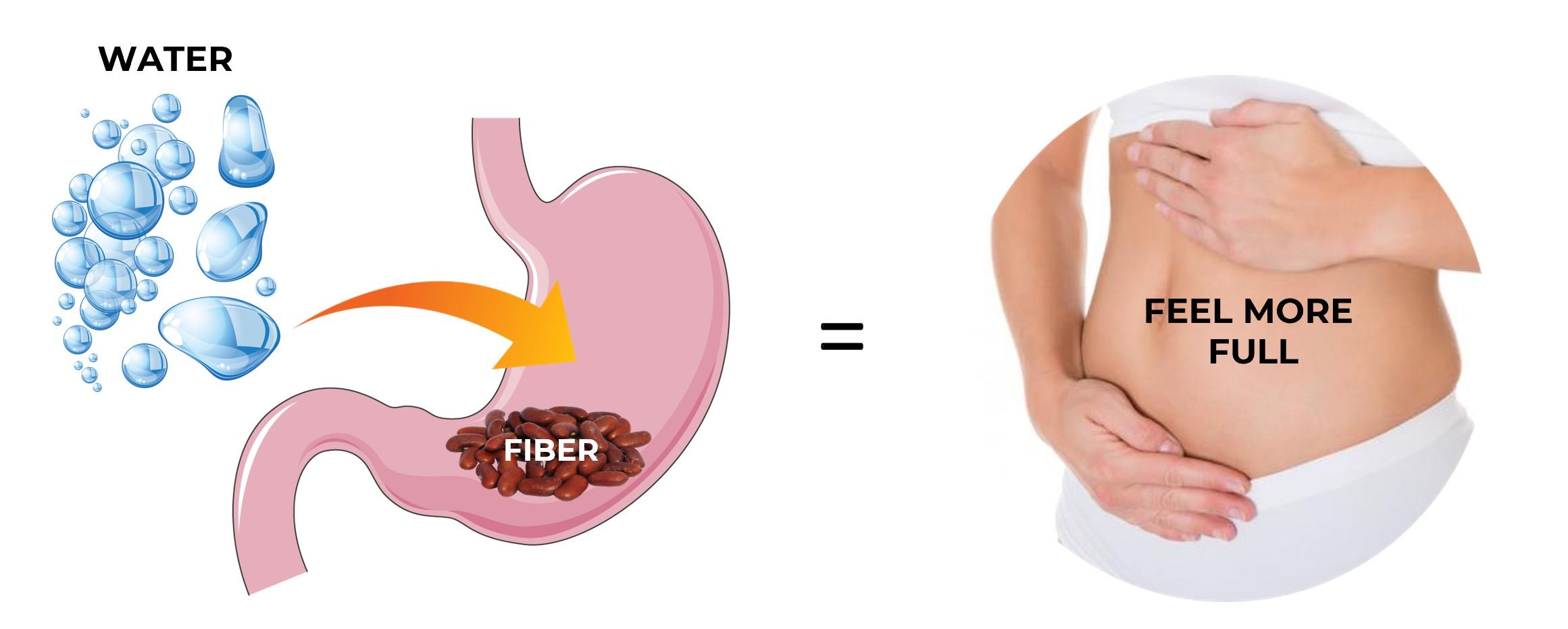 It's important to note that added fiber may not provide the same benefits as naturally occurring fiber from whole foods. No to mention naturally occurring fiber tends to be found in naturally nutritious plant sources that contain other important nutrients, whereas added fiber can be added to anything, even a candy bar!
Some of the best high fiber foods include:
Broccoli
Cauliflower
Brussels
Cabbage
Artichoke
Dark leafy greens
Beans
Lentils
Pears
Apples
Peaches and Nectarines
Cherries and Plums
Berries
Whole Grains
Sprouted Grains
Almonds
Avocado
The top sources of fiber in the diet are plant based foods, like fruits, veggies, beans, nuts, seeds and whole grains.
Lean Protein
Research has linked high protein diets to better appetite control and some research even suggests that high protein diets may help you lose more weight (10,11,12). In addition, your burn slightly more calories digesting protein compared to fat and carbs, because of something called the thermic effect of food (TEF) - essentially you burn calories digesting food to get more calories.
But not all proteins are created equal. When looking at animal sources like meat, dairy, and fish, leaner options tend to provide excellent nutrition for less fat and calories, making them a great choice for an energy-controlled diet. The exception is fatty fish and eggs whose fat content also provides key nutrients like omega-3s and vitamin D.
Eat more lean proteins like:
Chicken
Turkey
White Fish
Shrimp
Egg Whites
Grass-fed beef
Non-fat dairy
Tofu
Edamame
Look to grass-fed meats, pasture raised poultry and eggs, wild caught fish and low fat dairy for some of the best waist friendly protein choices to include.

When it comes to vegan or vegetarian options, stock up on lower fat options like beans, tofu, whole grains and lentils, over large portions of nuts and seeds.
Bottom Line
There's not one single food I would say you have to have in your diet to lose weight or any food that you shouldn't have either. There aren't any foods that are going to help speed up your metabolism or radically change your results, and the only way to lose weight no matter what you are eating is to cut calories.
With that, the best foods for weight loss also tend to be the most nutritious, allowing you to cut calories and shed pounds without sacrificing your health. But no matter what, you always want to choose foods you enjoy eating, otherwise, it's going to make sticking to your eating plan pretty difficult. And once you find the foods that work for you, learning how to portion and track your intake will take you even further.
Looking for a quick and easy solution to nutritious food, that is delicious and will keep your diet on track? Check out our Trifecta meal plans.

References:
Davis SC, Dosunmu-Ogunbi ABO, Dosunmu-Ogunbi SO, Barrow SD, Robertson BK (2016) Understanding the Nutritional Needs of the Gut Microbiota. J Hum Nutr Food Sci 4(1): 1079.

Monteiro R, Azevedo I. Chronic Inflammation in Obesity and the Metabolic Syndrome.

Mediators of Inflammation

. 2010;2010:289645. doi:10.1155/2010/289645.

Barr SB, Wright JC. Postprandial energy expenditure in whole-food and processed-food meals: implications for daily energy expenditure. Food & Nutrition Research. 2010;54:10.3402/fnr.v54i0.5144. doi:10.3402/fnr.v54i0.5144.

Mozaffarian, D., et al., Changes in diet and lifestyle and long-term weight gain in women and men. N Engl J Med, 2011. 364(25): p. 2392-404.

Gardner CD, Trepanowski JF, Del Gobbo LC, Hauser ME, Rigdon J, Ioannidis JPA, Desai M, King AC. Effect of Low-Fat vs Low-Carbohydrate Diet on 12-Month Weight Loss in Overweight Adults and the Association With Genotype Pattern or Insulin SecretionThe DIETFITS Randomized Clinical Trial. JAMA. 2018;319(7):667–679. doi:10.1001/jama.2018.0245

Fuhrman J, Sarter B, Glaser D, Acocella S. Changing perceptions of hunger on a high nutrient density diet. Nutrition Journal. 2010;9:51. doi:10.1186/1475-2891-9-51.

Whitehead RD, Re D, Xiao D, Ozakinci G, Perrett DI (2012) You Are What You Eat: Within-Subject Increases in Fruit and Vegetable Consumption Confer Beneficial Skin-Color Changes. PLoS ONE 7(3): e32988. https://doi.org/10.1371/journal.pone.0032988

Malik VS, Schulze MB, Hu FB. Intake of sugar-sweetened beverages and weight gain: a systematic review. The American journal of clinical nutrition. 2006;84(2):274-288.

Te Morenga Lisa, Mallard Simonette, Mann Jim. Dietary sugars and body weight: systematic review and meta-analyses of randomised controlled trials and cohort studies BMJ 2013; 346 :e7492.

Martínez Steele E, Baraldi LG, Louzada MLDC, et al.

Ultra-processed foods and added sugars in the US diet: evidence from a nationally representative cross-sectional study.

BMJ Open 2016;6:e009892. doi: 10.1136/bmjopen-2015-009892.
Ma Y, Olendzki BC, Wang J, Persuitte GM, Li W, Fang H, et al. Single-Component Versus Multicomponent Dietary Goals for the Metabolic Syndrome: A Randomized Trial. Ann Intern Med. 2015;162:248–257. doi: 10.7326/M14-0611

Drenowatz, Clemens & Hill, James & Peters, John & Soriano-Maldonado, Alberto & N. Blair, Steven. (2016). The association of change in physical activity and body weight in the regulation of total energy expenditure. European Journal of Clinical Nutrition. 71. 10.1038/ejcn.2016.228.

Traversy G, Chaput J-P. Alcohol Consumption and Obesity: An Update. Current Obesity Reports. 2015;4(1):122-130. doi:10.1007/s13679-014-0129-4.