If you are looking for a keto recipe or simply a low-carb salmon patty recipe, look no further. We have developed a chef-approved recipe that stays true to the ketogenic lifestyle and packs tons of flavor in one place. Aside from this, we have made this recipe incredibly simple for a quick and easy meal prep option.
How To Make Salmon Patties
Typical salmon patties tend to have some sort of a bread crumb or panko crumb added to them to hold their shape together. We've substituted the breadcrumbs with ground flax seeds in this case, making the recipe gluten-free.
Flax seeds are higher in fat content and lower in carb content compared to chia seeds. They act as a great binder, and add some polyunsaturated fats, along with a small addition of fiber. You could also use almond flour, but flax seeds will do the trick just fine and will provide a better mouthfeel.
Use this keto-friendly recipe as your guide to creating any sort of salmon patties. The basics of the recipe yield a highly flavorful patty; however, here are a few ideas for you to play with and make different versions of this recipe:
Make salmon spheres for a take on meatballs
Saute diced vegetables and mix in with the onions for extra fiber
Season the patty with spices like turmeric, cumin, and paprika
Make it Jamaican-style and add a Jamaican spice blend to blacken the patties
Make it Southern by adding cayenne pepper, paprika, and dry herbs like oregano and thyme
Add different sauces like a Sriracha Mayo or a Keto BBQ sauce
The chimichurri sauce is a highly flavorful addition as well to this recipe. Though you could pair this with Sriracha mayo, or any other creamy and fatty sauce, the acidity and slight bitterness from the fresh herbs of the chimichurri add a beautiful layer of flavor.
Calculating Your Keto Carb Count
If you are unsure of what carb range you need to be in following a keto diet use this keto carb calculator:
These salmon cakes with chimichurri have 310 kcals; 19g of Fat; 3g of Net Carbs (5g Carbs - 2g Fiber), and 29g of Protein!
It doesn't take much time to make these, so let's get after it.
Ingredients:
16 ounces Trifecta salmon, or fresh salmon, processed
1.5 Tbsp. Flax seeds, ground
2 Tsp. avocado oil
1 cup onion, small diced, sauteed
1/4 cup fresh parsley, chopped
1 Tsp. granulated garlic
1/4 cup whole liquid eggs
Salt and pepper
4 Tbsp. Chimichurri sauce
Spray oil
Kitchen Needs:
Food processor
4 mixing bowls
Baking tray
Parchment paper
Spatula
Saute pan
Cutting board and sharp knife
Step One: Preheat Oven & Prepare Ingredients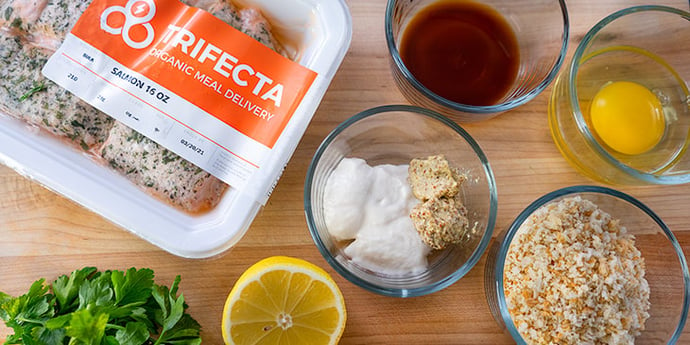 Preheat the oven to 375 degrees Fahrenheit and pull out your food processor. Dice your onion, and saute over medium heat in a saute pan by spraying it with oil. Mix constantly to avoid over-charring and add a splash of water as needed to help the onions caramelize and reduce heat to medium-low until onions are fully caramelized around 10-15 minutes.
Meanwhile, start by pulsing the flax seeds on the food processor until these are fully grounded. If you have already ground flaxseed, you can skip this step.
Transfer to a medium bowl. Chop your parsley and combine in the same bowl as the flax seeds. Hold on the side.
Step Two: Prepare your Salmon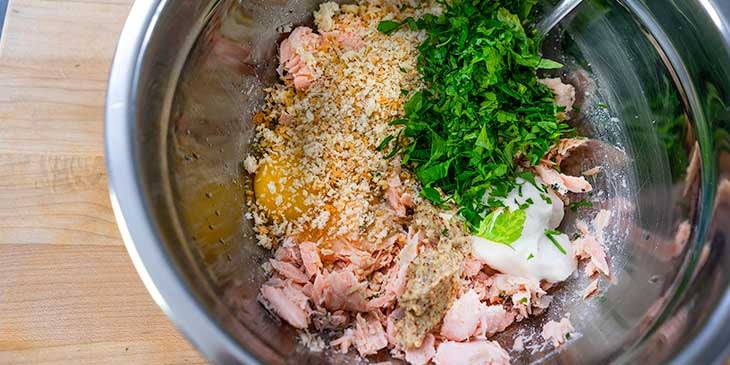 Whether you are using Trifecta's A La Carte Salmon or raw salmon, you can follow these guidelines to make great salmon patties. Using your hands, break the salmon apart into smaller chunks and add it to the food processor. Pulse a few times until the salmon is broken down into a paste-like form.
Add the whole liquid eggs, granulated garlic, avocado oil, ground flaxseed, and chopped parsley into the food processor. Season with a pinch of black pepper and salt. Pulse a few more times to combine. Transfer to a bowl scraping all sides with a spatula.
Step Three: Make the Patties and Bake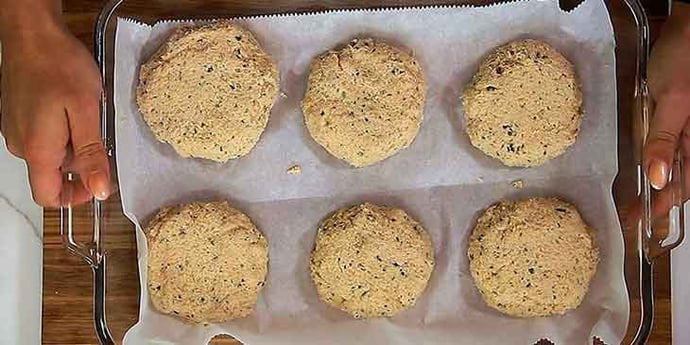 Mold your salmon patties by weighing each to about 4.2 oz on a scale. Make them into a ball and then press them down flat to create a patty shape.
Transfer to a parchment-lined baking sheet. Bake your fish cakes for 15 minutes, followed by 5 minutes under the broiler to give them a nice golden crust. Remove from broiler and serve immediately or cool completely uncovered in the fridge before storing.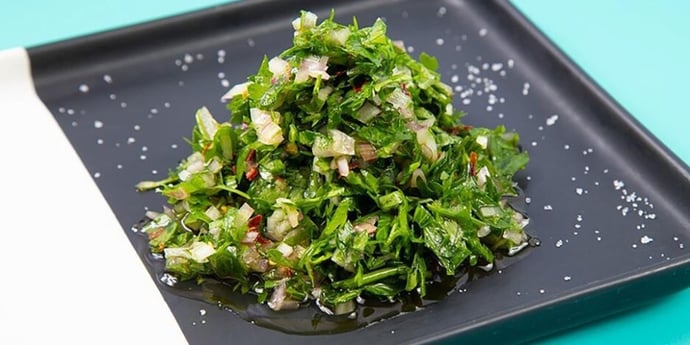 While your salmon patties cook you can take advantage of the time and make the chimichurri sauce.
A chimichurri sauce is a super simple and quick recipe you can make any day of the week. You can make it the classic way as displayed in the image below, or you can also simply combine all the ingredients in a blender and blend the sauce! This will create a bright and deep green sauce packed with tons of flavor. Note that if you do blend the sauce, over time, the green will become browner due to the vinegar presence.
Combine the cooked salmon cakes with 1 tablespoon of the chimichurri and serve!
Tip: If you're making the chimichurri sauce for later, keep the shallots, pepper flakes, oil, and vinegar separated from the herbs until you're ready to eat.
You can also serve these with a side of tartar sauce, and lemon wedges to squeeze fresh lemon juice as part of the presentation. The sweet acidity combination of the lemon will mix well with that of the chimichurri, and will also create an Instagram-worthy meal!
Storing and Serving
To reheat salmon cakes, warm in the oven for 5 minutes at 350 degrees Fahrenheit or pop in the microwave for a minute and a half (covered with a damp paper cloth towel). You can also crisp them back up in an air fryer or in a non-stick skillet!
---
Too Busy? We Got You!
Want to get more out of your weekly meal prep efforts? Stick to your calorie goals and budget with our A la Carte Ingredients. Pre-cooked and ready to heat, these ingredients are organic, sustainably sourced, and minimally seasoned to maximize your meal prep.