Cauliflower has glowed up quite a bit in the last few years, with the ability to closely resemble a pizza crust, 'mashed potatoes,' 'rice', and now macaroni and cheese! Many of our Trifecta coworkers cooked and loved this recipe! This low-carb recipe cauliflower is the perfect comfort food made keto-friendly to satisfy your potential desire for a delicious side dish keto mac and cheese. And thankfully for us, cheese is very keto-approved.
How Many Carbs In Cauliflower?
Cauliflower closely mimics the same consistency as macaroni and doesn't change the flavor of any dish you add it to. But compared to cooked pasta, which contains about 39g of carbs per serving, one cup of cauliflower packs only 3g of net carbs... and less than 30 calories! Making it a perfect addition to your keto diet or any low-carb meal plan.
How To Calculate Your Keto Macros
Use this calculator to find out your keto macros in minutes!
How to Cook Cauliflower Mac and Cheese
A well-executed keto mac and cheese can be one of the best sides to enjoy with just about any entree. Kids love it, and big kids - also referred to as adults - also love it every now and then. Luckily for you, making your own - even a keto version - is insanely easy.
The secret to success in this essential cauliflower recipe comes from roasting the cauliflower and combining different cheeses - helping to take a classic staple to a whole new level.
You will also be making your own cheese sauce -- it's a lot simpler than what you may think!
While it can be easier to just buy shredded cheese, it is worth taking the time to shred it yourself. Pre-shredded cheese often has added cellulose, potato starch, or other anti-caking additives, that prevent the cheese from sticking together in the package. Cellulose is completely safe and harmless, but it can affect how well your cheese melts. In other words, if you're looking for a silky smooth cheese sauce, stick with block cheese and shred it yourself.
Feel free to combine your favorite cheeses as desired. We suggest a blend in the recipe below, but if you really want to take it to the next level, have fun buying gourmet cheeses like Grayson, and Red Leicester; Yard Bird in Miami uses these, and their mac n' cheese is to die for (as rated by the Food & Wine magazine, and talking from personal experience). If you want a velvetier texture, you can also add 1 tablespoon of cream cheese and adjust the liquid as needed. This is optional of course.
Let's get into it.
Prep time: 10 minutes
Cook time: 0 minutes
Servings: 4
Ingredients:
6.5 cups cauliflower, cut into very small florets

4 each turkey bacon, diced, cooked

2 tablespoons avocado oil

4 fluid ounce heavy whipping cream

1/4 cup nutritional yeast

1/4 cup cheddar cheese, whole, shredded

1/4 cup extra sharp cheese, whole, shredded

1/8 cup Monterey Jack cheese, whole, shredded

Kosher salt and pepper, to taste

1/2 teaspoon garlic powder

1/8 teaspoon cayenne pepper, if desired, for a kicker

Extra cheese for garnish/broiling
Kitchen Needs:
Cutting board
Knife
Oven
Sheet tray
Mixing Bowl
Cheese grater
Saucepan
Spatula and whisk
Step One: Prep the Cauliflower and Season It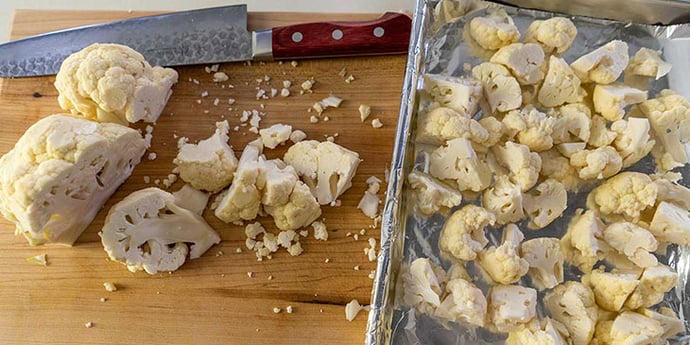 Preheat the oven to 425F.
Start by prepping your cauliflower. Look for a large head of cauliflower with no dark spots. Trim away the leaves and cut them into small cauliflower florets, enough to imitate the size of macaroni pasta. You can also include small pieces of stem.
Add your cauliflower pieces to a large bowl and toss with garlic powder, salt, black pepper, and a drizzle of oil. Don't forget to save some pepper and garlic powder for the cheese mixture. Then toss gently to coat.
Step Two: Roast the Cauliflower & Prep Bacon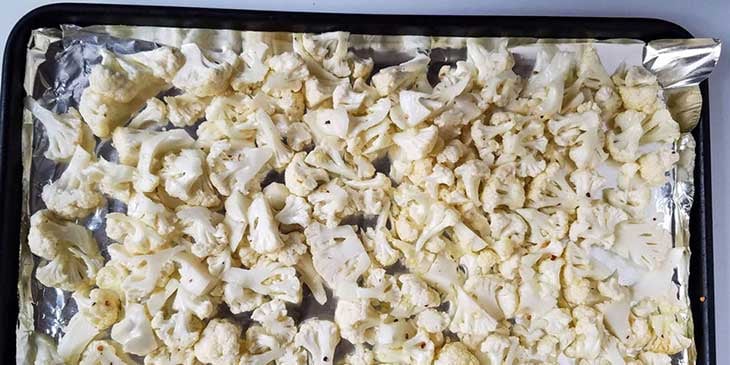 Place cauliflower in a foil-lined sheet tray and bake in a preheated oven, for 12-15 minutes, until tender and roasted. Remove once golden brown and cooked through. Check constantly to avoid florets from burning.
As your cauliflower roasts, you can crisp up your bacon. If you're trying to keep this dish vegetarian, just skip this step.
Cut bacon strips half lengthwise, and then width-wise to small rectangular strips. It might help to stack your bacon for cutting and be sure to use a sharp knife.
Put your bacon pieces in an unheated sauté pan, and bring the heat up from cold to medium - this allows the bacon to begin rendering and cook slowly. Let the pieces sit and don't stir until the bacon begins to crisp up.
Once the bacon begins looking like crispy small teeth, stir with a wooden utensil, and remove from heat once fully crispy. Once done, transfer the bacon to a dish with paper towels to drain excess fat. Keep on the side until needed.
Step Three: Prep Cheese Mix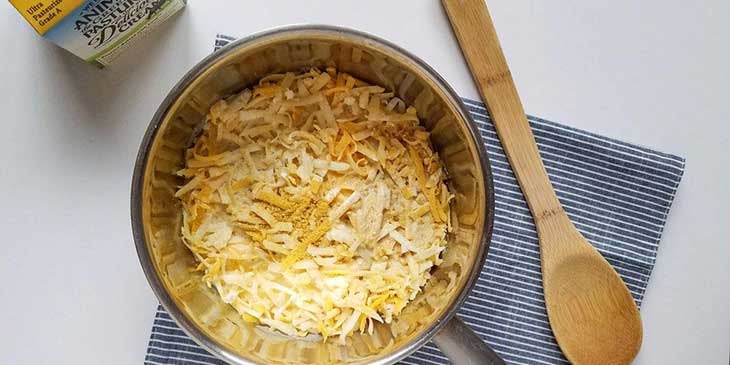 Shred your cheese.
Once the cheese is shredded, add your cheese mixture into a medium saucepan with the cream, nutritional yeast, and a pinch of black pepper, and cayenne pepper (if using).
Bring heat up to medium-low until cheese begins to melt, and make sure you are constantly stirring/whisking to prevent clumping or sticking. It helps if you bring up the heat slowly and stand next to the pot to keep an eye on it.
Once fully melted, reduce heat to low and keep warm, stirring every once in a while until ready. If the mixture is too thick, add extra milk or heavy cream.
TIP: Substitute cheese with nutritional yeast, and butter for ghee if vegan or lactose-intolerant. Nutritional yeast will also boost B-vitamins and ghee provides a delicious flavor (the caveat is that it is a saturated fat - limit the use of such).
Step Four: Mix Roasted Cauliflower with Cheese Sauce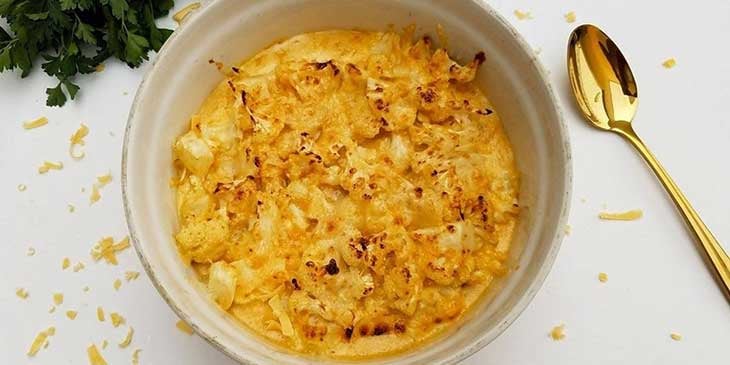 In a large bowl (you can use the same bowl you seasoned your cauliflower in at the beginning), mix roasted cauliflower, bacon, and cheese sauce, making sure each piece of cauliflower is evenly coated.
Pour mixture into an oven-safe dish and top off with extra cheese. Broil on high for a minute or two or until cheese begins to brown. Remove from oven and serve immediately. Feel free to add chives or green onion bulbs for garnish.
Looking for Keto Meal Prep? We Got You!
Want more delicious keto-friendly meals like this? Learn how to hit your keto carb goals with ease with this free meal prep toolkit for keto. A step-by-step guide on how to plan amazing keto dishes for weight loss.