This creamy and cozy dairy-free vegan tikka masala sauce recipe will have you inspired to spice up all your go-to vegan recipes. A fragrant and rich sauce, tikka masala pairs well simmered with most proteins and vegetables.
Traditional tikka masala is composed of a protein, typically chicken, marinated in yogurt and then simmered in a spiced curry. Our Tikka Masala sauce recipe pays homage to the traditional curry by incorporating a base of freshly minced aromatics stewed with tomatoes, coconut milk, and the staple spice, garam masala. To make this recipe dairy-free but still lavish we finish the sauce with vegan yogurt, lemon, and a few additional seasonings.
Garam masala is a popular spice blend used in Indian cuisine for curries, soups, and more; Whole spices and seeds are first toasted to release their aromatic flavors and then ground together to form the warming spice mixture. Common spices utilized in garam masala include cumin, coriander, cardamom, cinnamon, cloves, and nutmeg.
Purchase a pre-blended garam masala spice mixture from your local store or open up your spice cabinet and prepare your own with the garam masala spice blend included at the end of this recipe.
How to Prepare Creamy Vegan Tikka Masala Sauce Recipe
Prep Time 5 min
Cook Time: 25 min
Servings: 12
Ingredients
1 tablespoons coconut oil
1.5 tablespoon garam masala
1 teaspoon coriander, ground
1/2 teaspoon cardamom
1 teaspoon turmeric, ground
½ teaspoon cumin, ground
1 yellow onion, minced
2 cloves garlic, minced
3 tablespoons, ginger, minced
1 cup diced tomatoes, canned
1 cup vegetable stock or water
16 oz unsweetened plant-based yogurt
1 cup coconut milk
4 tablespoons lemon juice
Pinch of salt
Kitchen Tools
Small pot
Tongs
Food processor and spatula
Measuring cups and spoons
Step 1: Minced the Aromatics in the Food Processor
To prepare this simple sauce, first minced the ginger, garlic, and onion in a food processor, we used our favorite Breville All in One to create a chunky paste. This will bring out all of the ingredients aromatic oils and enhance the flavor of the sauce.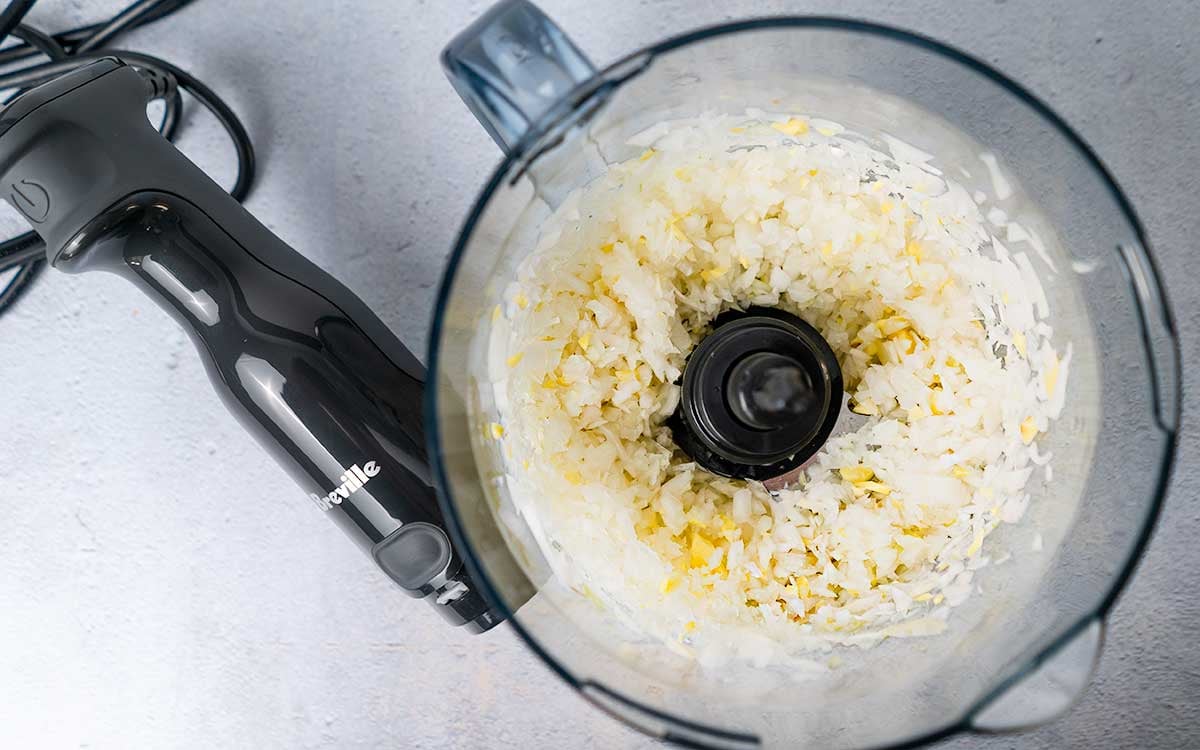 If you don't have a food processor, sharpen up your knife skills and mince everything by hand with a chef's knife; make sure to get the pieces as small as possible.
Step 2: Caramelize Aromatics in a Medium-Size Pot
Heat a medium sized pot or saucepan over medium-high heat and add 1 tablespoon of coconut oil then place in the minced aromatics. Stirring occasionally, cook the aromatics for 10 minutes until they begin to caramelize and brown.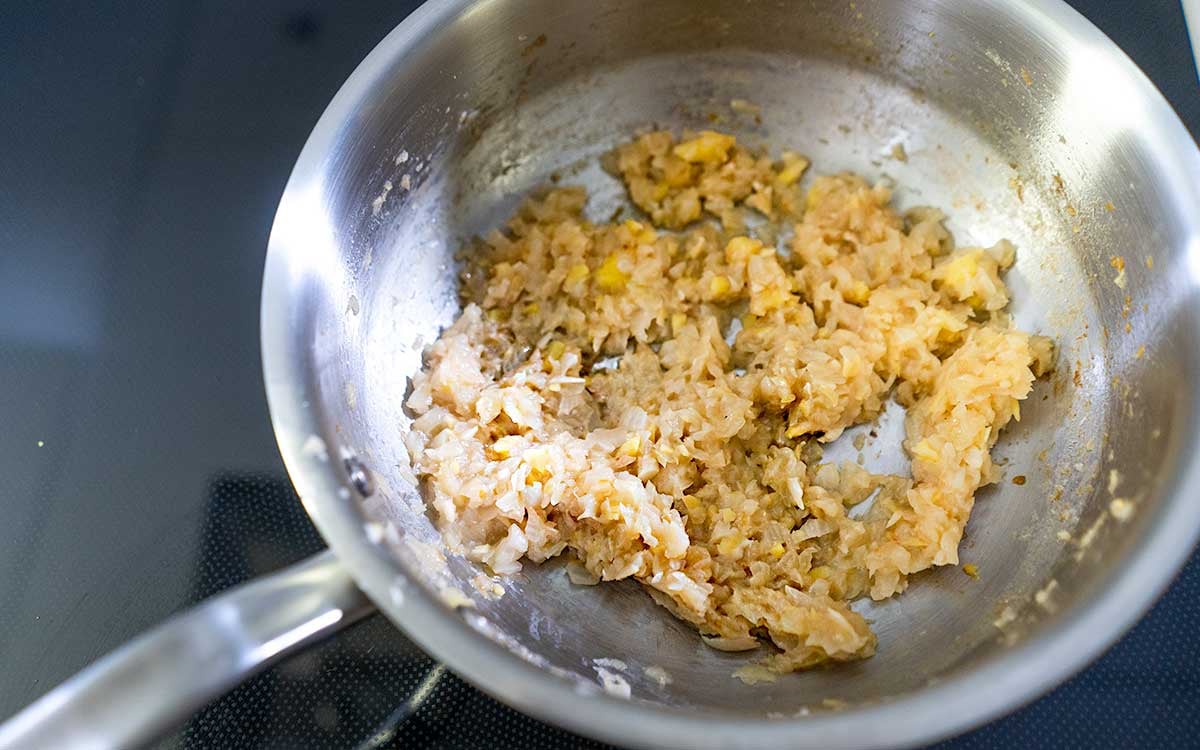 Pro Tip: If you begin to see a large amount of fond, the delicious brown bits, start to accumulate on the bottom of your pan, add 1-2 tablespoons of the coconut milk to deglaze the pan during the caramelization process to prevent burning your ingredients and build a more flavorful sauce.
Step 3: Add Spices, Tomato and then Stock
Continuing to cook on medium-high heat, add your ground spices and cook for 1 minute until the spices are toasted slightly and you can smell a warm and rich bouquet of spices in the air. Stir in the diced tomatoes and cook for 1 more minute until the mixture begins to thicken.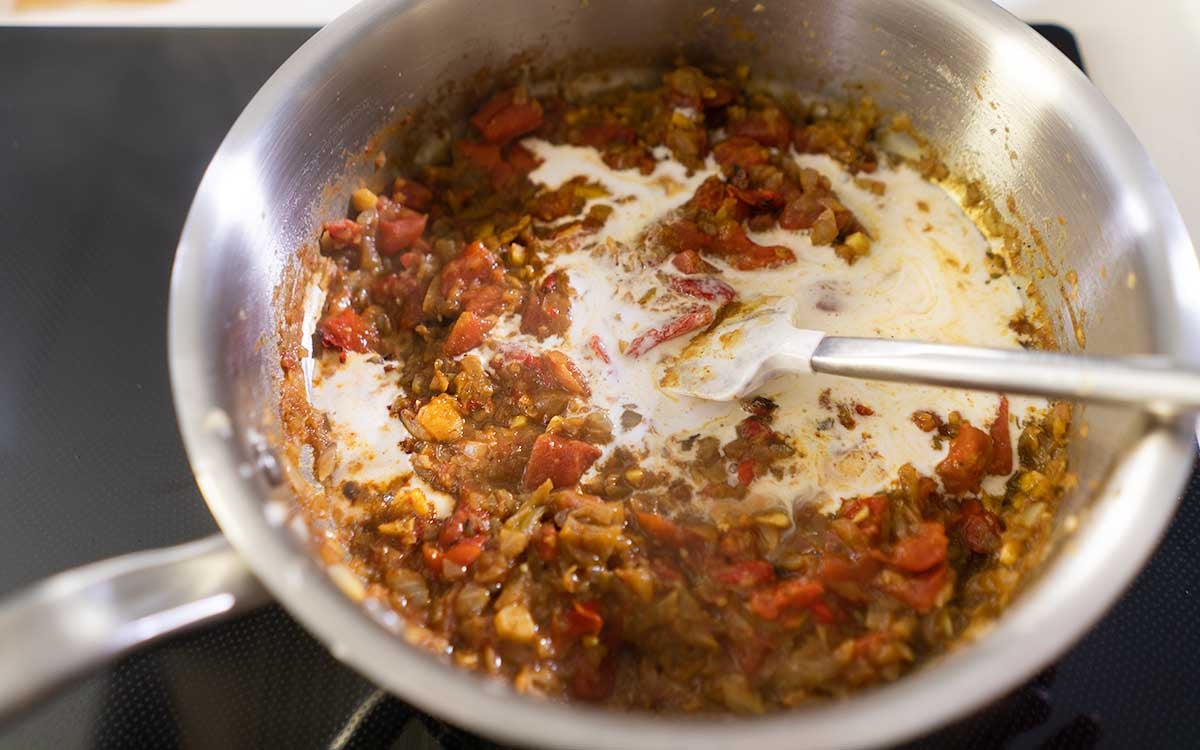 Add the stock and coconut milk and stir to release any more of the fond on the bottom of the pot then simmer for 5 minutes on medium-high heat.
Step 4: Finish with Plant-based Yogurt and Lemon
Finish the sauce by mixing in the Plant-based yogurt and lemon juice then simmer for 2-3 more minutes until it has thickened slightly.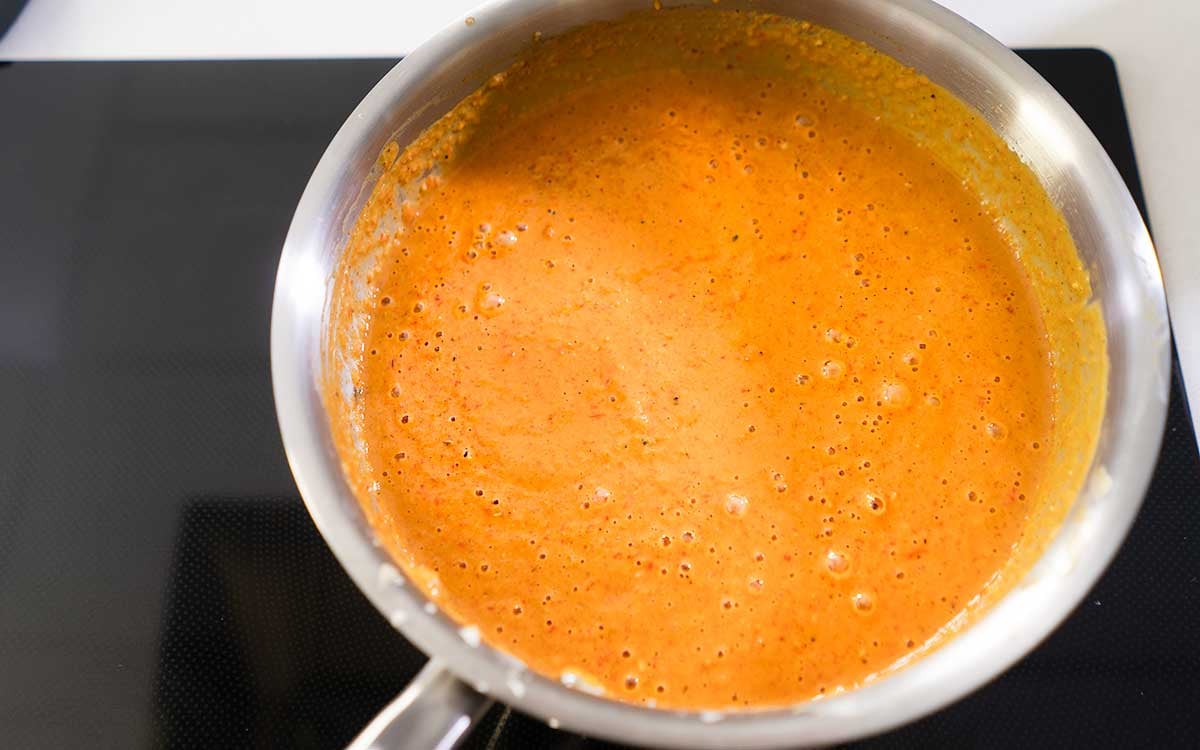 Season with additional lemon juice, pinch of salt, and even a pinch of coconut sugar for a well-rounded and flavorful vegan tikka masala sauce. You can leave this sauce chunky or blend it smooth!
Storing, Serving, Reheating
Use this flavorful tikka masala sauce recipe to prepare this vegan tofu tikka masala recipe, this vegan broccoli and quinoa bowl recipe or pair with a vegan protein of your choice for a simple lunch or dinner.
This sauce can be stored in the refrigerator for up to 7 days and frozen for up to two months. To thaw, remove from the freezer and defrost for 24 hours in the refrigerator or immediately heat in a pot until boiling.
Home-made Garam Masala Spice Blend Recipe
Toast all of the whole spices first in a small skillet for 1 minutes until slightly aromatic then grind into a powder using a spice grinder. Store in an airtight container for up to 6 months.
1 tablespoon whole cumin seeds
1/2 tablespoon whole coriander seeds
1 teaspoon black pepper corn
2 cloves, whole
1 teaspoon fennel seed, whole
1 bay leaf, whole
2 teaspoons cardamom seeds, ground
1 teaspoon cinnamon, ground
1 teaspoon ground nutmeg
½ teaspoon red pepper flakes
Purchase whole spices when possible, often this will be in the form of whole dried seeds, leaves, bark, and roots all of which contain high amounts of aromatic oils and intense flavor.
Substitute ground spices for whole if unable to source the whole, note that this will result in a less potent spice blend. Whole spices have a longer shelf life and increased flavor compared to their ground counterparts; this means you usually can use less for the same amount of flavor.
---
How will this recipe help you reach your Vegan macro goals? Try out this vegan macro calculator and find out. Map out your macro goals with your free vegan tool kit!
Plant-Based shopping is full of variety and color, check out our packed vegan food list highlighting flavor and nutrition!