Looking for creative ways to use your Trifecta salmon? This simple salmon cake recipe will add some zest, creaminess and extra oomph to this popular protein and the added punch of a simple chimichurri sauce brings it all together. Prep these cakes ahead of time and pair with your favorite veggies for a flavor packed lunch or dinner any day of the week!
How to Make this Recipe
For this recipe, you're going to need the following:
Parsnips
Diced onion
Liquid egg whites
Whole grain crackers
Parsley
Rosemary
Granulated garlic
Black pepper
Salt
Chimichurri sauce (recipe below)
Equipment:
Food processor
Medium sized-pot
Large mixing bowl
Baking tray
Parchment paper
Spatula
Fork
Garlic press
Sharp knife
How to Make Salmon Cakes
Before you get started, preheat your oven to 375 degrees Fahrenheit. Next pull out your food processor and get a pot of water boiling.
It helps to prep all of your veggies at the start so you aren't chopping and dicing as you go. To get everything ready, peel and slice parsnips, chop your onion, and coarsely chop your fresh herbs.
Then create your own breadcrumb mixture by pulsing whole grain crackers in the food processor until you reach the desired consistency. You can use store-bought bread crumbs or substitute with gluten-free crackers to keep this dish wheat-free. Set your breadcrumbs aside until you're ready to mix.
Once your pot of water is boiling, add your diced parsnips and cook until soft (about five minutes). Then drain and set aside to add to the food processor.
Cooked parsnips (aka the sweeter, pale version of a carrot) are a great substitute for mayo in traditional salmon cake recipes, giving some body to the cake. They also bring a subtle nutty, earthy flavor.
First, add onion to the food processor and pulse on high until your left with small pieces. Then add your cooked parsnips and pulse a few more times until the mixture starts to combine. Then add your fresh herbs and salmon, running the food processor until you're left with a thick paste that is evenly blended.
Pour the thick mixture into a mixing bowl and add in the egg whites and breadcrumbs to help hold everything together as it bakes.
The recipe calls for six salmon cakes, so using a food scale or eyeballing it, shape the mixture into six even balls and place them on a baking sheet lined with parchment paper. Using your fingers press each ball into a patty-like form and get ready to bake!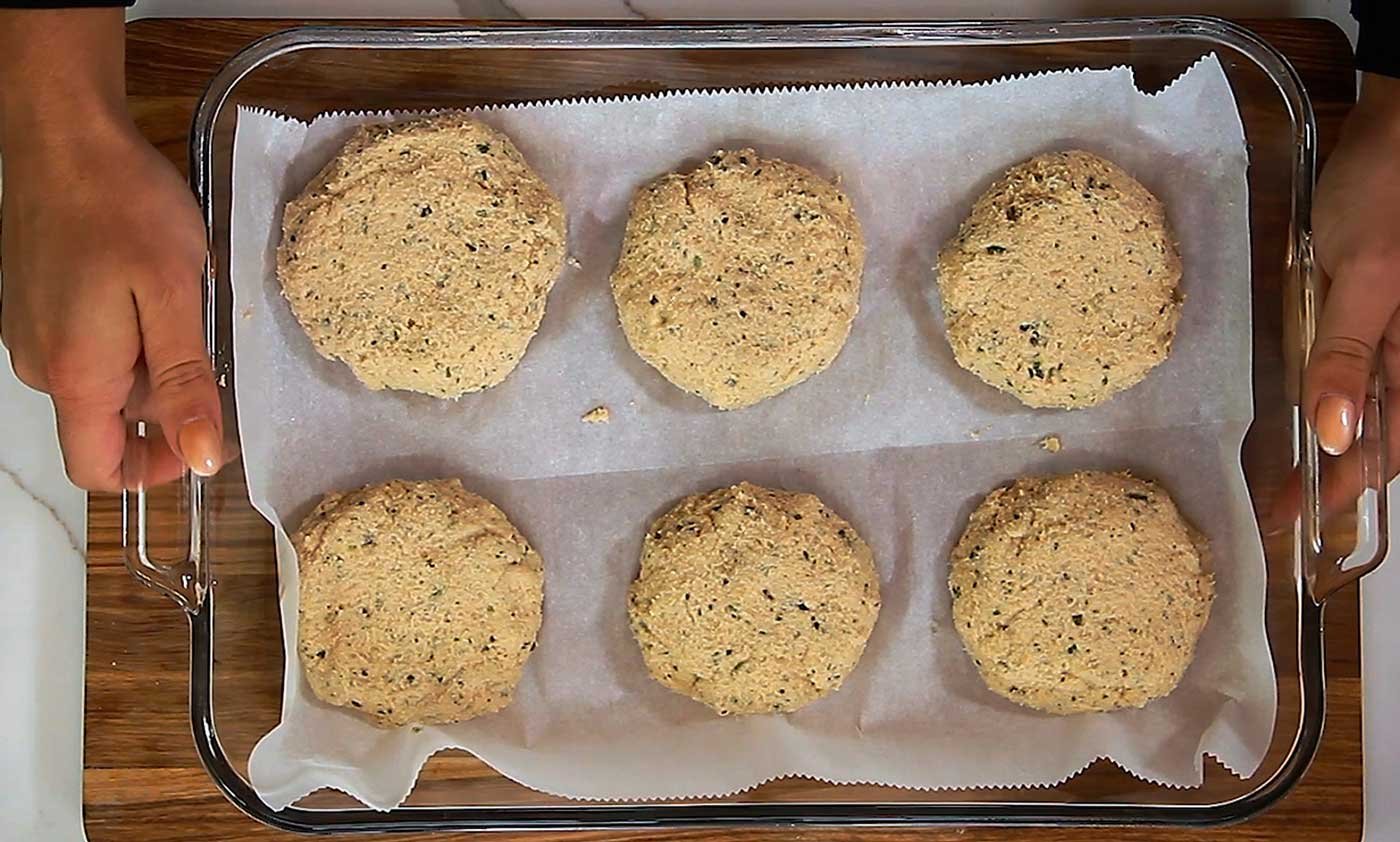 Bake your fish cakes for 25 minutes, followed by 5 minutes under the broiler to give them a nice golden crust.
Each salmon cake has:
225 calories
7 grams of fat
22 grams of carbs
19 grams of protein
How to Make Chimichurri Sauce
While your cakes bake, get your chimichurri sauce ready.
For the sauce you will need the following ingredients:
1 clove garlic, crushed

1 cup fresh cilantro, chopped

1/4 cup fresh parsley, chopped

1 shallot, minced

1 tablespoon fresh oregano leaves

Pinch of dried red pepper flakes

Pinch of black pepper

1/2 cup of olive oil

1/2 cup red wine vinegar
Step One: Mince shallots, garlic and Fresno and combine in a bowl. Add cilantro, parsley, and oregano. Mix to incorporate.
Step Two: Add oil, vinegar and black pepper. Taste for seasoning.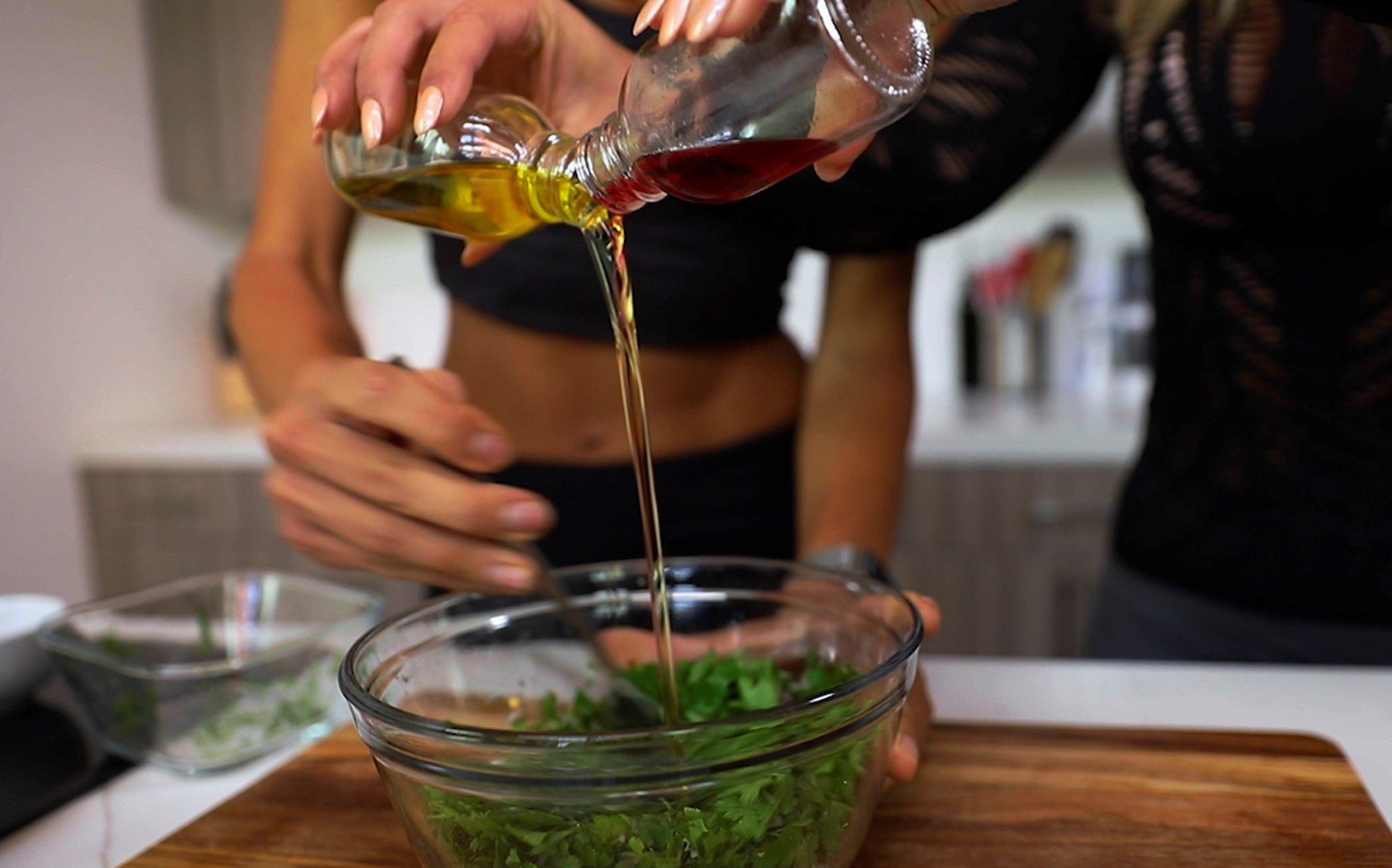 Tip: If you're making the chimichurri sauce for later, keep the shallots, pepper flakes, oil, and vinegar separated from the herbs until you're ready to eat. The vinegar browns the herbs making the appearance of the chimichurri dull.
Once everything is ready, plate your salmon cakes with your favorite veggies and top with the chimichurri sauce.
To reheat salmon cakes, warm in the oven for 5 minutes at 350 degrees Fahrenheit or pop in the microwave for a minute and a half. You can also crisp them back up in an air fryer or in a non-stick skillet!
Want all your meals in half the time? Save time on all of your favorite meal prep recipes with pre-cooked, healthy ingredients from Trifecta a la carte.
Serve this With

These cakes are just as versatile as any protein option. Try them as a sandwich or pair them with the following sides:

Additional toppings to try:
Sliced avocado or guac
Tzatziki sauce
Pico de gallo