After years of attending CrossFit classes and taking a laid-back approach to the CrossFit games, Angel decided it was time to get serious and change not only his routine but also his nutrition. He enlisted help from a local coach and turned over his meal plans to Trifecta Meal Delivery and is now on his way to qualifying for the 2022 CrossFit Open.
Read the full story below of Angel's road to the games and how he transformed from a busy dad taking an occasional CrossFit class to an elite CrossFit athlete.
Meet Angel, dad of 3 and full-time videographer
Angel Cardenas, a native of Sacramento, California, has made it the furthest he ever has this year in the CrossFit games, a victory he attributes to his changes in training and how he approaches his nutrition.
Q: Where are you at in the current 2022 CrossFit Games?
"It's surreal. I've been dedicating my life to CrossFit for the last 11 years, but this year is the first year I made it this close to the finals.
Anyone can train for the CrossFit Worldwide Open — for my division (45-year-olds and up), there are around 13,200 competitors who compete to get to the top 10%. Then you move onto the quarter-finals, where the top 30 go to the semi-finals (where I am now), and finally, 10 go to the finals, which is basically the super bowl of CrossFit.
For the past 42 weeks, I've been working with a coach and have been on a strict program. CrossFit is a mix of everything when it comes to fitness. It's not just about strength, you have to have some flexibility, and you also have to eat to fuel your body right.
I was somewhat successful before Trifecta, but definitely not as successful as I have been with Trifecta. It would have been a very slow process without them because meal prepping was hard, and it was too easy to be lackadaisical with my diet with the kids and family."
Find your perfect meal plan to help you crush your health goals using the quiz below!
Q: What got you into CrossFit?
"CrossFit came out in 2007, right here in California–in Santa Cruz—so it's still a fairly young sport. I was at a gym here in Sacramento, California, and this guy, Blair Morrison, who owns a few gyms here, came in, takes his shirt off, and we're like 'Woah, who is this guy?" He was ripped, and we were all wondering how he got there. When I asked, he said CrossFit and of course, at first, we thought, what the hell is CrossFit?
Crossfit is a mix of everything when it comes to fitness; it's not just about strength—you have to have some flexibility, doing movements on rings, or pull-up bar, getting upside down, and walking on your hands.
Then I started hearing more and more about it, and as a former college athlete, it just inspired me. For a lot of people who have a competitive sports background, after college they just lose that edge and drive; CrossFit definitely inspired me, and I am sure these other kinds of people, to get back into the competitive fitness area, and not just to compete against others but to push and compete against myself.
It's crazy; I am a middle-aged man, and I got a bunch of gray hairs, but if you make adjustments in your life, start moving, or even just small changes, the human body is amazing. If you train your body to do something and you are intentional, deliberate, and have a plan and are passionate about it, you push your body to limit you to a place you'd never thought you'd make it to."
Q: When did you first compete?
"It took a couple of years to first learn all the movements, and then in year 3 or 4, I did my first competition, and it was an individual competition, a baby masters, I was 35 years old. I flew to LA to be in the competition and came in like 5th or 6th place out of 30 guys, and I was like ok, I got this.
Then the goal was to stand on the podium at a local competition, and that happened like a year later. Then after that, I got hungry, and I wanted more.
That year I also did my first open but finished nowhere close to a ranking, not even in the top like 1,000 people, but that pushed me to keep training and keep going.
After that, I did every open that came around, and every year just got a little bit better but never this close."
Q: How did you go from no place to qualifying for the semi-finals?
"When I turned 45 this past January, I aged into a new division, and I said this is going to be my best chance to make it to the games; I'm the youngest in my division, and I am going to do everything I need to get there so I can away say I tried it all.
The biggest changes I made were with my training and nutrition.
The first thing I did was get a coach, Justin Cotler. I've known him for a long time, super-sharp guy, super cerebral, a really good person, and a great coach. When you get a coach, you're on cruise control, you tell them your strengths and weaknesses, and they get you on the right track. They also hold you accountable, and since I'm paying them, I don't want to throw my money away!
The second thing I feel is most important is my diet, and Trifecta has been a blessing. It's convenient, I get back the time I sacrifice for training, and I've learned a lot about nutrition.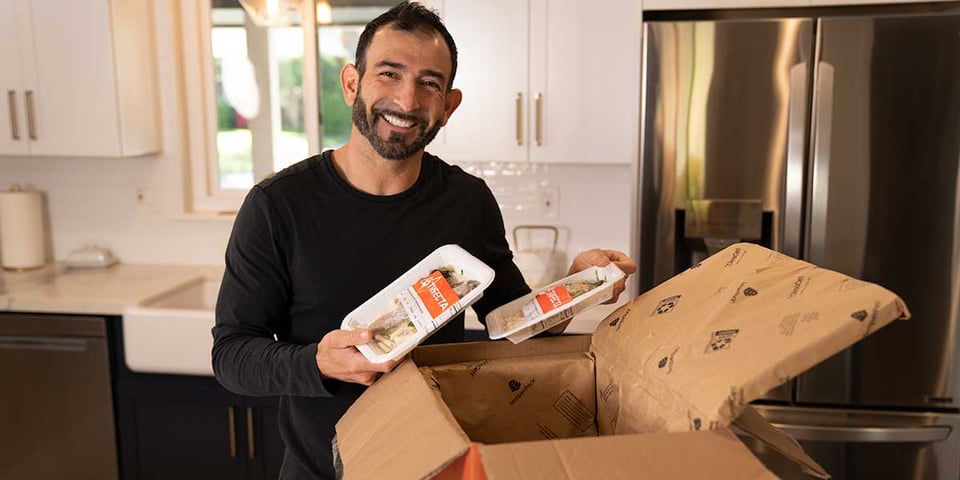 Everyone was on the paleo diet when CrossFit first started. I tried paleo for a while, but it didn't work for me—I had low energy, I was losing weight, and I just didn't feel right.
It was a good baseline to eat real food, but I had to find what works right for me. I couldn't do paleo, which is why I like Trifecta's clean meal plan and the meal prep options the best.
Q: What was your diet like before vs. now?
Nutrition has completely changed the game for me. In the past, I never had a planned approach to my nutrition. I would eat some banana bread or a bowl of cereal and freestyle breakfast along with most of my meals throughout the day. Dinner was always whatever the family would be eating, like spaghetti or tacos or meatloaf.
I've never eaten super unhealthy. But starting to have a dialed-in approach to eating has helped me start to eat like a pro athlete, fueling my body and helping me recover.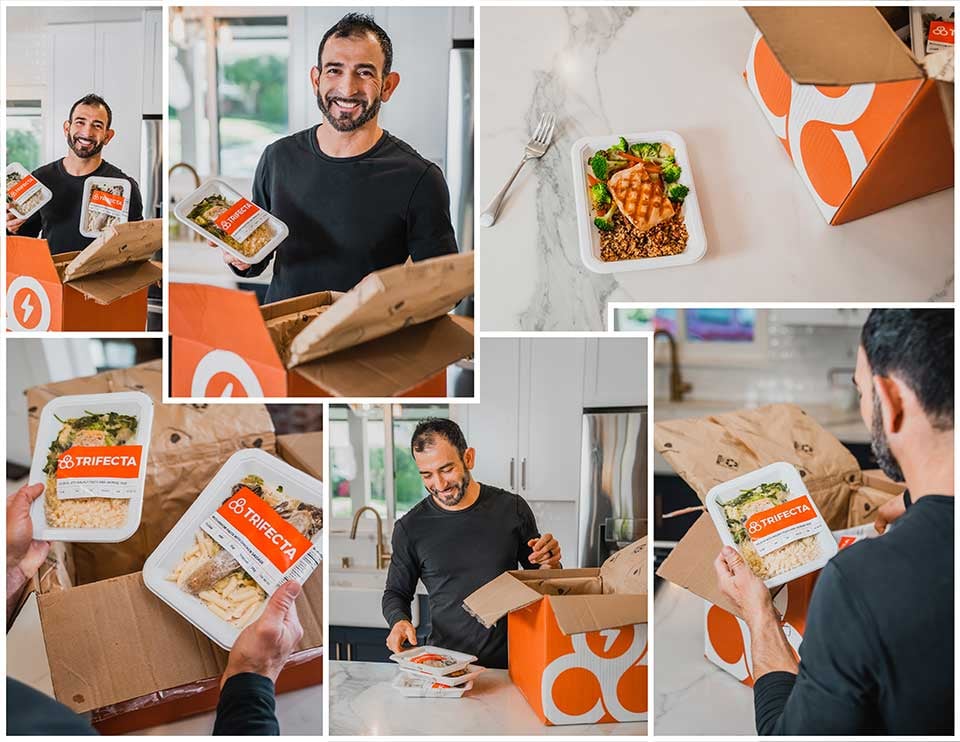 Trifecta's helped me get on track and not even have to think about counting calories or macros, because each meal is macro balanced already. The biggest benefit is the convenience of having it in the fridge, already prepped and ready for you. I can just throw a meal in the microwave and have it ready to go in just a few minutes.
Now, I typically eat Trifecta for lunch and dinner. Each meal has over 30 grams of protein. I tend to stick with the clean meal plans but occasionally will use Trifecta meal prep and portion out some steak, sweet potatoes, and vegetables to build my own meals.
Take this 2-minute quiz to get your perfect meal plan match!
Trifecta provides me with clean foods that help me be intentional and scheduled. It keeps me motivated on the nutrition side of things because I feel the strongest I ever have, I'm mobile and my endurance is amazing, which is saying a lot for a 45-year-old dad of 3.
It's motivation because not only has my performance improved, but my friends are like, "Woah, dude, you're ripped, what are you doing" and it feels good to be a fit dad!
People as me what I do to be this shredded, and I'm like I'm working my butt off and eating clean; that's all it takes."
Q: What do you eat in a day?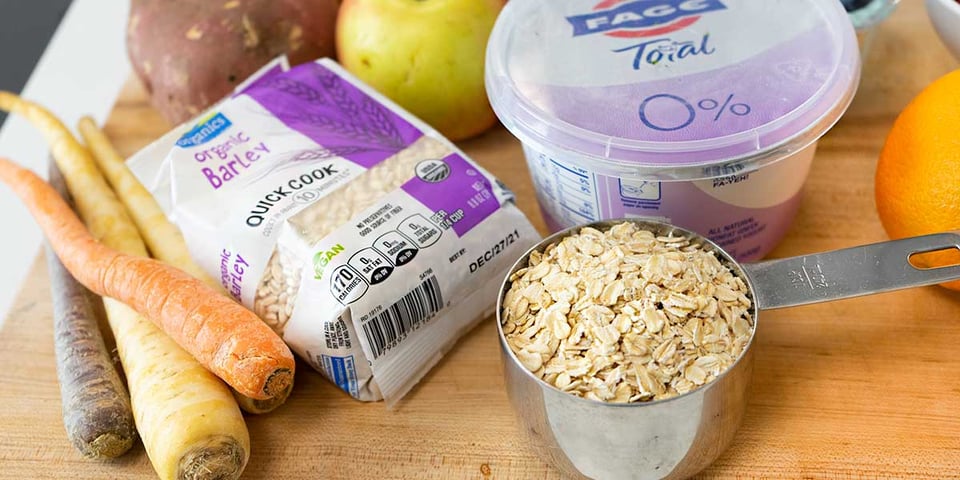 "So I don't count my macros, and I really don't have to because Trifecta covers that for me. I just eat a lot of really good food.
For breakfast, I like ½ cup of oatmeal with protein powder and a tablespoon of peanut butter with a couple of eggs, and a cup of coffee. And this is after training from 5:50 am-7:50 am. (I usually just take coffee before training)
Lunchtime is a Trifecta meal, so usually around 32 grams of protein. They are calorie-controlled, so I don't have to think about it. And then I'll chase it down with a protein bar for a little sweet tooth action.
Before dinner, I may have another Trifecta meal around 3 or so. Then a second training session between 5-7 pm and then a nice dinner with a salad with beets and another Trifecta meal or build my own meal with Trifecta meal prep with vision, veggies, and sweet potato."
Q: How do you balance training and eating healthy with being a busy dad?
"I'm on week 42 of this strict program, and the first couple of months, my family would give me a hard time, but now they just know, and they know why, and they are cheering me on. It's funny because my son, he is 10, his baseball friends will tell him that his dad's super fit, so now he sees me being fit and eating healthy.
I tell my kids all the time, that what I am doing in my life right now I've never done before, I feel like its something special, and sometimes I feel guilty sacrificing time with them to reach my goal but I think about how I can bring them along in this journey with me and teach them something.
I always try to tell them, "If you focus on being a better soccer player, swimmer, or gymnast, think about what it is you want to do, and let's make a plan, and you can 100% reach those goals, but you have to have a plan."
Q: Any tips for success for those just getting started?
"I just met a few people, one of them who had been it for a year and wants to compete so I told her to
Be patient, if you go in, and you want to learn everything, and you want to learn it fast, that's how you get hurt.
Find a good gym: if you're in a gym that has a great community, coaches, and people, listen to those coaches, and don't try to do it all on your own. There are a lot of good gyms, see which one works best for you, you'll know once you do.
Trust the process: your body will adapt, start off nice and easy, and you'll learn the movements and start to get better and better.
Set small goals; whether they are a month out or three months out, I want to stand upside down on my hands for 10 seconds or 15."
Want to share your success? Send your story, photos, and location to testimonials@trifectanutrition.com.
---
Ready to eat like a pro? Find the meal plan that's right for you.