Do you know what's great about a shake? They are easy to make, simple to consume, and they are perfect for meal prep. I based this one on a favorite flavor combination of mine - peanut butter and chocolate, a perfect combination for the keto diet.
---
How To Make a Keto Shake
This easy-to-make keto chocolate peanut butter smoothie can be made ahead of time and portioned into jars for a quick grab-and-go keto breakfast in the morning. Hearty, smooth, and downright tasty, this meal-replacement-like shake has only 10 grams of net carbs - with a whopping 9 grams of fiber (thank me later)!
There are different ways to make keto shakes. If you are making these fresh to be served immediately, using ice cubes to cool the ingredients and make them more slushy-like shakes that are cool and refreshing is one method. You can also simply mix all ingredients as called by the recipe and simply portion them onto different containers for ready-to-go meal prep shakes.
This recipe uses a combination of creamy high-fat coconut cream and unsweetened almond milk, for the perfect blend and balance. Loaded with plenty of filling, and healthy fats from flax seeds, avocado, and nut butter, this keto-friendly shake will help you stay full and hit your fat needs.
Calculate Your Keto Macros!
Use your calculator below to find out your keto macros.
This recipe is:
Dairy Free
Gluten-Free
High in Fiber
High in Protein
I promise you won't taste the avocado. The peanut, coconut, and chocolate mask the flavor of it (avocado and chocolate go very well together). Plus, a scoop of protein powder gives it an ideal macro boost. If you are starting keto, then this recipe is the perfect one for you.
This recipe has 26g of fat, 10g net carbs (19g carbs - 9g dietary fiber), and a whooping 26g of protein! Keto macro perfection.
A Note On Protein Powder Use
The variety of protein powders is wide in the range - for this recipe, we suggest a whey protein powder made by a company that undergoes third-party testing for safety. Feel free to substitute the protein powder we suggest here for the one you have at hand. The reason why we suggest a third-party tested protein powder is that it ensures that as an athlete (if you are one), you are safe to consume without potential doping risk
Conversely, you can also use a plain protein powder combined with unsweetened cocoa powder for flavor and a potentially lower amount of carbs.
Keep in mind this will slightly change the nutrition as presented here. You can also choose a plant-based protein powder to make this recipe a vegan-keto shake! However, you can use our Trifecta App to create and calculate shake recipes very easily.
Pro tip: look for a third-party tested seal of approval on your protein powder to help ensure the quality and safety of ingredients!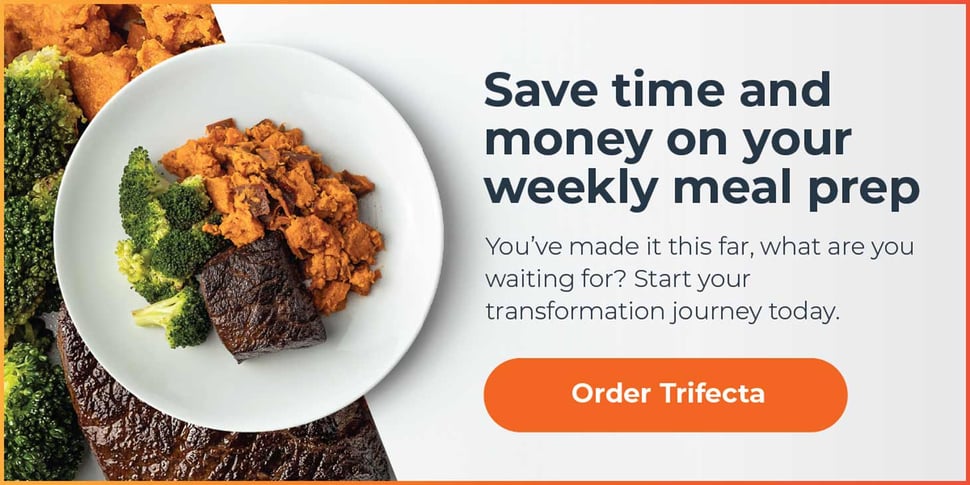 Prep time: 12 minutes
Cook time: 0 minutes
Servings: 12


Ingredients:
½ cup coconut milk
½ cup almond milk, unsweetened
1 scoop Thorne chocolate protein powder (or favorite protein powder)
1 tablespoon peanut butter
¼ avocado
1 teaspoon flax seeds
½ teaspoon vanilla extract
⅛ teaspoon liquid stevia
Kitchen Needs:
Blender
Ball jars, or Tupperware containers
Measuring cups
Tablespoons
Spatula
Step One: One and Done
Grab a blender, measure, and add all ingredients into the blender. Cover the blender with its lid, and blend for 30 seconds up to one minute - until everything is mixed well and a smooth consistency is created. Transfer your shake to your container of choice and repeat if making multiple shakes. You can also do this in a bullet-like blender (like Ninja or Nutribullet).
Meal Prepping a Larger Batch
Because this shake recipe doesn't use ice, it's perfect for prepping multiple shakes in advance. You can easily whip up a large batch and store it in the fridge without losing any of the creamy consistency or supreme flavor.
Just multiply each ingredient by the number of shakes you'd like to make. Meaning, if meal prepping for four shakes, multiply each ingredient by four.
Measure all ingredients into larger bowls, blend in batches and then mix together in a large jar or container before portioning out. This will help ensure you've got an even mix of everything.
One serving of this shake is equivalent to 320g or ~11 fluid ounces - portion into your containers accordingly and store in the refrigerator for up to one week.
Storing, Serving, Pairing
Store in shaker bottles, ball jars, or in a large pitcher if meal prepping a larger batch.
This high-calorie, high-fat to-go shake will be your perfect keto breakfast on those busy mornings! Grab this with an egg bite or a cloud 'bread' and you have the perfect breakfast that fits your keto lifestyle.
Looking for a Keto Meal Prep? We Got You!
Put this shake and other keto meal prep recipes to good use with this free meal prep toolkit for keto. Cut carbs and lose fat quickly with a keto macro meal planner, approved food lists, and RD advice on going and staying keto! If you're looking for a fully-prepared and planned ready to eat meal plan, click the button below to shop our keto meal plan!